Will Hurricane-Impacted Texas Markets Follow Baton Rouge's Post-Flood Performance?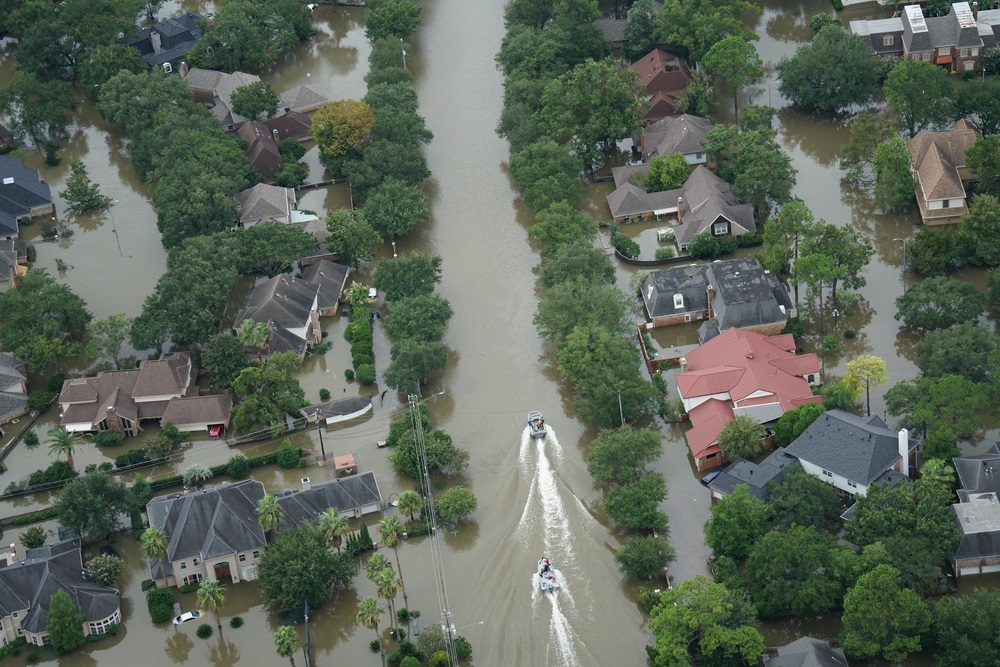 After major flooding hit Baton Rouge in August 2016, local apartment fundamentals heated up quickly. But it did not last long, as the market gave back all the gains within a few months.
Massive storm events hit Houston and Corpus Christi a year later, and those markets are also seeing similar performance spikes. The similarities beg the question, is Baton Rouge a bellwether of things to come in the Texas markets?
In Baton Rouge, a 500-year storm event dropped about 20 to 30 inches of rain over a two-day period in August 2016. An estimated 40,000 homes were damaged, causing mass displacement. The flood caused a dramatic shift to apartment fundamentals, as displaced residents turned to apartments for temporary housing.
A year later, Hurricane Harvey made landfall in Texas, bringing damaging wind, heavy rains and storm surge to inland Corpus Christi. In Houston, Harvey dumped a record-breaking 50 inches of rain over roughly five days, leaving significant portions of the metro under water for weeks. In terms of housing, the effects were the same as in Baton Rouge – displaced residents in both Texas markets turned to apartments.
Apartment demand in all three markets spiked right after their respective weather events. In fact, absorption reached a decade high in each of the three markets immediately afterward. But in Baton Rouge, all the gains were given back as the previously displaced renters moved out of apartments. Following the flooding, Baton Rouge gained roughly 2,000 apartment households in the last half of 2016, by far the largest six-month demand level in 10 years. (The market also saw large demand volumes following Hurricane Katrina in August 2005.) Since then, however, the market has consistently lost renters, and the occupied unit count has dropped by roughly 2,000 units.
Similarly, demand surged in Houston and Corpus Christi following Hurricane Harvey. Houston absorbed a staggering 20,300 units in the last half of 2017, while Corpus Christi absorbed roughly 1,400 units. One quarter later, Corpus Christi recorded net move-outs in early 2018, while Houston logged the smallest 1st quarter demand volume since 2011. Though absorption slowed in both markets, it remains to be seen whether net move-outs will be an issue like they have been over the past year in Baton Rouge.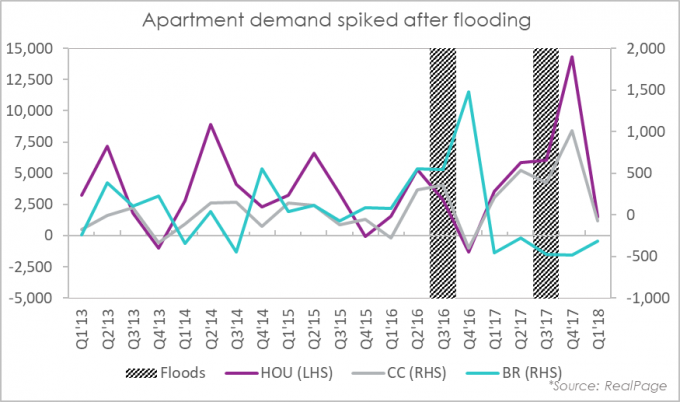 Demand spikes also spurred significant rent growth in all three markets. Rent growth in Baton Rouge hit a multi-year record, jumping 5.1%, in last six months of 2016. Shortly after that quick ascension, rents hit a wall and have fallen 6.3% since.
Meanwhile, Hurricane Harvey has had the same effect on rents in Houston and Corpus Christi. Prior to Harvey, rent change on an annual basis had been negative for five consecutive quarters in Corpus Christi and negative or mildly positive in Houston for roughly two years. Immediately after the hurricane, however, those markets hit inflection points, as rents climbed 3.1% in both Houston and Corpus Christi in late 2016. Gains over those six months pushed annual rent growth in both markets to multi-year highs. However, performance slowed in early 2018, as rents fell 0.8% in Corpus Christi and rose just 0.4% in Houston during those three months.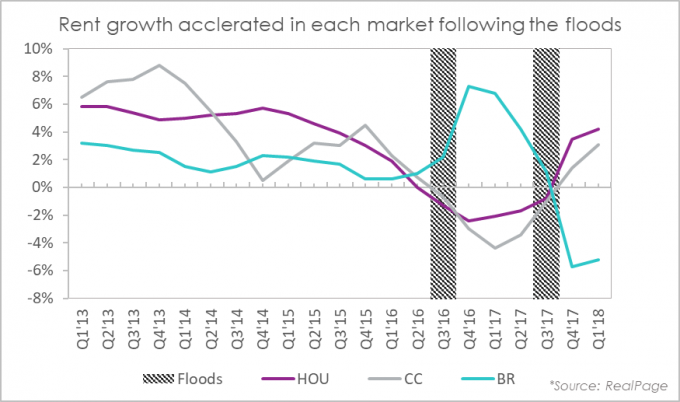 Do the latest quarterly performances signal a slowdown is on the horizon for both Corpus Christi and Houston? In Baton Rouge, not only did performance slow, but the market actually backtracked throughout the year after the flooding. But Baton Rouge has other structural issues at play. Job growth has slowed, driven by sizable losses in the construction industry as several major construction projects recently wrapped up. In addition, apartment construction remains around decade high levels, creating competition with existing properties for renters.
The size and widening robustness of the Houston economy should prevent much backtracking in demand as the metro recovers and displaced residents return to their homes. The Houston metro had struggled with the downturn in the energy sector, but prices have stabilized at moderate levels. However, increasing growth in other employment sectors such as Education/Health Services, Government, Professional/Business Services and Leisure/Hospitality Services softened the blow from the ailing energy sector. Additionally, Houston's massive apartment pipeline, which also dampened performance pre-Harvey, has shrunk to its smallest level in more than six years.
Corpus Christi, on the other hand, does not have the same economic diversification as Houston. Like Baton Rouge, the market is heavily reliant on one or two industries. A significant portion of the Corpus Christi economy is tied to exporting oil and gas from South Texas. Though energy prices have stabilized, they remain far from the peak levels that drove the market's boom earlier in the cycle. Corpus Christi has roughly three times the national average in terms of Mining/Logging/Construction employment, particularly those jobs related to energy. Further, job growth has turned negative there for more than two years. Corpus Christi may not have the tailwinds to steer demand in a positive direction should it continue to slip.