Texas Markets Absorb Big Supply Volumes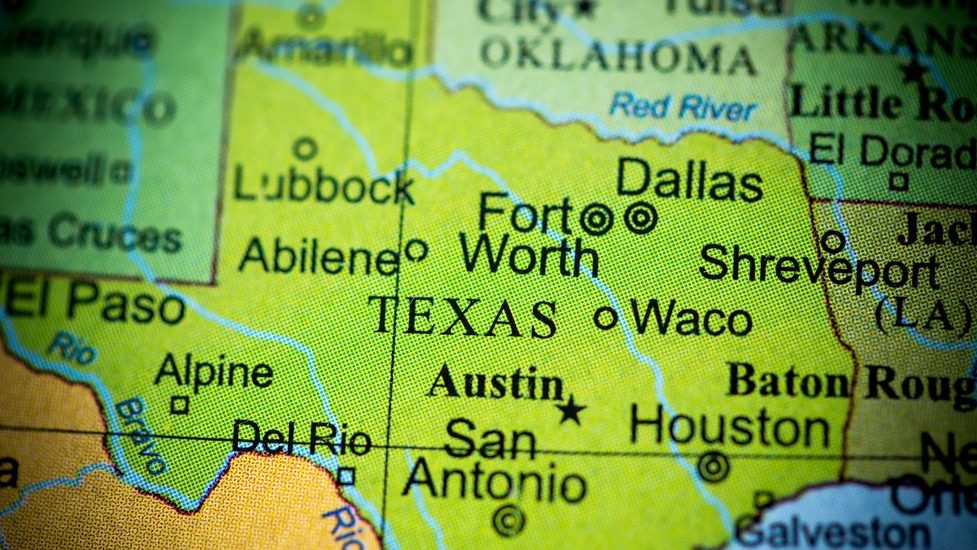 Apartment demand in Texas markets has been exceptional, but so has construction of new units, resulting in stubbornly limited occupancy, despite all the leasing activity.
Apartment demand has been solid across the Lone Star State, with three of the big five Texas markets ranking among the nation's best absorption performers in the year-ending 2nd quarter. But these markets have been on developer's radars for a while now, and have delivered new units as fast as renters could rent them. This has restricted occupancy to levels that are above the historical averages in most of these markets, but not as high as the incredibly tight rates seen lately in most other U.S. metros.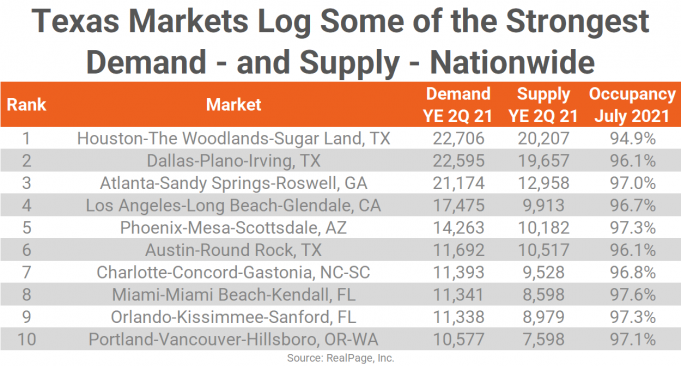 Houston
Houston is the nation's apartment demand leader, absorbing over 22,700 units in the past year. Concurrent supply volumes were very close to that at over 20,200 units – also the biggest nationwide. In fact, during the past 10 years, Houston's existing unit base has expanded by a sizable 21.7%. In comparison, the product base in the U.S. overall grew by 15.5% in the past decade.
While July occupancy in Houston is one of the softest nationwide at 94.9%, that rate is actually one of the best this market has seen in two decades. Over the course of the past five years, occupancy here has averaged much lower at 93.1%. Houston's Class A and B properties hold a slight premium to the more affordable Class C apartments.
Dallas
Almost always among national demand leaders, Dallas was #2 behind Houston in both demand and supply during the past year. This market absorbed nearly 22,600 units and logged the delivery of nearly 19,700 units in the year-ending July. In the past decade, the Dallas existing base has grown by nearly one-third, creating notably competitive leasing conditions in some areas.
Dallas has seen occupancy jump over the past year, resulting in a July rate of 96.1%, one of the best rates this market has seen over the past few decades. There is some bifurcation among submarket performance in Dallas, with the Allen/McKinney and Frisco submarkets leading the charge with rates close above 97%, and laggards including Northeast Dallas and Far East Dallas, which registered rates below 94%.
Austin
Austin's existing unit base has grown by one of the fastest paces in the nation over the past decade, increasing by 40.6%. Among the largest 50 apartment markets, only Charlotte saw more growth, of 44.9%. Austin's apartment market has managed to absorb elevated supply volumes relatively well. In fact, just in the past year, new supply of 10,517 units came in shy of demand of 11,692 units.
While Austin's July occupancy rate of 96.1% was one of the softest showings among the nation's largest 50 apartment markets, it was still in line with the multi-decade high that Austin realized back in August of 2019. Occupancy rates are strongest among the market's Class B and C units, with rates topping 96%. Class A units are a bit softer at 95.8%, but the luxury units have seen occupancy improve by an impressive 330 basis points (bps) over the past year.
Fort Worth
While Fort Worth missed out on a top 10 national showing for apartment demand in the past year, volumes in this market have been steadily growing. Fort Worth absorbed 9,111 units in the year-ending 2nd quarter, with that volume topping concurrent completions of 8,035 units. Apartment demand has been strongest in the areas that have added the biggest shares of new apartment supply, including Intown Fort Worth and the North Fort Worth/Keller area.
Occupancy in Fort Worth is now at a multi-decade high at 96.2% and that reading has improved quite a bit over the past year. Growth has been notable across the board, with each asset class posting annual improvement of at least 80 bps. The most occupancy improvement, however, registered at the top of the market, with occupancy climbing 200 bps in the past year in the Class A stock.
San Antonio
San Antonio tends to be a relatively stable performer, with the apartment base here not experiencing the fluctuations seen in some of the other big Texas markets. At 6,238 units, apartment demand here is ahead of the markets five-year norm and tops supply volumes of 4,761 units. Supply volumes in San Antonio have been fading a bit in recent years but remain above long-term historical norms. In fact, San Antonio's apartment base has grown by a sizable 31% in the past decade.
Occupancy in San Antonio reached 95.2% in July, which was at least a two-decade high. The Class A and B stock here were the tightest at around 96%, while the Class C units were a bit softer at 94.8%.
For more information on Texas apartment markets, including forecasts and coverage for secondary and tertiary metros, watch the webcast Market Intelligence: Texas Market Update.