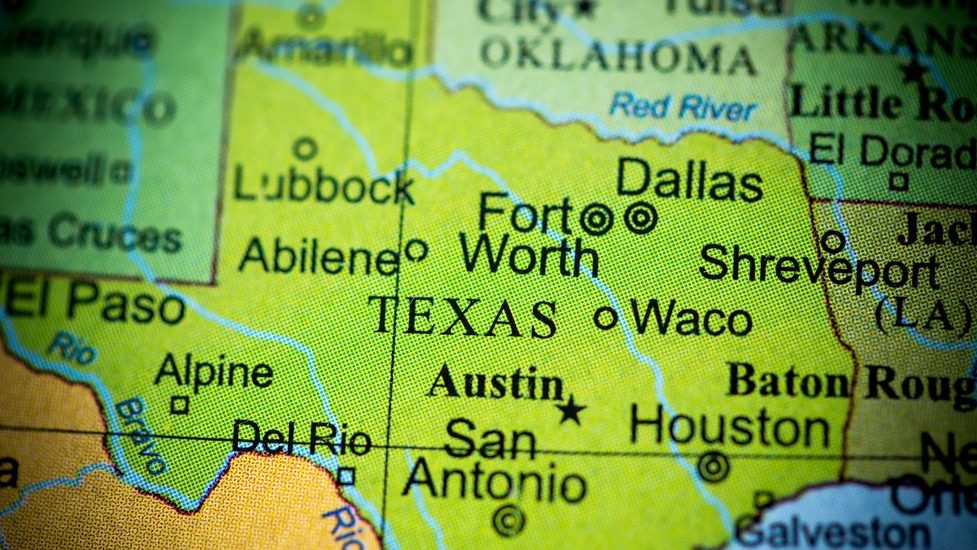 Texas apartment owners, operators and residents are now in clean-up mode after last week's record cold led to massive power outages, frozen pipes, flooded homes, water system contamination and food shortages. Though they're likely to find costly damages at some individual properties, the unprecedented storm event is unlikely to substantially impact the state's apartment sector overall.
Product Is Available for Those Displaced
Of the nation's 150 largest metropolitan areas that are in RealPage's core coverage of the U.S. apartment market, 11 are in Texas. Conventional apartment inventory in these metros totals just over 2.2 million units, with the Dallas/Fort Worth area (804,000 units) and metro Houston (708,000 units) accounting for about 70% of the tally.
Occupancy in the state's apartment stock seems apt to bump up a little over the short term, reflecting that some of the stock is offline for the moment and that a few of those who had been living in single-family homes may move into apartments for relatively limited periods of time while damages to their housing are being repaired. Also, the units that were about to be delivered at the state's many new properties have been delayed.
Still, the increase in occupancy probably won't be big enough to meaningfully change the general performances in most places, especially given that there are lots of available apartments in the existing local inventories.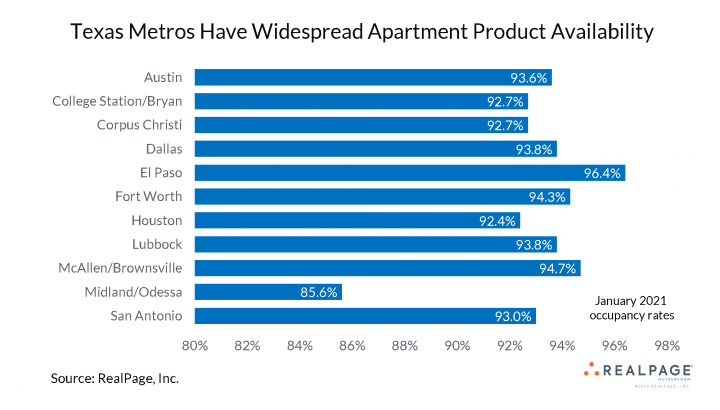 Occupancy in the Texas markets averages 93.3%, 210 basis points under the U.S. standard. Only El Paso, with an occupancy figure of 96.4%, is at essentially full capacity. El Paso isn't on the same power grid as the rest of Texas, and it didn't suffer the power disruptions that occurred elsewhere. Only a handful of homes went dark in El Paso, and power interruptions were measured in minutes or hours, not days.
Occupancy could go up a little more in the Texas stock of lower-priced Class C properties. Most of these Class C projects were built in the 1980s or earlier, with product age making them more vulnerable to plumbing and other structural damages.
Expect Modest Rent Growth in Most Locations
Coming into 2021, RealPage was forecasting modest rent growth in most metros across Texas. While the state's big metros all seemed poised to realize substantial demand, very sizable completion totals – especially in Dallas and Austin – pointed to competitive leasing environments for top-end product.
Only Fort Worth was expected to register strong rent growth momentum.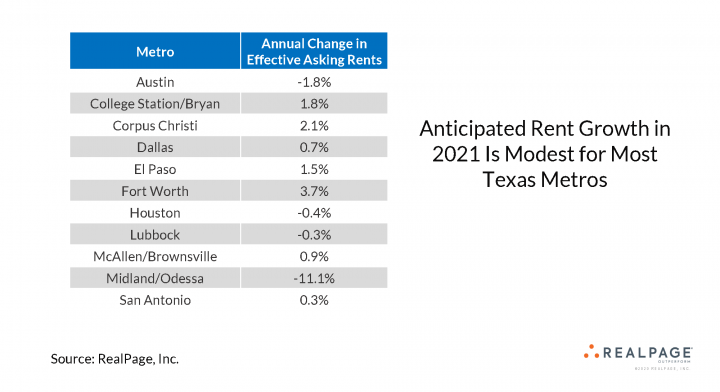 Events of the past week probably didn't change the near-term pricing outlook in most locations. However, the energy-influenced metros – Midland/Odessa, Houston and Corpus Christi – could be wild cards.
The price of West Texas oil, which had been hovering at $40 to $50 per barrel during most of the past year, shot up to around $60 last week. After drilling activity in West Texas slumped drastically during the past year, a rebound in the rig count could greatly improve the apartment sector's prospects in Midland/Odessa and moderately boost expectations in Houston and Corpus Christi.
The Expense Additions Will Be Ugly
The cost of repairs to the rental stock will be huge, stressing budgets that were already stretched by increasing expenses at a time when revenue growth has been relatively weak in most cases.
The Insurance Council of Texas, a trade group for the state's home, auto, renters and business insurance agents, says the price tag for repairs will make this freeze the costliest weather event in Texas history, topping the $19 billion in claims filed after Hurricane Harvey in 2019.