Tampa Hits Record Occupancy and Rent Growth Levels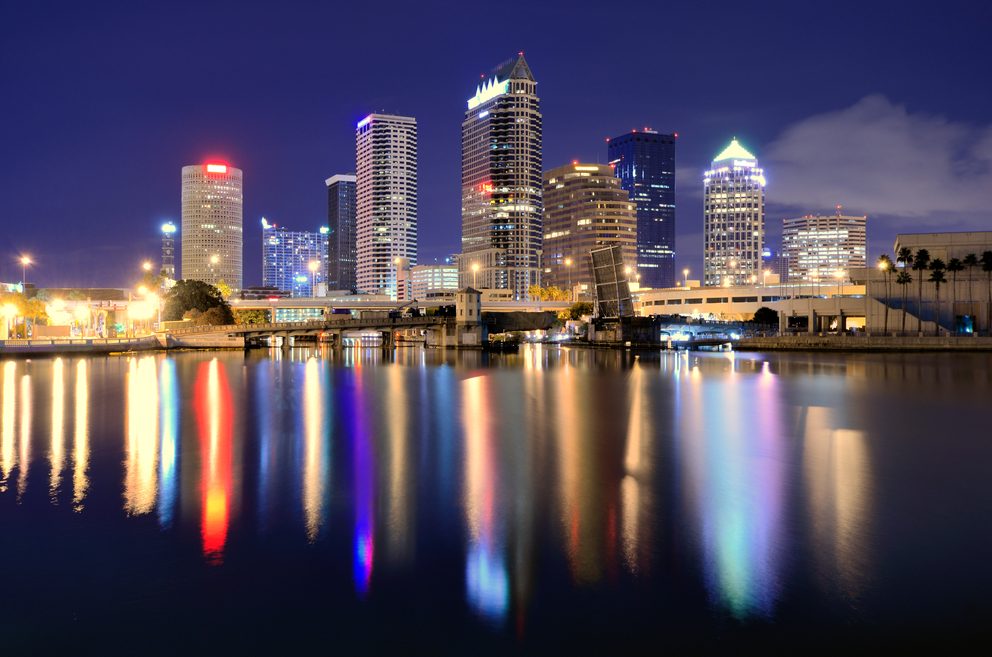 Posted September 24, 2021
With Tampa's economy continuing to recover from the pandemic-induced recession, solid demand has taken apartment occupancy and price hikes to record levels in recent months.
Effective asking rents in Tampa surged by a record 21.8% year-over-year as of August. That was well above the market's five-year average annual rent growth of 4.4%. Among the nation's largest 50 apartment markets, Tampa recorded the third-largest annual rent hike in August, behind Phoenix and West Palm Beach. In comparison, rents were up 10.3% year-over-year for the U.S. overall.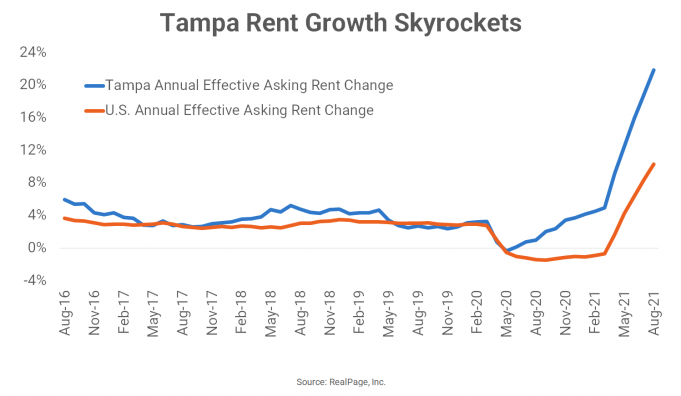 Big rent growth volumes were seen at the top of the product spectrum in Tampa. Class A units logged notable price spikes of 31.2% year-over-year as of August, while growth was at 21.7% in Class B stock. On the other hand, Class C units registered an increase of 6.5%. While comparably small in relation to the big increases in the upper-class units, the annual rent growth in Class C stock was well ahead of what this product generally sees.
Submarkets with the biggest rent growth volumes in the year-ending August were the areas just north of Old Tampa Bay, with increases of 26% to 34% in North Pinellas County, Town and Country/Westchase, Carrollwood/Citrus Park. Meanwhile, Brandon/Southeast Hillsborough County, located just to the west of Tampa Bay, also saw big rent growth, of over 27%. These are some of the more expensive areas in the Tampa apartment market.
Spurring such a solid pricing performance in Tampa was very tight occupancy. Since reaching a pandemic-era low of 94.7% in June 2020, occupancy in Tampa has climbed 310 basis points to 97.8% in August. That rate tied with the market's July reading as the strongest occupancy showing since RealPage began tracking the market and was the ninth-tightest rate among the nation's 50 largest markets. In addition, Tampa's occupancy rate landed 70 basis points above the U.S. average. Among major markets in Florida, only Miami outperformed Tampa on occupancy, with West Palm Beach matching Tampa's rate.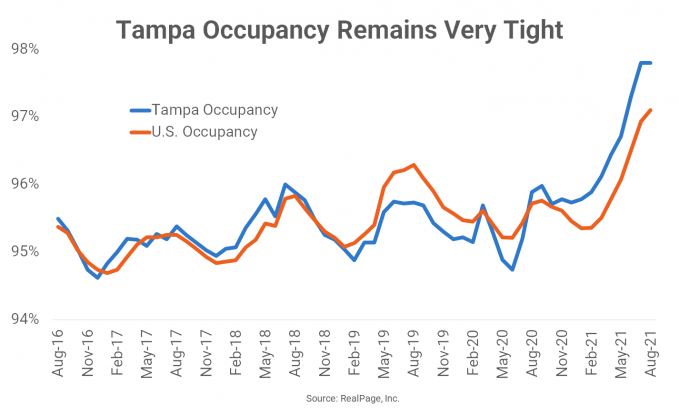 Fueling occupancy performance was solid demand for over 4,100 units in 2nd quarter, Tampa's largest quarterly absorption tally since 2nd quarter 1997. One of Tampa's strongest demand influences in recent months was job growth. Tampa has recovered much of the jobs lost during the steep decline due to the COVID-19 pandemic in March and April 2020. In the year-ending August 2021, Tampa's job base grew 5.1%, taking the total job count to within 0.9% of the pre-pandemic employment base, a top 10 performance among the nation's 50 largest markets. In comparison, employment counts in the three South Florida markets are still down 5% to 6%, while Orlando – the least recovered major market in the country – still has 8.1% of its job base left to regain.
Tampa's employment base has a much higher proportion of jobs in the Financial Activities and Professional/Business Services sectors compared to the U.S. average. These industries suffered less than others during the pandemic, as the economy shifted to a culture of working from home. Tourism, which was much harder hit, makes up larger shares of the employment bases of other Florida metros.