Tampa Apartment Rent Growth Dives Below U.S. Average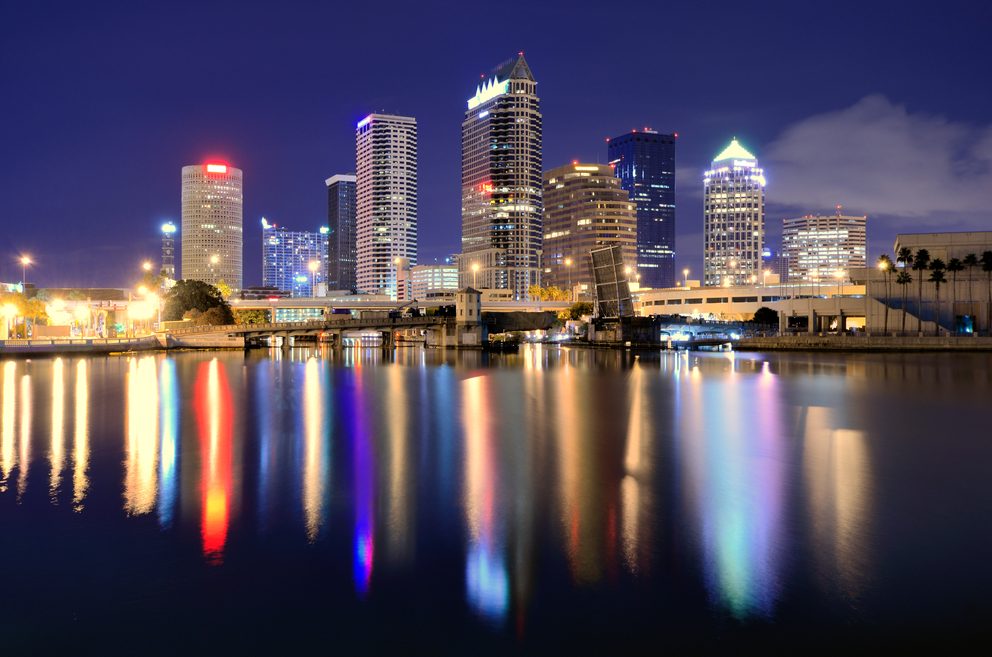 After topping the national norm for the better part of five years, annual apartment rent growth in Tampa took a dive in the past few months, hitting a recent low below the U.S. average.
As of July, annual rent growth in Tampa was down to 2.5%. In comparison, the nation overall increased prices by 3.1% in the year-ending July.
Tampa's recent performance was the mildest annual figure the market has seen since September 2017. In the past five years, Tampa price hikes have dipped below the U.S. norm only a handful of times. Tampa's average annual rent increase over those years was 4.5%, or 90 basis points (bps) above the average U.S. increase.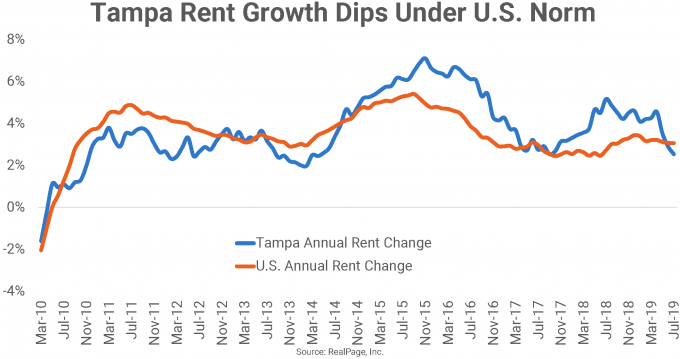 This latest rent growth downturn in Tampa is steeper than anything the market has seen this cycle. But this sudden drop follows downward drift in performance since mid-2018. After peaking above 5% in July 2018, annual rent growth in Tampa has generally been on a descending course. In fact, July 2019's price hikes are a steep 260 bps below that peak level from a year ago. In that same time frame, the U.S. figure has remained essentially stable, with the July 2019 figure ranking above the year-ago reading by 30 bps.
Occupancy in Tampa, however, has been strong in recent months. In fact, at 95.7%, the July reading was a bit ahead of the market's five-year average.
While all product lines in Tampa saw rent growth tumble in the past year, the Class A stock suffered the steepest dive. As of July, rent growth in the priciest stock was modest at 1.8%, down a sizable 380 bps from the year-ago figure. Annual rent growth in Tampa's sizable base of Class B units was at 2.6% in July, down 280 bps from the July 2018 showing.
The downturn in the less expensive Class C stock was much milder in the past year, at just 50 bps. In July 2019, annual rent growth in this lower-tier stock was best in the market at 3.4%. In fact, Tampa's Class C units have ranked as the market's rent growth leaders for the past 10 consecutive months. This is a big change for the product line, which generally lags the pricier assets in rent increases.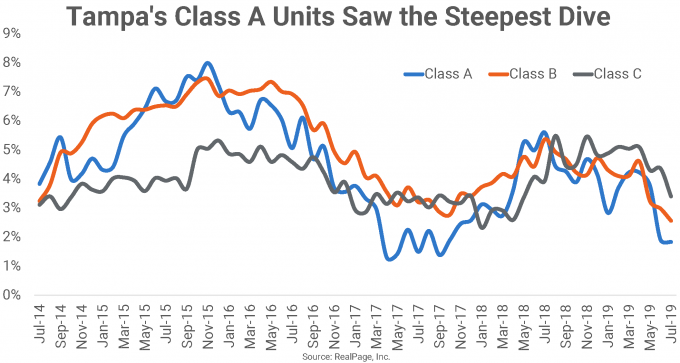 Occupancy by asset class generally followed recent rent growth patterns. The Class C stock pulled ahead of the other two product lines for overall occupancy in 2015 and has remained the front runner since. As of July, occupancy in this affordable product line was at 97.2%, while the Class A and B units registered occupancy closer to the 95% mark.
New supply volumes, which peaked recently, could be a culprit for the rent growth downturn in recent months. Roughly one-fourth of all the new product built in Tampa during the current economic cycle has come online in Central Tampa, which has seen about 7,700 units complete since early 2010. This urban core area houses the market's largest Class A stock. Occupancy and rent growth here are running right around the market average.
Looking forward, apartment construction activity is scheduled to slow down, which might allow for rent growth in Tampa to regain some lost ground. Central Tampa is scheduled see the steepest slowdown in new supply additions in the near term.