Tampa: An Apartment Market to Watch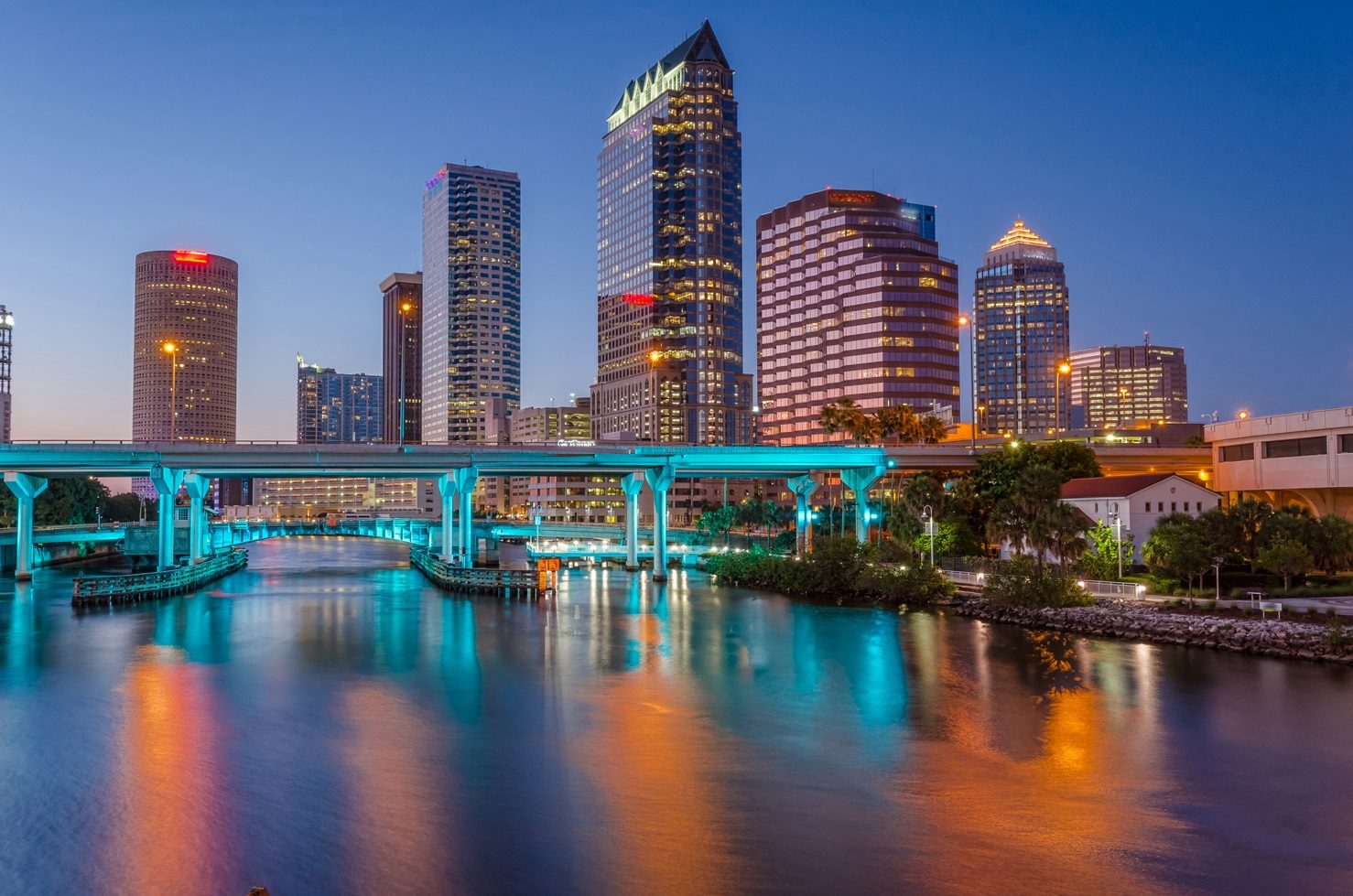 Tampa is not one of the Florida markets on most investors' radar screens, but the market's economic resilience and improved market fundamentals could change that.
Economically more diverse than other Florida markets of its size, Tampa has recovered much of the jobs lost during the steep decline due to the COVID-19 pandemic in March and April. Tampa's job base is 3.6% under February totals. In comparison, the employment counts in the three South Florida markets are still down by 5% to 7%, while Orlando – one of the least recovered major markets in the country – still has 9.3% of its job base to regain.
Tampa's employment base has a much higher proportion of jobs in the Financial and Professional and Business Services sectors compared to the U.S. average. These industries suffered less than others during the pandemic's shift to a culture of working from home. Tourism, which was much harder hit, makes up larger shares of the employment bases of other Florida metros.
While many of Florida's major apartment markets have struggled to maintain or regain market performance, Tampa's market fundamentals have been surprisingly strong in recent months.
Effective asking rent growth accelerated to 3.7% annually by the end of 2020, which was a full 110 basis points (bps) above the 2019 rate. Tampa led all major Florida markets for effective asking rent growth in 2020 and, in fact, saw one of the best readings among the nation's largest 50 apartment markets. In comparison, rent cuts of 1% were still the norm for the U.S. overall at the end of the year.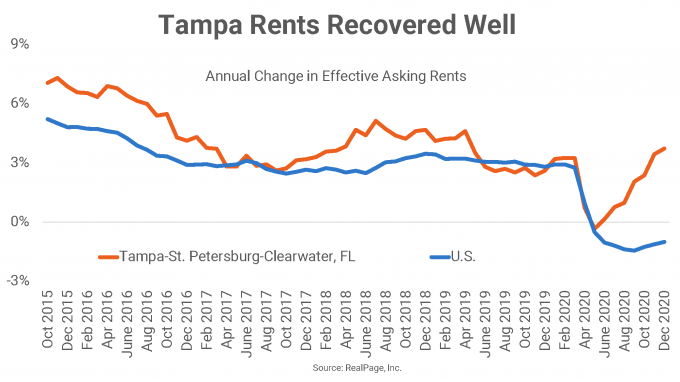 Meanwhile, occupancy in Tampa was up 50 bps, finishing 2020 at 95.7%. The Tampa market has mostly maintained an average occupancy rate between roughly 95% and 96% since 2015 and during the worst of the pandemic, the market's lowest reading was 94.8% in mid-2020.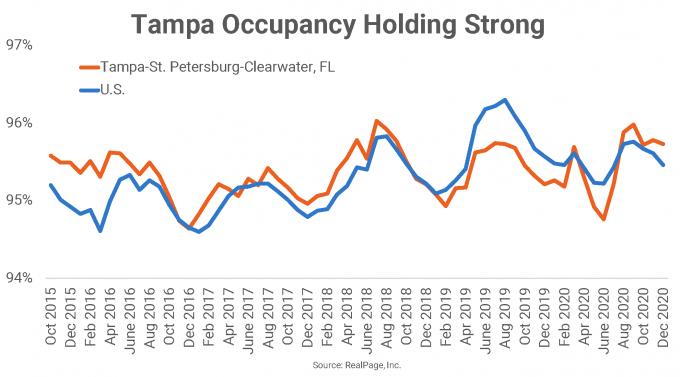 Two submarkets that bear watching are Largo/Seminole and North Pinellas County. These two western submarkets that straddle Clearwater have had minimal new construction in the past five years and finished 2020 with effective asking rent growth of 7% and 9%, respectively. Additionally, while both had sub-95% occupancy rates four years ago, they are now approaching the 97% mark.
Three other outer suburban submarkets – Brandon/Southeast Hillsborough County, New Tampa/East Pasco County, and West Pasco County/Hernando County – had 2020 rent growth of about 6% or greater.
Tampa may not be one of the "sexy six" or gateway markets favored by investors, but solid market fundamentals and a strong economy place Tampa among the new and improved markets to watch in the near term.
Fore more information on Tampa, watch the webcast Up Close and Local: Tampa Market Update.