Supply and Price Issues Hamper Residential Starts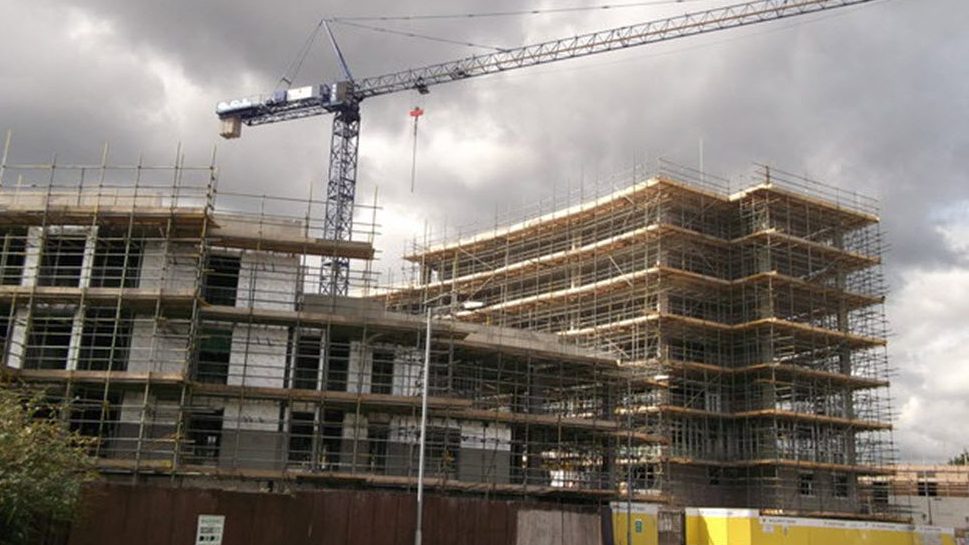 Labor and supply shortages, coupled with sharply rising prices for lumber, appliances, and other critical building materials, are slowing residential construction.
As of April, total residential starts fell 9.5% to 1.6 million units on a seasonally-adjusted annual rate (SAAR) from March's revised annual rate of 1.7 million units, according to the U.S. Census Bureau. Total residential building permits were about even with last month at 1.8 million units.

Annual multifamily starts were up 4% from last month to 470,000 units but were almost double the rate from one year ago, when the COVID-19 pandemic shutdown began. Multifamily building permits, which lead starts by a month or more, were 11.1% higher than last month at 559,000 units and were 44.4% greater than last April. In a sign that supply and price constraints may be delaying multifamily developments, completions for projects with five or more units were down 13.8% from March to 401,000 units.
Single-family homebuilders saw annualized starts decline 13.4% to 1.1 million homes from last month, however, they were up 58.7% from April 2020's pandemic low point. Building permits for single-family homes dipped only 3.8% from March and were 71% greater than April 2020 with 1.1 million homes permitted. The annual rate for single-family building permits has been at or has exceeded 1.1 million units for nine straight months. Single-family completions were virtually unchanged from last month with 1 million units finished, about 21% more than last April.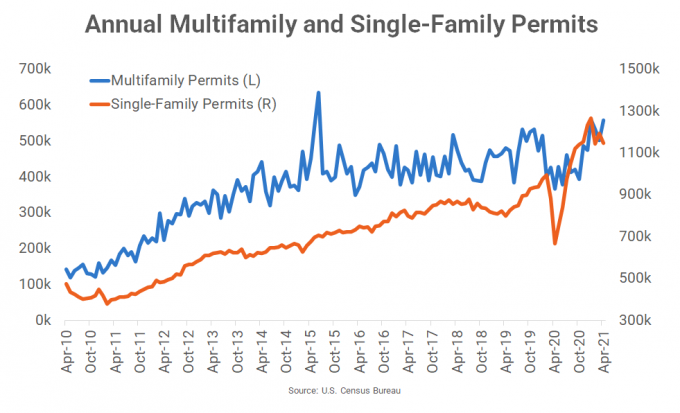 Annual multifamily permitting was up in all four regions, with a jump of 251.1% in the small Northeast region (to 79,000 units) and 36.2% in the West (to 145,000 units). The South region increased 32.1% from last year's pace to 278,000 units, while the Midwest region experienced a solid increase of 20% to 57,000 units. Compared to the previous month, only the Midwest had a decrease in their annual permitting rate (-11.6%), while the West was almost unchanged (+1%). Multifamily permitting was up 26.4% from last month's annual rate in the Northeast region and up 19.6% in the South.
Multifamily starts were up across all regions compared to April 2020 with the regions experiencing the strictest lockdowns at the outset of the pandemic seeing the sharpest annual increases (West and Northeast). The small Northeast region had a 282.8% increase in annual multifamily starts to 89,000 units, while the West region had an increases of 309.3% to 132,000 units. The South region had an increase in annual multifamily starts of 36.6% from last April to 208,000 units and the Midwest was up 35.5% to 41,000 units.
At the metro level, all top 10 permitting markets in April returned to the list from March but a few changed places. New York continues to lead the nation in permitting with about 34,700 units permitted, though that volume has slowed by 2,800 units from one year ago. Austin and Houston ranked #2 and #3 again but while Austin increased annual permitting to 21,500 units (up 4,435 units or 26% from last year), Houston is going in the opposite direction with permitting slowing by about 6,500 units, down 28.6% to an annual rate of 16,257 units.
Washington, DC remained in the #4 spot with 14,066 multifamily units permitted, increasing the market's annual pace by 2,170 units from last April, while Seattle settled in at #5 again with 13,403 units permitted, an increase of only 215 units from last year. Phoenix, which tumbled to the #10 spot last month, moved back up the list to the #6 spot in April with 12,895 permitted units – up 296 units or 2.3%.
Dallas was displaced one spot to #7 in April with almost 12,800 units permitted, but the Big D had a decline in annual permitting of more than 3,800 units, a 23% decrease. Nashville moved past Minneapolis-St. Paul into the #8 spot with an increase in multifamily permitting of 3,466 units to total 12,576 units for the year, while the Twin Cities slipped two spots from March to #9 with 12,489 units permitted through April, up only 870 units.
Los Angeles also slipped one spot from March to #10 with 12,465 units permitted, down 2,660 units, or 17.6%, from last April.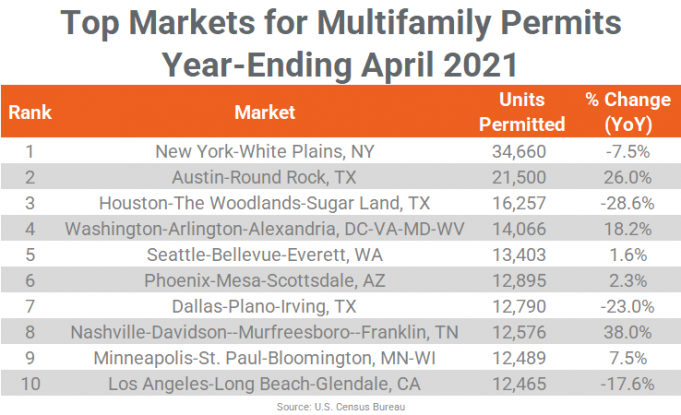 As mentioned, four of the top 10 permitting places had decreases in annual permits compared to one year ago with cutbacks ranging from 2,660 units (Los Angeles) to more than 6,500 units (Houston).
Significant slowing in annual multifamily permitting also occurred in Fort Worth (-4,760 units), Portland, OR (-4,438 units), Chicago (-3,960 units), Cape Coral-Fort Myers, FL (-2,483 units), and Orlando (-2,406 units).
The only significant increases in multifamily permitting among the top 10 were in Austin (+4,435 units), Nashville (+3,466 units), and Washington, DC (+2,170 units).
Other markets that saw significant year-over-year increases in annual multifamily permitting in the year-ending April were Philadelphia (+4,672 units), Denver (+2,417 units), Jacksonville (+2,095 units), and Boston (+2,052 units).
Eight of the top 10 had more annual multifamily permits than the previous month, with Houston experiencing a 7.3% increase from March's annual rate, and four others increasing by about 4% to 5% – Washington, DC, Phoenix, Austin, and New York. Dallas, Nashville, and Los Angeles saw little change in their annual multifamily permit totals between March and April.
The annual total of multifamily permits issued in the top 10 metros – 163,101 – was 2.6% less than the 167,463 issued in the previous 12 months. The total number of permits issued in the top 10 metros was almost equal to the number of permits issued for the #11 through #40 ranked metros.
All but one of last month's top 10 permit-issuing places returned to this month's list with the first six remaining in the same order. The list of top individual permitting places (cities, towns, boroughs, and unincorporated counties) generally include the principal city of some of the most active metro areas.
The city of Austin retained the #1 spot for permitting places, followed by the city-county of Nashville-Davidson and the city of Los Angeles. Each permitted from 9,500 to 12,800 units.
The city of Houston came in at #4 on the list with about 7,900 units permitted while the city of Seattle ranked #5 with 6,600 units. The Brooklyn borough permitted close to 6,500 units for the year-ending April, about 250 units more than the market's annual total last month.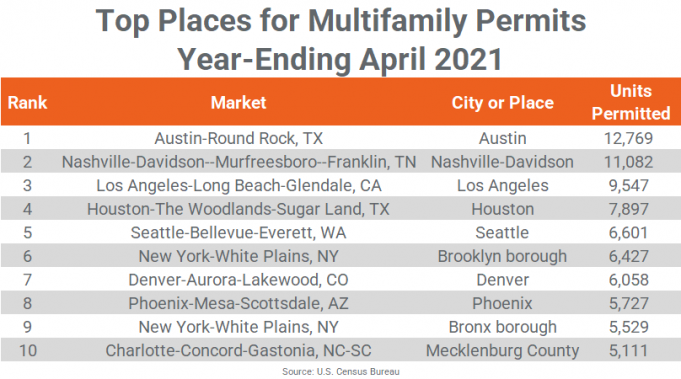 The city of Denver jumped into the top 10 permitting place list with almost 6,100 units permitted, ranking it #7, after the annual pace increased by 1,659 units from March. The city of Phoenix, the Bronx borough, and Mecklenburg County (Charlotte) round out the top 10 with around 5,000 to 5,700 units permitted.
The cities of Austin and Phoenix were the only permit-issuing places in the top 10 to see a mild decline in annual permitting from last month.