Student Housing Industry Sees Supply Slowdown in Some Markets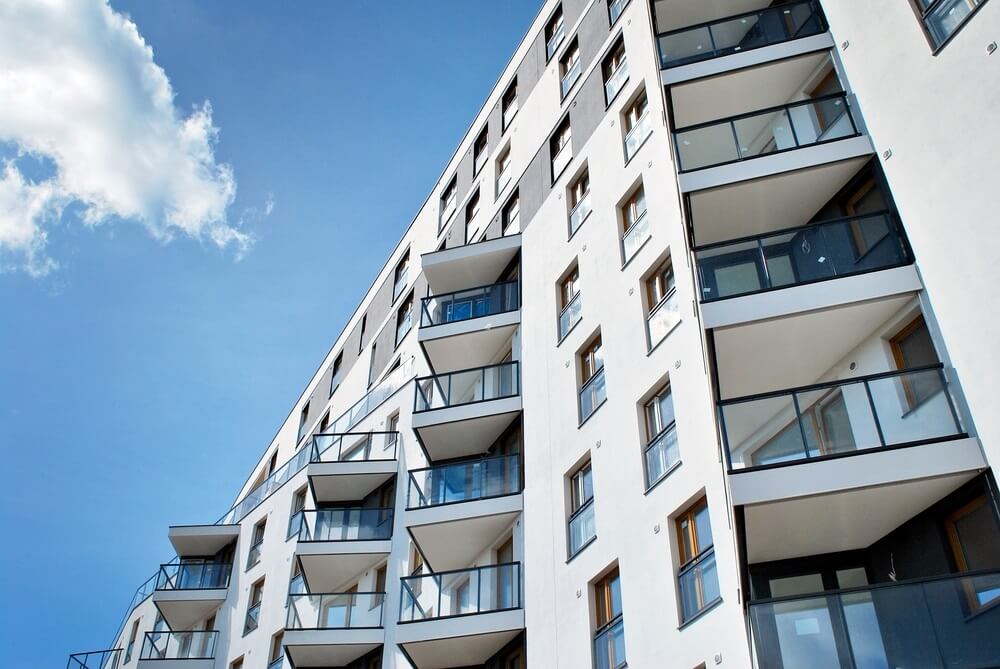 The student housing industry's current development cycle (since 2011) has evidently been the most productive, in terms of deliveries, as the space continues to mature.
Clearly, in the past several years the sector has experienced a race to satisfy what was seen as an unmet demand for dedicated off-campus student housing. The generally rapid increase in off-campus housing supply in the past few years has naturally affected the current state of the sector.
As some of the demand for dedicated student apartments was met in the recent past, development has started to slow, according to Axiometrics' most recent student housing research.
As generally known, the peak for off-campus housing deliveries of new beds — not only for the current cycle, but for the sector's history — came in fall 2013 and 2014, when 61,000 and 62,000 new beds delivered, respectively. Such delivery levels have naturally driven current, and near future, development to lower points in the cycle. As such, more than 47,000 new beds are set to come to market for fall 2017, similar to the levels of fall 2015 and 2016. New supply for fall 2018 will most likely be comparable to levels of prior years, based on projects already identified.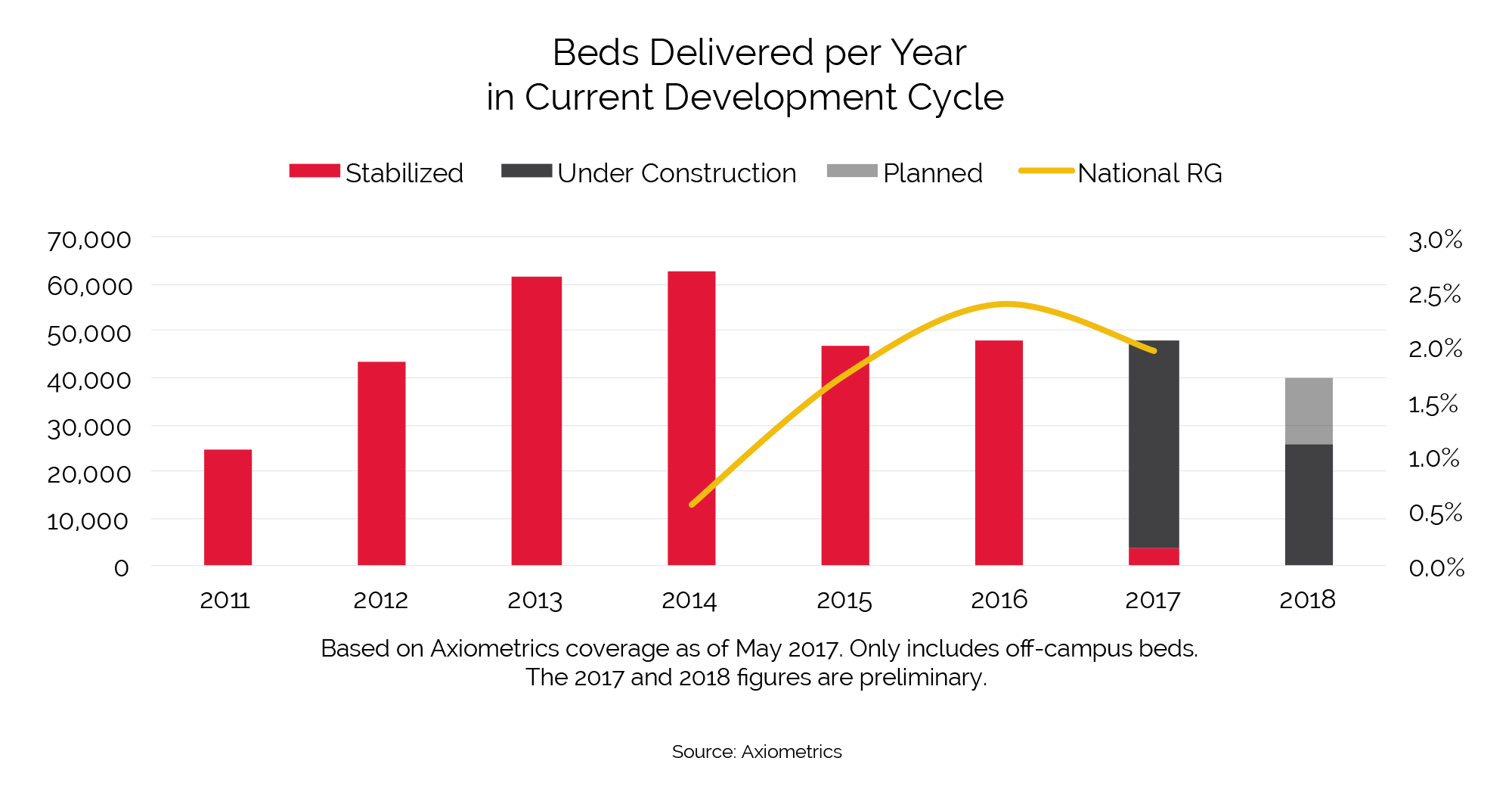 While the volume of new supply has decreased in recent years, rent growth has continued to increase. Nationally, average effective rent from November-May for fall 2016 increased by 240 basis points (bps) compared to the same time period for fall 2015. Average effective rent for this fall has increased 200 bps from last year, suggesting that although developers have been responsive to student demand, such demand continues to drive up rents.
The national outcome derives from the performance of individual markets and individual assets. The following are some markets that reflect their variation in performance after a large amount of new supply has been added through several consecutive years.
University of Illinois – Urbana-Champaign
The University of Illinois at Urbana-Champaign has received new purpose-built student housing every fall since 2015. More than 3,000 beds have been delivered since then, including almost 700 beds slated for this fall. New supply activity picked up again in 2015, a year after a freeze on in-state-tuition was approved by the Board of Trustees.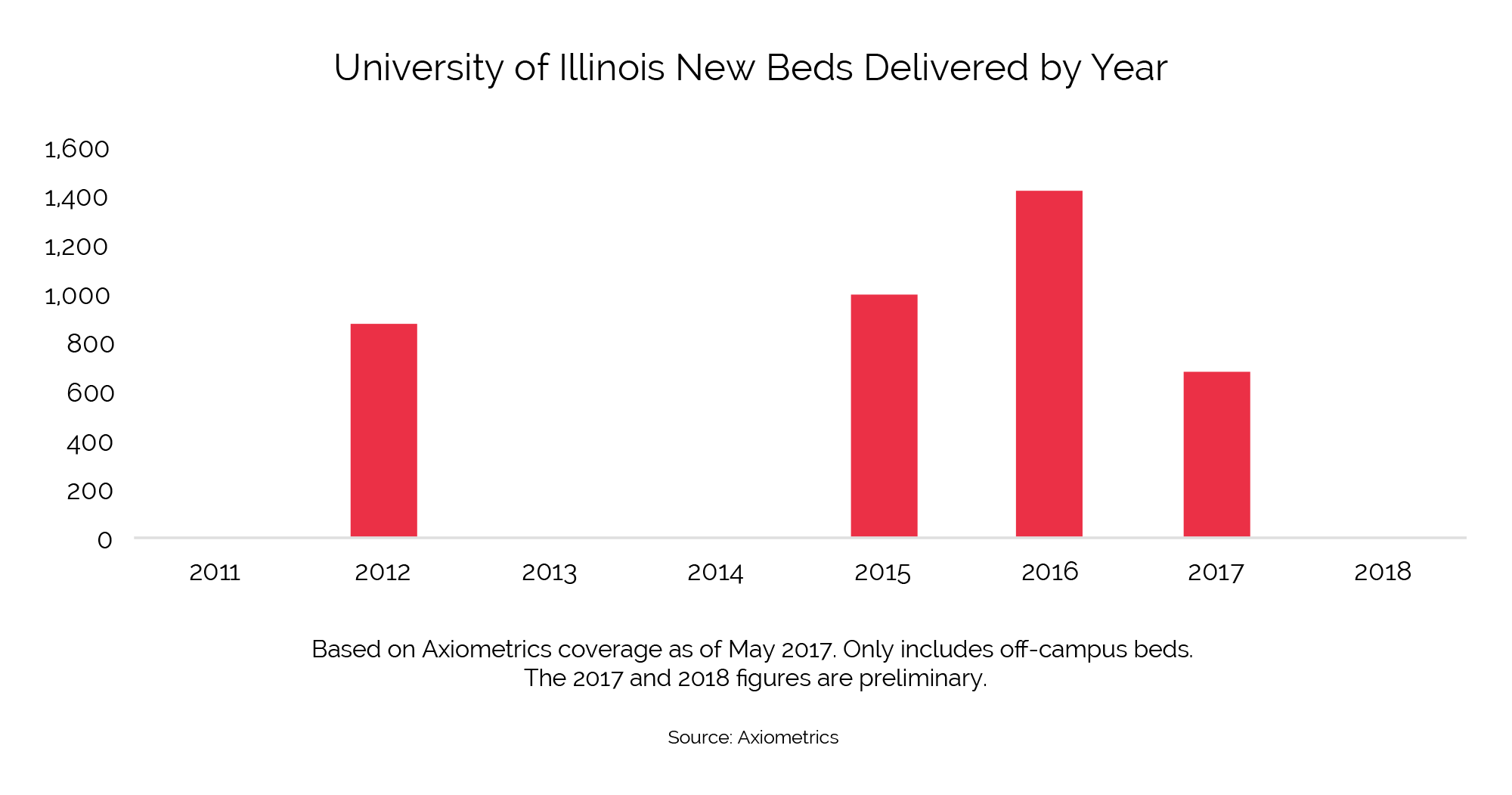 Enrollment also has increased since then: Enrollment growth went from 0.4% in 2014 to 1.6% in 2015, then to 2.4% in 2016, the largest enrollment increase since 2005. At the same time, rent growth in the university market has declined. For November-May for the fall 2016 leasing season, effective rent increased by 200 bps, but rent levels for this fall have decreased by 10 bps compared to 2015 and May 2016.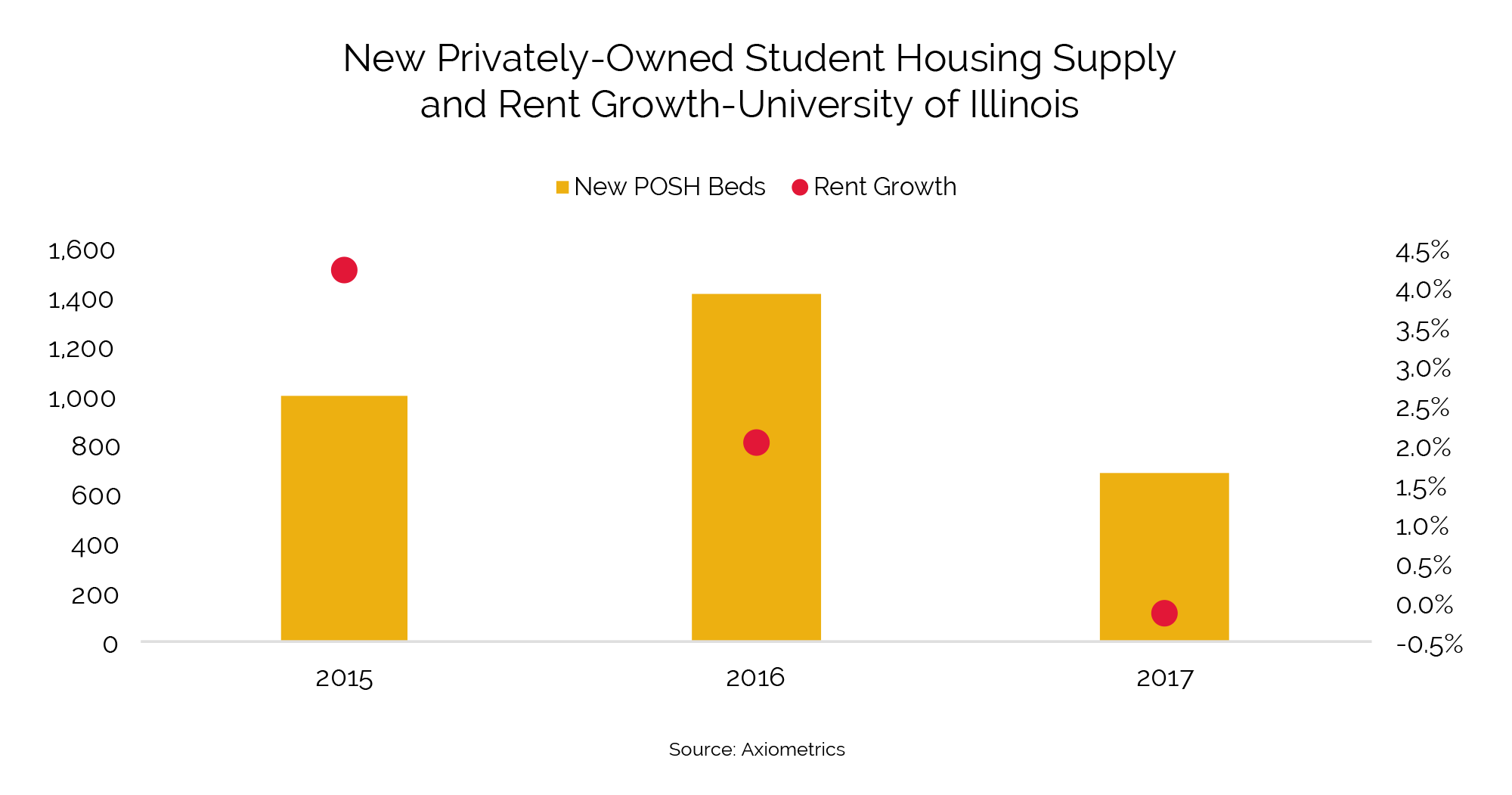 While rent growth is slowing, no privately owned student housing development for UIUC is in the pipeline over the next few years, and the university's projections of several thousand more students may help improve student housing performance.
Baylor University
Baylor University has received new deliveries every fall since 2014, and this fall will be no exception. More than 4,300 new beds will have been delivered during the current cycle, including over 1,500 scheduled for this fall. However, no beds are in the pipeline for 2018 or 2019.
The higher demand for purpose-built student beds at Baylor in the past few years is partially the result of the recent high retention rates and first-time freshman enrollment. Baylor's retention rate has remained above 85% since 2011, and reached 89% in fall 2016 — on track with its Five-Year Goals to increase first-year retention to at least 89%. Additionally, in 2014, the institution experienced the largest increase since 1998 in its freshman class and its overall enrollment growth.
Though the school's fundamentals are trending upward, development of privately owned student apartments is coming to a pause. When looking at year-over-year prelease performance for May 2013-May 2017, it shows that the addition of supply has had somewhat of a negative effect. Therefore, the pause in new supply could positively affect the performance of existing assets.
University of Arkansas
The University of Arkansas also has received a steady stream of purpose-built student housing in the past few years. With the exception of 2015, U of A has experienced new supply every fall since 2012. Over 5,400 beds have come to market since then, including 250 scheduled for this fall, according to Axiometrics student housing reports.
Though no new beds have been identified for delivery after fall 2017, demand for the recently added supply is evident when looking at the university's rate of enrollment growth. Enrollment has increased by an average of 4.1% per year since 2011 — almost 5,800 students. This increase in enrollment reflects university efforts to attract more Arkansas students while targeting a 50/50 in-state/out-of-state enrollment.
Higher enrollment did not prevent some of the effects new supply has had on performance. The metrics have declined since 2015, when leasing velocity and occupancy was at its highest compared to more recent years. Occupancy for fall 2016 fell 500 bps from fall 2015. Leasing velocity in May 2017 was 140 bps lower than that of May 2016. Yet, rent growth for this fall is averaging 1.9%, indicating that the demand for off-campus housing continues.
Assuming that enrollment growth remains constant and no new supply comes online, the market's performance should rebound in the next few years, similar to that experienced in 2015.
University of Nebraska–Lincoln
The University of Nebraska–Lincoln has received a moderate number of new beds almost every fall since 2012: Less than 800 each year except 2016, when 1,200 new beds came to market. No beds will be delivered this fall, and none have been identified after that.
Demand for new supply is a result of the increase in enrollment which, according to the university, can be attributed to its efforts to increase the student body. The institution's total headcount has been increasing by an average of 215 students a year since 2011, while fall 2016 enrollment increased by 630 students.
Though enrollment is rising, the large number of beds delivered last fall continues to impact student housing market performance. Such effect is visible in rent levels that, as of May, have dropped by 820 bps, compared to the 2016 average. In turn, leasing velocity increased 840 bps compared to May 2016.
The absence of new supply in the next few years and continued increase in enrollment could play a positive role in the recovery of the market.
Many factors drive the decision to develop in specific markets, but the level of existing supply, rate of enrollment growth, and performance of existing assets may cause development to decrease at some universities. Inevitably, such levels will continue to change through time as the privately owned student housing industry continues to mature, the current development cycles ends, and a new cycle begins.