Student Housing Stock Expected to Surge in 2019 at Some Universities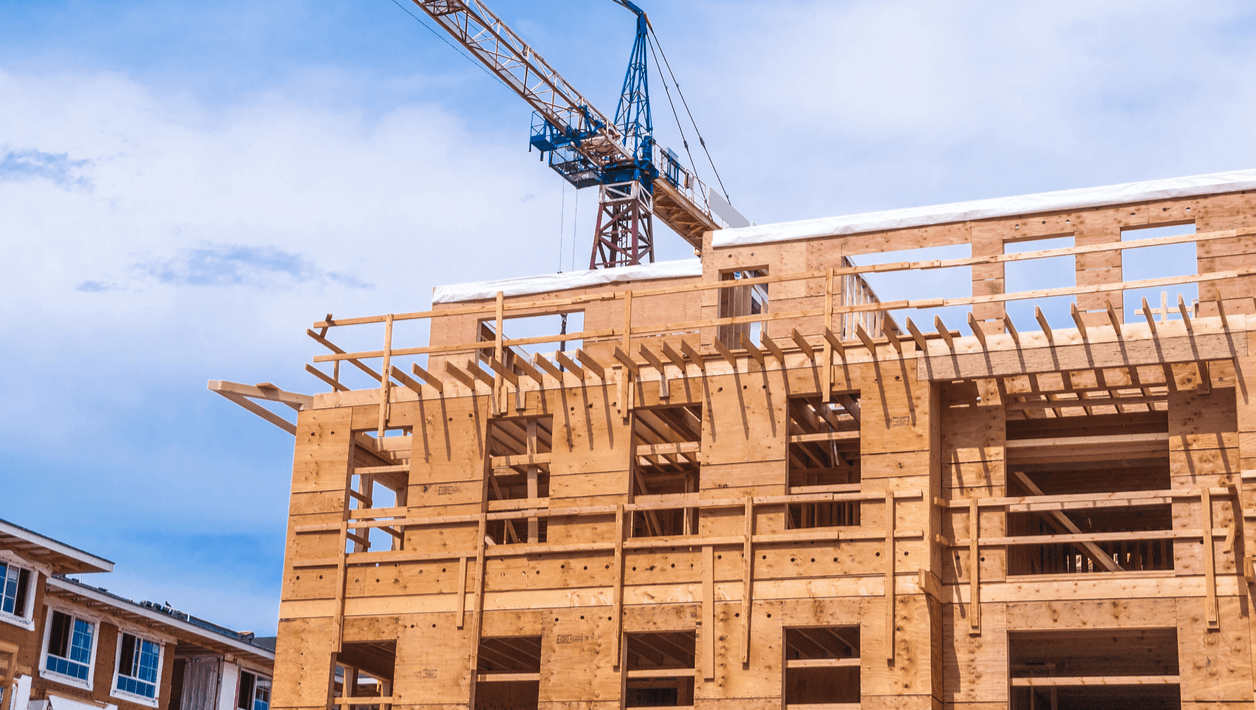 While scheduled U.S. student housing completions for 2019 are about in line with those of recent years, some universities are seeing new supply volumes hit new highs, according to the recent RealPage Asset Optimization webcast.
Across the nation's largest universities, roughly 47,000 new purpose-built privately-owned student housing beds are scheduled to complete in 2019. That's about on par with the average annual new supply tally during the current cycle that began in 2011, but ahead of the 2018 total by about 4,000 beds.
Some universities are seeing new supply volumes surge in 2019. In fact, among the top 10 supply leaders for 2019, scheduled deliveries will roughly match or exceed cumulative completions over the cycle at five schools: Purdue, Temple, Georgia State, Georgia Tech and Sam Houston State.
Purdue University jumped up by 31 positions this year, landing at the top of the new supply list. The scheduled completion of 2,118 beds in 2019 is well ahead of the 583 beds completed in 2018. When adding up the supply volumes from 2011 through 2018, the 2019 showing is 98% of the total from that eight-year time frame. The last time Purdue saw completions even close to the 2019 volume was back in 2001.
Though this sizable block of scheduled supply should lead to some softening in the market in the near term, Purdue is starting off from a position of strength. Rent growth here was among the nation's best in 2018, with prices up nearly 8% on a year-over-year basis. Also displaying strength, occupancy is tight at 98%. That's partially because there's only enough off-campus, purpose-built student housing for about 18% of the enrollment base at the West Lafayette, IN campus. Enrollment in Purdue grew 1.9% in 2018, a bit behind the 2.6% to 2.8% growth rates seen here in the past two years.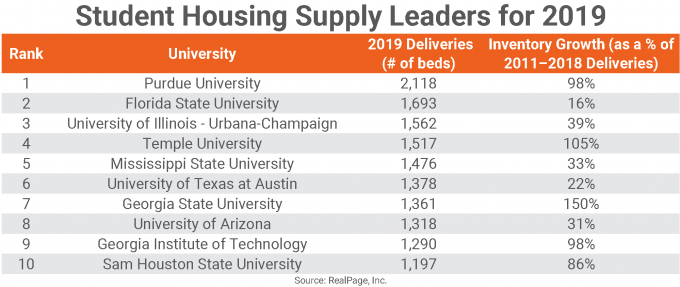 Temple University is seeing much of the same. After four years without any new supply at all, Temple is slated to see a little over 1,500 beds complete in 2019. With the 1,422 beds completed in 2011 through 2014, the grand total for the past eight years is a few beds short of the anticipated 2019 tally. But there are signs that the school could handle this increase. Occupancy at this Philadelphia university tends to run tight, and that was no exception in 2018, when the rate was very strong at 99.7%. Rent growth was at 2.7%, which is moderate on a national level, but notably higher than what this school generally sees.
Georgia State University's anticipated new supply spike is the most extreme: the 1,361 new beds coming to market this year are well ahead of the 910 total beds added here between 2011 and 2018. During that eight-year time frame, the average annual delivery volume was about 110 beds. Fundamentals are strong here, as well. Occupancy at Georgia State, in downtown Atlanta, climbed notably in 2018, landing at 97.6%, which is 360 basis points (bps) ahead of the 2017 level. Rent growth was in line with national averages at 3%. Enrollment was up 1.5% in 2018, a bit ahead of the 1.2% increases seen in 2017 and 2016. The off-campus bed-to-student ratio at Georgia State was at 14.5%, well below the U.S. norm of 18.5%.
Located just a few miles away, Georgia Tech is expected to receive 1,290 new beds in 2019, a number that almost matches the 1,322 beds delivered here in the past eight years. Notably, all of those 1,322 beds came online in the 2015 school year. At 4.7%, enrollment growth at Georgia Tech was much higher than Georgia State. But the recent increase at Georgia Tech was way below increases above 9% seen here in the past two years. The off-campus bed-to-student ratio was also a bit higher at 15.7%. The foundation here is very similar to its neighboring campus. Occupancy was at 97.6%, and rent growth was at 3.1%.
Sam Houston State University will see about 1,200 beds completed in 2019, a volume that's close to the total 1,400 beds completed at this Huntsville, TX school between 2011 and 2018. Nearly 1,000 of those beds wrapped up construction in the past two years, specifically. The off-campus, purpose-built bed-to-student ratio here is notably higher than some of the other schools on this list at 31.2%. Enrollment growth at Sam Houston State is about on par with what it's seen in the past few years, with an increase of 2.1%. Occupancy has been notably weak recently, at just 89%, tumbling 410 bps from the 2017 levels. Not surprisingly, then, rent change was flat in the past year.
The remaining universities on the top 10 list for supply in 2019 are seeing less dramatic increases from historical norms.
The 1,700 beds expected at Florida State University in 2019 is about what this market, a development leader in this cycle, usually sees. Deliveries here have averaged at roughly 1,300 beds annually in the past eight years.
After logging only 65 new beds in 2018, the University of Illinois Urbana-Champaign should see completions totaling 1,562 beds in 2019, the largest volume this school has seen in nine years.
Mississippi State University is expecting 1,476 new beds in 2019. No new stock came online in 2018, but this school has averaged moderate completions of about 560 beds annually since 2011.
The University of Texas at Austin is used to big volumes of supply. In fact, the 1,378 beds scheduled for completion in 2019 is a bit behind the 1,483 beds delivered here in 2018. The average completion volume for the past eight years is 783 beds.
Following two years of no new supply, the University of Arizona expects roughly 1,300 beds in 2019. The last time supply was this strong at this school was in 2013, when 1,900 beds were delivered.