Student Housing Pre-Leasing Runs at Nearly 60% in March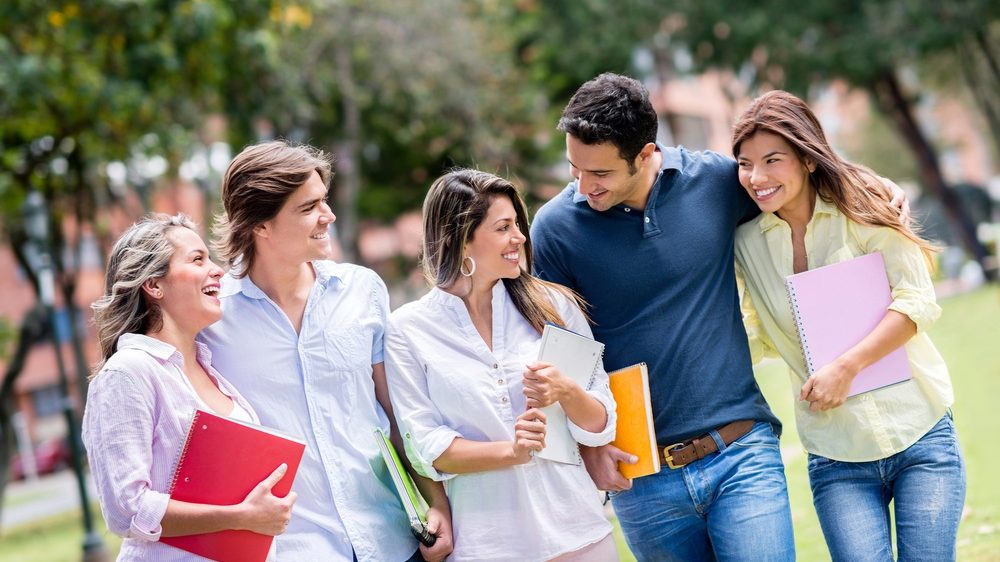 The student housing market enters the 2019 peak leasing season with nearly 60% of beds already leased.
For the fall 2019 leasing cycle, the market sits at 59.5% pre-leased as of March. That's up about 9% month-over-month, and about 36% from December. In student housing, the leasing season for each school year begins in October of the previous calendar year. Peak leasing season runs from April through the traditional start of the school year in August.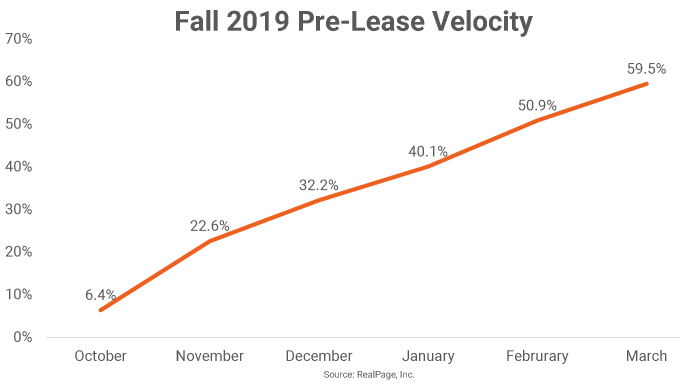 The March 2019 pre-lease velocity is a healthy but not impressive number. Averaging the eight years in the student housing cycle shows that the average pre-leasing velocity as of March is 58.0%, indicating the market is currently doing better than average. The March pre-leasing total in 2016 was the highest of the cycle, at 61.1%. The low came in 2013 at 51.6%.
While better than average, it should be noted that the pre-leasing velocity as of March this year is the softest since 2015. From 2016 through 2018, pre-lease velocity had breached the 60% threshold as of March. Additionally, the market is currently 110 basis points (bps) behind last year's pre-lease rate.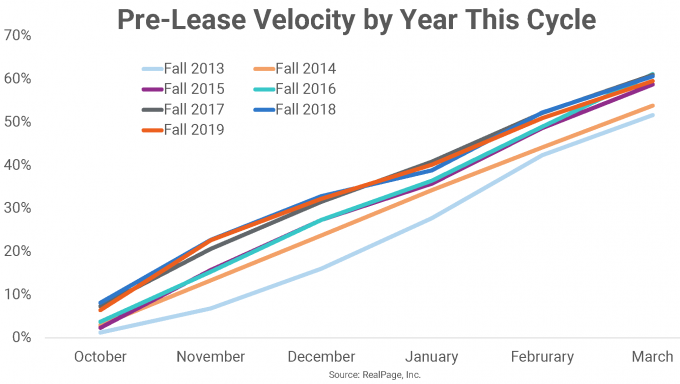 Though more than half of beds are leased across the U.S., there are a handful of schools that are outperforming.
Indiana University in Bloomington currently boasts the nation's highest pre-lease velocity at nearly 86%, up from just 58% at this same time last year. The weak 2017 pre-lease was likely due to the 1,200-plus beds that delivered that year, which more than doubled the school's total deliveries since 2011. The current pre-lease velocity suggests, however, that the school has done a good job of absorbing the relatively small number of beds delivered in the past eight years.
Pennsylvania State University ranks second nationally with nearly 83% of its purpose-built off-campus beds preleased as of March 2019. That's up from about 68% last year. Penn State has seen anywhere from 500 beds to 600 beds deliver in the past two years, with an additional 662 beds slated to come online in 2019. Such a strong pre-lease velocity in 2019 would suggest the school has maintained enough demand to keep pace with this slow and steady stream of supply.
Two southern schools – University of Georgia and Clemson University – tie for third place, each currently exhibiting a pre-lease velocity of 80.5%.
Both the University of Georgia and Clemson University are in college towns with relatively few student-competitive conventional apartments, which has likely helped performance among purpose-built product at these schools. The March 2018 pre-lease velocities for UGA (71%) and Clemson (78%) were among the higher pre-lease rates at that same time last year.
Alternatively, several schools are widely lagging the national average – none more so than the University of Missouri in Columbia, at just 34.5% pre-leased.
The University of Missouri pre-leasing velocity has been adversely affected by declining enrollment in recent years and a deluge of new supply early in the cycle. Early cycle building at Missouri was among the nation's most aggressive. Until 2015, Mizzou was the nation's fourth most active market for new supply with 4,500 beds delivered, trailing only Texas State University, Texas A&M University and Florida State University at the time. Since 2015, only half as many beds have delivered, but enrollment has declined slightly.
Sam Houston State University in Huntsville, TX currently sits at 44.2% pre-leased, trailing the national figure by some 1,500 bps. That softer pre-lease for Fall 2019 is likely due to the 1,200 or so beds scheduled to deliver this year, which comprises 86% of total deliveries this cycle.
Rounding out the bottom three is the University of North Texas at just 44.6% pre-leased. While there are some 700 beds delivering in 2019, it should be noted that no new deliveries have entered the Denton, Texas market since 2013. Enrollment growth has, however, been relatively flat, which may explain at least some portion of the soft pre-lease rates.