Student Housing Pre-Leasing Momentum Holds, Asking Rent Growth Slumps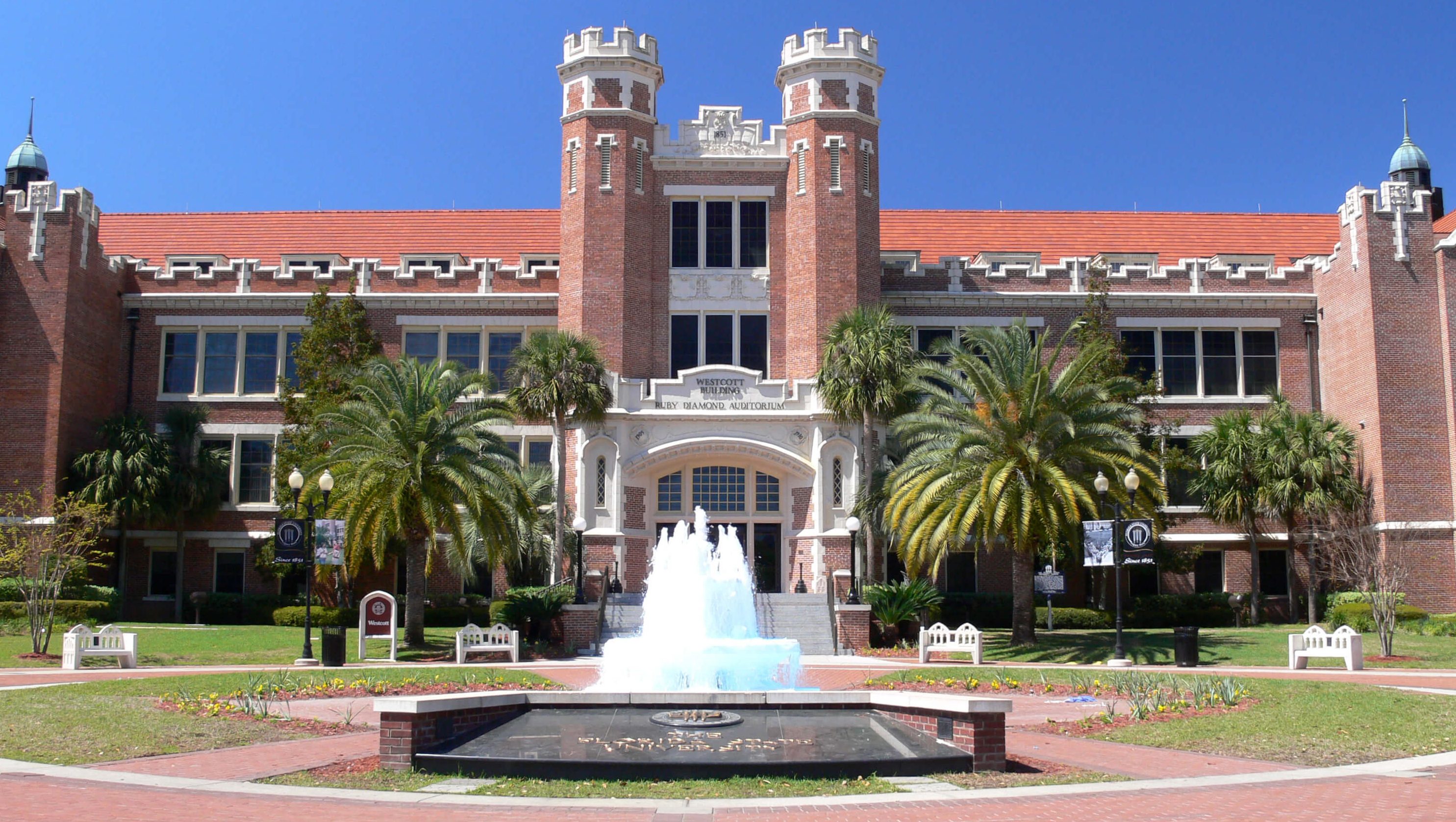 Student housing pre-leasing has mostly maintained momentum, but operators have pulled back a bit on rent growth, predominantly at properties closest to campus.
Since mid-March, when college campuses started closing due to the COVID-19 pandemic, pre-leasing for student housing has continued to gain momentum, though at a slower pace than in past years. As of July, 82.2% of beds at the core 175 universities tracked by RealPage were pre-leased for the Fall 2020 term. That rate fell about 340 basis points (bps) below the July 2019 rate.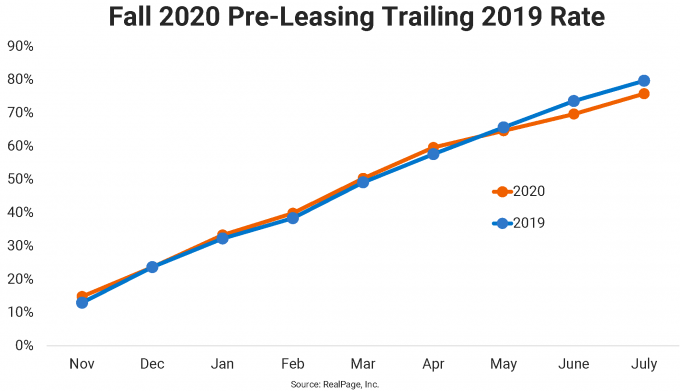 While pre-leasing continues to chug along, asking rent growth has diverged from its usual path. In April, asking rent growth slumped 40 bps month-over-month to stand at 1.4%, much lower than the 2.1% pace from April 2019. By July, effective asking rent change ticked down to 1.1%, the smallest increase the market has seen since October 2019. It's not uncommon for rent change to take a small dip near the end of the pre-leasing season as operators work to fill last-minute vacancies before term starts, but this year the market missed out on its usual bump earlier in the cycle.
The drop-off in asking rent growth has predominantly been driven by performance at properties within a half mile to campus. These close-in properties, which typically see the highest rental rate and overall performance in usual times, have been hit hardest with sluggish asking rent growth in the last couple months, as many students, faced with virtual learning and online classes, have less incentive to pay a premium to live near a campus they'll be visiting less frequently. Asking rent growth in those properties has softened more severely than the total, landing at 1.1% in July, down from the 2% increase seen a year earlier.
At properties a half mile to one mile from campus, as well as properties over one mile from campus, there's been no notable change in rent growth in July compared to the year-ago rate.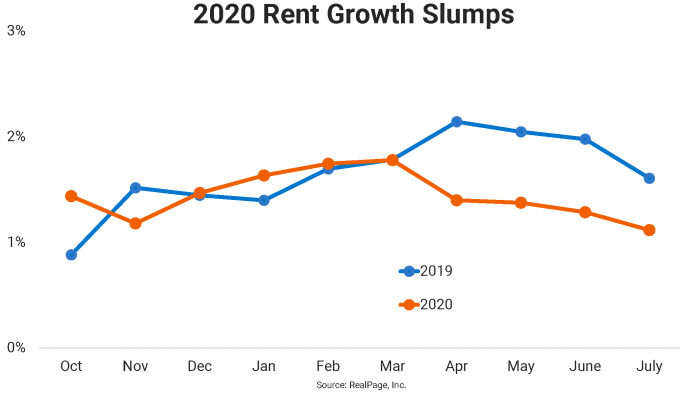 On the other hand, properties closest to campus are in better shape for pre-leasing. As of July, 83.7% of beds within a half mile to campus were pre-leased. In July 2019, that figure was 87.4%. Across all distances, pre-leasing is down from the year-ago rate.
While there's been a mixed bag of on-campus plans, most have been announced too recently to impact pre-lease and asking rent growth results. Most schools have yet to publicly release safety protocols for university-operated dorms. Some schools will put only one student in each double-occupancy room, causing many would-be on-campus dwellers to seek housing off campus. Many, such as Ohio State, will reserve some dorms for quarantining of students who contract COVID-19. Thus, there could still be some forthcoming demand from students seeking off-campus living options, but the clock is ticking. Most campuses welcome students back to campus in August.