Student Housing Pre-Leasing Hits a Record High and Rent Growth Surges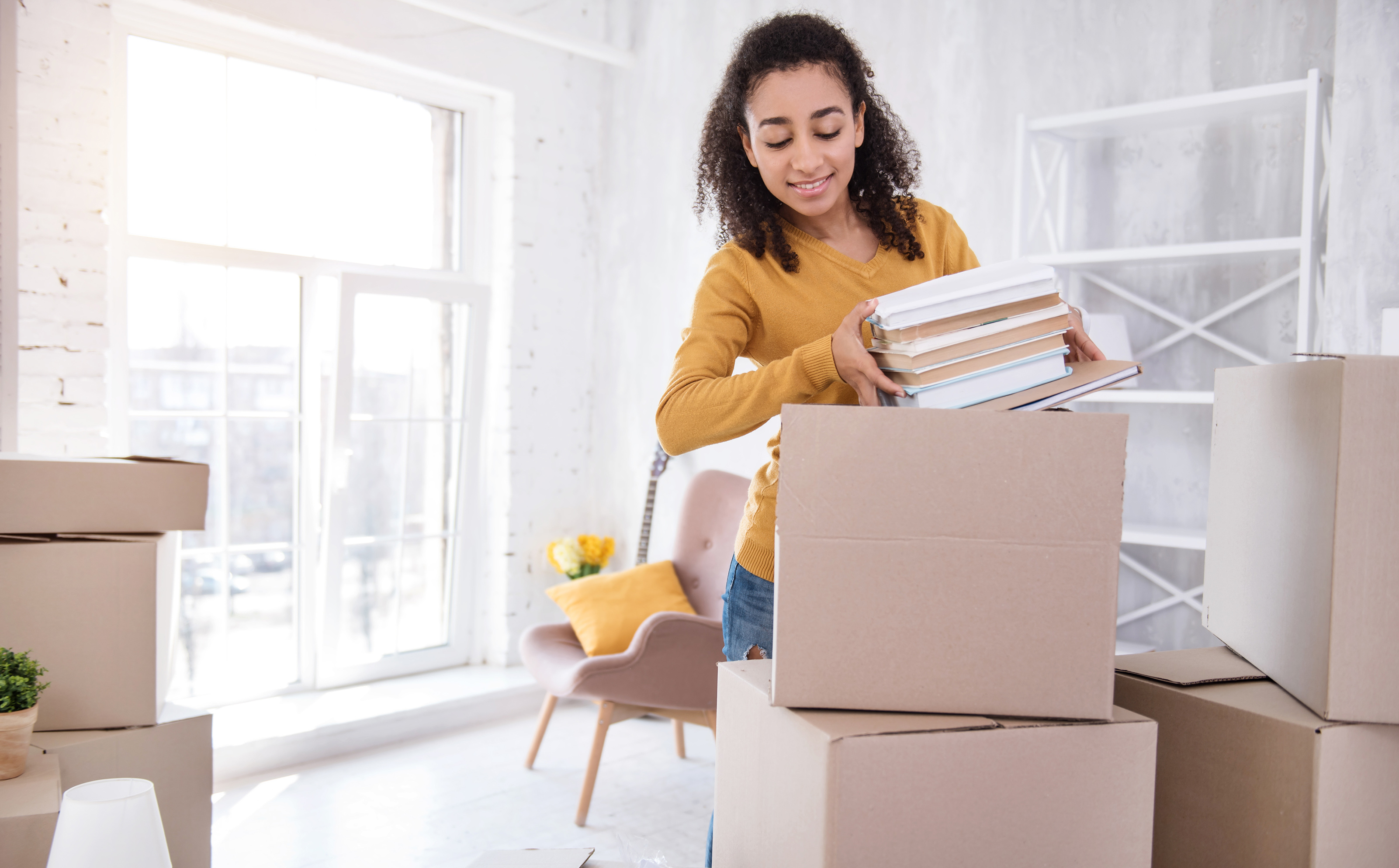 Student housing performance readings continue highlighting the overall sector rebound from the pandemic-induced lull. Fall 2022 pre-lease velocity among the RealPage 175 set of campuses through March (61.2%) is ahead of March 2020 (59.5%) levels.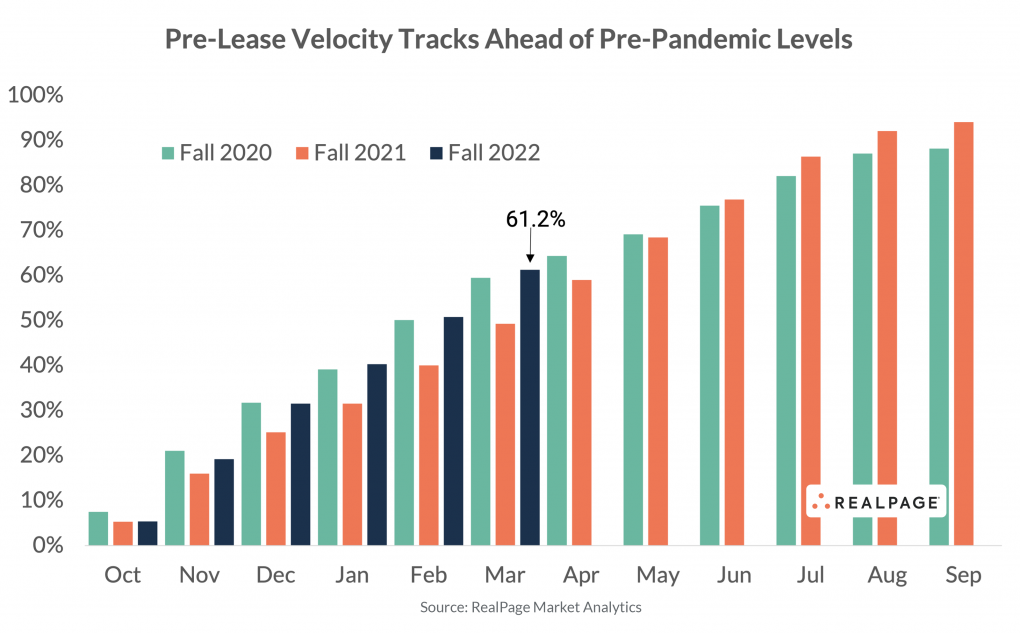 It should be noted that March 2020 figures were at the precipice of the COVID-19-driven slowdown. Much of the month's leasing activity had already happened by the time that quarantine measures were taking place. Therefore, it wasn't until April that performance slowdowns really came into the picture.
From that perspective then, March 2022's performance should be seen as an encouraging signal for near-term expectations. Indeed, the 61.2% pre-lease rate through March is the highest on record, according to RealPage Market Analytics data.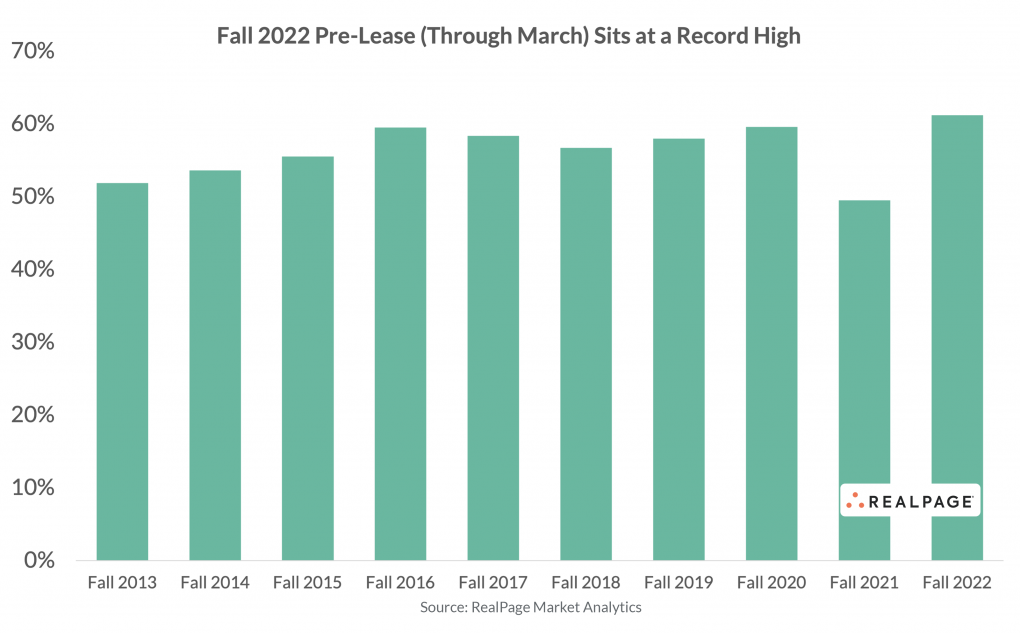 The aggregate RealPage 175 reading obviously hints at some improved performance among individual campuses. That's certainly true on a year-over-year basis. A total of 41 schools among the RealPage 175 set of campuses have a March 2022 pre-lease reading below the March 2021 level.
While that may sound like an insignificant amount, it's equally important to bear in mind that it isn't uncommon to see fairly large month-to-month increases at individual schools. And with five more months until the school year starts, there is more than enough time for many of those campuses to regain momentum.
Perhaps most important is the fact that – among those 41 campuses where Fall 2022 velocity lags the Fall 2021 pace – only a handful are significantly trailing last year's pace. A total of eight campuses have March 2022 pre-lease velocity trailing last year's mark by greater than 10%.
Those campuses will certainly have their work cut out for them if they plan to match last year's already-suppressed final pre-lease occupancy tally. But by that same token, a huge chunk of the schools trailing last year's mark remain within striking distance and could catch up (if not surpass) last year's mark with one or two solid months of leasing activity.
Turning to rent growth, it's not surprising to see pricing power has returned in an impressive manner as well. Annualized rent change through March 2022 shows an unprecedented growth rate of 5%.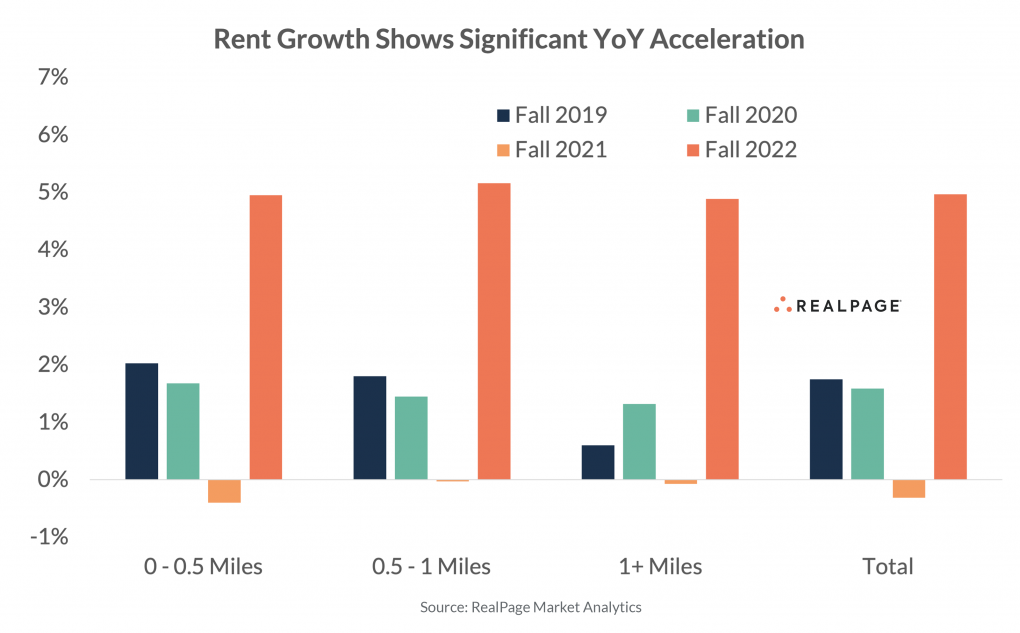 The rapid acceleration in rents through March 2022 does point to some "catch-up" effect, as last year's March readings were actually negative. Therefore, it should be noted that today's growth rate is slightly overstated due to the compressed figure from last year.
Still, that small nuance of arithmetic shouldn't undersell the fact that today's rent growth is also a byproduct of returning demand. The 5% annualized rent growth reading is essentially double the "typical" rent growth reading of roughly 2% to 3% that had been commonly achieved throughout the 2010s decade.