Student Housing Pre-Lease Velocity Picks Up in April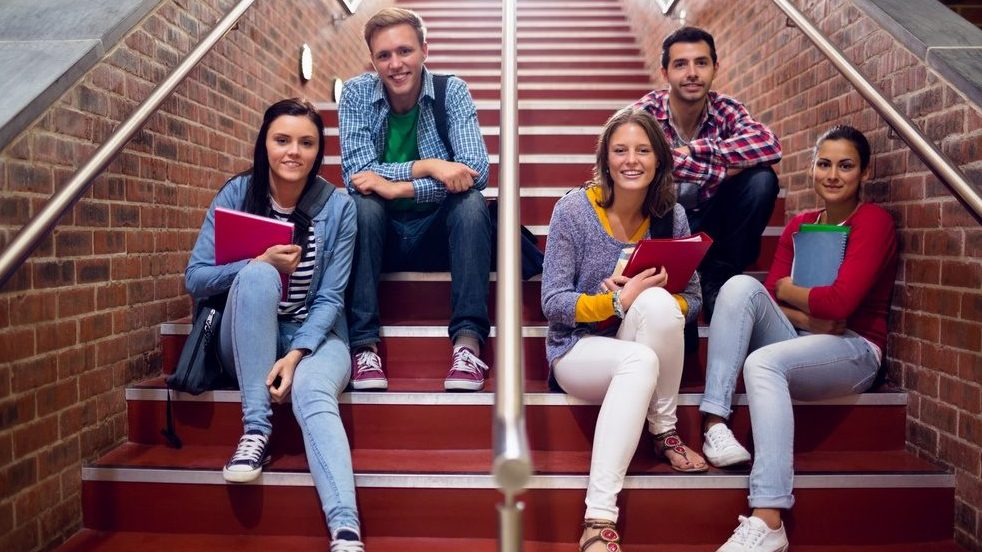 Student housing pre-leasing velocity as of March was healthy but not impressive.
April's velocity is both.
Pre-leasing popped nearly 10% in April, a phenomenal start to the peak leasing season that took the overall pre-leasing rate for 2019 to 69.3%. By comparison, the March to April pre-lease velocity rose anywhere from 7% to 9% in the previous three years.
The latest momentum pushed 2019's pre-lease rate in April ahead of 2018's number, as April 2018 saw 68% of purpose-built student housing stock pre-leased. And while the fall 2019 rate still comes below the fall 2017 number (71.4%), the upwards trend from last year is certainly an encouraging development.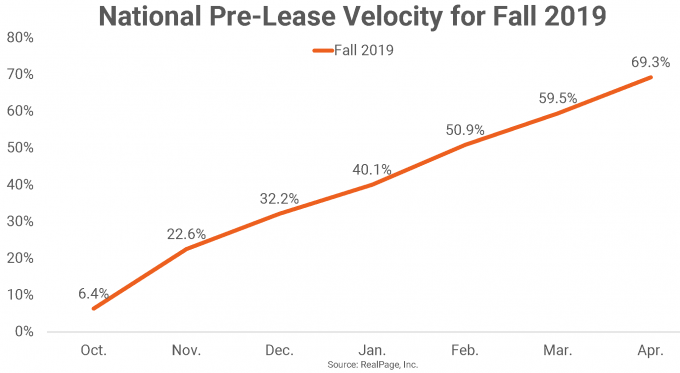 Lifting the nation's pre-leasing rate were a handful of outperforming schools.
The University of Georgia jumped up to #1 nationally in April, with 88.7% of student beds already leased for the fall 2019 semester. That was up more than 8% from March.
At #2, Indiana University's pre-leasing total landed at 87.1% in April, up 7% month-over-month.
Two other schools posted pre-leasing rates above 85%: Pennsylvania State University (86.9%) and University of Central Florida (85.2%). While Penn State's rate improved just 3.9%, Central Florida's jumped more than 9%.
Clemson University rounded out the top five, with a prelease rate that rose nearly 8% month-over-month to 69.3% in April.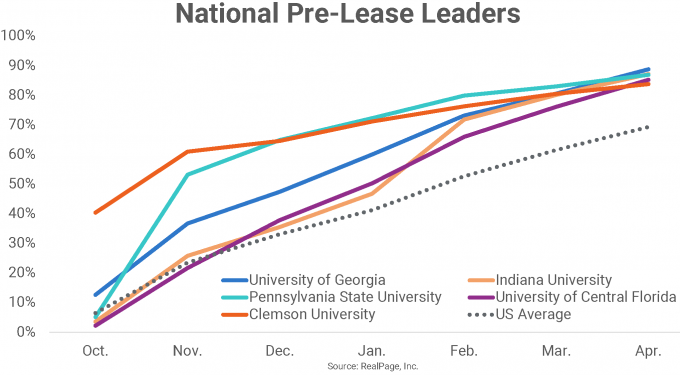 Interestingly, most of those top five were anywhere from 0% to 10% pre-leased in October. But properties at Clemson University obviously placed heavy emphasis on pre-leasing very early in the year, as over 40% of its purpose-built beds were under agreement by October.
Additionally, each of the top five for pre-leasing in April posted rates above their April 2018 levels, with the exception of the University of Central Florida.
Driving the nation's month-over-month gain, five schools logged increases above 10% from March to April.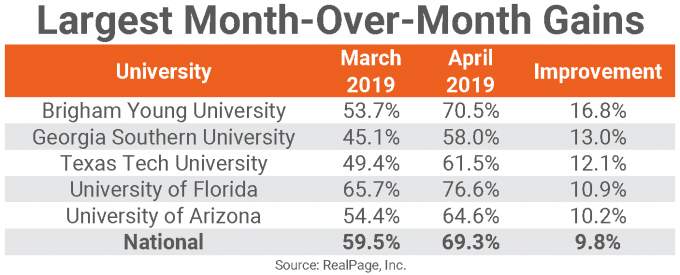 Brigham Young University in Provo, UT saw the largest March-to-April increase. Pre-leasing at BYU sat well below the U.S. average in March, but a strong April drove the school's pre-lease velocity above that of the U.S. norm. Still, the university sits well below its 2018 pre-lease mark, which saw about 90% of its units pre-leased in April of that year.
The second largest increase – 13% – was seen at Georgia Southern University, followed by Texas Tech's 12.1% increase. Pre-leasing at Texas Tech still lags the U.S. norm by some margin, which is perhaps a reflection of the huge amount of building in Lubbock.
Rounding out the top five are the University of Florida and the University of Arizona. Florida's performance has been comparatively stronger of the two, and is well ahead of last year's April pre-lease of just 51.7%. Meanwhile, the University of Arizona is on pace with Fall 2017 and Fall 2018's performances.
Meanwhile, several school are lagging the U.S. pre-leasing rate, five of which logged rates below 60% in April. The weakest number belonged to University of Missouri (41.1%), followed by Sam Houston State University (50.7%) and the University of North Texas (53.8%). Low pre-leasing at these schools isn't a surprise, given new supply trends at each. Missouri is still recovering from a deluge early in the cycle, while completions are ramping up at Sam Houston State and North Texas.
East Carolina University and Georgia Southern University round out the list of bottom five performers, with April pre-leasing at 54% and 58%, respectively. While Georgia Southern's overall rate is low, it's actually up about 13% from March. The Statesboro university hasn't received any new student purpose-built beds since 2015, and although the market was a bit bogged down by its early-cycle deliveries, the recent upswing in pre-lease velocity may offer a slight glimmer of hope for local owners and operators.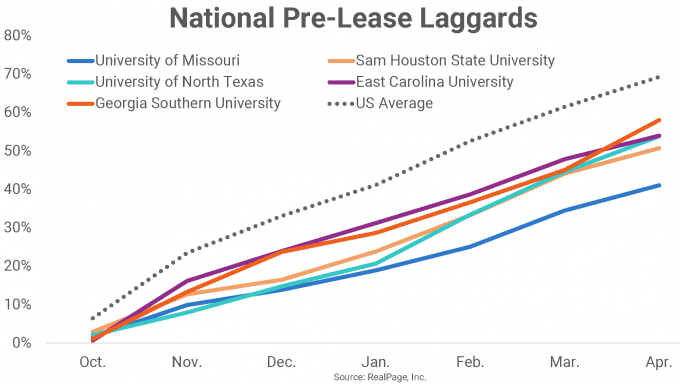 Similarly, new supply levels appear to be holding down the overall rate at East Carolina, which is expected to receive nearly 1,300 beds this fall.
Also noteworthy, pre-leasing at the University of North Texas managed to improve by 9.3% month-over-month. The remaining bottom performers saw preleasing improve around 6.5%.