Student Housing Occupancy Hits a Record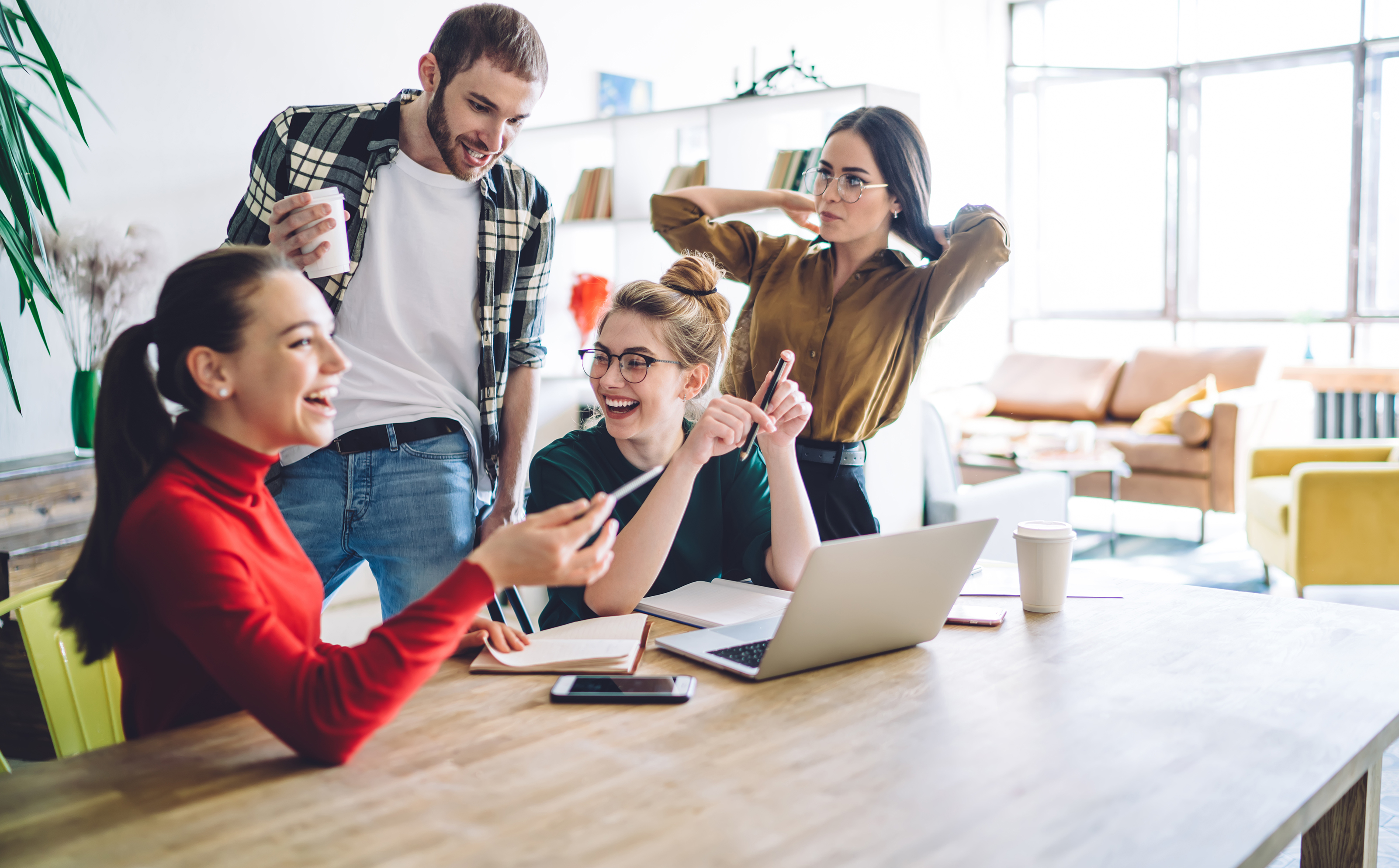 Student housing performance data continues to impress, sustaining positive early leasing season momentum into the summer stretch. In fact, April 2022's pre-lease occupancy of 70.9% is the highest-ever reading for that month, according to data from RealPage Market Analytics.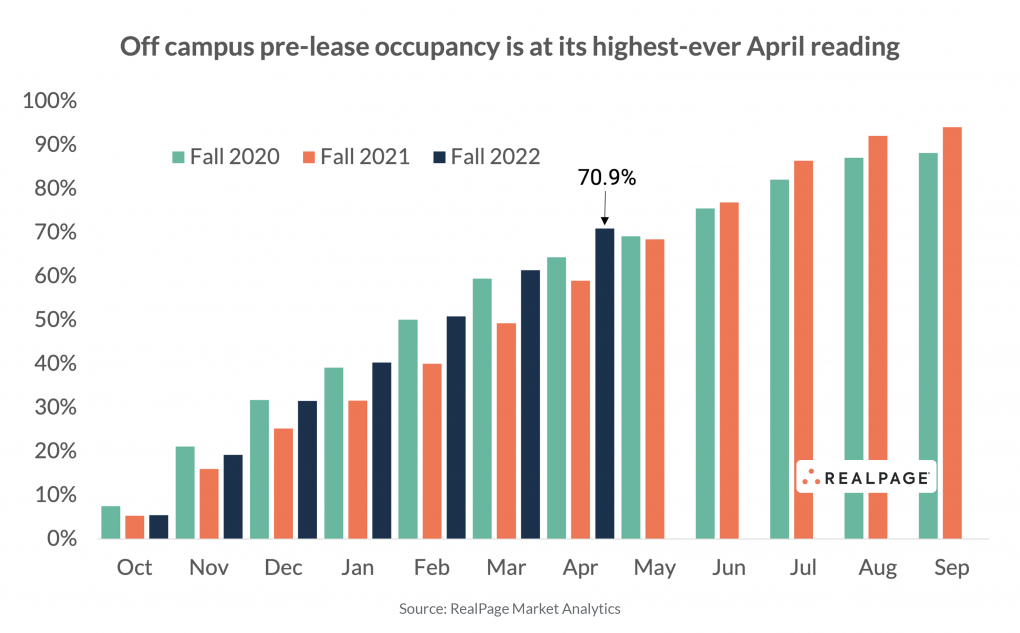 For perspective, the Fall 2022 pre-lease rate through April sits almost 12% above the rate from this same time last year. Additionally, that 70.9% occupancy rate is outperforming the 10-year average for April by more than 500 basis points.
Performance improvement isn't isolated to a few key spots either. If anything, it should be noted that performance improvement is nearly ubiquitous across the industry. It's certainly true for all distance niches, with each of the three distance groupings (<0.5 mile from campus, 0.5 to 1 mile and >1 mile) seeing massive improvement from last year's mark.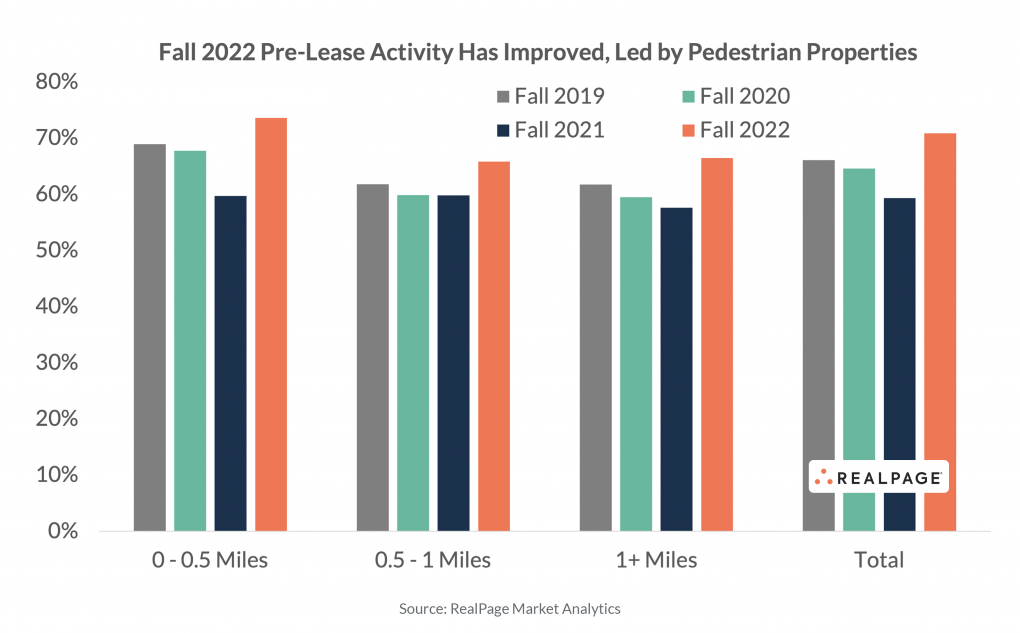 No product niche has seen a larger year-over-year improvement than the properties closest to campus (or pedestrian assets). Those assets have seen a staggering 13.9% increase year-over-year, now leading all product niches after struggling to break ahead in recent years. The improvement among those campus-adjacent assets points to the improved demand among students who wish to live near campus.
Breaking results down by campus shows performance is also not isolated to a few spots of the country either. In fact, more than 30 campuses have upped their pre-lease velocity by greater than 20% year-over-year. Big improvement has been most common among west coast schools, some of the major Arizona and Colorado campuses, and a handful of urban-centric campuses like Ohio State University, and the University of Texas at Austin.
Turning to rent growth, the industry has seen similarly noteworthy improvement on that front as well.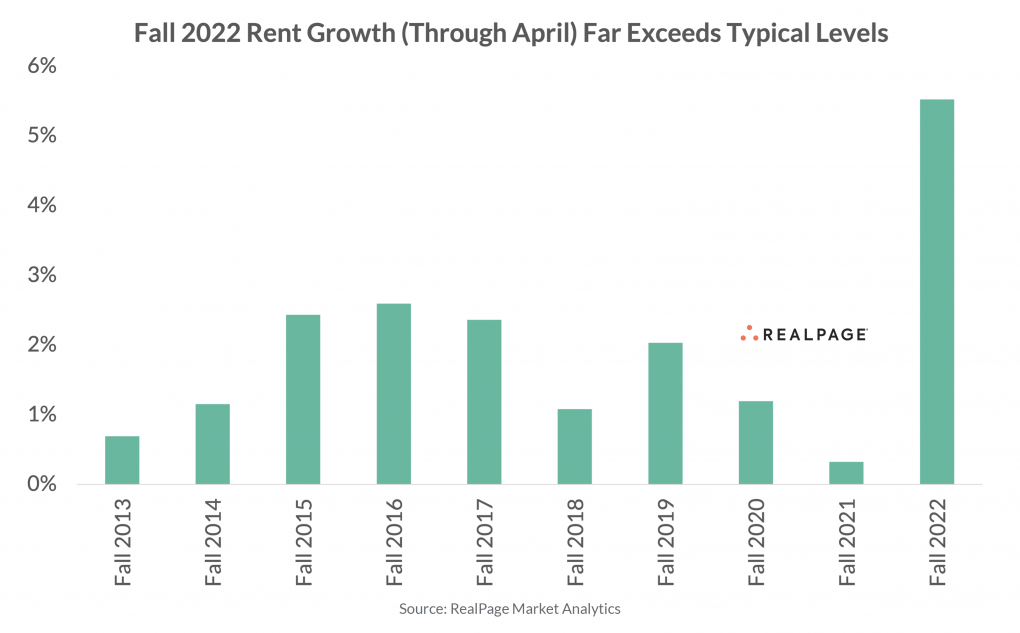 As of April 2022, rent growth exceeds 5.5% among the RealPage 175 core set of campuses. This is more than two times the previous record set back in Fall 2016 (about 2.6% for April during that leasing season).
The significant improvement of both pre-lease velocity and year-over-year rent growth shows demand has returned in a big way. The past two leasing seasons were compromised by the pandemic – the first year in which previously solid performance was derailed, the second year in which pre-leasing and rent growth struggled to build any positive momentum.
The industry's rebounding leasing velocity is welcomed news, as the pandemic's impacts on leasing activity were certainly felt during the previous two Aprils. All considered, the re-acceleration of student performance trends points to widespread demand improvement. Additionally, the impact of students returning to campus after taking a gap year or returning to live nearby campuses with a more normalized school year has generated a further boost to demand tailwinds.