Strongest Student Housing Leasing in Southeast, Midwest as West Falters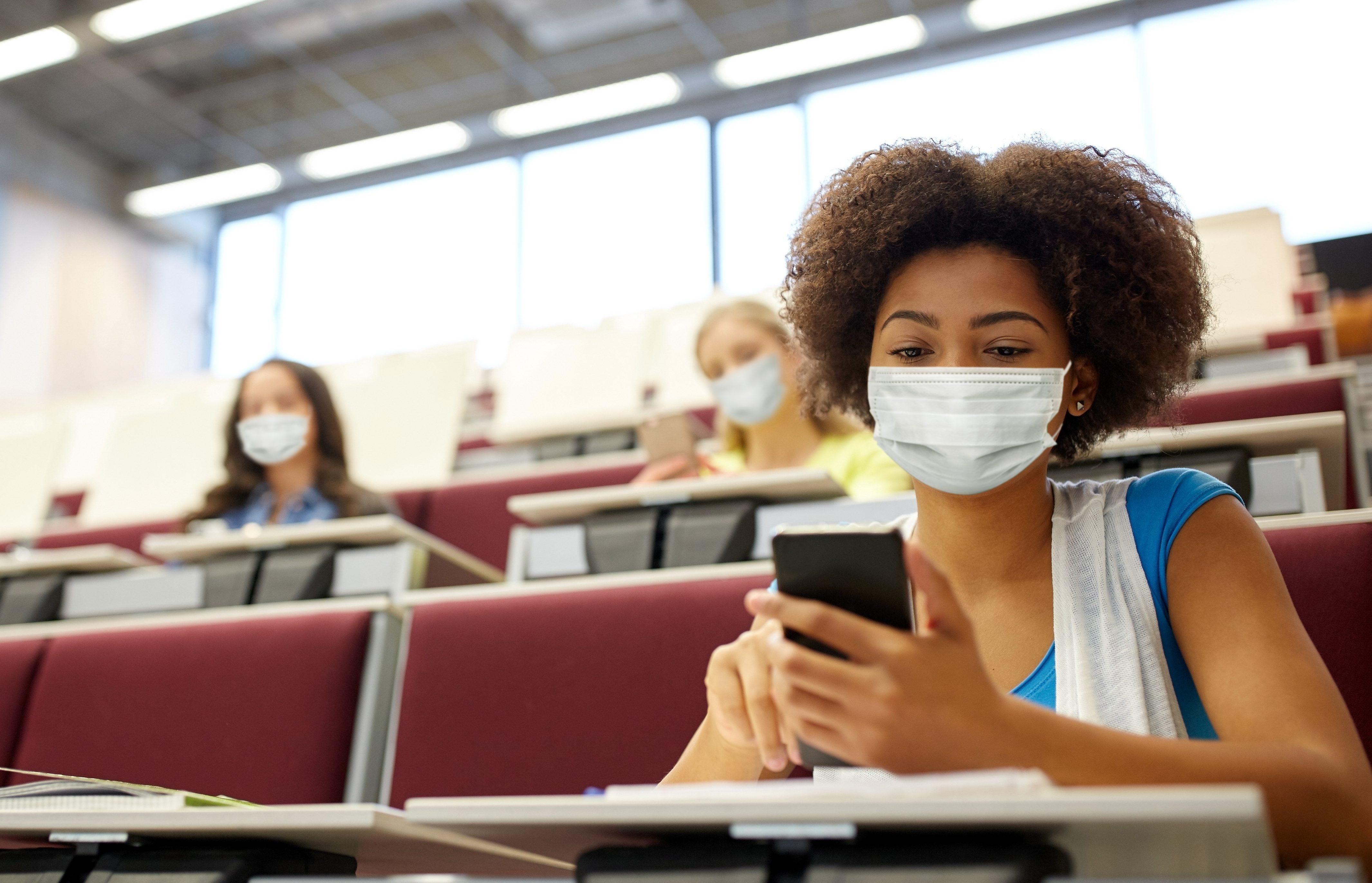 As of August, about 88% of student housing beds were leased for the Fall 2020 academic year, falling nearly 400 basis points (bps) below previous years. But not all schools in the RealPage 175 are feeling the effects of the coronavirus pandemic equally. Leasing varies widely from school to school, but campuses in the same regions of the country tend to see similar performance.
Schools with over 95% of beds leased as of August are concentrated in the Southeast and Midwest. Flagship state schools in Mississippi, Indiana, Wisconsin, Georgia, Maryland, North Carolina, South Carolina and Virginia all claim some of the best pre-lease and occupancy rates in the nation.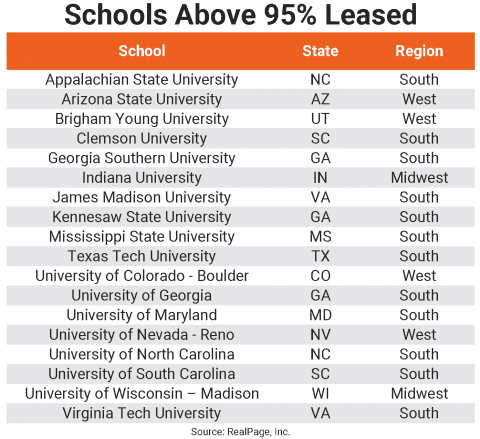 Strong results at these schools reflect that Southeast states were generally slower and less restrictive when implementing COVID-19-related lockdowns. Schools in these states were among the first to announce a return to on-campus learning, leading many students to continue leasing student housing as usual. Meanwhile, Western and Northeastern colleges opted more toward distance learning in the early months of the pandemic, causing many students to adopt a wait-and-see approach to signing new leases. (Most schools have adopted a hybrid approach at this point.)
One important factor to note, regardless of the global pandemic, is that population growth in the Sun Belt has positively influenced enrollment at colleges in those states.
Another through line in these well-leased schools is that they tend to have modest inventories of purpose-built off-campus student housing. Simply put, operators have less competition to fill beds.
The West Coast presents a different picture of Fall 2020 leasing. Both the University of California and California State school systems announced early on that their Fall 2020 semesters would be mostly online, wreaking uncertainty on pre-leasing throughout the state that never really rebounded. Cal State Fresno, Cal State Fullerton, UC Irvine and UC Riverside rank among the lowest pre-leased schools in the 175. Of the schools that sit below 80% leased in August, most are in the West.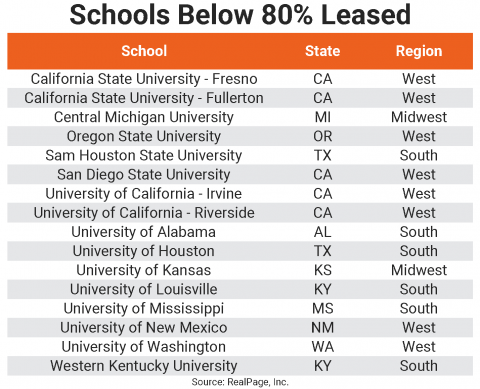 Another cohort of underperformers in the eastern half of the country include Alabama, Ole Miss and Kansas, but those schools chronically underperform due to overbuilt student housing stock. Other wildcard schools appear to be underperforming for one-off reasons. For example, enrollment at Western Kentucky has stalled and shrank for a few years, long before the pandemic altered college plans.
Across the RealPage 175, about 64% of schools had lower pre-lease rates than year-ago rates – including some dipping more than 10% from last year. About 3% of schools were on par with last year's results and about 33% saw leasing increase from last year's rate.
For more on the changing landscape of the student housing market, catch our Fall Student Housing Market Update webcast on demand here.