Steep Slowdowns in Big Apartment Markets Drag on U.S. Completion Totals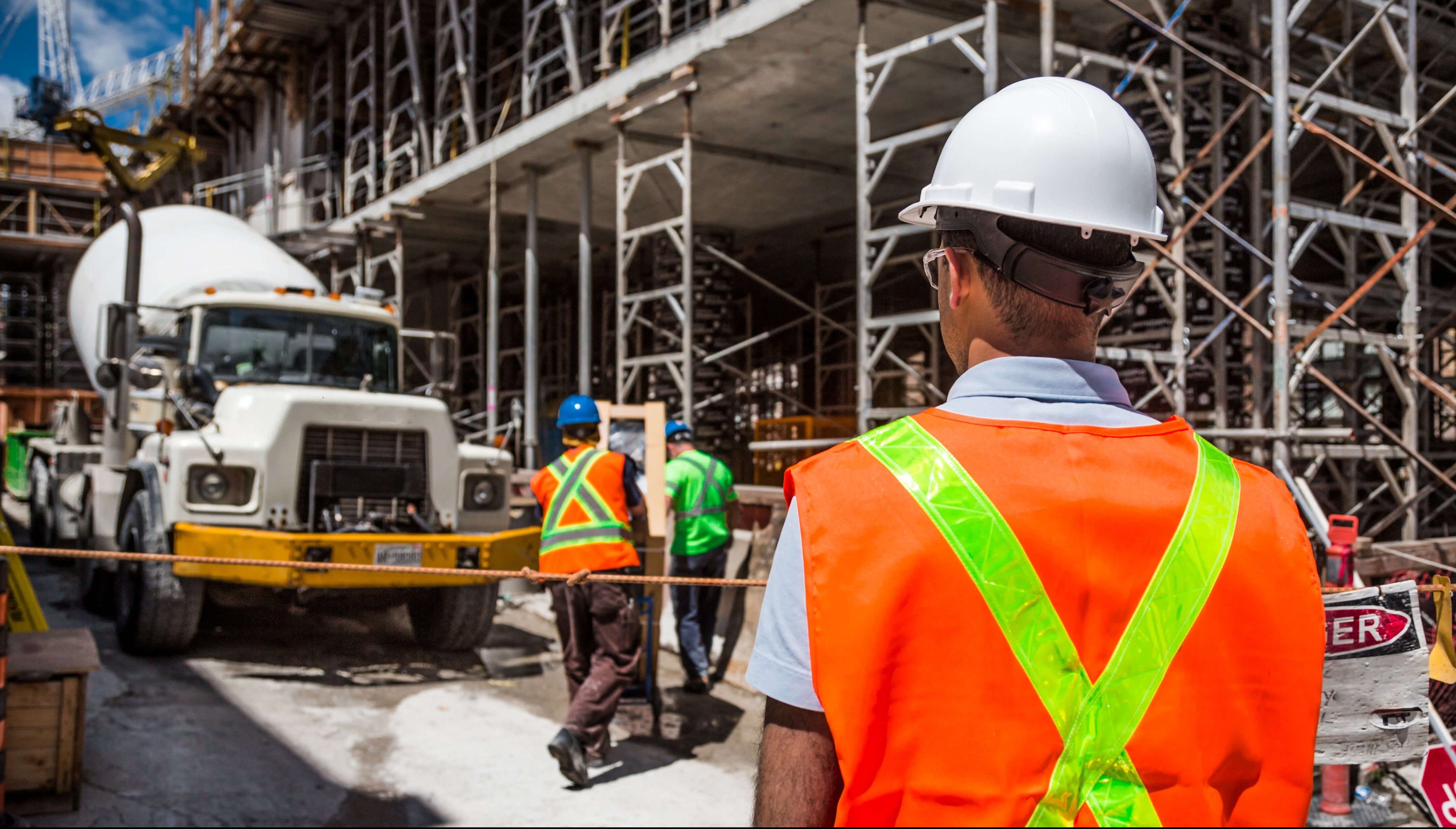 After hitting a recent peak in early 2017, U.S. apartment delivery volumes have faded. Some key markets are responsible for the steepest delivery declines.
Annual new supply volumes in the U.S. apartment market rose to nearly 333,000 units in early 2017. These deliveries, which increased the existing base by 1.9%, accounted for the biggest block of new units the market has ever received in a single year. Since then, annual new supply volumes have tapered, though remain elevated in historical terms. However, early 2017 won't stand as the cycle peak, as new completions are set to take off again in 2020.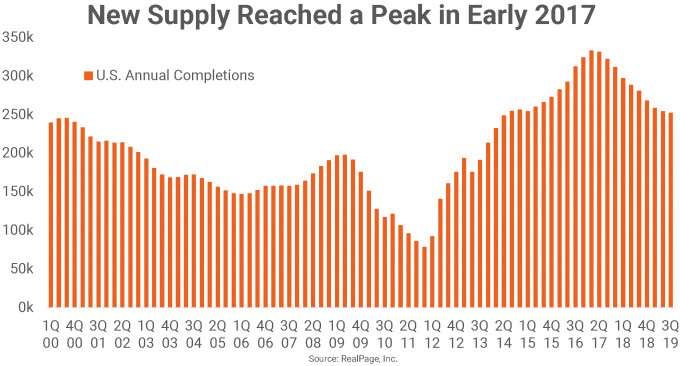 But the nation received roughly 81,000 fewer new apartments in the past year than it did in the year-ending 1st quarter 2017. Driving down national delivery volumes were declining completion numbers in 34 of the 50 largest U.S. markets. These 50 large markets have been the building centers this cycle, claiming more than 80% of all new apartments since 2010.
The new supply slowdown was steepest in Houston, with completions in the year-ending 3rd quarter coming in 17,000 units below the early 2017 level. In fact, the nearly 6,900 units that came online in this Texas market in the past year is well below the long-term norm. The construction pipeline here began to dry up following performance woes stemming from a drop-off in the energy sector in mid-2015 and Hurricane Harvey in late 2017. Most recently, Houston is showing signs of stabilization after two quarters of solid demand. However, occupancy in Houston is still the lowest in the country at 94.3%. Developers are betting that performance will continue to improve, as the market's construction pipeline has topped 23,000 units throughout 2019. Much of today's activity is centered in the urban core and in western and northern suburbs. Notably, construction activity remains limited in the Energy Corridor, a big contributor to new supply volumes earlier in the cycle.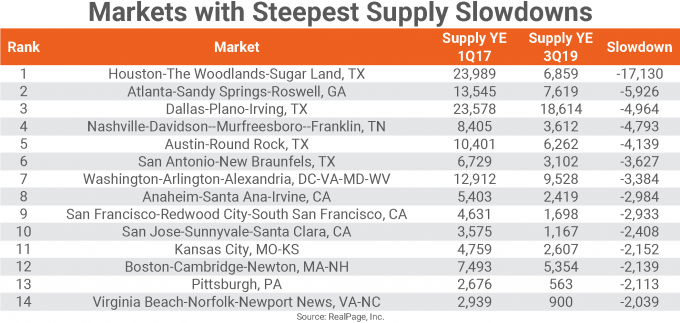 Atlanta's annual supply volume has dropped by nearly 6,000 units since early 2017. The roughly 7,600 units delivered in the year-ending 3rd quarter 2019 was more in line with this market's 10-year average. The slowdown largely reflects a lull in activity in affluent areas inside the Perimeter and in northern suburbs, which have garnered the bulk of new supply this cycle. However, annual supply volumes are scheduled to increase in Atlanta once again, hitting about 12,000 units in the coming year and remaining just over 11,000 units in 2021.
Dallas was the nation's new supply leader in 3rd quarter 2019, with completions totaling roughly 18,600 units. While still notably ahead of the market's 10-year norm, that tally is still about 5,000 units shy of what was delivered here in early 2017. Developers have flocked to Dallas this cycle to leverage its deep pool of apartment demand driven by a diverse and fast-growing economy and favorable demographic characteristics. Completion levels are set to ramp back up to more than 20,000 units over the next year, as developers continue to target the urban core and affluent northern suburbs.
Other markets that have seen marked slowdowns in annual supply include Nashville, Austin, San Antonio and Washington, DC. These areas have all seen annual deliveries come down by about 3,400 to 4,800 units.
Markets that have seen annual supply volumes dip by roughly 2,000 to 3,000 units include the California markets of Anaheim, San Francisco and San Jose, as well as Kansas City, Boston, Pittsburgh and Virginia Beach.
With Houston, Dallas, Austin and San Antonio logging some of the steepest slowdowns, the only large Texas market that has not seen annual supply volumes come down since the nation's recent supply peak was Fort Worth. Deliveries totaled almost 5,500 units in Fort Worth in the year-ending 3rd quarter 2019. This was nearly 2,600 more apartments than were delivered here in the year-ending 1st quarter 2017 and, in fact, was the largest annual supply volume in the market's history.
Other U.S. markets to buck the trend were Orlando, St. Louis and Jacksonville, where annual completion volumes have increased by about 900 to 1,600 units since the U.S. supply peak in early 2017.
Though early 2017 saw the biggest 12-month delivery total to date, expected completions will reach higher levels in 2020. More than 366,000 apartments are scheduled to by year-end, about 10% more than in early 2017.