St. Louis Is Changing; Was It Ever What We Thought?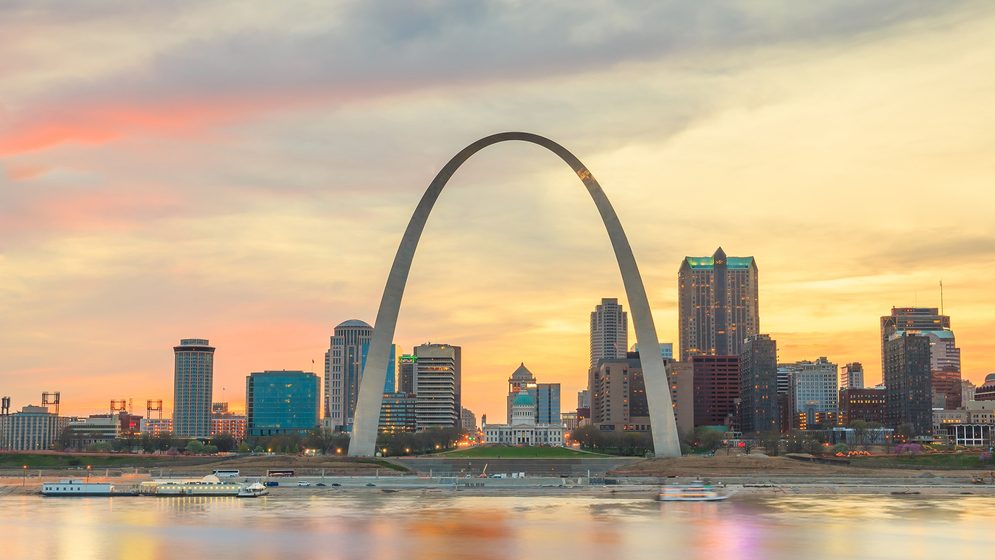 St. Louis was one of the few areas in the nation to see the population of educated millennials grow by more than 50% despite overall population loss, according to research from the Pew Charitable Trust. The city is becoming an agricultural research and fintech hub, attracting new populations and the trappings that come along with that, like parks and coffeehouses, per the same report. Other industries are also growing in the region, as evidenced by the news of Boeing bringing 500 more jobs to the area, growing their already 14,500-strong workforce in the region. At 4.3%, the unemployment rate in the metro hit a 15-year low in November 2016, with 8,276, or 13%, fewer unemployed workers than in November 2015.  Employers continue to announce expansions, like Cushman & Wakefield's planned 600 jobs. Midtown is being transformed via projects like the City Foundry and SSM Health's planned $550 million hospital. The Central West End is even poised to get a new architectural point of interest, completing in 2019. The apartment building, One Hundred, will feature a serrated inwardly sloping façade that rises more than 350 feet. The Gateway City even made Curbed's list of "10 rising U.S. cities where homeownership is affordable," which noted the city's fast-growing startup scene.
How Has St. Louis Changed?
Well, overall, more people are leaving than are coming in. But outmigration is slowing.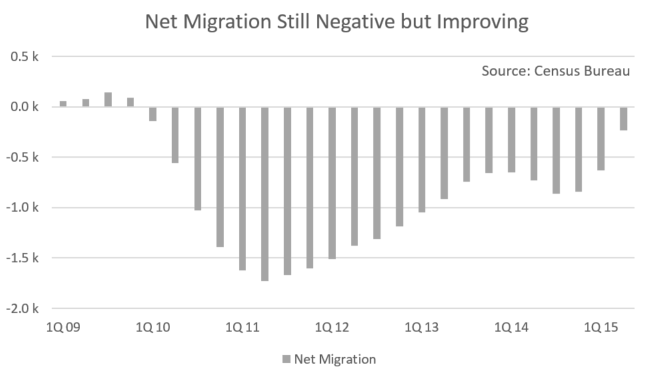 Remember, this doesn't necessarily indicate a shrinking population, and St. Louis has made strong gains in populations other than just millennials, including foreign-born residents.
How Does the City's Prime Renter Population Stack Up?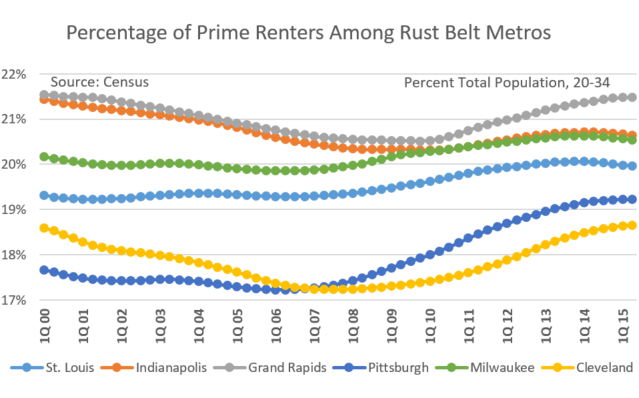 While St. Louis has gained a relatively large number of young adults over the years, the ratio of those age 20 to 34 as a percentage of the total population has never really broken from the middle of the pack, when compared to other Rust Belt cities. This doesn't necessarily make St. Louis compare unfavorably to other Rust Belt metros, however, as homeownership among this age cohort dropped more than 7% from 2005 to 2015. The U.S. Census Bureau's most recent estimate for homeownership puts the city of St. Louis at 47.8%. But when expanded to the metro, the homeownership rate balloons to 67.2%, indicating high homeownership in the suburbs. Where does St. Louis stack up to other Rust Belt metros, per the most recent census estimates for 3rd quarter 2016?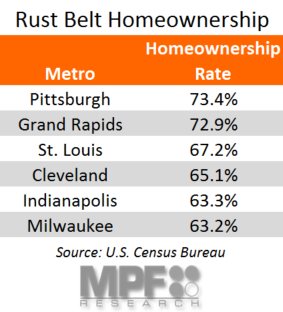 Homeownership in St. Louis ranks in the middle of the road for the Rust Belt, but the city proper remains thoroughly below the national average of 63.5%. At least some part of St. Louis' population is more likely than the average American to rent a home.
Importantly, people living in St. Louis have access to an improving job market.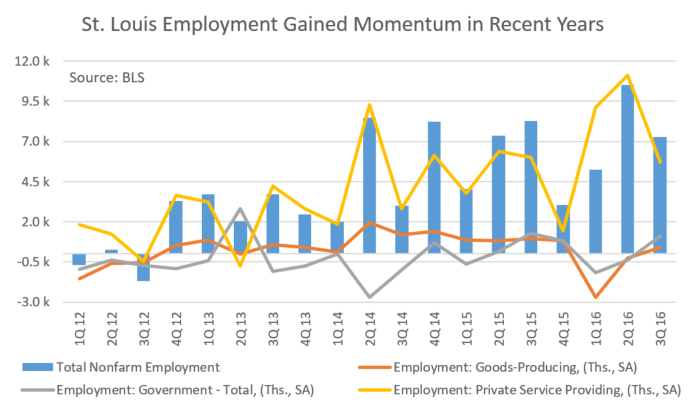 In the most recently reported quarter, all sectors (goods-producing, service-producing and government) saw gains in employment over the year.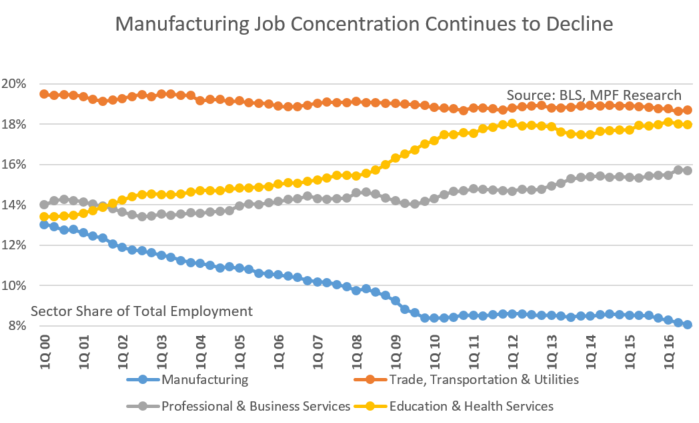 The labor market has changed in palpable ways in St. Louis over the past 15 years. The "eds and meds" storyline is illustrated well within the metro, with area universities and hospitals growing in importance in terms of regional employment share, jumping from 13.4% to 18% of total area jobs. Manufacturing has fallen in importance to a similar magnitude, slumping from 13.4% in early 2000 to today's level of around 8%.
Gross metro product has historically been a weak spot for the metro. Figures for the metro through the past year's employment expansion, however, have not yet been released. Given that information, it is not unreasonable to expect stronger reported numbers for the metro when 2016 data is made available in late 2017.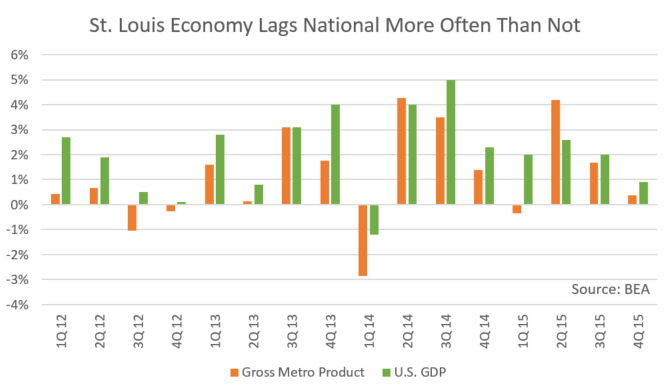 A contrarian indicator for business health in St. Louis did appear in the 2nd quarter of 2016.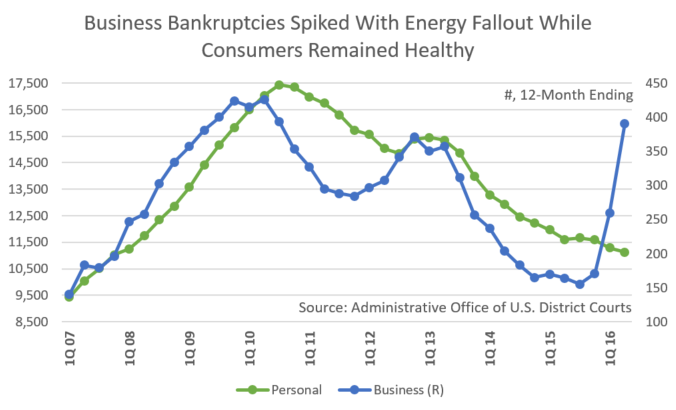 The 2nd quarter of 2016 saw a spike of bankruptcy in energy-related businesses. The good news is that many of those initial filings for bankruptcy may not be finalized, as evidenced by companies like Arch Coal and Peabody planning re-emergences from bankruptcy. Personal bankruptcies appear to lag business bankruptcies, so we could see an uptick in personal bankruptcies in coming quarters. This information does have to be reconciled, however, with the fact that job growth has been strong in St. Louis over the past year, likely muting any impacts to personal bankruptcy declarations.
How Has the Multifamily Industry Responded in St. Louis?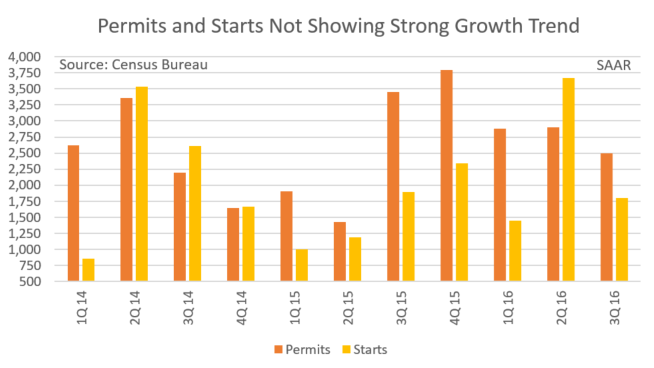 Multifamily development does not appear to be ramping up to the degree that might be expected, given the strong demand in the market over the last year. However, in most years following the financial crisis, demand has tended to be uneven, with fits and starts suggesting underlying instability.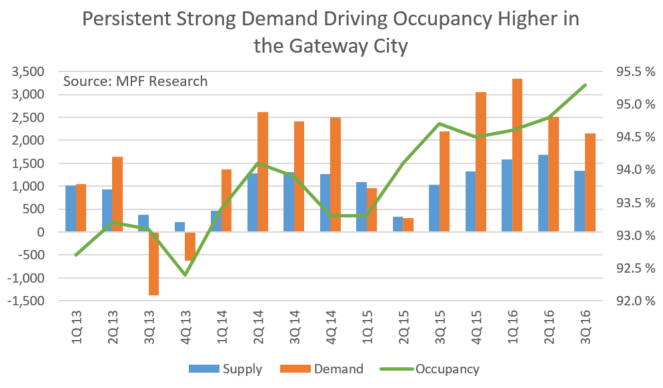 Annual demand has outpaced annual supply by a large margin for the past five quarters as part of the late-cycle recovery in St. Louis. Preliminary MPF Research data shows annual net inventory expanded 1.1% in St. Louis in 2016, a growth rate that lands in the bottom half of the markets covered in our data, and in line with the rate sustained over the past 10 quarters.
Despite these improving fundamentals, St. Louis is also consistently among one of the lowest annual rent growth markets in the country. There are signs that residential real estate has been gathering momentum, as the city saw a sharp rise in home prices and sales volumes in November. It has yet to be seen if that trend will carry into the multifamily market. But the structural support for upwardly trending occupancy in St. Louis remains intact, provided supply remains subdued and homeownership doesn't take away too much housing demand. St. Louis, like most of its Rust Belt neighbors, is not a high-growth market, but conversely, it does not seem high risk either, depending on investment strategy.