Spike in New Deliveries Threatens Downtown LA Performance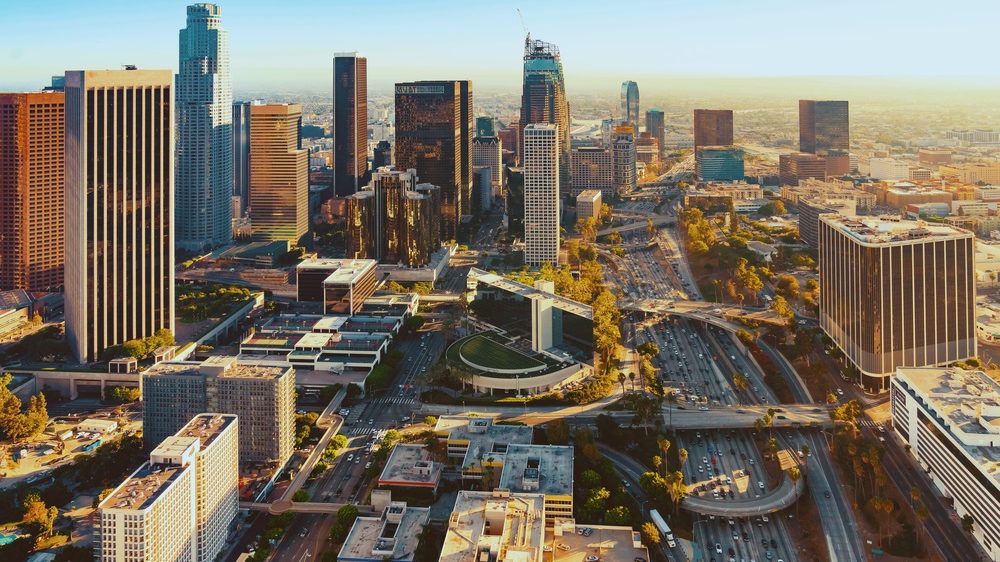 Posted September 18, 2017
Construction activity in Downtown Los Angeles remains around three times the submarket's long-term average. Supply volumes have jumped in 2017 as the first wave of projects completed, and deliveries are on track to increase further in the coming year. The young supply wave has already eroded the submarket's fundamentals and increasing supply volumes will continue to test the downtown area's ability to absorb large supply loads.
The Downtown Los Angeles submarket has been a largely unproven submarket over the last cycle. Inventory growth has averaged roughly 3% in the submarket since 2010, but has recently jumped to 8.5% as roughly 3,500 units completed in the year-ending 2nd quarter 2017. More than 8,000 units are still underway, and 5,000 of those are expected to complete in the next 12 months, which would grow inventory 11.2%.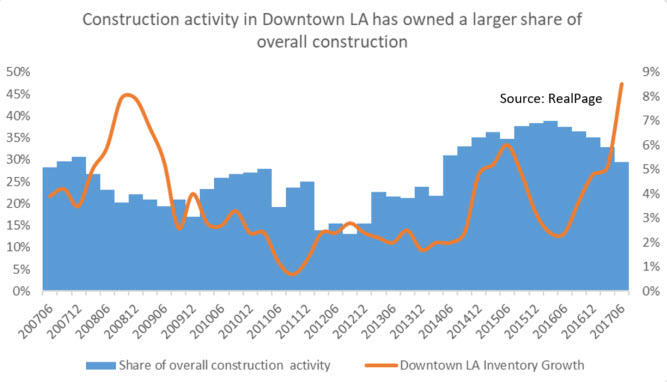 However, Downtown Los Angeles is already struggling to digest the new units. Occupancy levels have dropped and operators have cut rents in an effort generate demand. The submarket has posted the second-lowest occupancy rates in the metro in each of the past two quarters, coinciding with the supply increase. Occupancy has fallen as much as 2.5 points from year-end 2016, a decline driven by newer Class A units.
For the last two consecutive quarters, the Downtown Los Angeles submarket was the only submarket to post annual rent cuts. Those performances compare to rent growth of nearly 5% in the metro overall. Not surprisingly, rents were cut most dramatically in the Class A units in the downtown area. However, cuts in Class B units suggest competition at the top end of the market is trickling into middle-market product.
Similarly, the impact of downtown-area development is showing signs of creeping into neighboring Mid-Wilshire, Hollywood and Burbank/Glendale/Pasadena submarkets. Those three submarkets are generally more favorable for investment-grade apartments, but rent performances there have fluctuated as completion totals have climbed in Downtown Los Angeles. Annual rent performances have swung as much as 6 to 10 percentage points in each submarket over the past four quarters. Those rent growth swings accompany volatile occupancy readings over the same time frame.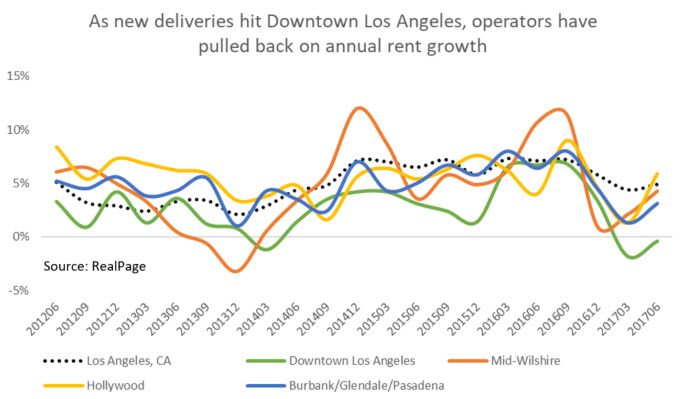 Part of the reason Downtown Los Angeles has struggled to absorb new product is a mismatch of the renter base and type of projects completing. The younger, professional and more cosmopolitan population who prefer and can afford the type of luxury rental product being built makes up a relatively small share of Downtown Los Angeles. However, there is the opportunity to transform the urban center towards more favorable demographic groups that prefer to rent institutional-grade product. Until recently, the urban center has received less investment to transform the area into a destination for residents.
Looking ahead, multifamily fundamentals in Downtown Los Angeles will likely continue to be adversely impacted by the wave of completions over the next year. Annual rent cuts are likely to persist through most of 2018 as operators continue to focus on filling units over pricing. However, occupancy is expected to continue to soften before recovering in mid-2019. Long term, the metro desperately needs additional housing and new units entering Downtown Los Angeles serve as just one area to relieve pressure on an already strained housing market.