Southern, Western Markets Dominate List of Fastest-Growing Populations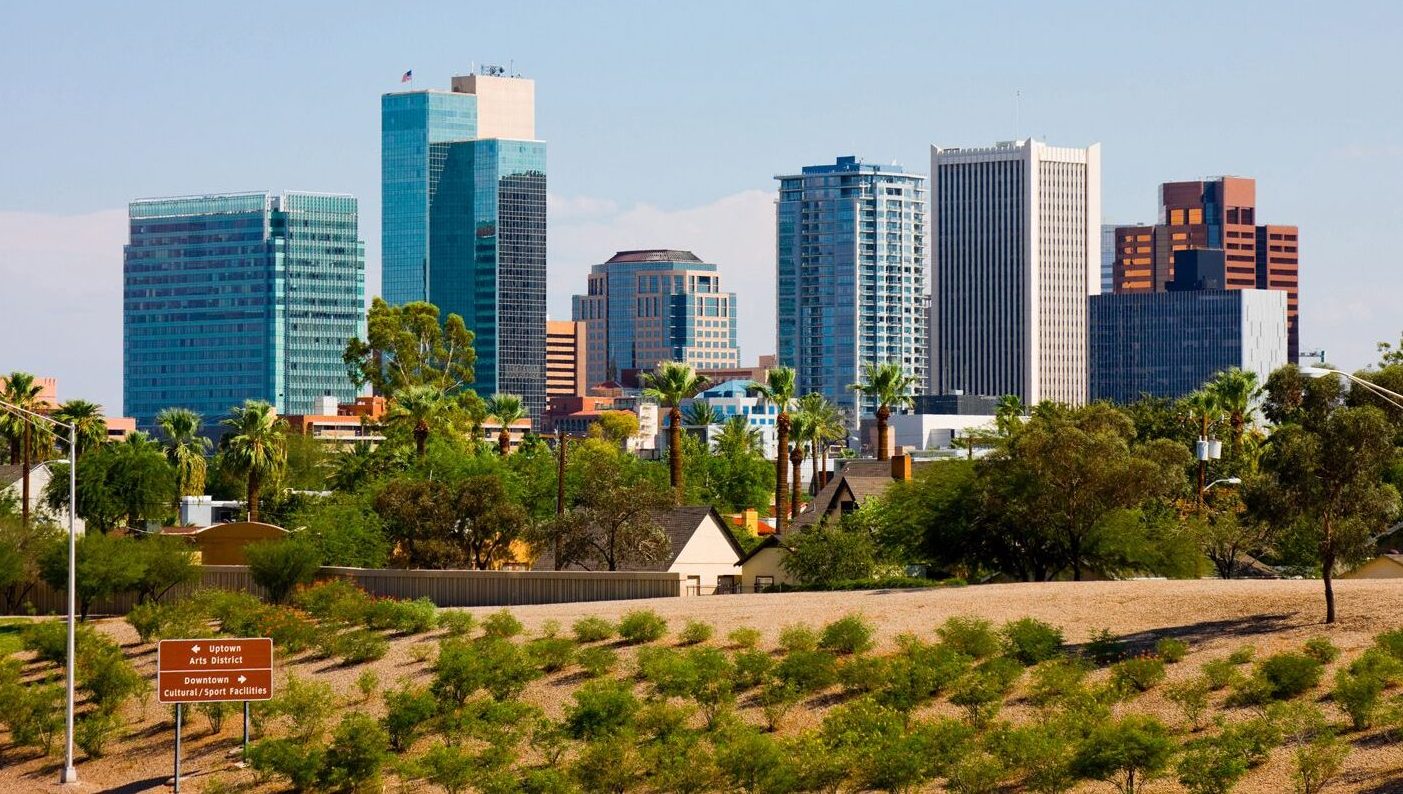 The fastest-growing metros in the U.S., measured both by absolute and percentage population change, continue to be concentrated south of the Mason-Dixon Line and in the Western portion of the country.
Population estimates, reported annually by the U.S. Census Bureau, show that of the metropolitan areas that correspond to the 150 largest apartment markets tracked by RealPage, 83% grew their population from July 2017 to July 2018. Markets with the most growth were mostly located in Florida, Texas, the Carolinas, Arizona and other southern and western states.
Phoenix dominated the rankings, swelling by more than 96,000 people in a single year. (Phoenix also dominates the list of the nation's rent growth leaders, climbing about 8% in the last year.) Two Texas markets, Houston and Dallas, took the next top spots as each added more than 90,000 residents last year. Dallas and Houston led the country in population growth in 2017.
Atlanta, Orlando, Austin, Riverside, Tampa, Washington, DC, Las Vegas and Charlotte also saw sizable gains in population. Many of these markets, not coincidentally, also rank as apartment rent growth leaders.
Missing from the list this year was Seattle, which was the #7 growth market in 2017 with over 64,00 new residents. In 2018, that number fell to 40,000 people, and the market ranked #14 for overall growth.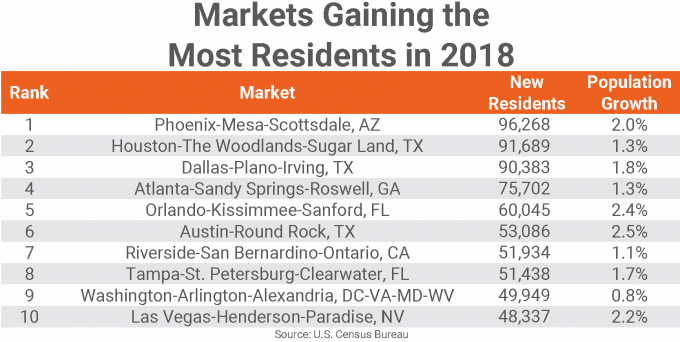 In terms of percentage growth, Myrtle Beach took the #1 spot as the South Carolina metro grew by 3.8% in a single year, adding more than 17,500 new residents. Boom- and bust-prone Midland/Odessa's population also swelled 3.8% last year, accounting for 12,300 people, as the oil market rebounded. Apartment rents swelled there also, taking the top spot nationally with an annual increase of 15.3%.
Lakeland-Winter Haven took the #3 spot nationally and the top spot in Florida, with population growth of 3.2%, though several other Florida markets closely followed.
In total, 11 markets saw their populations grow by 2% or more from July 2017 to July 2018.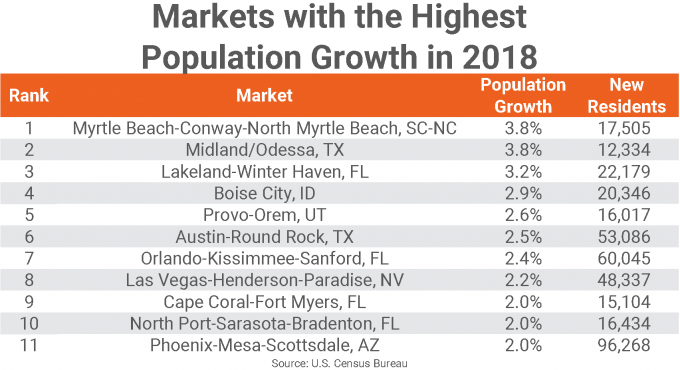 The 150 markets tracked by RealPage grew their populations an average of 0.8% from 2017 to 2018.
Geographically, the rankings of top growth markets aren't terribly diverse. Markets in the Northeast and Midwest are absent from both lists – absolute and percentage growth – and the same handful of Southern and Western states make reappearances throughout.
The markets that saw the steepest declines in population by ratio were Shreveport, LA, which shrank by 0.8%, or about 3,300 residents; Santa Rosa, CA, which shrank by 0.7%, or 3,300 residents amidst wildfire recovery; and Urban Honolulu, which shrank by about 0.6% or about 6,300 residents.
In absolute numbers, New York-Jersey City-White Plains lost the largest number of residents last year. The market, which has a population of 14.2 million, lost more than 25,000 residents last year, accounting for a mere 0.2% decline.