Southern California Still Strong, but Moderated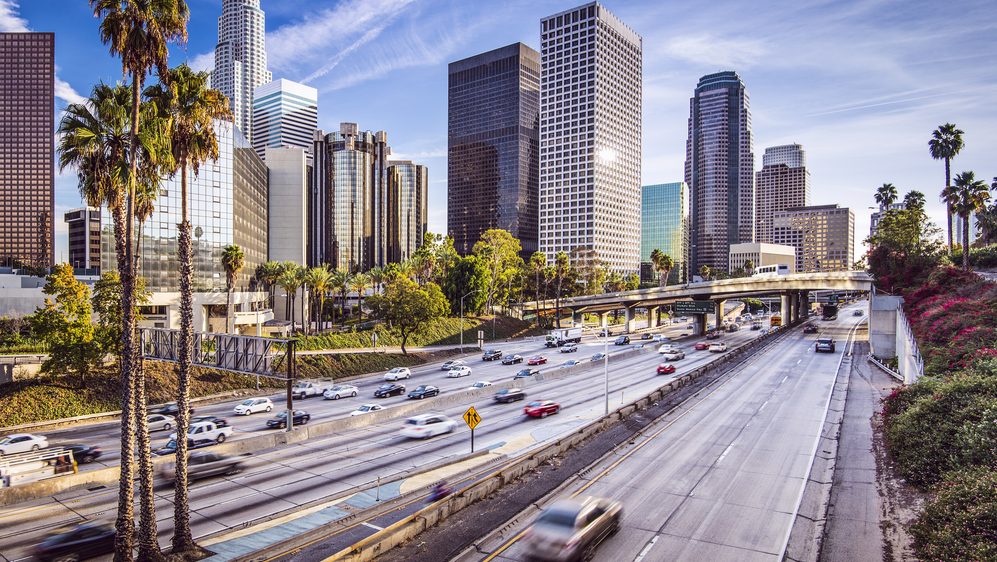 As recently as 2016, all four Southern California major metros – Los Angeles, Orange County, San Diego and Riverside/San Bernardino – were in the country's top 10 markets for rent growth and occupancy. While performance has since moderated, these apartment markets are still some of the nation's best performers.
As of 3rd quarter 2018, two Southern California markets – Riverside/San Bernardino and San Diego – placed among the top 10 rent performers nationally. Los Angeles also continued to top the national rent growth average, while the pricey Orange County fell just short for the only the second time in two years. All Southern California metros posted occupancy above the U.S. average.
As has been true over the last couple of years, Riverside/San Bernardino commands the highest rent growth in Southern California. Since a cycle high of 8% in 3rd quarter 2016, rent growth here has leveled off to 4.8%, still 180 basis points (bps) higher than the national average. Still, that performance was the seventh best among the 50 largest markets nationally. And there's nothing to suggest that the market shouldn't continue to outperform the national average over the next two years.
San Diego, true to form, is pulling off healthy rent growth rates despite softening since the cycle high of 7.7% in 3rd quarter 2015. Rent growth of 4.1% in San Diego was the ninth best performance nationally in 2018's 3rd quarter. And like Riverside/San Bernardino, fundamentals in San Diego suggest that rent growth is likely to remain solid, albeit below today's levels, over the near term.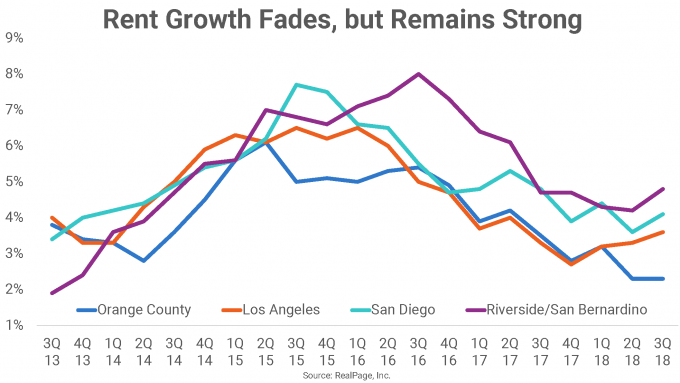 Rent growth in Los Angeles has been decently healthy, though not a showstopper, over the course of the current cycle. After peaking at 6.5% at the end of 2015 and beginning of 2016, rent growth in the City of Angels dipped below 4% over the last year. Further moderation is expected as the market takes on more new supply over the next year.
In Orange County, prices for new-resident leases were up 2.3% year-over-year. Rent performance here continues to slide after the 6.1% peak in mid-2015. With growth already low compared to the market's recent norms, Orange County is the only Southern California market expected to see rent growth improve over the next few quarters. Still, the market is unlikely to be anything more than a middle-of-the-pack performer nationally.
In terms of occupancy, all Southern California metros look healthy, with rates standing at least 40 basis points (bps) above the national average of 95.8%. As is the case nationwide, Class C units are seeing the tightest occupancy across the board in Southern California.
San Diego and Riverside/San Bernardino, once again, are the top performers, with rates of 96.8% and 96.7%, respectively. Both markets should remain outperformers, with occupancy expected to hover at or above 96% in the near term.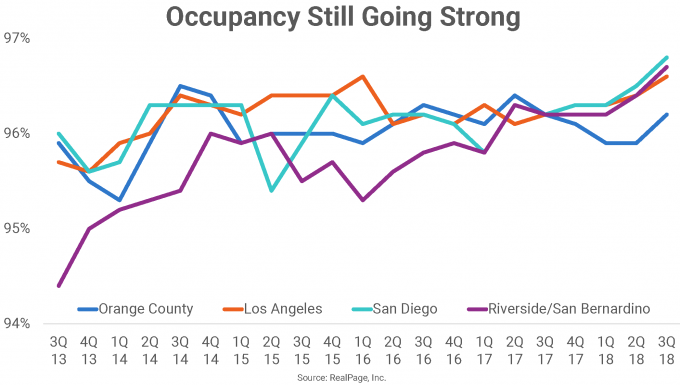 Los Angeles occupancy has been stable and rising consistently since mid-2017. The market recorded a recent peak in 3rd quarter, with a rate of 96.6%. Momentum here is expected to change, however, as occupancy is set to moderate to around 96% through 2020, weighed down by heavy volumes of scheduled completions. Still, Los Angeles is a chronically undersupplied market, and the anticipated rate is above expectations for the nation overall.
Just like what was seen in rent growth, Orange County is the laggard of the Southern California metros. Occupancy in the Anaheim area has remained essentially flat over the last year, hovering at 96.2% in fall 2018, and is expected to dip below the 96% mark over the next several quarters.
Helping apartment market fundamentals hold up in the past few years, new supply in much of Southern California hasn't been as immense as national norms in the current cycle. The exception, again, is Orange County.
Nearly 50,000 units have been built in Los Angeles since 2010, making this metro the clear king of new supply in Southern California. Still, additions have growth the existing base in Los Angeles only 0.5% annually, on average, during the cycle, well under the 1.2% national norm. Deliveries in Los Angeles picked up in the past year, with supply reaching roughly 7,150 units. In the near term, completions are expected to swell considerably. Roughly 17,000 units are scheduled to deliver in calendar 2019, a factor that will likely contribute to forecasted softening of occupancy. Much of the product under way is going up in the urban core.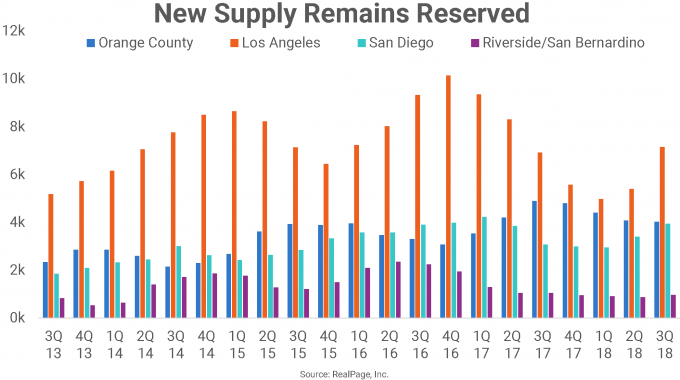 Orange County and San Diego have gone back and forth outpacing each other for new supply over the course of this economic cycle. Orange County recorded total deliveries of nearly 26,000 over the past eight years, while San Diego logged completions around 24,000 units. However, while San Diego deliveries inflated the existing base by an annual average of only 0.9%, expansion in Anaheim was in line with the national average at 1.2%. As of 3rd quarter, these two markets are fairly even, with about 4,000 units delivered in the past year. Looking forward, completions are scheduled to peak mildly in 2nd quarter 2019 in Orange County, before returning to the 4,000-unit mark by 3rd quarter 2020. The same is true for San Diego, but deliveries are expected to fade to about 3,000 units.
Riverside/San Bernardino's supply has been constrained, totaling less than 12,000 units since 2010, expanding the base by 0.7% annually, on average. In the past year, specifically, only 960 units were delivered. Looking forward, this market – the region's top rent growth performer – has about 2,500 units under way and set to complete in the coming year.
Economic growth in Southern California has slowed recently, but not by a steep margin.
In the year ending 3rd quarter 2018, Los Angeles added 62,000 jobs, according to the Bureau of Labor Statistics. Job additions have leveled off in this market since cycle highs in 2nd quarter 2016 when 136,500 jobs were added.
Job growth in Riverside/San Bernardino has been robust over the last six years or so but has moderated to 51,100 jobs in the past year, expanding the existing base by a notable 3.5%.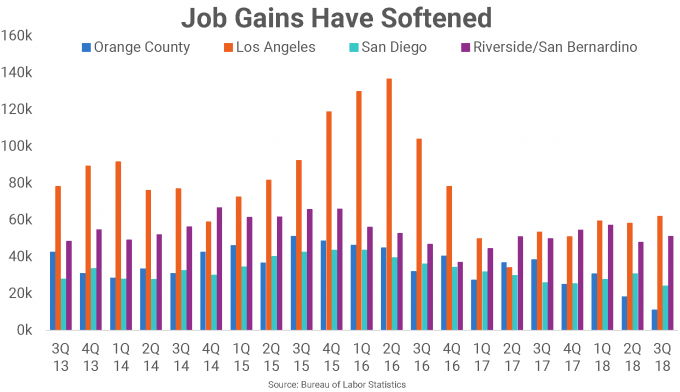 San Diego added 24,100 jobs in the year-ending 3rd quarter. This market's job growth has cooled since adding about 34,000 jobs in the previous five years, but it's pace so far in 2018 is still respectable.
Meanwhile, job growth in Orange County has been slow, meaning there are fewer potential renters to fill new supply. This market added only 11,000 jobs in the past year.
While fundamentals throughout Southern California are expected to moderate in the next several quarters, job growth will be the real metric to watch.
For in-depth analysis, check out the recent RealPage Asset Optimization webcast, Up Close and Local: Southern California Market Update.