South Florida Apartment Market Downturn Continues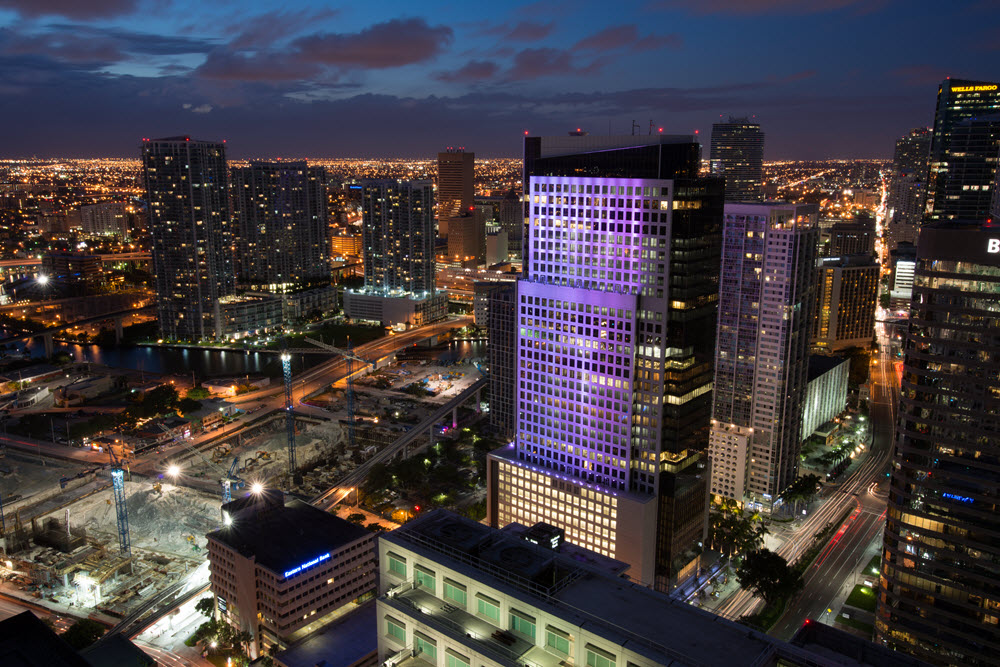 Performance in South Florida's three major apartment markets continues to slow from the cyclical peak 2 1/2 years ago.
In November 2014, the Miami, Fort Lauderdale and West Palm Beach metros had the 13th, 10th and fifth highest annual effective rent growth rates among the nation's 50 major markets. Rent growth measured 9.1% in West Palm Beach; 6.6% in Fort Lauderdale and 6.3% in Miami. West Palm stayed among the top five performers through January 2015.
All three metros have experienced slowdowns since then. West Palm Beach and Fort Lauderdale both recorded August 2017 rent growth of less than 1% (0.2% and 0.7%, respectively), while Miami came in at 1.7%, according to apartment rental data. These figures do not reflect any potential impact from Hurricane Irma, though South Florida was not hit as hard as was anticipated.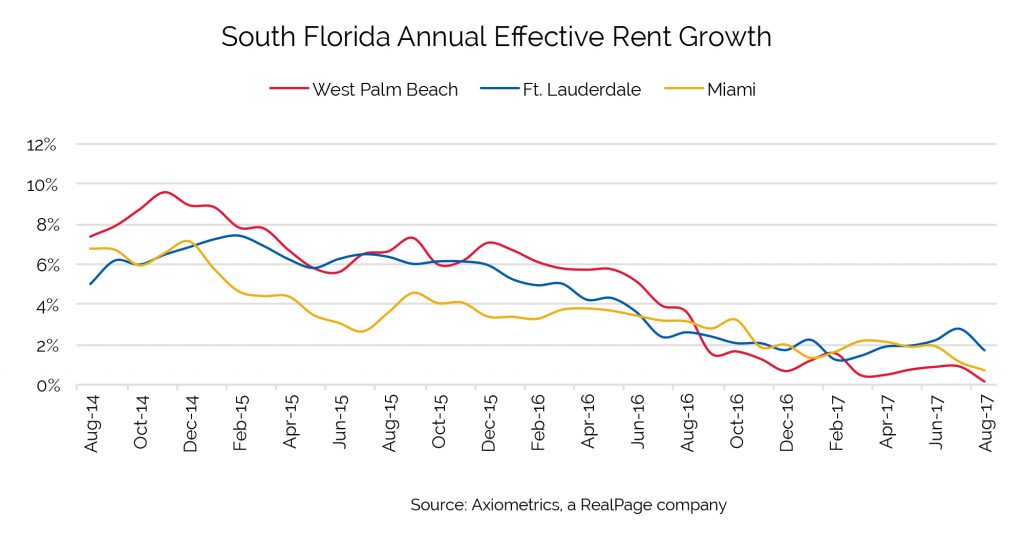 Slowing rent performances follow occupancy trends in the South Florida apartment markets. Occupancy was relatively stable before 2014 but has since dropped significantly. The drop was especially pronounced in West Palm Beach, where the 93.3% rate in August 2017 landed 260 basis points (bps) below the recent peak in October 2014. Miami and Fort Lauderdale each recorded August 2017 occupancy rates 160 bps below the peaks in March 2015 and August 2015, respectively. Even with the decline in Miami, the market still holds an occupancy premium of at least 100 bps over Fort Lauderdale and West Palm Beach, the apartment rental data found.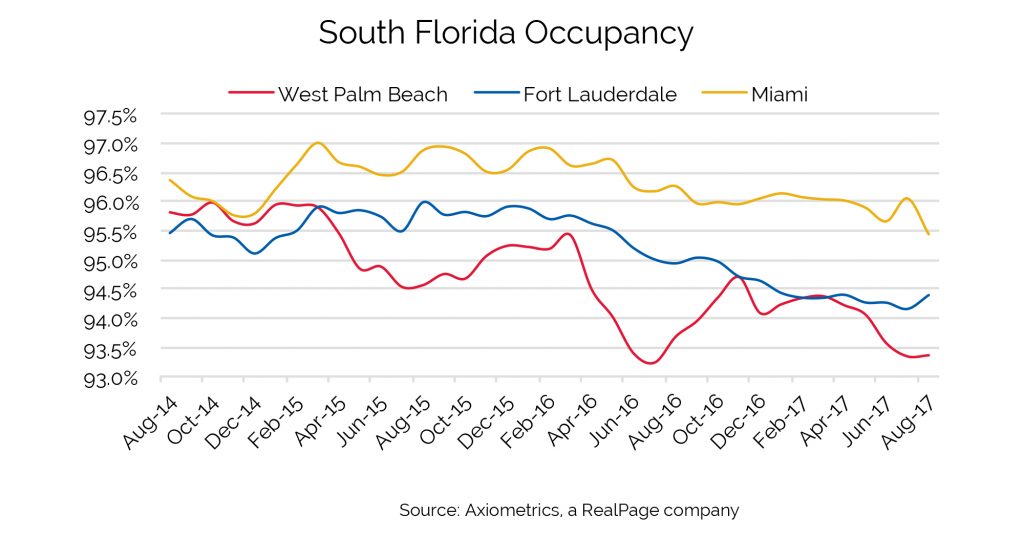 Job gains have decreased in the past year for South Florida as a whole, with 61,900 jobs added among the three metros in the 12 months ending August 2017, compared to 74,000 in the previous 12-month period. Among the individual metros, Miami and West Palm Beach job gains both decreased from year to year, while Fort Lauderdale actually increased the number of jobs added.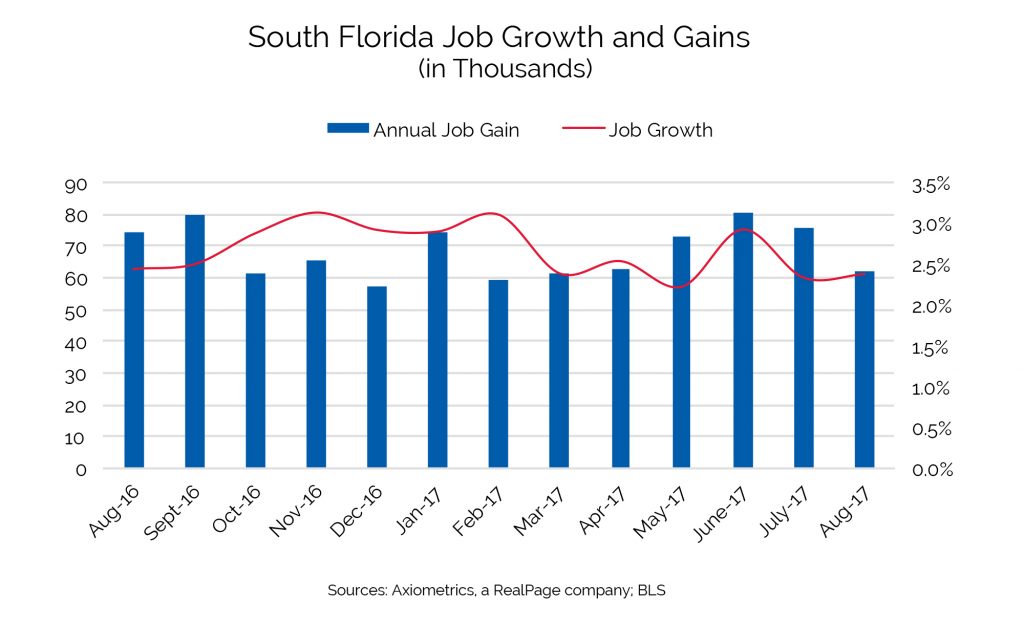 While job gains have slowed, new supply has skyrocketed, especially in 2017. Some 5,406 new units have been identified for 2017 delivery in Miami; 4,191 in Fort Lauderdale; and 3,941 in West Palm Beach – the cyclical peak for all three metros. However, construction is expected to pull back next year in Fort Lauderdale and West Palm, while Miami will likely set another peak, as 6,894 units have been identified for 2018 delivery. However, the 2018 forecasted completion volume could change once the impact of Hurricane Irma's is assessed.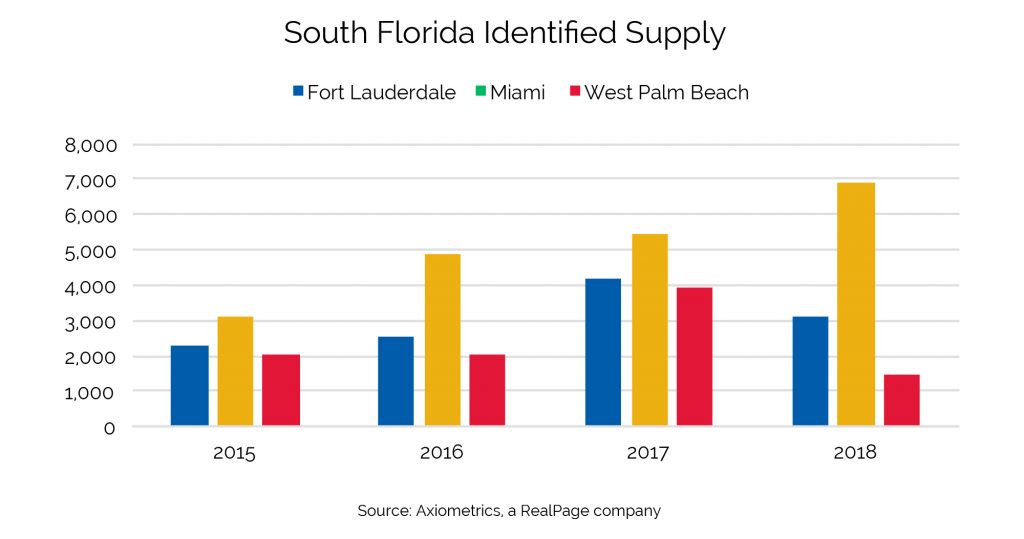 The good news is that the valley may have been reached. Forecasts by Axiometrics, a RealPage company, shown in the table below, anticipate that South Florida apartment rent growth and occupancy rates will strengthen in 2018 and 2019 as supply thins.