Some Tourism-Dependent Markets Holding Up Better Than Others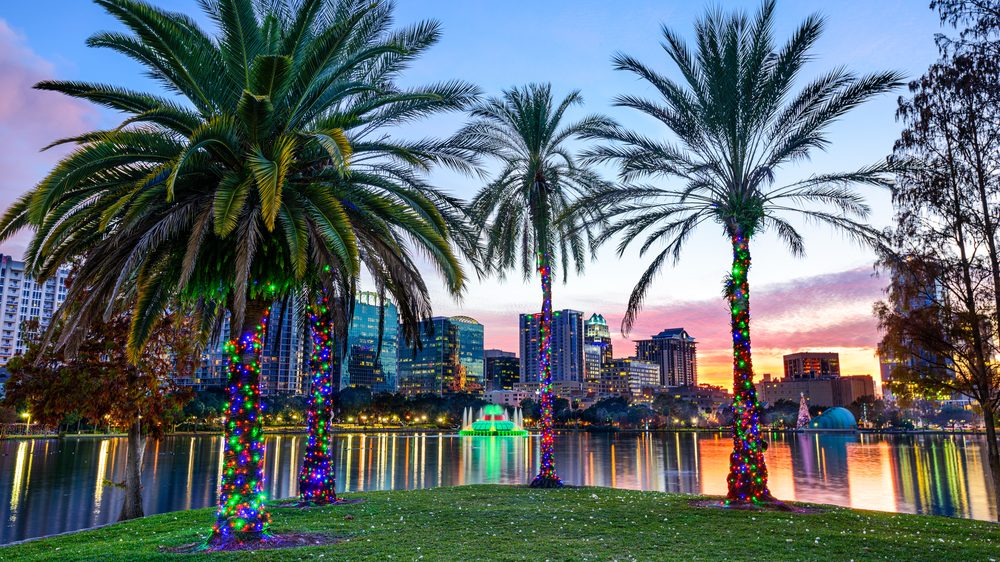 Posted September 15, 2020
The COVID-19 pandemic has massively impacted the Leisure and Hospitality sector, but some vulnerable tourism markets are faring better than others.
The U.S. economy is made up of 10.8% Leisure and Hospitality jobs, but a handful of markets have a notably higher concentration of tourism employment. They include Las Vegas (28.3%), Orlando (20.4%), West Palm Beach (14.4%), Anaheim (13.7%), San Antonio (13%), San Diego (13%) and San Francisco (12.5%).
Each of these tourism-heavy markets have struggled through the pandemic, which had an outsized effect on the travel industry and hospitality businesses such as hotels, restaurants and bars. Even after most state and local governments eased restrictions on mobility, many restaurants and bars continue to operate at limited capacity, if open at all, and lingering concerns about the coronavirus have sidelined many would-be travelers.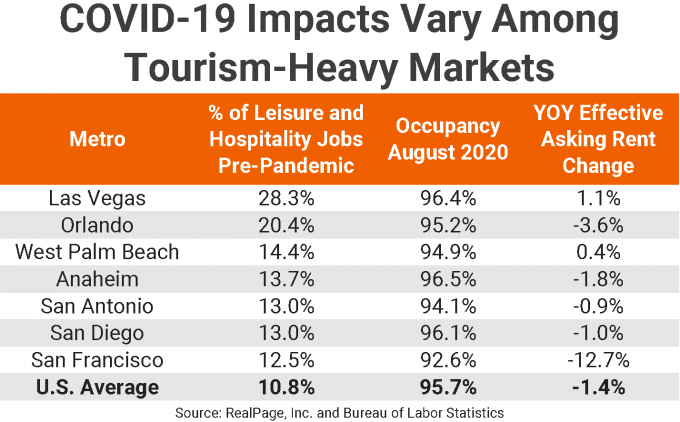 These economic effects have deteriorated apartment market performance in each of the seven tourism-heavy markets. Summer months usually spur along leasing activity, boosting occupancy through the middle of the year. But in 2020, occupancy in most of these markets is on par with or slightly down from their February rates, after recovering some ground since bottoming in May and June. By comparison, in 2019, August occupancy landed roughly 1 percentage point or more above February occupancy in all but West Palm Beach, a highly seasonal market that typically outperforms in colder months.
One market that has continued to lose occupancy since June is San Francisco. This expensive Gateway market has a high number of renter households that RealPage calls Roommates by Necessity. Doubling up to make ends meet leaves the household vulnerable should one occupant lose their employment.
In West Palm Beach, occupancy remains 1 point below its February rate, despite some improvement recently. Occupancy has essentially recovered to the February rates in Anaheim, San Diego and Orlando.
Alternatively, apartment occupancy is firmly above the February rates in Las Vegas and San Antonio.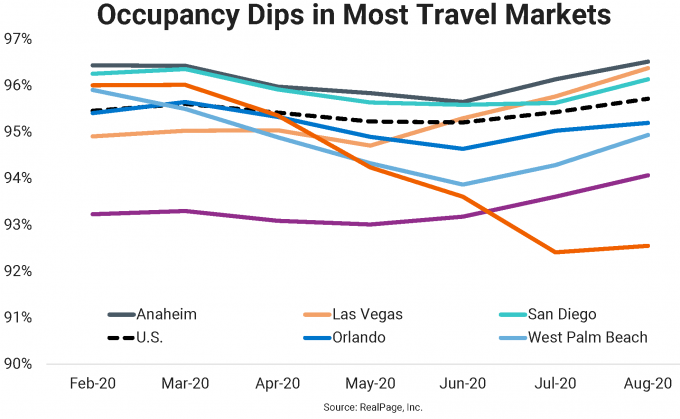 Resulting occupancy rates in August were some of the worst in the nation in San Francisco, San Antonio, West Palm Beach and Orlando, with readings at about 95% or below. Meanwhile, Anaheim and San Diego were still achieving a decent occupancy showing at 96.5% in August.
While it's true that all tourism-dependent markets, like the national norm, have seen asking rent growth turn to price cuts over the last five months, the severity of those cuts has varied.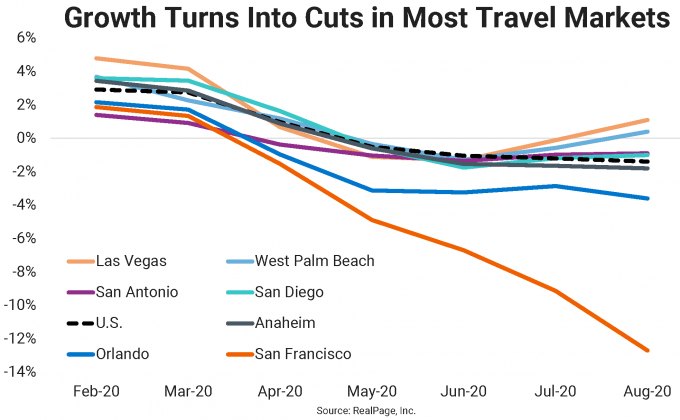 San Francisco is again the bottom performer among the travel markets. In the year-ending August, San Francisco operators cut effective asking rents by a national worst 12.7%. Orlando also logged a bottom 10 performance nationally, with operators slicing rents 3.6%. Just a few months ago, both San Francisco and Orlando were still logging effective asking rent gains of around the 2% mark in February.
In Las Vegas, which was one of the nation's strongest asking rent growth performers pre-pandemic, effective asking price growth eased to 1.1% annually as of August. San Antonio and West Palm Beach also saw rent cuts that were less severe than the national norm, which was down 1.4% annually.
Anaheim (-1.8%) and San Diego (-1%) performed roughly in line with national average.