Solid Rent Growth Forecasted to Continue for Some Markets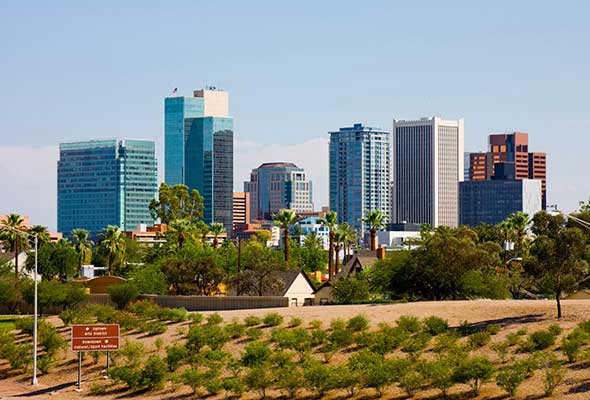 With the nation's occupancy tightening to record levels – an incredible 96.9% as of July 2021 – many of the nation's markets are seeing subsequently strong rent change. Overall, the nation's annual effective asking rent change as of July landed at 8.3%, the biggest increase since at least 2010.
As 2021 progresses, apartment operators are shifting their focus towards budgeting for 2022. As one might expect, there have been a lot of questions about 2021's strength and whether that momentum could carry into 2022.
The general thinking for 2022 is that demand is likely to remain strong but anticipating another year of record demand is probably too optimistic. And as demand comes down from record levels, it's likely that some moderation in rent growth follows.
Still, the rent growth outlook remains solid for 2022 and beyond. Although performance levels vary from region to region and – even more – market to market, the forecast expectations reflect some clear trends.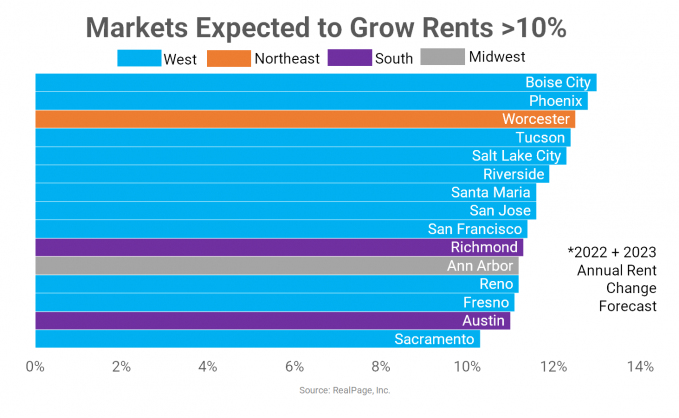 In total, 15 markets are expected to see rents increase a total of 10% or more in 2022 and 2023. The overwhelming majority of those markets (11 out of 15) are in the West region. Two South region markets make the cut, while one each of the nation's Midwest and Northeast markets qualify.
Rent growth is expected to be particularly robust in Western markets because, generally speaking, those markets are propelled by chronic housing undersupply. Further, many of the West region metros included on the double-digit rent growth list are regional leaders for job growth and boast favorable demographic tailwinds. And single-family housing there tends to be among the nation's most expensive, limiting loss of renter to home purchase – especially in 2021, as single-family home values have sharply risen.
The two South region markets expected to see rents rise more than 10% over the next two years are Richmond and Austin. Driving the near-term forecast in these markets is solid in-migration to both metros – especially from Washington, DC in the case of Richmond. Additional support in the near-term outlook is provided by the good-to-great economic recovery in these two markets. Austin in particular fits that bill, as the market is off its pre-pandemic employment level by less than half a percent.
The lone Northeast market on the big expected rent growth list is Worcester, where rents are anticipated to rise 12.5% across 2022 and 2023. Worcester fared well during the 2020 downturn by regional standards, experiencing only a brief period of rent cuts (0.4% in 3rd quarter) while the Northeast region overall saw cuts as great as 7%. That's due in part to Worcester's exceptionally tight occupancy (about 97.8% as of mid-2021) alongside an undersupply of multifamily housing.
In the Midwest, Ann Arbor is the only regional metro expected to achieve greater than 10% rent change in the coming two years. The regional leaderboard tightens considerably beyond Ann Arbor and Springfield. Markets ranking #3 to #10 show a two-year rent growth spread of just 80 basis points (bps).
The region-by-region leaders offers some insight into regional dynamics as well. The following graphics break out the top 10 metros by region based on 2022 and 2023 cumulative rent growth.
Midwest Leaders
Beginning first with the Midwest leaderboards, the immediate takeaway is that growth is fairly muted across the region. That's not necessarily a bad thing, as we saw many Midwest region metros actually managed to escape the 2020 economic downturn without any rent cuts. Instead, it's a reflection of the Midwest overall. That is, generally lower ceilings in expansionary years but a higher floors in recession years.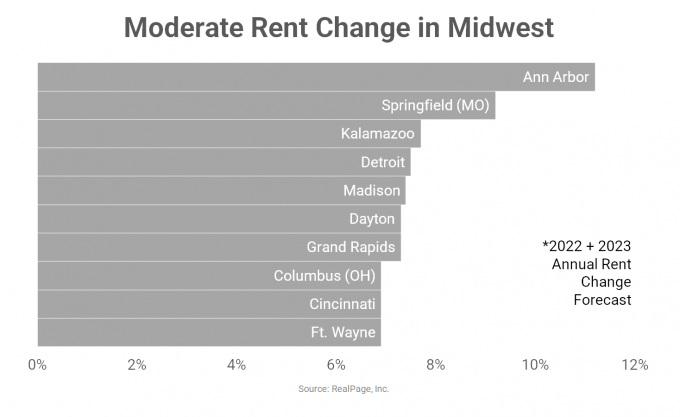 The key metro to watch in the Midwest is Ann Arbor. Ann Arbor's economy is anchored by the University of Michigan, which is a key demand generator. Further, limited construction levels have kept Ann Arbor supply from getting out of hand.
Northeast Leaders
Shifting focus to the Northeast, we see a heavy concentration of New England markets lead the list. That's especially true in Massachusetts, where Worcester, Springfield and Boston comprise the top three regional forecasts. Boston was one of only a handful of Northeast markets to see hefty rent cuts in 2020 – New York and Newark-Jersey City being the others. Meanwhile, many of the secondary markets on this leaderboard were fairly resilient throughout the downturn.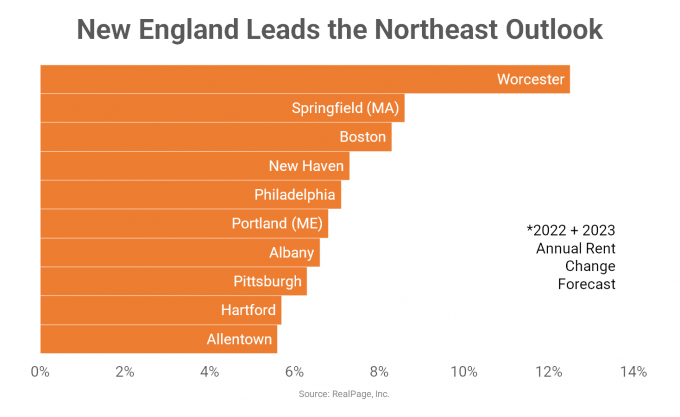 The key metro to watch in the Northeast is Boston. Boston suffered huge rent cuts due to the pandemic, especially in the urban core. As the local economy continues to recover, demand could quickly snap back and push Boston to the top of the leaderboard even more quickly than the current forecast suggests.
South Leaders
Many South region markets are forecast to experience good-to-great economic growth in the coming few years. Still, the region has attracted considerable supply in recent years which does inhibit some upside potential in the forecast. Nevertheless, the region features markets from numerous states. Big name leaders include Austin, Atlanta, Nashville, Houston and Miami. Smaller metros such as Richmond, Wilmington and Myrtle Beach should see solid performance as well.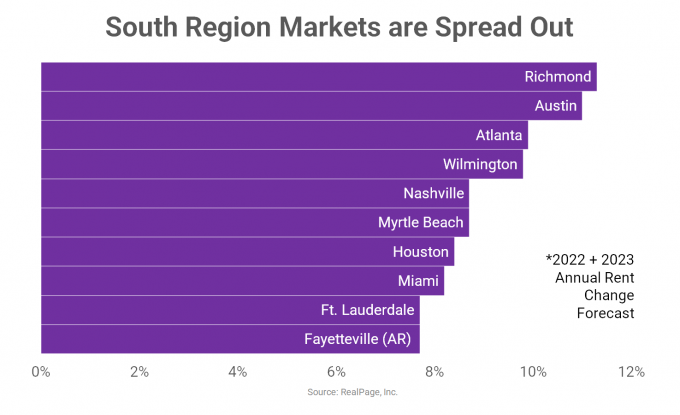 The South's key metro to watch is Houston. Current indicators suggest Houston market performance should begin recovering soon. An improving energy sector will help fuel additional economic growth in the region. A huge drop in construction levels also bodes well for near-term recovery. But Houston has historically proven to be a volatile market and as a result should be viewed as one with lots of upside and downside potential.
West Leaders
Out West, many markets should see excellent growth. Many of the Mountain and Desert region markets such as Boise City, Phoenix, Tucson and Riverside have been national leaders throughout the past 12 to 18 months. Outmigration from more expensive coastal markets helped these metros excel through 2020 and into 2021. And while construction is unquestionably aggressive in places like Phoenix and Boise City, it's important to remember how severely undersupplied these markets were throughout much of the 2010s decade.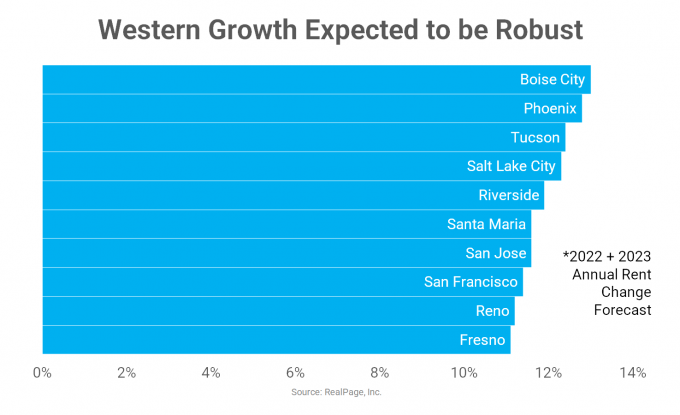 In the West, the key metro to watch is actually a region – the Bay Area. Arguably the hardest-hit region in the nation during the past 12 to 18 months, there is a long path to full recovery in the Bay Area. Still, recent demand has been outstanding. As residents move back into the market driven by the local economic recovery, there's potential that the Bay Area quickly skyrockets to the nation's strongest rent growth. But volatility is also high and should be taken into consideration.