Solid Performances Across Carolina Apartment Markets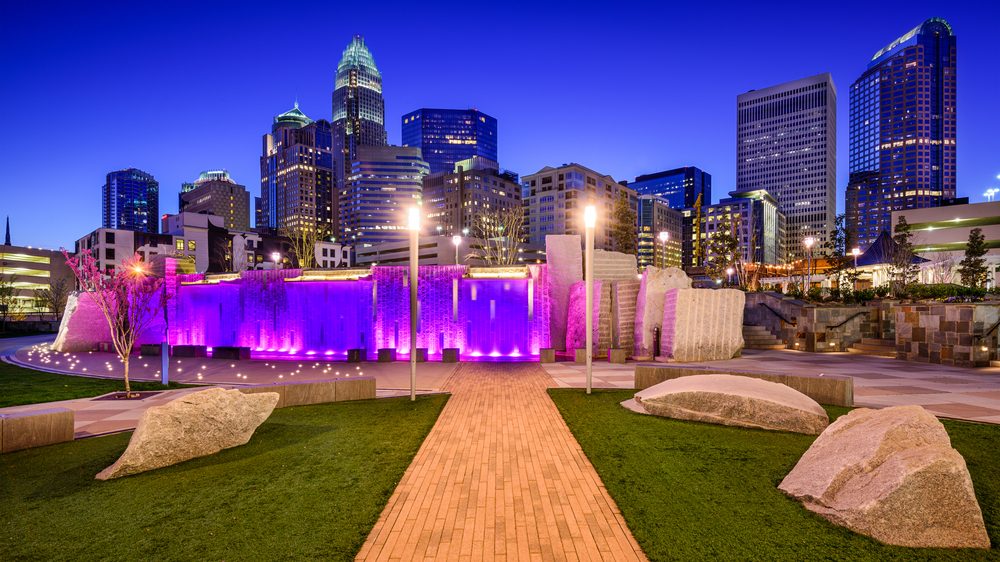 Posted September 14, 2021
While the apartment markets in the Carolinas have been somewhat overlooked in the past, recent strength has shined a light on this region.
Solid workforce and population growth has led to strong apartment occupancy and rent increases ahead of the national norm, especially in the past year.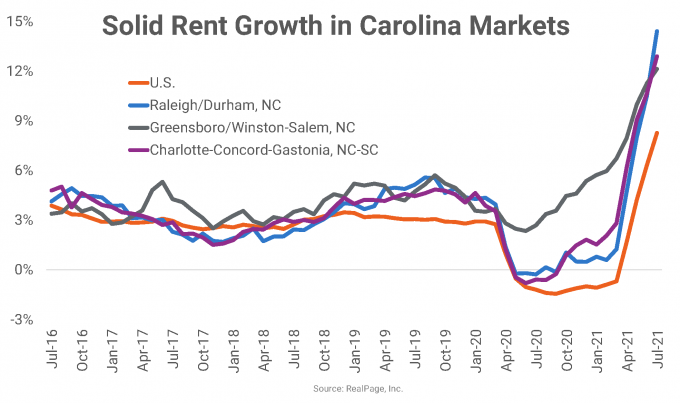 Charlotte
Annual growth in effective asking rents for new leases is at 12.9% in Charlotte, quite a feat considering the volume of new deliveries this market has seen in the past decade. Existing inventory in Charlotte swelled by 44.9% in the past 10 years, which was the second fastest growth rate in the county after only nearby Charleston, where the increase was 49%.
Partially driving the development wave in Charlotte has been rapid population growth. Charlotte was a top five market for domestic migration in 2020, according to the U.S. Census Bureau. Other top net migration markets were Phoenix, Dallas, Austin and Tampa. Inspiring population growth, Charlotte's employment market, which is heavy in high-paying jobs in the Financial Activates sector, has attracted corporate relocations in recent years.
Greensboro/Winston-Salem
Greensboro/Winston-Salem logged annual rent growth of 12.1% as of July, which was nearly three times the market's five-year average. Driving this increase, rent growth was notable in the luxury Class A stock (18%) and in the Class B units (14.2%) in the past year. While more reserved, the 6.2% increase in the Class C units was still elevated by historical standards.
Fueling rent growth, Greensboro/Winston-Salem has the strongest apartment occupancy showing in the Carolinas, with a rate of 97%. Occupancy is tight across the product classes, though rates are a bit tighter in the Class B and C units. Performances across submarkets are fairly stable as well, as new development in this market has been pretty evenly spread out in recent years.
Raleigh/Durham
Raleigh/Durham is the rent growth leader in the Carolinas, with an annual hike of 14.4%. This is also a local market that has seen lots of new apartment supply, with an existing base that has grown by 33.4% in the past decade. Even with big delivery volumes, however, the performance in the Class A stock shows no signs of weakness from all the competition. In fact, annual rent growth in this luxury stock reached 17.8% as of July.
Supporting strong rent growth, the Raleigh/Durham economy is stable, anchored by jobs with the state government and the local universities, which also create a supplemental job base of high-tech and research-oriented positions. As a result, Raleigh/Durham's economic recovery has been among the nation's best thus far. As of July, the job base here is only 1.6% away from pre-pandemic norms.
For more information on apartment markets in the Carolinas, including forecasts and coverage for secondary and tertiary metros, watch the webcast Market Intelligence: Carolinas Market Update.