Slowed Job Growth Challenges Austin Fundamentals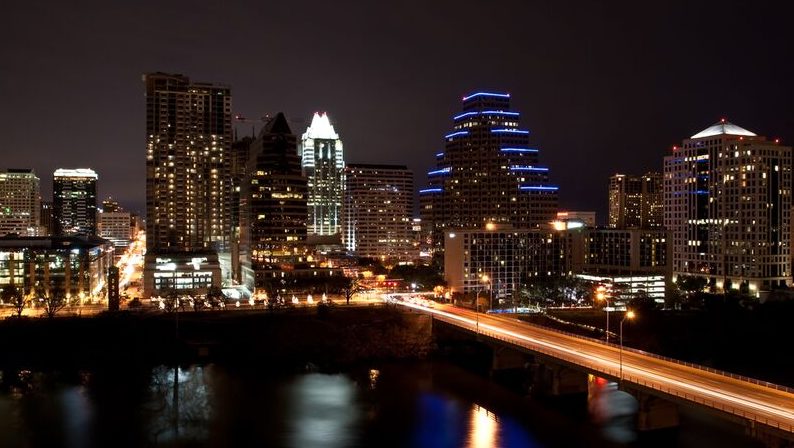 Austin has been a national leader for job creation throughout much of the current economic cycle. But while the metro has added an impressive number of high-paying jobs across sectors in recent years, growth has started to slow significantly. The question looms as to whether the deceleration is cause for concern, particularly since tech companies embedded in Austin's scenery have recently announced layoffs. Operators have taken note of the current slowdown, with some noting particular apprehension about future pricing strategies. In the short run, an oncoming supply wave could prove to be the largest obstacle to apartment fundamentals, as performance metrics continue to tumble from recent peaks.
According to the Bureau of Labor Statistics, employment in Austin saw a significant slowdown of roughly 4.5% to 5.0% annual expansion from 2013 through 2015, to 2.3% in 2016. In raw figures, employment growth slowed from 45,400 added jobs in 2015 to 22,300 gained positions in 2016. Compared to the same time last year, hiring in the Financial Activities and Government sectors picked up, while hiring in all other major sectors fell short of previous levels. The only sector to see net losses was Manufacturing, which cut 4,200 jobs in 2016. The slowdown was primarily focused in Professional/Business Services, Trade/Transportation/Utilities and Leisure/Hospitality. Much of the easing in Professional/Business Services, which slowed from 11,900 additions in 2015 to 3,300 additions in 2016, was concentrated in the Professional/Scientific/Technical subsector.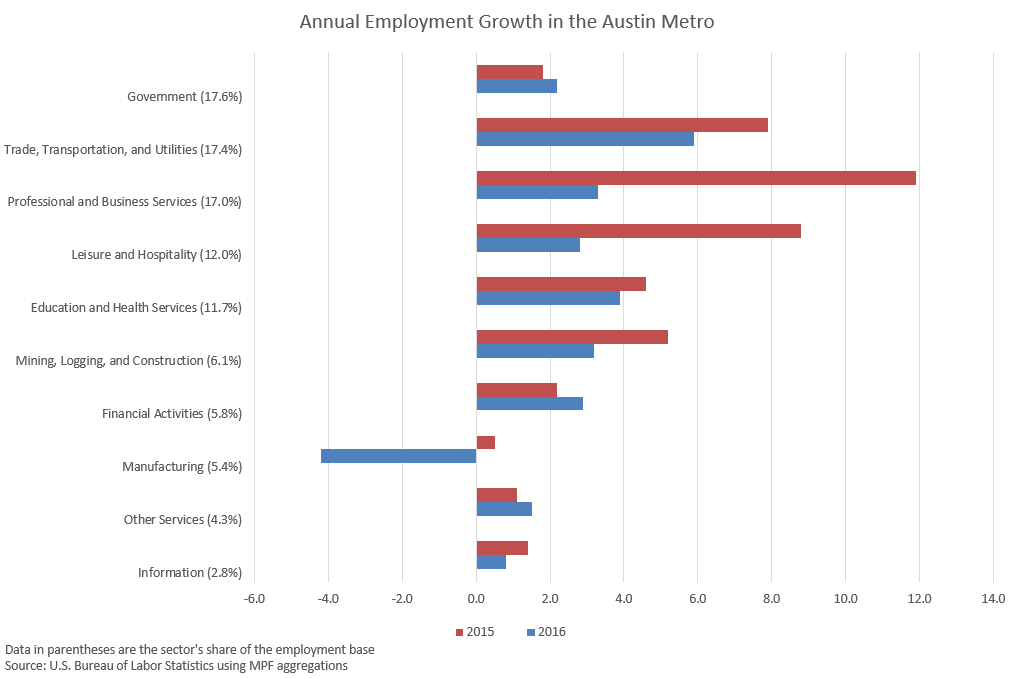 This stagnation is largely attributable to labor shortage. Unemployment in the Austin metro clocked in at 3.2% in December 2016, well below the national average of 4.5%. The metro's low unemployment rate, which has remained below 3.5% for most of the past two years, has hindered potential for sustained employment growth. After four years of expansion exceeding 4%, it is likely that there are simply not enough eligible applicants to fill positions.
According to the Federal Reserve Bank of Dallas, help wanted ads in the Austin metro picked up through the second half of 2016. Data from Workforce Solutions Capital Area confirmed an uptick in the number of job postings in Travis County in 2016, while indicating 2016 listings remained posted longer than 2015 listings. The lengthened lifespan of Travis County postings was coupled with a year-over-year increase in listings.
One challenge employers are facing in attracting new applicants to the area is infrastructure limitations, particularly in the downtown area. Parking in downtown, where many employers are concentrated, is at a premium and locals have not embraced the metro's underdeveloped public transit system as a reliable mode of commuting, according to some local officials. Furthermore, the metro's increasing cost of living is referenced as a deterrent to applicants eying positions in Austin. Over the past five years, rents in Austin have appreciated nearly 30%. During that time, the eastern half of Travis County saw especially aggressive rents, with submarkets Riverside and East Austin registering respective increases of 41% and 32%. The North Central Austin and Near North Austin submarkets, just north of downtown, were also among the submarkets with the highest rent growth, respectively logging 38% and 32% appreciation over the past five years.
However, the metro's demographics are nearly ideal for a growing workforce. The city's vibrant culture has drawn a significant number of millennials to Austin. To negate some of the effect of transportation on renters, new multifamily projects in the metro are beginning to include common areas dedicated to a collaborative work environment, as well as spaces to assist telecommuting tenants.
Even with slowing workforce development, Austin is still a fairly strong metro. While the lack of job growth is an influencer on demand, a continued supply wave remains the biggest factor in limiting apartment fundamentals in the short term.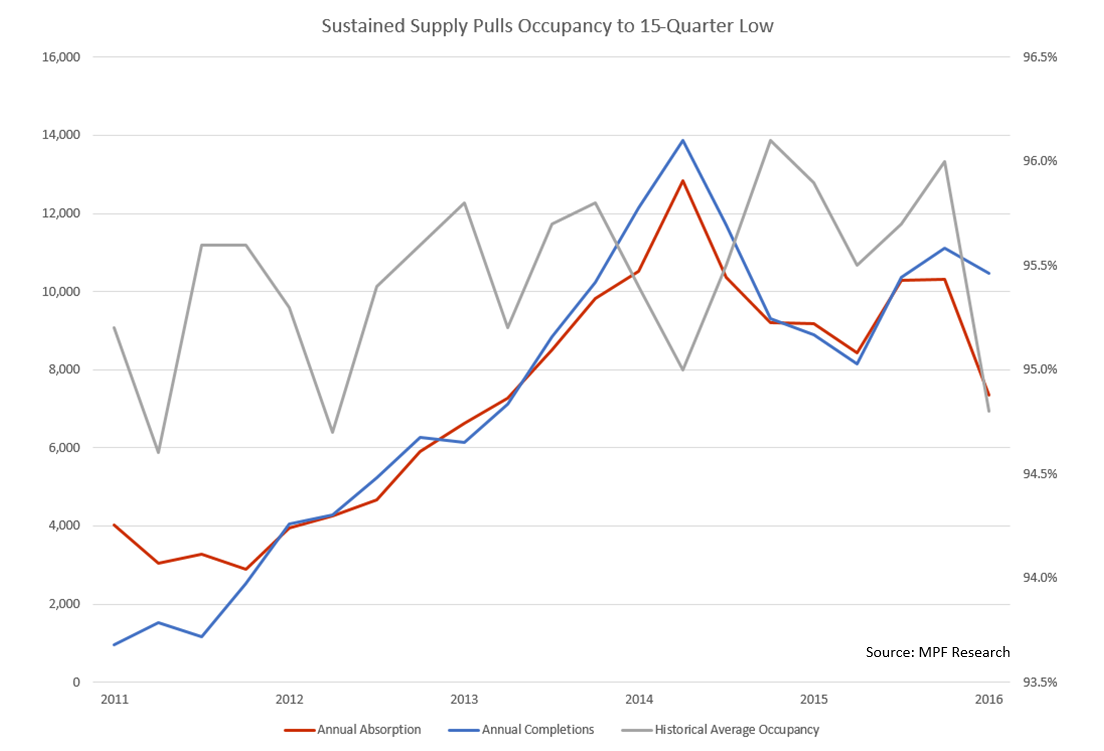 Recently, the metro's metrics have begun to ease after outperforming nationally from 2011 to 2014. Similar to Austin's employment growth, the industry's sustained performance over the past four years has been difficult to maintain. However, Austin has exceeded many recent expectations. Even in the wake of a 15% increase in inventory over the past three years, occupancy has remained at solid levels, around 95%, as demand has surpassed industry projections over that time. Meanwhile, annual rent growth has tapered off, more closely aligning with national performance, after surging to over 7% in 2011.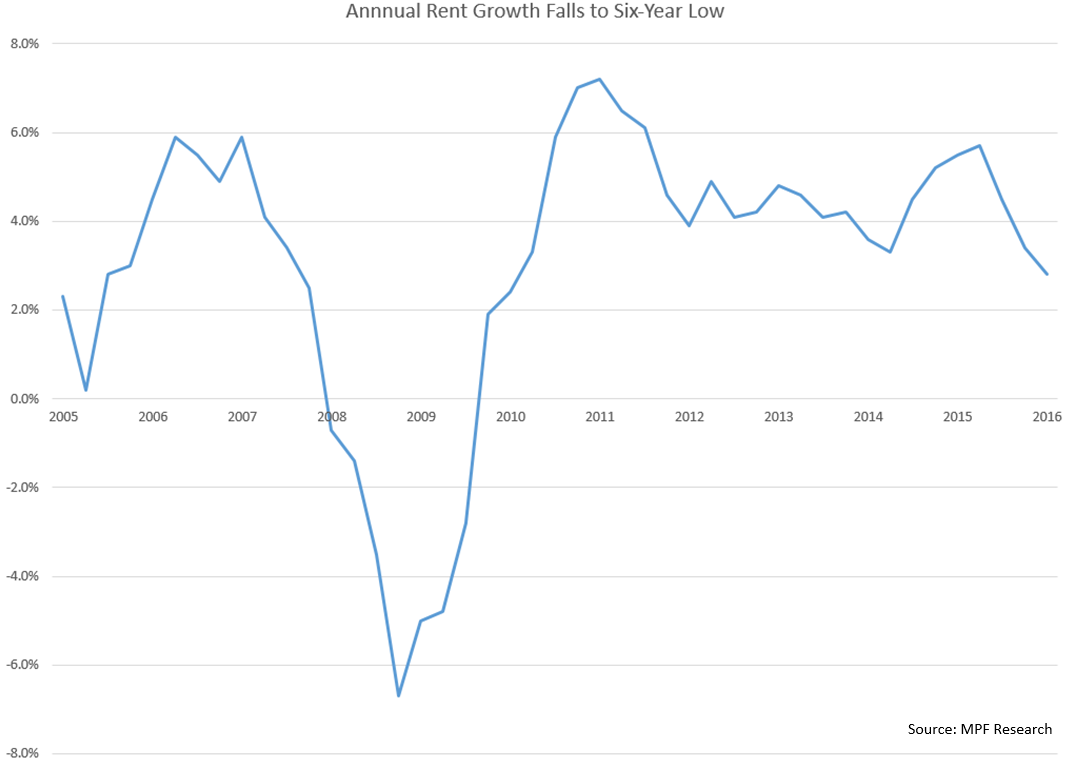 How much pent up demand is actually left in the metro for additional supply? Have we actually hit the point where Austin's apartment fundamentals will begin to show signs of stress? The duration of the performance lull will largely depend on future employment growth and the supply-demand relationship.