Skyrocketing Apartment Rent Growth Shows Signs of Moderating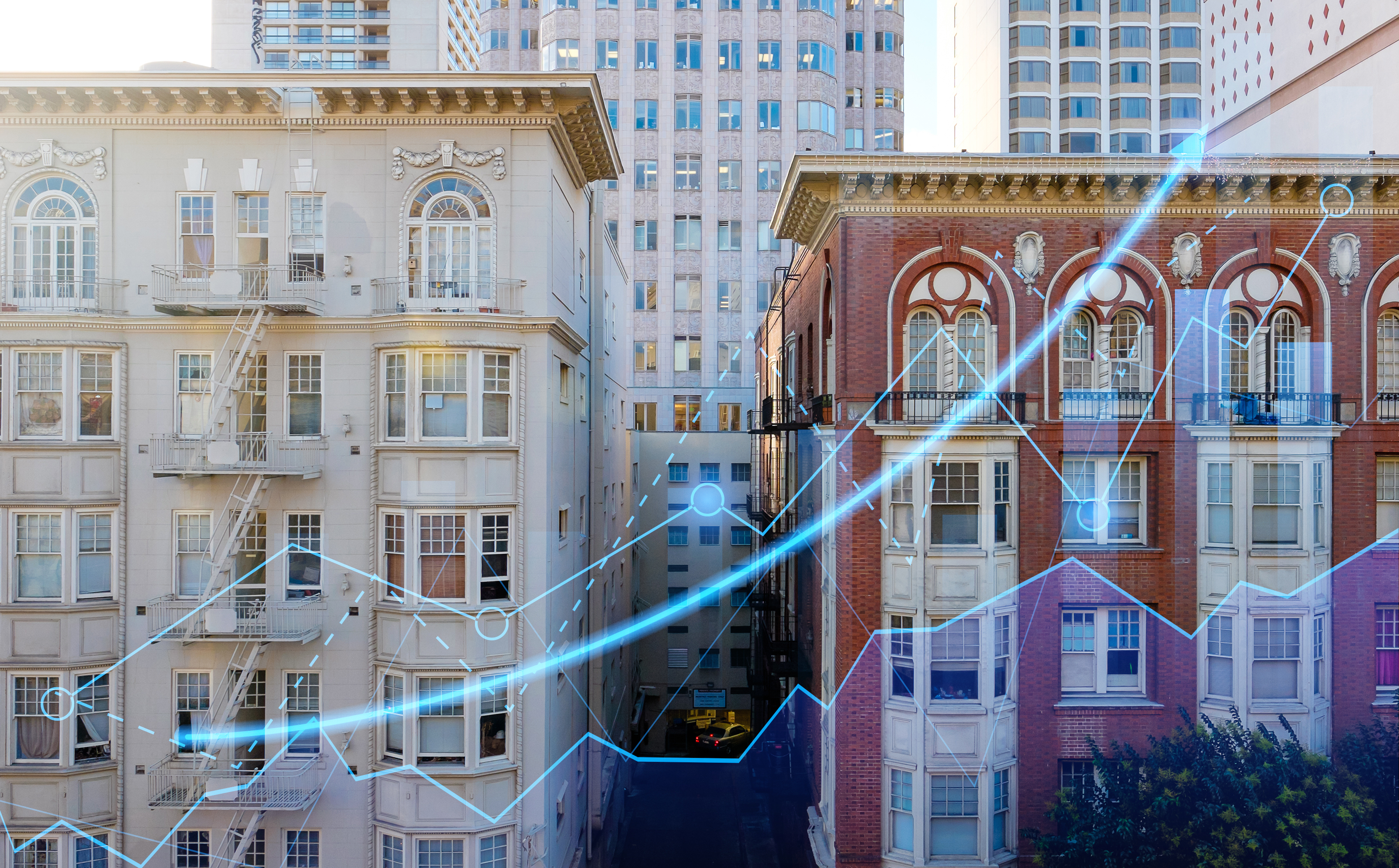 Apartment rents continued to increase in February 2022, but the pace of growth reverted closer to normal – even as occupancy remained at record highs.
Effective asking rents for new leases in February increased 0.75% month-over-month on a same-store basis. While that was the largest increase for a February on record, it wasn't by much – and that alone is a notable shift. February's increase was just 21 basis points (bps) above the long-term average for February going back to 2010. That's the smallest spread between current-versus-average for any month since March 2021, prior to the historic run-up in rents that began in April 2021.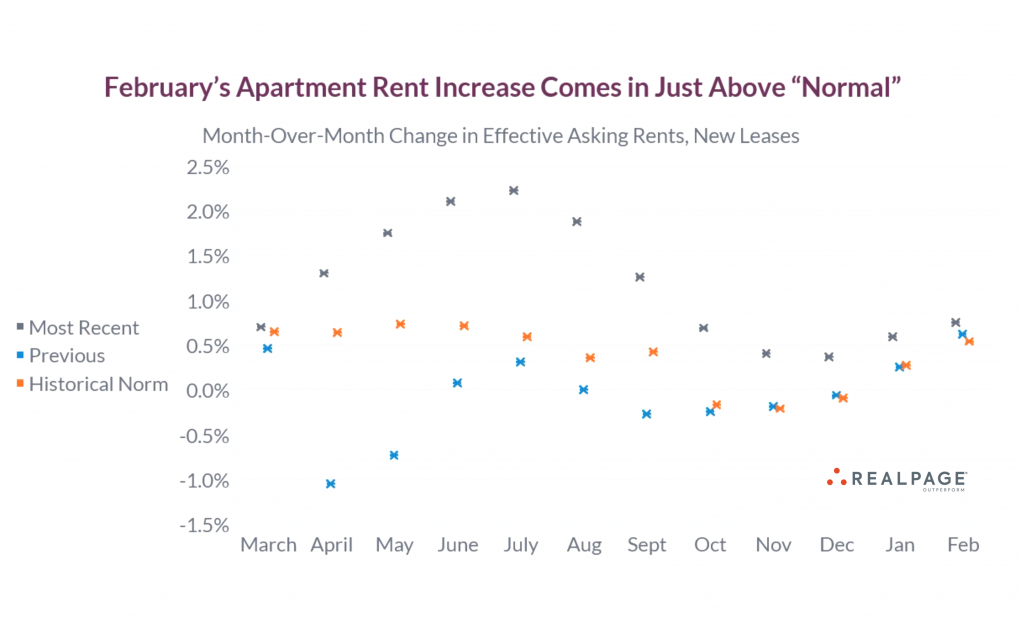 Occupancy, meanwhile, remained at a record high of 97.6% nationally in February. Therefore, any moderation in the pace of rent growth was not driven by increased availability, but seasonality and operators tapering back on the pace of rent increases.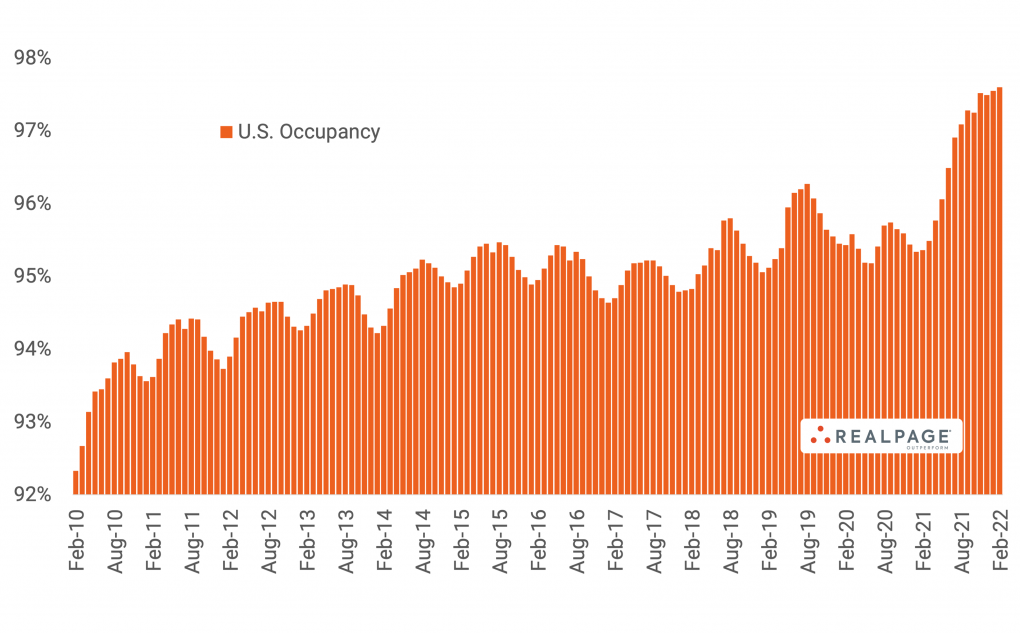 What does all that mean?
It's probably a little too early to draw definitive conclusions on market trajectory for one big reason: seasonality. In the winter, few leases are expiring, and few new leases are getting signed.
Our expectation is we'll see somewhat larger current-versus-normal splits return starting in late March and into the 2nd quarter — but not to the degree seen in 2021, given that 2021's numbers were inflated, in part, by burn-off of rental concessions offered in 2020 and that we're now building off a much higher base rent.
Year-over-year, effective rents for new leases were up 15.4% nationally through February. That's another new high, but like the month-over-month numbers, the pace of additional growth is moderating substantially compared to the brisk acceleration seen throughout most of 2021.
Rent growth remains most significant in high-demand Sun Belt markets that have only seen substantial income growth among renters. Florida markets claimed nine of the top 10 spots with year-over-year rent growth exceeding 24%. The historically volatile beach market of Naples led the way with a blistering 43.2% increase. Other Florida markets in the top 10 included Sarasota/Bradenton, Cape Coral/Fort Myers, West Palm Beach, Tampa, Fort Lauderdale, Orlando, Port St. Lucie/Sebastian and Jacksonville. Four more Florida markets recorded growth of at least 20%: Miami, Palm Bay/Melbourne, Daytona Beach and Lakeland/Winter Haven.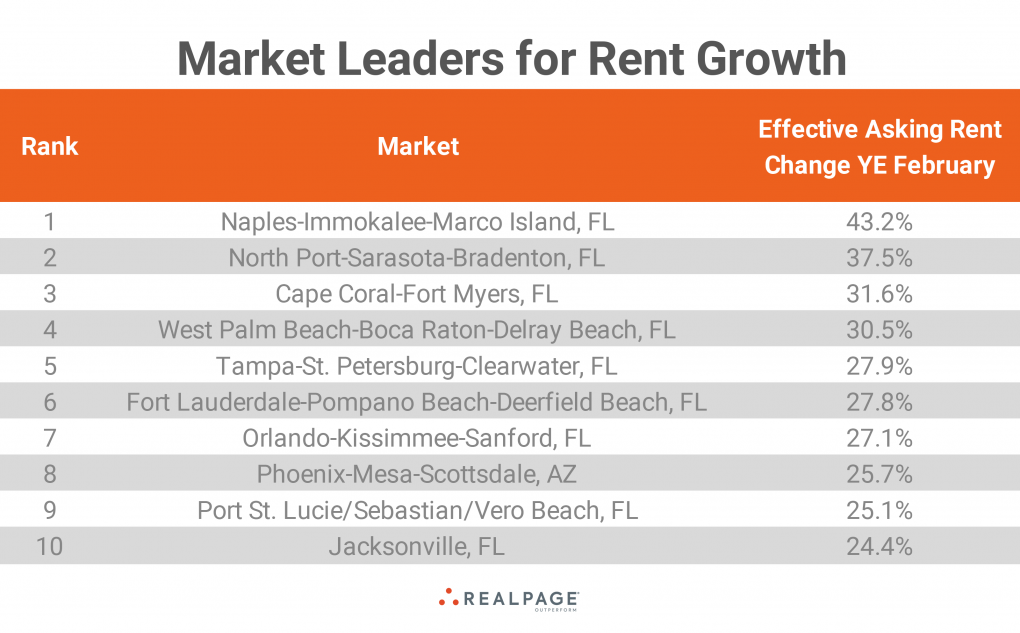 Florida has been one of the nation's fastest-growing states in terms of population. Increased migration to the Sunshine State over the past 12 months in particular has fueled a lot of demand for apartments.
The lone non-Florida market to crack the top 10 was Phoenix at 25.7%. Fellow Desert region markets of Las Vegas and Tucson came in just outside the top 10, as did Austin.
One notable newcomer to the upper rankings was New York (21.7%), where rents fell as much as 15.1% in 2020, but after a prolonged slump, surged back in the second half of 2021 and into 2022. New York is one of the few markets (as is the San Francisco Bay Area) where concession burn-off remains a driver. Compared to pre-COVID levels, rents there are up 7.7% – less than half the U.S. average.
Across the country, rent growth continues to be driven by a combination of big growth in renter wages, big demand for housing and ultra-low availability. National occupancy measured a record-high 97.6%, up 10 bps month-over-month and up 220 bps year-over-year. For context, 95% is often considered "essentially full" to account for normal turnover and turn time.
Of the nation's 150 largest metros, 146 registered occupancy rates above 96%, 130 above 97% and 64 above 98%. The only four below 96% were small markets: Montgomery, AL (95.8%); Shreveport, LA (95.2%); Corpus Christi, TX (94.1%); and Midland/Odessa, TX (91.4%).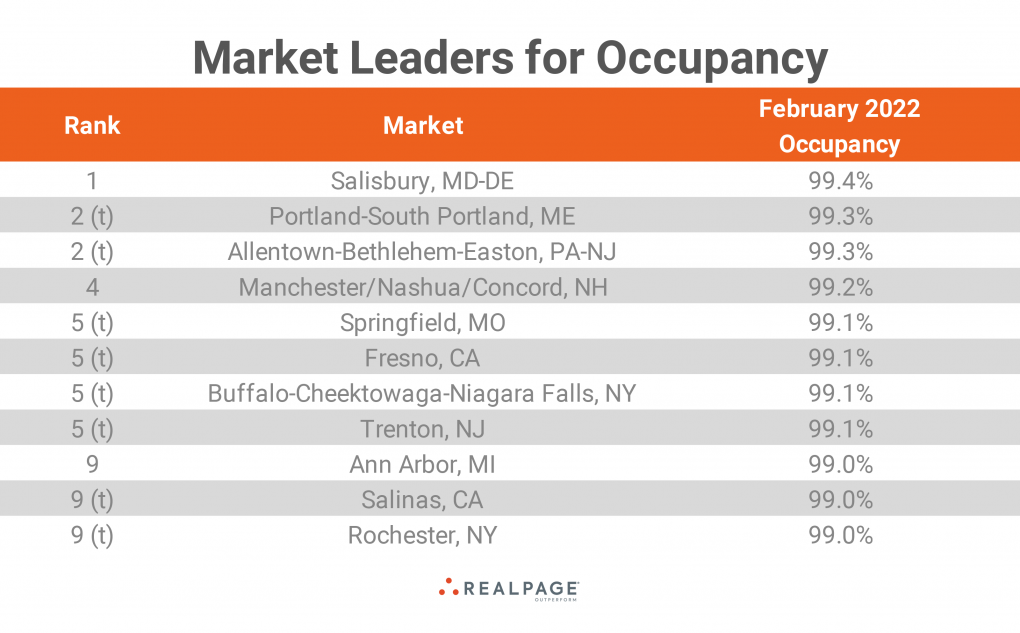 Occupancy rates should slip modestly in 2022 as new completions ramp up – particularly in more urban submarkets with concentrated pockets of construction within a small radius.