Single-Family Permits Keep Climbing, Multifamily Levels Off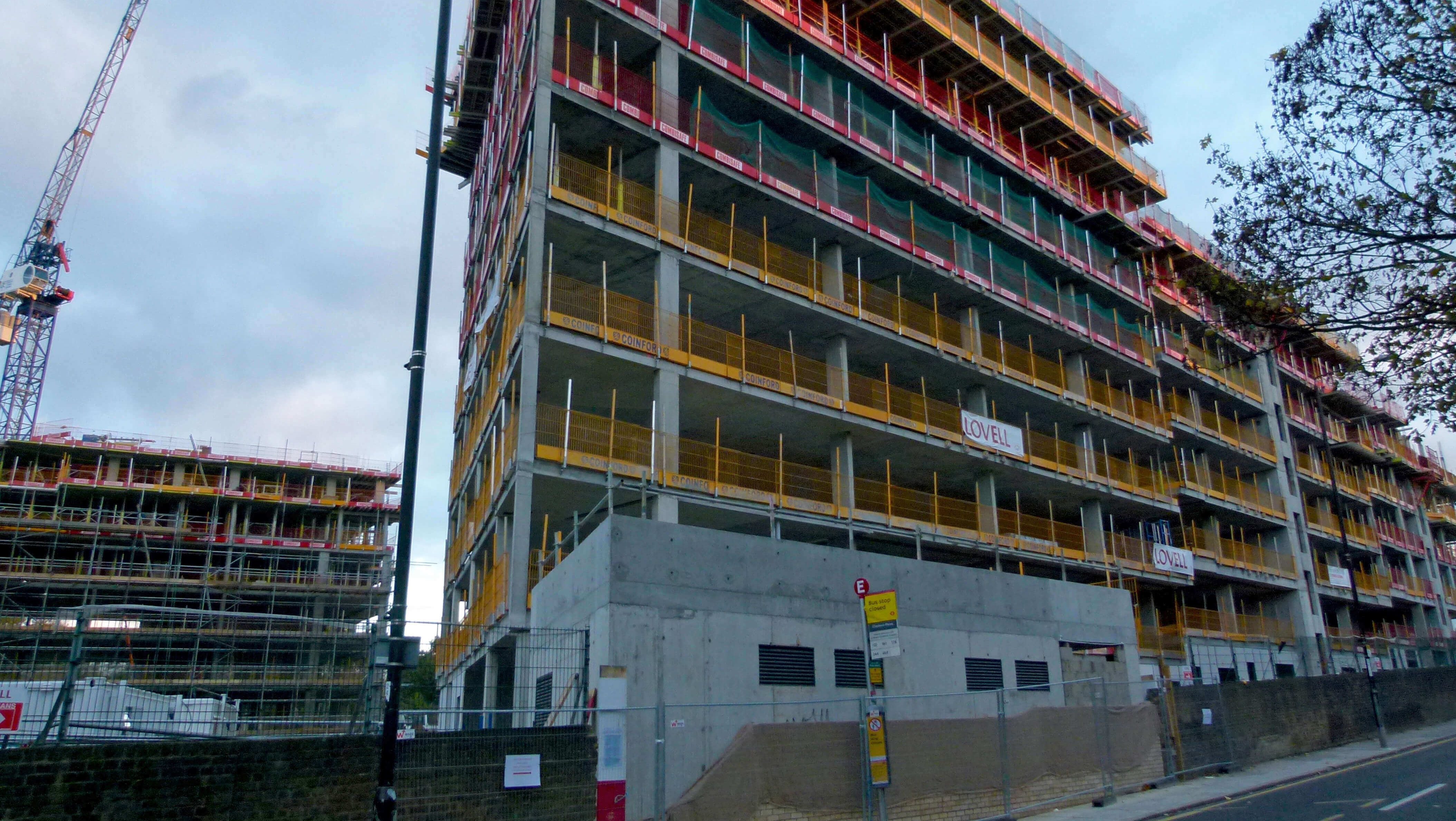 Multifamily permits and starts have plateaued in recent months, while single-family activity has surged.
Roughly 365,000 building permits for multifamily construction were issued on a seasonally adjusted annual rate in October. Permit levels were down 5.9% from September and more than 30% from last year. Multifamily permits have plateaued, averaging at about 380,000 units since August.
Meanwhile, annual multifamily starts – which tend to trail permits by one to three months – have averaged about 336,000 units for the past three months after reaching a post-pandemic peak of 485,000 units in July. October's multifamily starts rate of 334,000 units was down 3.2% from September and 19.9% from last year.
These declines in multifamily permits and starts are more of a normalization than a downward trend, however. The proportion of total residential starts and permits devoted to multifamily had been elevated after the housing bubble burst and the ensuing Great Recession. Accounting for about 22% of total permits from 2000 to 2011, multifamily made up almost 36% of total residential permits from 2012 to 2019. October's ratio is back down to normal, at less than 24%.
While multifamily permits have plateaued, however, single-family permits have surged. Over 1.1 million single-family units were permitted on a seasonally adjusted annual rate in October, marking the highest level reached since March 2007, in the waning days of the housing bubble. The rate for single-family permits is up 0.6% from last month and up 20.6% from last year.
The increase in single-family permitting had accelerated prior to the pandemic-induced downturn starting in April. The annual rate for single-family permits was averaging 834,000 units from early 2017 through April 2019 before growing, peaking at an annual rate of 994,000 units in February 2020, before plunging to just 666,000 units in April.
The surge in single-family starts continued in October with a jump of 6.4% from September's annual rate, to 1.18 million units, a 29.4% increase from the seasonally adjusted annual rate from October 2019.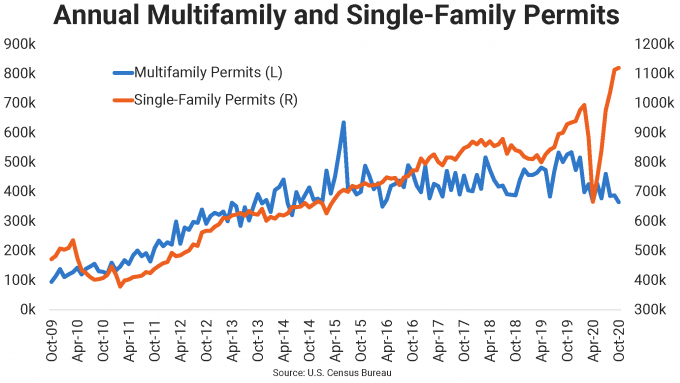 With single-family increasing and multifamily decreasing, total U.S. residential building permits were unchanged from September and up only 2.8% from last October. Total residential starts were up almost 5% for the month and up 14.2% for the year. With the recent surge in single-family permitting, total residential permits exceeded 1.5 million units for the second straight month.

Despite the surge in single-family permits and starts, single-family completions dropped 3.4% from September, and were down 4% for the year. Multifamily completions slipped 7.3% from last month, to 444,000 units, but were up 27.6% from October 2019.
Regionally, annual multifamily permitting was down sharply in three regions, with declines deeper than 30% in the Northeast (down 36.6% to 59,000 units), South (down 34.6% to 161,000 units) and West (down 32.8% to 92,000 units). The Midwest region saw a small increase in multifamily permits (up 6% to 53,000 units) compared to last year. The monthly change in annual rates by region were down in the same three regions (-13.2%, -6.9%, and -3.2%, respectively) while the Midwest ticked up 1.9% from last month's annual rate.
Regional annual multifamily starts were down in two regions. The small Northeast region experienced a strong decline of almost 75% from last October to just 19,000 units and the West region's multifamily starts declined by 35.4% to 83,000 units. The Midwest region's multifamily starts were essentially flat with a 1.3% increase to 60,000 units, while the large South region had 10.7% more units start through October, or about 173,000 units.
At the metro level, all the top 10 permitting markets in October returned to the list from September, with most in the same order. New York, Houston, and Austin once again led the list, retaining the same spots that they have held since April. New York's multifamily permitting was unchanged from last year at more than 36,900 units, while Austin permitting was up by 25% to 17,450 units. Houston's annual permit level declined by 6.9% from last October with 21,302 units, almost 1,600 units fewer than October 2019's annual rate.
Last month's #4 – Dallas – plunged down the list to the #9 spot with 10,831 units permitted, a decrease of more than 8,000 units (a 42.8% decline) from the annual permitting total the year before. Dallas has been a perennial leader for multifamily permits for several years and this is the first time the market fell out of the top four in more than four years.
With Dallas' slide, Phoenix, Seattle, Los Angeles, Minneapolis-St. Paul, and Nashville all moved up one spot each, while Washington, DC returned at #10. Phoenix increased annual multifamily permitting by more than 5,200 units to 13,186 units, or an increase of 65.1%.
On the other hand, Seattle and Los Angeles had declines of about 12% from last October's annual permits, to 12,509 units and 12,289 units, respectively. Minneapolis-St. Paul had an increase in multifamily permitting of about 900 units or 8.4%, while Nashville shot up 55.1% from last year with 3,949 more units permitted, totaling 11,116 units for the year.
Washington, DC remained in the #10 spot with 9,867 units permitted, a 32% decrease from last year's annual rate.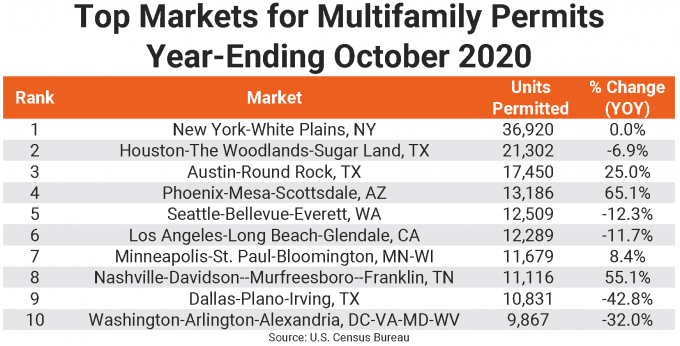 The strongest increases in multifamily permitting among the top 10 were in Phoenix (+5,201 units), Nashville (+3,949 units), Austin (+3,486 units), and Minneapolis-St. Paul (+904 units).
Other markets that saw significant year-over-year increases in annual multifamily permitting as of October were Cape Coral-Fort Myers (+2,001 units), West Palm Beach (+1,791 units), Columbus, OH (+1,509 units), Sacramento (+1,434 units), and Madison, WI (+1,125 units).
In addition to the sharp drop in Dallas permitting, four more of the top 10 markets experienced significant decreases in annual multifamily permitting from last year, with a decrease of 4,652 units in Washington, DC, 1,756 units in Seattle, 1,624 units in Los Angeles, and 1,577 units in Houston.
Significant slowing in annual multifamily permitting also occurred in Atlanta (-5,116 units), San Francisco (-3,961 units), Tampa (-3,585 units), Charlotte (-3,268 units), Portland (-3,268 units), Fort Worth (-3,119 units), and Orlando (-2,496 units).
All but one of the top 10 had fewer annual multifamily permits than the previous month, with Dallas experiencing an 18.6% drop from September's annual rate, and the remainder declining about 1% to 6%. Conversely, Phoenix saw a modest increase of 0.4% in annual multifamily permitting from last month, or about 50 units.
The annual total of multifamily permits issued in the top 10 metros – 157,149 units – was 2.6% less than the 161,298 issued in the previous 12 months. The total number of permits issued in the top 10 metros was almost equal to the number of permits issued for the #11 through #45 ranked metros.
There was very little change in the list of top 10 permit-issuing places from September, with nine of the top 10 places returning and only a few changing places. The list of top individual permitting places (cities, towns, boroughs, and unincorporated counties) generally include the principal city of some of the most active metro areas.
The cities of Austin, Houston, Los Angeles and Nashville continued to lead the list, along with the borough of Brooklyn. However, Austin, Los Angeles, and Brooklyn had modest decreases in annual permits from last month. The city of Phoenix moved up two spots on the list this month to the #6 spot, permitting about 300 more units in October than in September.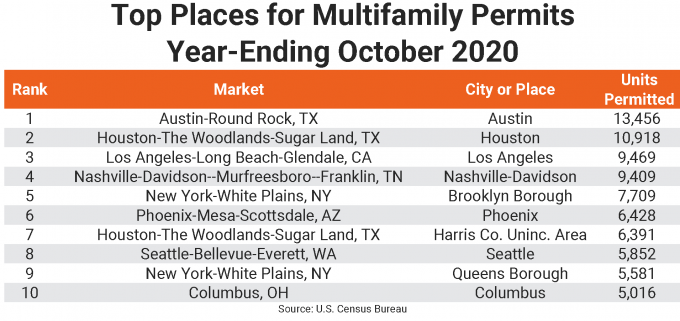 Houston's Unincorporated Harris County and the city of Seattle slipped one spot each and each had fewer multifamily units permitted this month than last. The borough of Queens returned at the #9 spot while the city of Columbus, OH joined the list of top permitting places with 5,016 units permitted, 1,005 units more than the previous month's annual total.