Single-Family Construction Continues to Slide as Multifamily Begins to Cool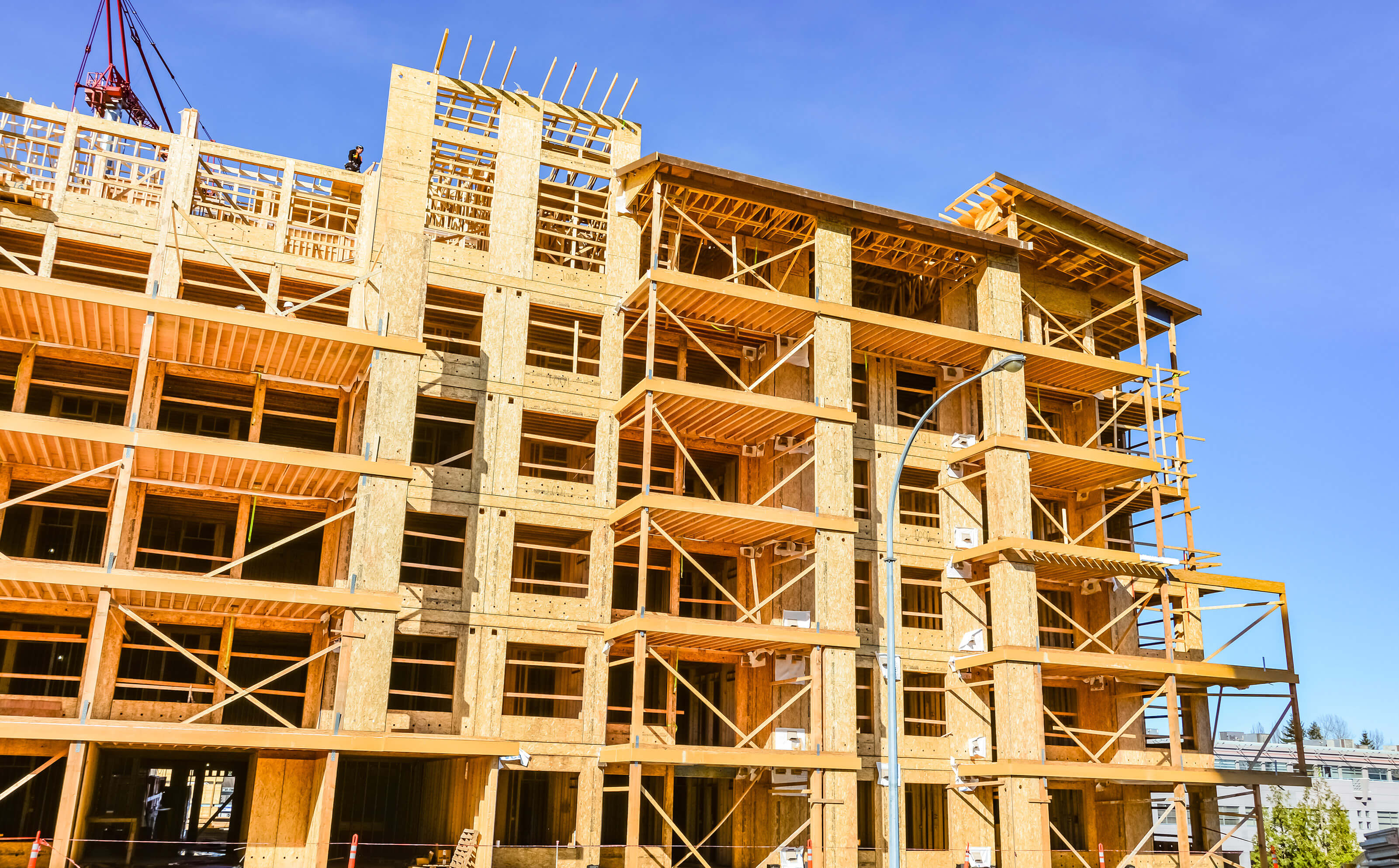 Rising mortgage rates added to already high construction and labor costs are giving more homebuilders pause as the number of homes permitted and started has fallen again for the third consecutive month.
Seasonally adjusted annualized building permits for single-family homes fell 5.5% from April to May to 1.048 million homes, while single-family starts dropped 9.2% to 1.051 million, according to the U.S. Census Bureau. Both data series are down from last year as well, with permits down 7.9% from last May and starts down 5.3%
Multifamily construction, which had been taking up the slack for residential demand in recent years, is beginning to show signs of cooling off also. Annualized multifamily permitting in May was down 10.0% to 592,000 units, while multifamily starts came down from a recent peak of more than 640,000 units to 469,000 units, a 26.8% drop for the month. Compared to last year, multifamily permitting is up 19.8% and starts are slightly down by 3.3%.
Together, total residential permitting (including the small 2-to-4-unit plex data) is down 7.0% in May to 1.695 million units and total starts are down 14.4% from April to 1.549 million units. However, total permits are about even with last year's pace while total starts are down 3.5% annually. Construction delays are piling up, as the number of units permitted but not started has risen 14.1% from last year, with the biggest increase in the multifamily sector (up 29.6% to 127,000 units).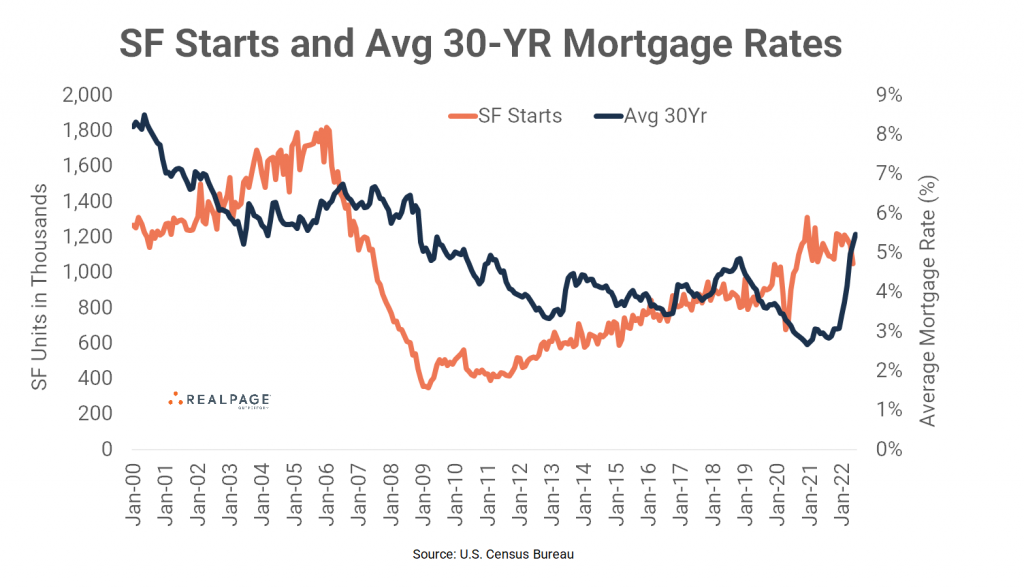 The sudden and sharp increase in 30-year mortgage rates from around 3% at the end of 2021 to close to 6% now may seem like a housing catastrophe, and for some potential homebuyers it is, but in the longer-term scheme of things, we are not even back to the level mortgage rates were hovering at during the peak years of the housing bubble build up in the mid-2000s. The old adage "people have to live somewhere" is still true, and as single-family homeownership has faltered lately, multifamily living is still an attractive alternative.
Increasing costs and supply chain delays had slowed the completions rate over the past few months, but May saw an increase in completions for both single- and multifamily development. Single-family completions increased 2.8% from April to 1.043 million homes, while multifamily completions were up 33.2% to 417,000 units. These delays continue to swell the number of units currently under construction, with multifamily construction reaching 828,000 units (the highest since 1974) and single-family at 822,000 homes (the highest since 2006).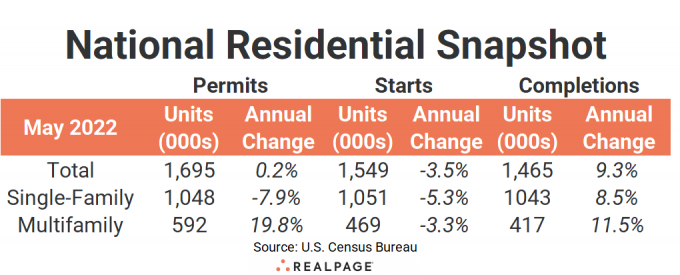 The annual rate for multifamily permitting was up in three of the nation's four Census regions from May 2021, with the largest annual increase in the large South region (up 46.8% to 307,000 units). The Midwest region's annualized rate increased 35.8% to 87,000 units. Meanwhile, the West region increased by just 1.4% to 142,000 units, while the Northeast decreased by 31.2% to 55,000 units from last May. Compared to the previous month, permitting fell by 13% to 36% in all but the South region (up 1.1%).
Unlike permitting, multifamily starts were down in three of the four regions, with a big drop in the Midwest (-30.8% to 67,000 units) and moderate declines in the West (-9.3% to 95,000 units) and South (-5.1% to 200,000 units). The small Northeast region started 46.6% more units than the previous year at 108,000 units. Compared to April's rate, starts were up about 15% in the Northeast and Midwest but down 42.6% in the South and by a third in the West.
At the metro level, all of the top 10 permitting markets returned to the May list from April with the first six remaining in order, and only three others changing places. New York continues to lead the nation in multifamily permitting with 38,309 units, about 3,000 units more than last year. The potential expiration of a special tax incentive in New York may boost multifamily permitting in the short term in a scenario similar to what occurred in Philadelphia last year.
Austin remained at the #2 spot in May with 24,549 units permitted, followed by Philadelphia in the #3 spot with a total of 21,108 units. Dallas returned in the #4 spot with 20,262 units permitted, about the 2% more than last month's annual figure.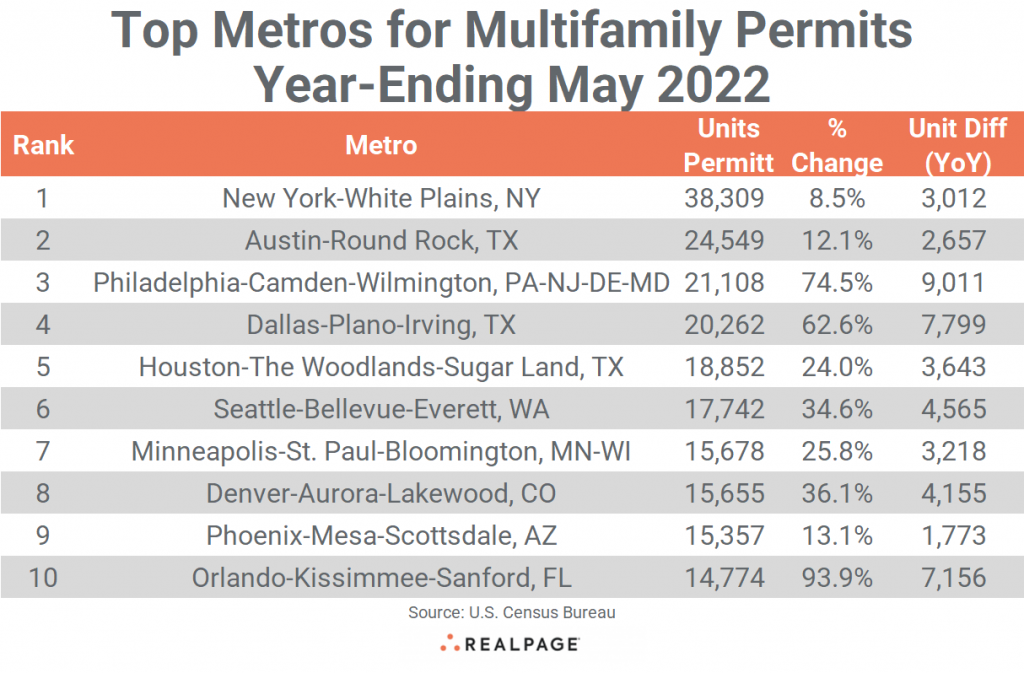 Houston also retained its spot from April at #5 with 18,852 units permitted for the year, about 3,600 units greater than last year but only about 960 more than last month. Seattle returned at #6 with 17,742 units permitted, more than 4,500 units greater than last year but close to last month's annual rate.
Minneapolis jumped two spots to land at #7, permitting 15,678 units in the year-ending May, about 3,200 units more than the previous year, with one third of that increase in the last month. Denver and Phoenix each slipped one spot, permitting 15,655 and 15,357 units, respectively. Both were up significantly from last year but both also declined slightly from last month.
Orlando remained the #10 market, permitting 14,774 units for the year, almost doubling the previous year's pace (7,618 units).
All of the top 10 multifamily permitting markets increased their annual totals from the year before and they were generally large increases, ranging from a low of 1,773 units in Phoenix to just over 9,000 additional units in Philadelphia. Eight of the top 10 markets increased multifamily permitting by at least 3,000 units over last year's pace.
Other markets outside of the top 10 that saw significant year-over-year increases in annual multifamily permitting in the year-ending May were Atlanta (+9,275 units), Miami (+4,421 units), Indianapolis (+4,177 units), Chicago (+3,658 units), Colorado Springs (+3,643 units), Salt Lake City (+3,620 units), and Charlotte (+3,508 units).
Significant slowing in annual multifamily permitting occurred in Nashville (-2,710 units), San Jose (-2,307 units), Anaheim (-2,280 units), Tampa (-1,944 units), and Lubbock, TX (-950 units).
Six of the top 10 markets had more annual multifamily permits than the previous month, with the aforementioned Minneapolis' monthly gain of about 1,087 units from April's annual totals leading the pack. Houston and Austin had strong increases from last month of 960 and 838 units, respectively. Orlando, Seattle and Dallas had milder gains in annual permitting totals from April to May.
New York and Denver were virtually unchanged from their April totals, while Phoenix slipped only 220 units, and Philadelphia dropped almost 1,100 units from their annual permitting pace from last month.
The annual total of multifamily permits issued in the top 10 metros – 202,286 – was about 30% more than the 155,297 issued in the previous 12 months. The total number of permits issued in the top 10 metros was almost equal to the number of permits issued for the #11 through #36 ranked metros.
Below the metro level, nine of last month's top 10 permit-issuing places returned to this month's list with the first two remaining in the same order and several others changing places. The list of top individual permitting places (cities, towns, boroughs, and unincorporated counties) generally include the principal city of some of the most active metro areas.
The city of Philadelphia remained at the top of the list in May with an annual total of 17,884 units as the city's tax abatement policy change caused a flood of permitting late in 2021 that is still felt today. The city of Austin returned as the #2 permit-issuing place, with 15,801 units, up about 1,000 units from last month.
Mecklenburg County (Charlotte) jumped from #6 to #3 in May, permitting 9,018 units for the year, while the city-county of Nashville-Davidson slipped to #4 with 8,254 units permitted, about 1,300 less than last month.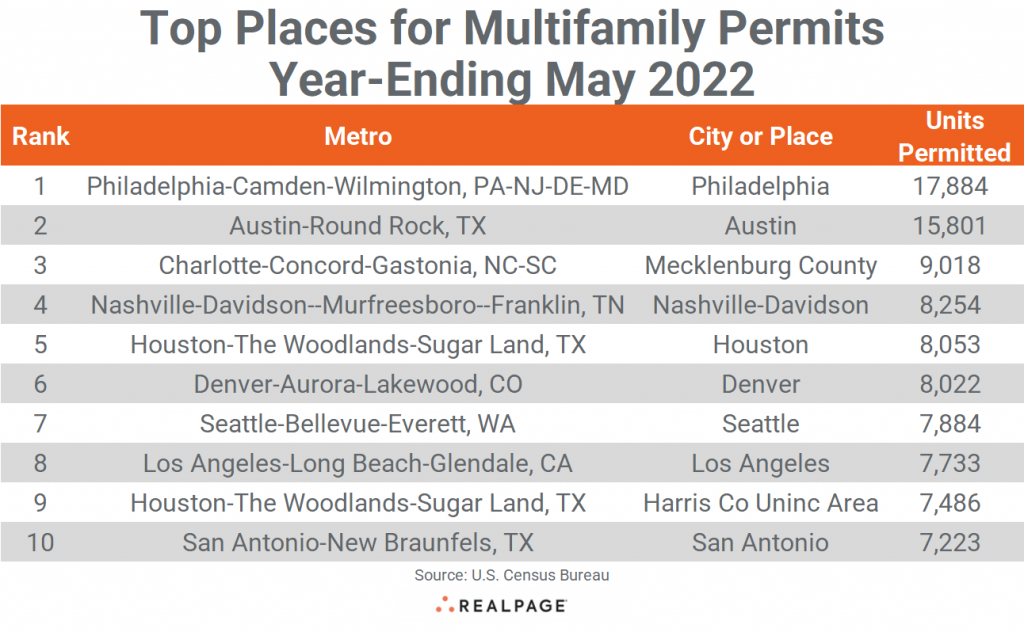 The cities of Houston and Denver moved into the #5 and #6 spots with 8,053 units and 8,022 units permitted, respectively. Houston increased by about the same amount that Denver declined (430 units).
The city of Seattle returned in the #7 spot with 7,884 units permitted and the city of Los Angeles tumbled from #4 last month to #8 in May, permitting 7,733 units. Unincorporated Harris County (Houston) was only the fourth permitting entity to return to the same place on the top 10 list this month at #9, permitting 7,486 units for the year. The city San Antonio edged the city of Phoenix out of the #10 spot with 7,223 units permitted, 840 more than last month's annual total.