Several Markets See Best-Ever Prime Leasing Season in 2019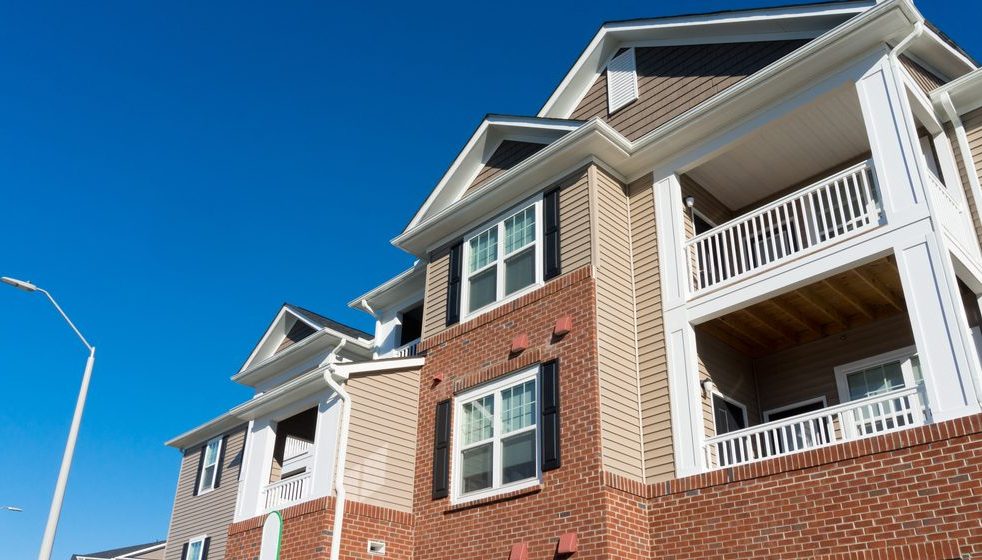 This year's prime leasing season proved strong across the U.S. as several individual markets posted all-time high apartment demand.
Seasonality plays a big role in apartment leasing as renters prefer to move in 2nd quarter and 3rd quarter when the weather warms, and they tend to stay put in the colder months. While seasonality is more extreme in some especially cold-winter apartment markets, most experience at least a slight bump during this peak time frame from April through September.
In the U.S. overall, a substantial 281,800 units were absorbed in 2019's prime leasing season, the second most ever recorded. The only other prime leasing season to see stronger demand was 1997, during the tech boom. Performance came close in 2010, when the nation was regaining its footing after the Great Recession.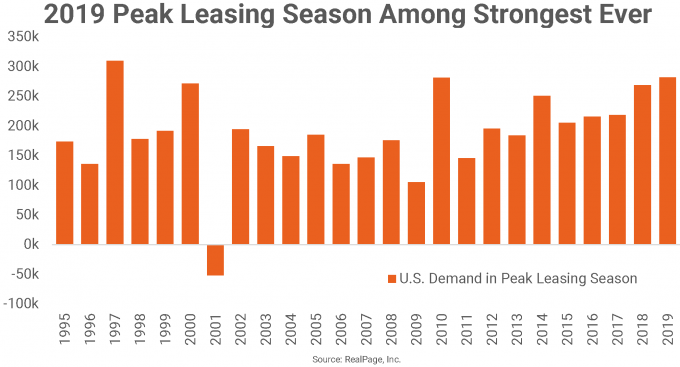 While most individual apartment markets recorded strong demand in 2019's prime leasing season, a handful of mostly Southern markets set records.
Dallas was the nation's leader in apartment demand during 2019's 2nd and 3rd quarters, with more than 16,500 units absorbed. While Dallas regularly records strong absorption in peak leasing season, this six-month period has averaged demand closer to 6,500 units over the previous two decades. Increasing the ability of the market to receive more renter households, Dallas topped all other markets in the nation for new apartment supply in 2019, and a significant percentage of new households went to filling that new stock. Healthy absorption pushed occupancy to 95.6% in Dallas in 3rd quarter 2019.
Neighboring Fort Worth also logged peak demand in 2019's warmest months. The Cowtown apartment market absorbed over 3,600 units in the past six months, more than double the market's average performance.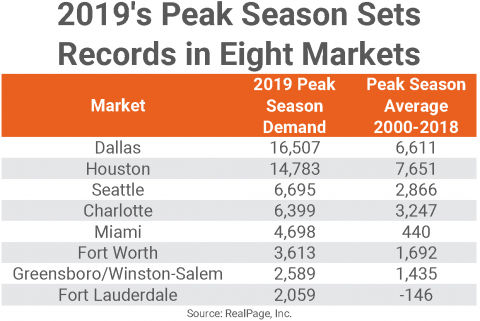 Apartment demand in Houston, a market which has struggled over the past year, rebounded in the last six months. This market absorbed nearly 14,800 units in 2019's prime leasing season, roughly double the market's typical volume. This strong showing followed a downturn from 4th quarter 2018 and 1st quarter 2019, when the market suffered net move-outs totaling more than 3,000 units. Prime leasing season made up for that downturn and more, with more than 7,000 units absorbed in each of 2019's 2nd and 3rd quarters. Occupancy and rent growth here have been ranking toward the bottom of the national scale, but Houston could finally be seeing some vital stabilization after Hurricane Harvey damaged the market in fall 2017.
Seattle was the only market outside the South to see record-setting demand this season. This West region market logged demand of nearly 6,700 units in 2019's prime leasing season, well ahead of the market's typical performance of about 2,900 units. Strong demand boosted occupancy to 96.2% in 3rd quarter, placing the market back in line with the most recent occupancy peaks from 2015 and 2016. Like Dallas, strong occupancy in Seattle occurred as a sizable block of new apartments came online. In year-ending 3rd quarter, deliveries in Seattle totaled over 9,400 units, the #4 tally in the nation and notably ahead of the market's long-term norm.
The North Carolina markets of Charlotte and Greensboro/Winston-Salem have made notable occupancy and rent growth progress recently, due in no small part to strong demand volumes. Both markets absorbed about double their typical prime leasing season amounts in 2019's 2nd and 3rd quarters. Charlotte absorbed 6,700 units and Greensboro/Winston-Salem absorbed 2,600 units in the warm weather months.
Many year-round sunny markets experience less extreme absorption in peak leasing season. South Florida markets Miami and Fort Lauderdale don't typically get the boost northern markets do, but 2019's prime leasing season was the highest demand these apartment markets have seen in quite some time. Miami absorbed nearly 4,700 units and Fort Lauderdale absorbed more than 2,000 units. Miami typically absorbs less than 500 units during this time, and Fort Lauderdale has averaged net move-outs from about 150 units in the warmest months.