More of the Same in September's Week 3 Apartment Rent Payments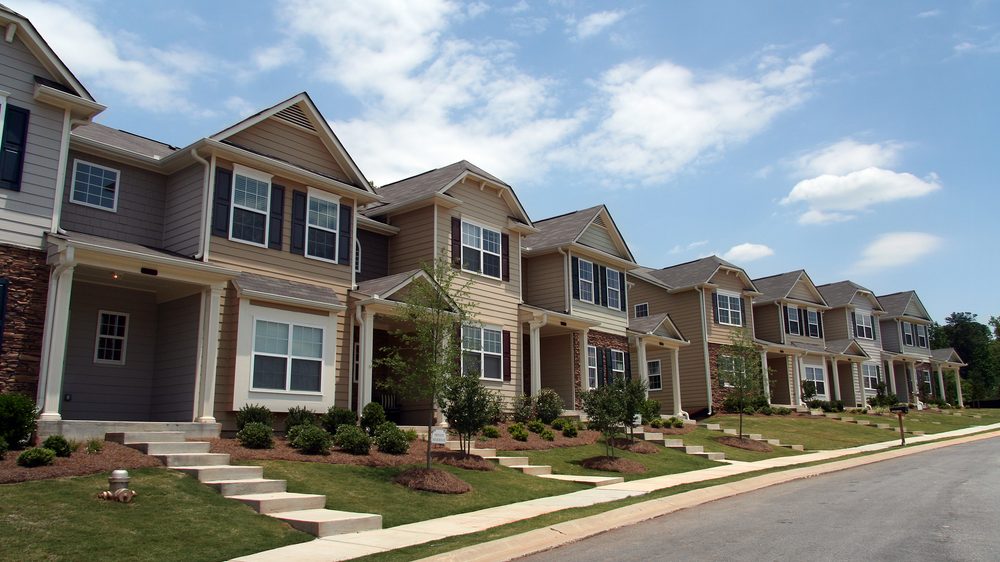 Posted September 23, 2020
The National Multifamily Housing Council reports that 90.1% of households living in the country's stock of professionally-managed market-rate apartment properties have paid rent for September as of the 20th.
The latest results run 1.7 percentage points under the 91.8% payment level recorded through September 20, 2019.
The findings come from the National Multifamily Housing Council's Rent Payment Tracker research, compiling information provided by five technology firms, including RealPage, Inc., for more than 11 million market-rate apartment units.
Renter Background Screening Likely Impacts Collections Results
Some – actually, many – have been surprised that rent collections in the NMHC Rent Payment Tracker data have diminished only mildly relative to past norms. RealPage analysts attribute those encouraging payment patterns to the general effectiveness of resident background screening systems in use at nearly all professionally-managed communities.
At a minimum, these background screening checks measure a renter prospect's overall ability to pay the rent at the apartment about to be leased. RealPage's system further measures a household's past propensity to pay. Professionally-managed apartments, then, are rented to households that for the most part have solid credit scores. If these households experience income interruptions that mean they can't pay rent, many will voluntarily move, rather than stay in place and accrue sizable debt.
While some individuals or small companies that own and operate a handful of rental units – either small multifamily projects or single-family homes – do comprehensive background checks of renter prospects, the practice isn't standard everywhere. Thus, there's perhaps more vulnerability to payment misses in those types of properties.
Previous Patterns Hold in Segmented Rent Payment Results
As has been seen since the COVID-19 pandemic began, rent collections remain better in the upper-end and mid-range apartments than in the lower-tier properties. RealPage stats show September payments through the 20th at roughly 92% in both the Class A block of product and the Class B inventory. Collection levels are lower, at 85.6%, in Class C projects.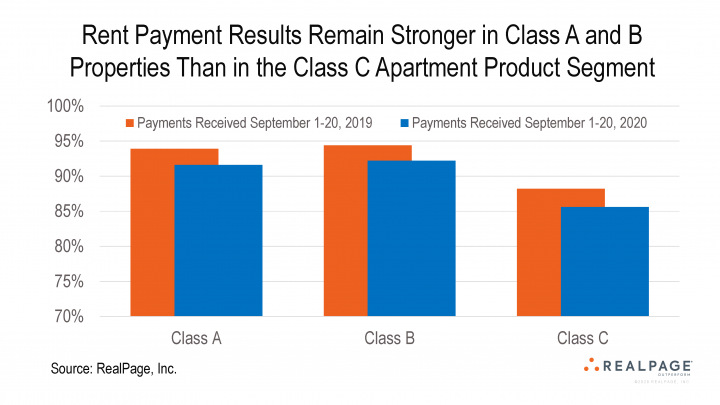 Looking at metro-level payment results, RealPage analysis shows that a whopping 99% or more of the households living in the stock of professionally-managed properties in Providence have paid rent for the month of September. Payments are in from more than 96% of the households in Virginia Beach, Miami and Salt Lake City, and the collection rate is just under the 96% mark in Tampa.
At the other end of the spectrum, rent has been collected from just 84.7% of the households in New Orleans and only 87.4% of those in Las Vegas. Payment levels run around 91% in New York, Indianapolis and Seattle.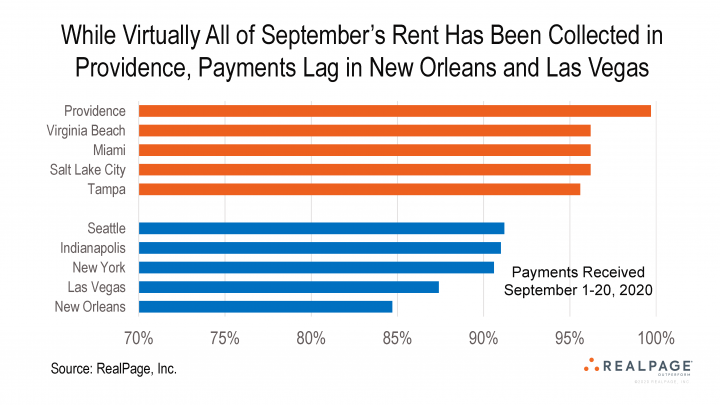 The biggest drop-offs in payments relative to year-ago levels are in Las Vegas (-7.5 percentage points), New Orleans (-5.9 points) and Portland (-5.4 points). Meaningful declines between 4 and 5 percentage points register in Seattle, Los Angeles, San Jose and New York.