After Years of Strength, Seattle Rent Positioning Takes a Dive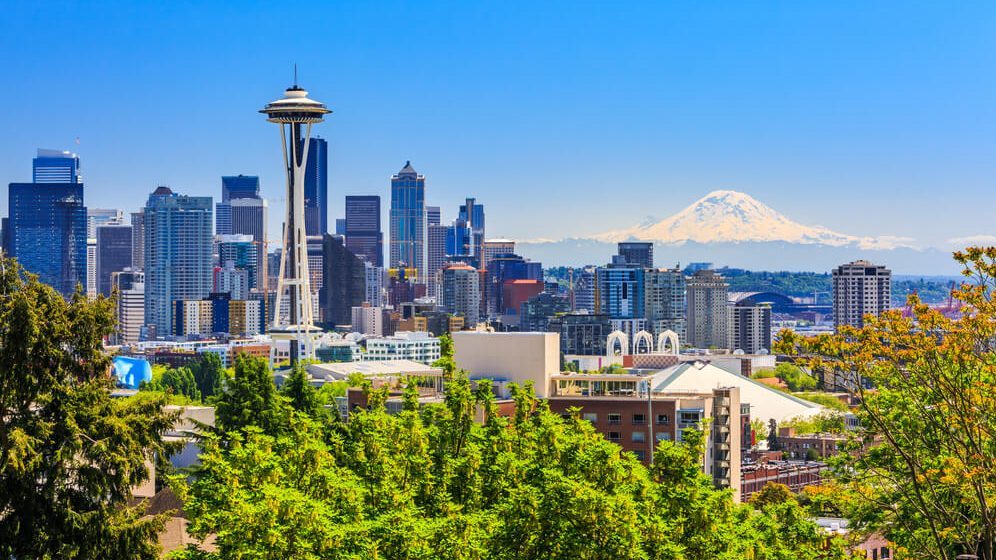 Apartment rents in Seattle have plunged in the past year, a stark contrast to the robust performance this market has seen over the course of the past decade.
Like other expensive gateway metros, Seattle has suffered a bigger-than-typical hit to its economy and apartment sector in the COVID-19 era. Thus, after a decade of ranking among the country's premium performers, it's now a laggard for both occupancy and rent change.
Effective asking rents were down 8% year-over-year in Seattle as of February. Among the nation's largest apartment markets, only San Francisco, San Jose and New York registered deeper declines. While the U.S. overall also posted a setback, the national downturn was much more modest at 0.9%.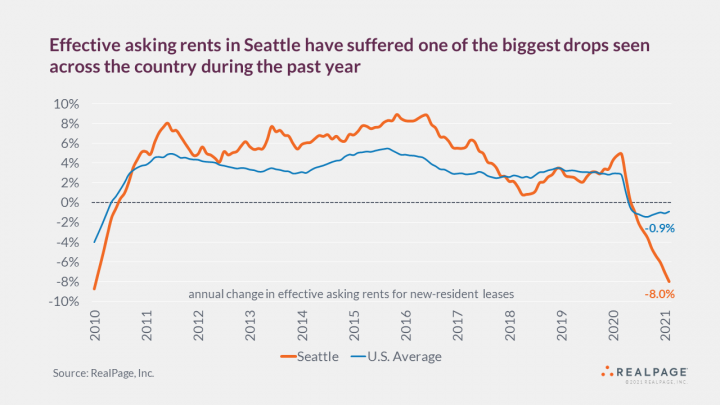 The past year's decline was a stark contrast to the previously hearty rent growth performances in Seattle. Pricing here is up 46.5% since early 2010, rising notably faster than the 34% growth pace recorded across the nation as a whole.
While there's no evidence that Seattle rent positioning will return to its previous solid performance, there are at least signs that the bloodletting has stemmed for now. February pricing inched up 0.1% from the figure seen in January, marking the first upward momentum – however modest – this market has seen since March 2020. In fact, after bottoming out in October, the monthly performance in Seattle has gotten incrementally better since.
Deep rent cuts have occurred over the past year in Seattle's Class A and B product sectors. Effective asking rents are down roughly 9% to 10% in those large blocks of communities. The more affordable Class C product line has seen the best rent change results. While prices are down in that niche, the size of the loss 2.5% year-over-year, a much smaller decline than in the top and middle tiers of product.
Repeating the pattern seen in results for occupancy by submarket, metro Seattle's big rent losses are in the urban core neighborhoods. Year-over-year, effective asking rents are down 17.7% in Downtown, roughly 15% in Capitol Hill and 13.6% in South Lake Union.
For more information on the Seattle apartment market, watch the webcast Up Close and Local: Seattle Market Update.