Seattle Selected as Rent Growth Leader in Market Momentum Survey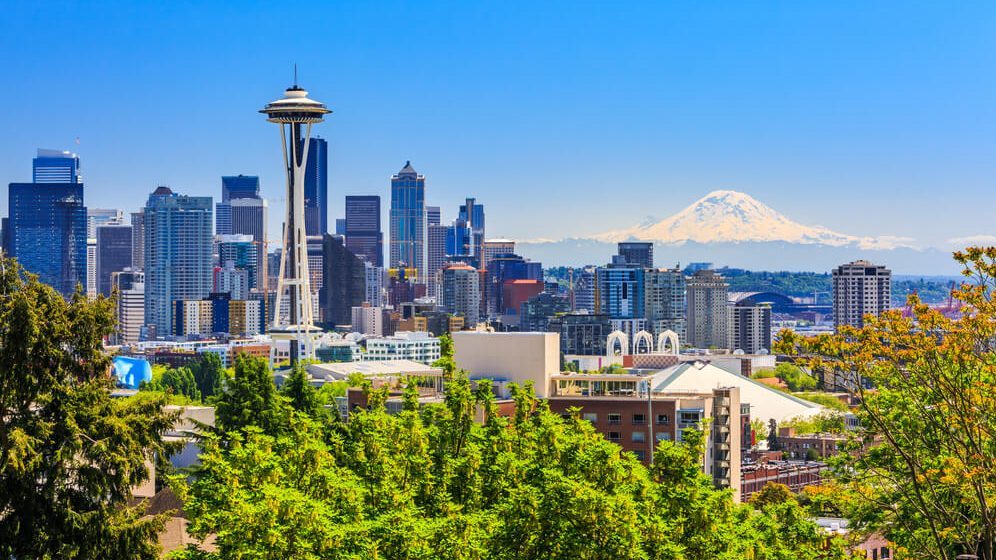 Over the next six to 12 months, look for apartment rents in Seattle to rise faster than in any other metropolitan area in the U.S. At least, that's the consensus of several apartment industry leaders recently surveyed by the National Apartment Association and RealPage.
Among respondents to the quarterly Market Momentum survey, Seattle is the favorite to become the near-term rent growth leader. The Emerald City market beat out others showing strong momentum recently, including Dallas and Atlanta.
To become the national leader over the next year, Seattle must leapfrog Sacramento, a late-recovery metro that has held the top spot for rent growth for more than a year. Seattle logged rent growth of 8.1% in 2nd quarter 2017, behind only Sacramento's 9.8% increase.
In addition to survey respondents, RealPage forecasts predict strong performance in Seattle over the next year. The market has sustained annual rent growth around 8% to 8.5% over the past two years. That's an impressive streak, given that building activity has remained at the highest levels in more than two decades.
Fueling new-lease rent increases has been strong demand. Though the market has received 42,500 new units in the past four years, it has absorbed 43,600 units. Such strong demand was driven by job growth of roughly 2.5% to 3% annually throughout that period. That growth has come even as the unemployment rate has fallen to the lowest levels since 2007.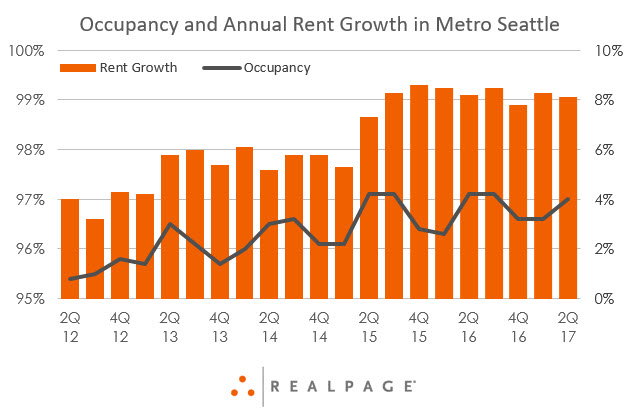 The favorable supply-demand relationship in Seattle has yielded tight occupancy of 96.0% or higher for the past three years. Few vacancies have given operators confidence to push rents, even in areas where supply is most concentrated – the urban core. Seattle ranks #1 for urban core performance among top development metros. Additionally, Class A product in the metro overall has maintained rent growth of roughly 7% or higher for more than a year.
However, strength has been widespread geographically. In six of Seattle's 21 submarkets – five of which are situated south of the urban core – rents rose at least 10.0% in 2nd quarter 2017. The greatest growth, 13.0%, belonged to Southwest Pierce County, which has benefited from limited new supply. The submarket has recorded no completions since mid-2015, and no units are currently under construction.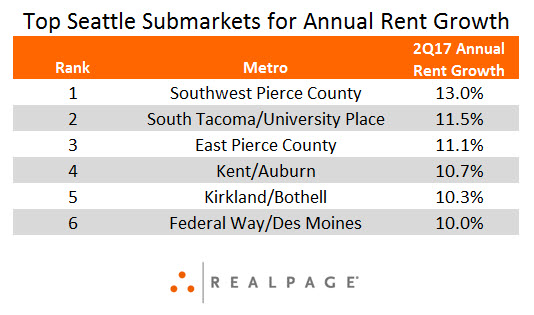 Driving performance at the product segment level, Class B units have averaged rent growth of 7% to 11% throughout the past two years.
Though Seattle, with very strong underlying fundamentals, is well positioned for future rent growth, sustaining 8% may become difficult. Supply continues to mount, as expected completions over the next year are 30% higher than the current completion volume. In addition, years of sustained rent increases in middle- and lower-tier product could create affordability challenges moving forward.
Industry leaders have taken note of Seattle's strong structural story. Respondents to the Market Momentum survey also ranked Seattle as a favored spot for investment over the near term and among the top markets likely to experience stronger resident retention.