Seattle Apartment Market Rent Trends Moderate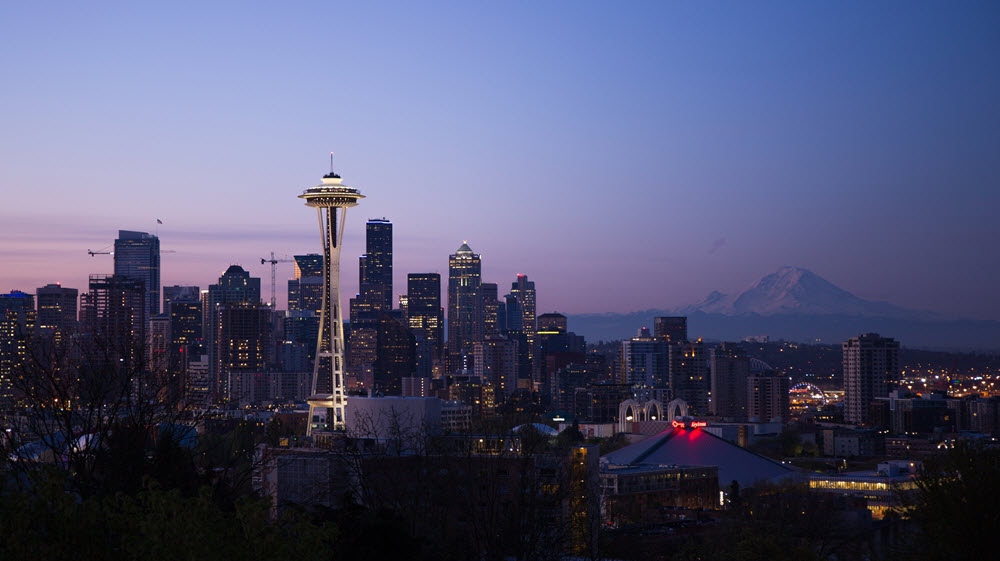 Seattle was one of the top major metros for effective rent growth back at the peak of this apartment cycle back in 2014 and 2015. And rent trends in the Emerald City area have remained among the elite as the national market moderated in 2016. Even in October, Seattle had the 11th highest new-lease effective rent growth among major markets – and the highest among what would be considered "primary" markets in the industry, according to Seattle multifamily market reports from Axiometrics, a RealPage company.
In terms of new-lease rent growth, performance has moderated, especially in the past five months. New-lease rent growth in the Seattle apartment market, including Tacoma, has fallen more than five full percentage points since May 2016 to October's rate of 3.8%. It was as high as 6.2% as recently as April of this year, according to Seattle multifamily market reports.
And occupancy has decreased from 96.1% in May to 94.9% in October. So the question is, why has Seattle-Tacoma's performance moderated to this degree in such a short time?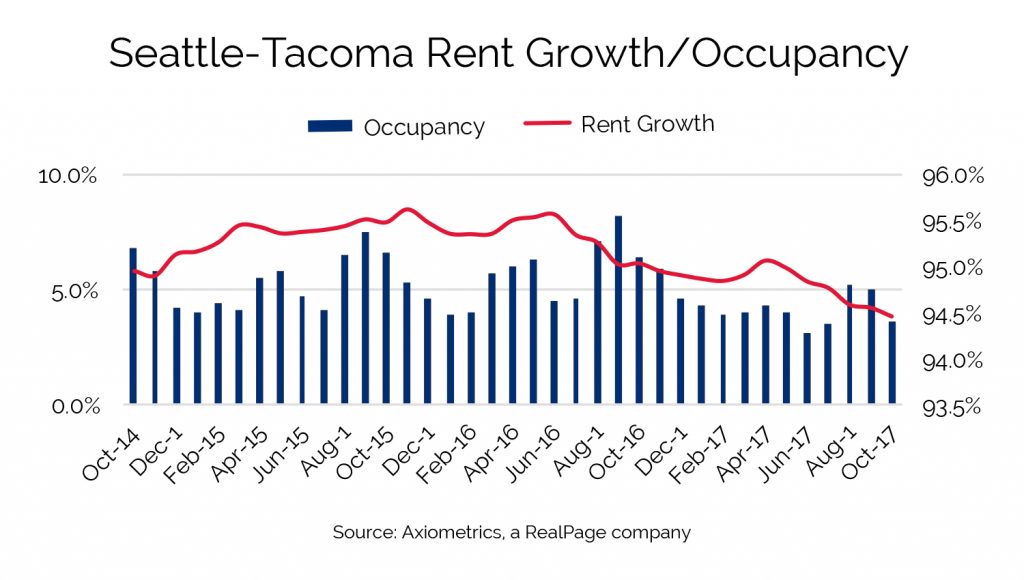 Perhaps one reason is that Seattle job growth has declined by more than one full percentage point over the past year. Employers in the metro added 68,300 jobs from October 2015 to October 2016, but just 46,600 from October 2016 to October 2017. Though the Seattle job growth rate of 2.4% is still relatively strong and is well above the national rate, the reduced demand does take its toll on the apartment market.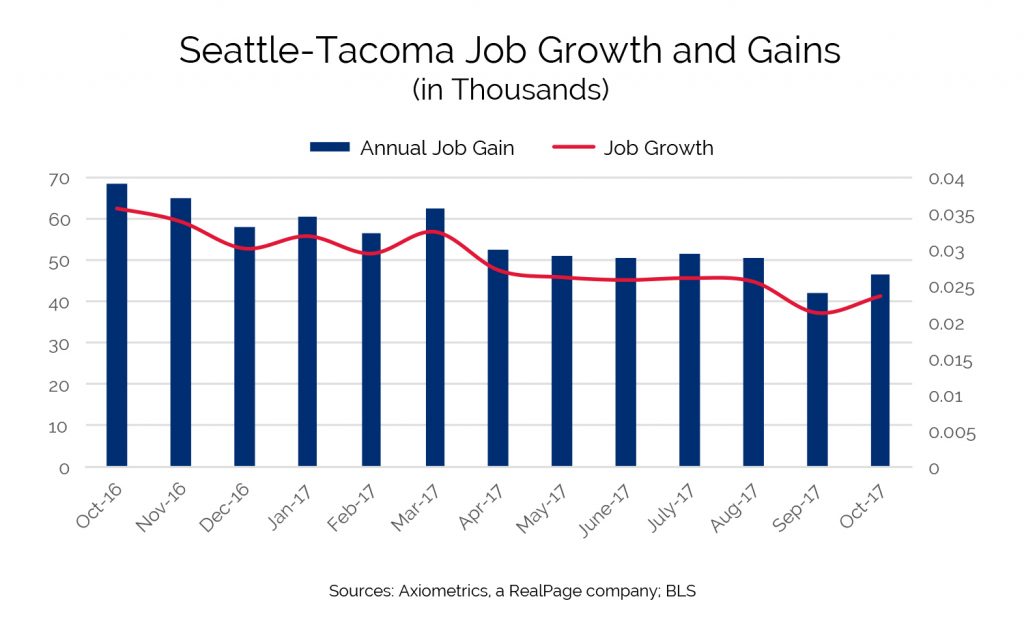 Meanwhile, apartment construction isn't slowing down in Seattle. Although fourth-quarter completions will be fewer than they were in the second and third quarters of 2017, deliveries of new apartments in Seattle are set to explode early next year. Almost 8,000 units have been identified for delivery in the first half of 2018. About 13,000 new apartments are expected in the Seattle-Tacoma area during the entire year – the fourth most in the nation as of now.
So with lower demand and increased supply, it's not surprising that rent growth has fallen off.
The bulk of those new apartments are earmarked for the Downtown Seattle area. The more than 7,300 completions expected next year in that submarket represent 56% of the metro's total identified supply in 2018.
Speaking of the downtown Seattle apartment market, this submarket is the exception to the general rule that rent trends in urban core areas lag the market. Downtown's October rent growth of 4.2% ranks among the strongest of major market urban cores. The submarket had the highest rent growth in the metro as recently as July.
But the large number of new apartments in Seattle has already taken its toll. With more than 3,000 units already delivered downtown this year and more than 1,300 expected this quarter, downtown rent growth has fallen more than four percentage points from 8.6% in May. With all the new supply coming in next year, a big boost in demand would be needed to keep performance strong.
The Seattle apartment market is still very strong; its new-lease rent growth trends are just moderating later than most metros. Reflecting the market's underlying strength, renewal rent trends remain very healthy. Seattle apartment market renewal rent growth was 7.3% in the third quarter, according to RealPage's exclusive lease-transaction data. Meanwhile, 51% of renters renewed their leases instead of moving elsewhere.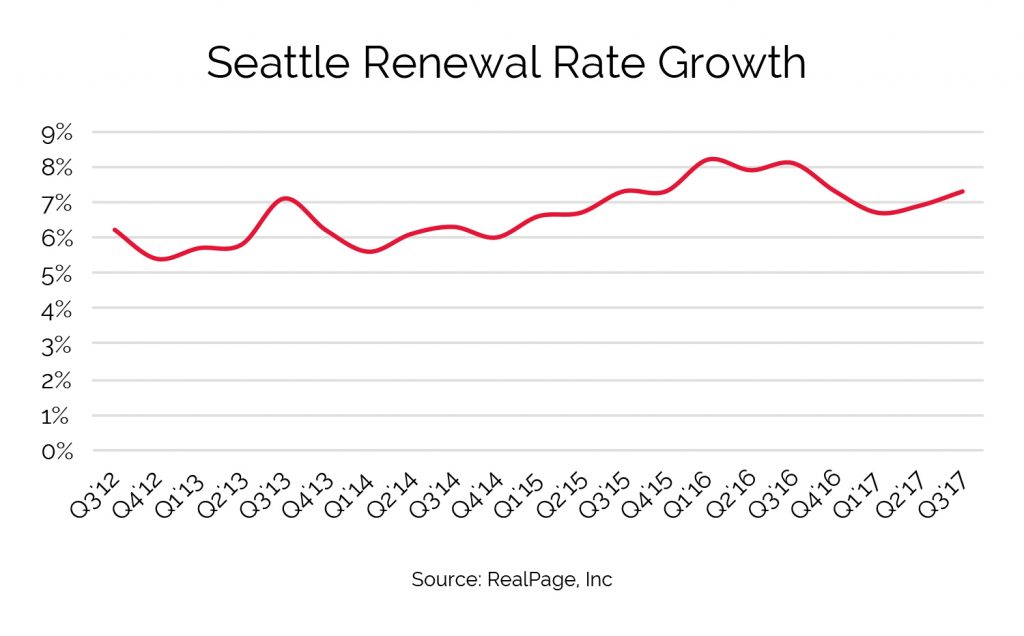 Industry professionals like the Seattle apartment market. The third-quarter Market Momentum survey conducted by the National Apartment Association and RealPage found Seattle ranked No. 2 among markets in which investments will increase (behind Orlando) and as the No. 1 metro with the likelihood of highest rent growth in the next 6-12 months.