Searching for Apartment Construction Opportunities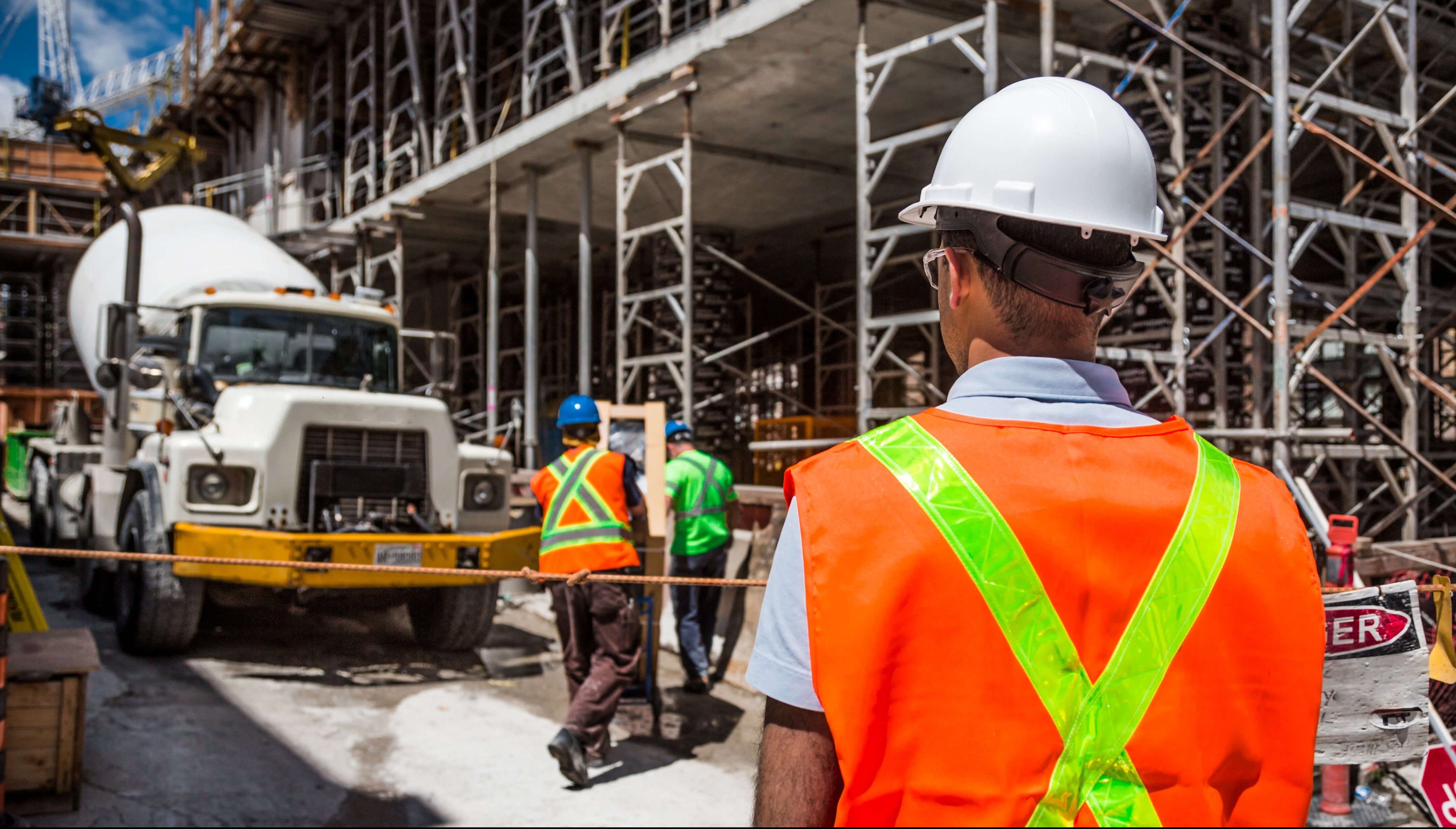 About 624,000 apartments are under construction across the 150 largest metros in the U.S., with those additions set to expand the nation's existing stock by 3.4%.
Building activity is aggressive in some locations. For example, product on the way will boost inventories by 10% to 11% in Nashville and Austin. That's quite a bit of future product to digest, even with product absorption at the newest developments occurring at healthy rates.
Some other locations register much more modest blocks of building, even with high occupancy and robust rent growth posted for existing properties. Here are a few spots where the market performance stats point to the need for at least some additional development starts in the immediate future.
Atlanta Appears Undersupplied
Ongoing apartment construction in metro Atlanta totals some 15,600 units, placing the area on the path toward 2.9% inventory growth over the near term. While that total may sound like quite a bit of new supply on the way, it's not over the top for a metro that's a job production and household formation machine. Active construction in the metro has been trending downward for the past four to five years, and now is roughly 30% under the late 2016 peak.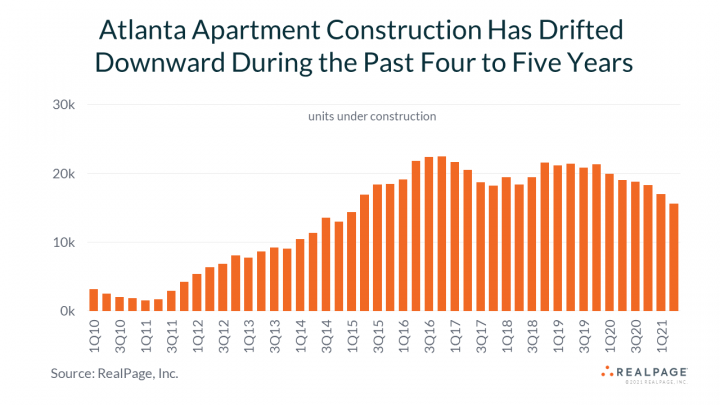 The metro's occupancy rate currently stands at a very healthy 96.4%, after rising by 190 basis points over the past year. Rents are surging, with effective asking rates up a whopping 14.3% year-over-year.
Lots of companies are chasing new development deals in the Atlanta area. However, it's tough to get additional building approved in most of the metro's suburban locations where the need for more construction is most evident.
Elsewhere across the Sun Belt's higher profile markets, Tampa is another metro where demand is robust, but building isn't over the top. Ongoing construction of about 7,600 apartments will expand the metro's inventory by 2.9%.
Memphis Has Been Ignored
Staying in the Sun Belt, there's perhaps an under-the-radar development opportunity in Memphis. The metro's key performance metrics are great. Occupancy reaches 96.7%, up 130 basis points on an annual basis, and effective asking rents top the year-ago figure by 11.3%. Yet, ongoing construction is limited to fewer than 2,000 units, which represents future inventory growth of just 1.8%.
The more upscale suburbs on the east side of metro Memphis are the obvious spots for more development to emerge in this market. Once that occurs, developers should exercise some caution. The pool of renter households who can afford new product in this metro will not be very deep.
Market performance stats in Greensboro/Winston-Salem look like the results posted in Memphis, and ongoing construction of about 2,300 units – or 2.2% inventory growth – is restrained. The market is another location where select neighborhoods appear able to accommodate some product additions, while others could be areas to avoid.
Detroit Looks Solid
Detroit generally registers the slow and steady economic expansion that you see across much of the Midwest. While that mild job formation only yields modest annual household formation and housing demand, you eventually register product shortages when construction remains at minimal levels year after year.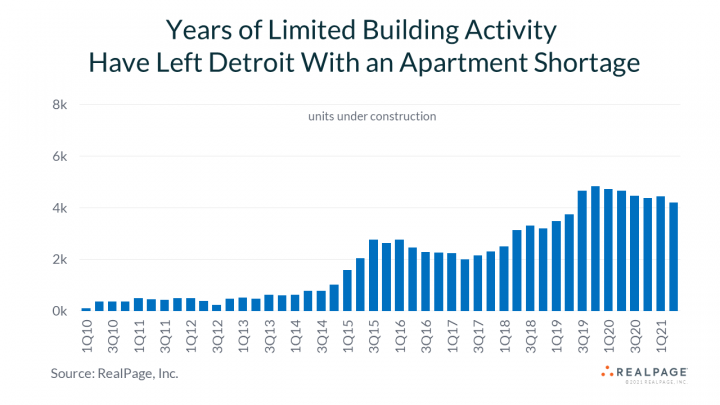 At this point, then, Detroit's apartment occupancy rate has reached 97.6%, and effective asking rents for new leases are up 7.4% from year-ago pricing.
Ongoing apartment construction in Detroit totals 4,200 or so units. Building activity at 4,000 to 5,000 units is the most seen in the metro over the past several decades, but what's on the way now will only grow the inventory by 1.5%. It's encouraging that construction is beginning to pop up in suburban locations, after nearly all the building that occurred in recent years came on stream in the urban core.
Most other spots in the Midwest register the same overall performance patterns seen in Detroit, suggesting development opportunities in those spots, too. The near-term stock growth rate stays below 2% across Cleveland, Indianapolis and Milwaukee, and the expansion pace is only a hair above that level in Cincinnati and St. Louis.
The Midwest region's only spots where building activity appears to be holding back the apartment sector's performance are urban core neighborhoods in Chicago and Minneapolis.
Check Out Chicago's Suburbs
Challenges in Chicago's urban core don't mean it's time to write off the metro completely. Performance results in suburban locations generally look like what you'll see in other markets across the Midwest, with occupancy hovering around the 96% mark and annual effective rent growth averaging around 4% or better.
Furthermore, the construction that's occurring in Chicago's suburbs right now is very spread out. At max, a few hundred units are on the way in any single submarket.
Minneapolis suburbs look reasonably attractive for development too, although the individual suburban neighborhoods tend to have somewhat more on the way compared to what's in process in the Chicago suburbs.
Riverside Needs More Apartments
Metro Riverside/San Bernardino picked up households from pricier Los Angeles County during the pandemic, and the bump in apartment demand completely exhausted product availability in the area's existing rental stock. As of June, apartment occupancy registered at 98.5%, and effective asking rents were up 15.8% year-over-year. Apartment construction activity is beginning to increase a bit, but the current tally of roughly 2,300 units on the way will only grow the overall inventory by 1.2% during the near term.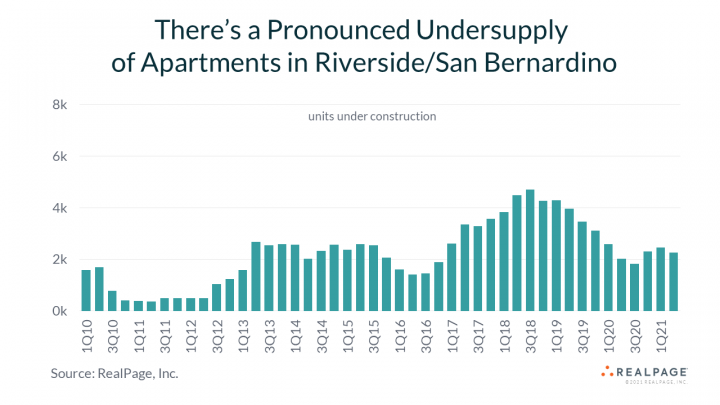 The metro's average monthly rents of about $2,200 for Class A product are a little on the low side for new construction deals in Southern California, so the best development opportunities are likely to be in the most expensive neighborhoods.
Sacramento is an interesting California alternative to Riverside/San Bernardino. It also posts sky-high occupancy and terrific rent growth. However, there's a little more development already in process at this point. Ongoing construction totals some 4,400 apartments, or 2.9% inventory growth.