Scarcity Limits Apartment Demand Potential in Under-Supplied Bay Area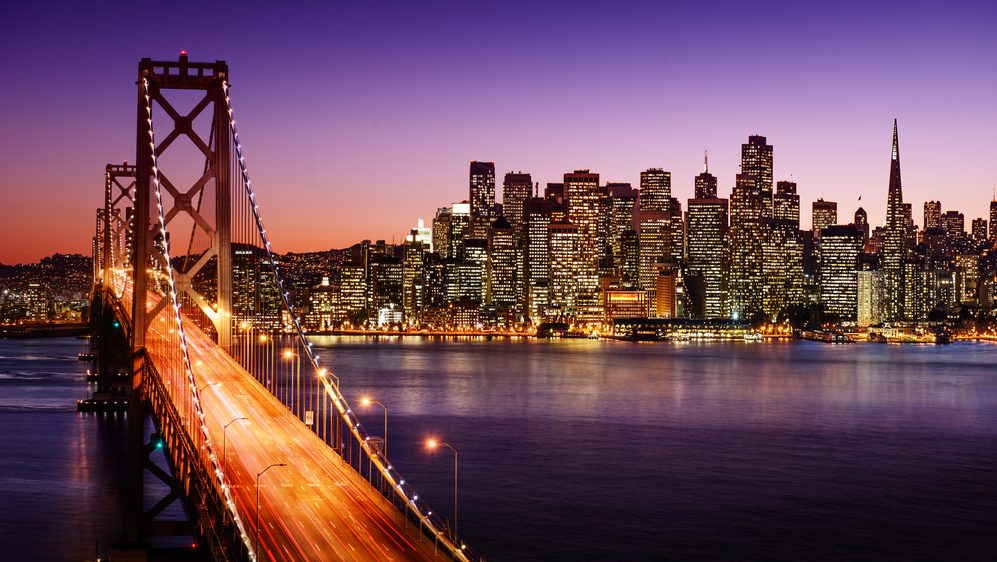 Posted September 25, 2018
California's Bay Area has enjoyed heightened employment gains during the current economic cycle. In total, the region has added around 744,000 jobs, on par with another regional powerhouse for job creation, Dallas/Fort Worth.
However, where the two regions differ is in apartment demand. The Bay Area's apartment demand total since early 2010 is well under half D/FW's tally – 58,000 units versus 146,000 units. The disparity in demand despite similar numbers of jobs gained underscores the fact that regardless of the need for housing that comes with job production, a market can't absorb product that isn't there. And the Bay Area is chronically undersupplied.

Developers have completed roughly 53,700 units in the Bay Area region during the current cycle, growing the existing inventory base 9.4%. With relatively little new supply, occupancy rates have rarely strayed far from the cycle average of 96.2%.
In comparison, Dallas/Fort Worth saw more than double that new supply volume, with about 127,300 units completed, a significantly larger inventory increase of 18.6%. In addition, occupancy in North Texas has risen more than 400 basis points (bps) over the course of the cycle, with both new supply leasing up and operators backfilling vacant units.
With few existing vacancies, most of the Bay Area's apartment demand in this cycle went to areas that received the largest amount of new apartment units. And with each metro in the Bay Area being high barrier-to-entry markets, new supply was concentrated in only a handful of submarkets.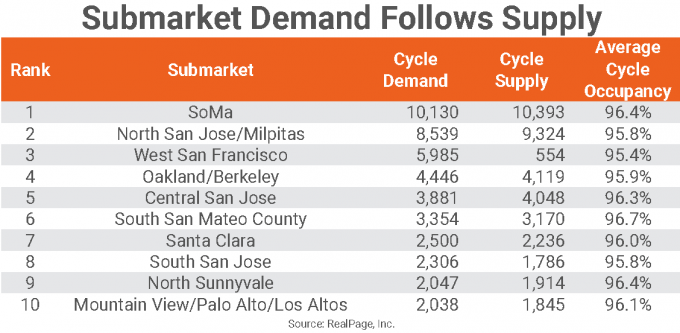 The highest submarket-level demand levels were seen in SoMa, which absorbed more than 10,100 units since early 2010, just a bit shy of the roughly 10,400 units completed during that time frame. The SoMa submarket has drawn the majority of the San Francisco area's apartment development due to its location – just south of Downtown-Financial District – and the fact that it contains most of the city of San Francisco's available sites for development. The 10,400 or so units completed since 2010 increased the submarket's inventory base roughly 25%, and another 2,413 apartments units were under construction at the end of June 2018.
In San Jose, North San Jose/Milpitas also registered notable absorption during the past eight years, with demand at about 8,500 units, while over 9,300 apartments were delivered. That follows SoMa's completion total as the Bay Area region's second highest. Those additions represent a little more than half of existing stock in North San Jose/Milpitas, a bedroom community for Silicon Valley with easy access to major roadways and commuter transportation.
West San Francisco was the only submarket in the top 10 demand list with limited supply volumes during the current cycle. While demand was strong at nearly 6,000 units, only about 550 units were delivered here since early 2010. However, the small West San Francisco submarket started the cycle with more room to fill product, with occupancy below 90%. In fact, it wasn't until 2012 that this neighborhood caught up with the rest of the region. The average occupancy rate during the current cycle in West San Francisco was the lowest in the Bay Area at 95.4%.
Registering demand and supply volumes of about 3,000 units to 4,000 units in the past eight years were Oakland/Berkeley, Central San Jose and South San Mateo County. Of note, Oakland/Berkeley is an evolving submarket that has drawn numerous renters priced out of San Francisco in recent years. In particular, a chunk of San Francisco's art scene has packed up and moved across the Bay, giving downtown Oakland a funky urban appeal. To some degree, employers now are starting to move to Oakland, too. And apartment construction suddenly has spiked, with about 6,300 units under way as of mid-2018.
Also noteworthy is South San Mateo, a suburban San Francisco submarket with about 21,000 existing units. Though roughly 3,200 new apartments were built in the cycle, ongoing construction has slowed to fewer than 500 units, the lowest tally recorded in four years.
Meanwhile, both absorption and deliveries hovered close to the 2,000-unit mark in Santa Clara, South San Jose, North Sunnyvale and Mountain View/Palo Alto/Los Altos.
On the other hand, submarkets that did not record much apartment demand at all during the past eight years were Concord/Martinez, Northeast Contra Costa County, Northwest Contra Costa County, Fremont and Hayward/San Leandro/Union City. Supply additions during the current cycle were limited to about 650 units or less in each of these areas.