San Jose Rent Growth Leads Improved Bay Area Performances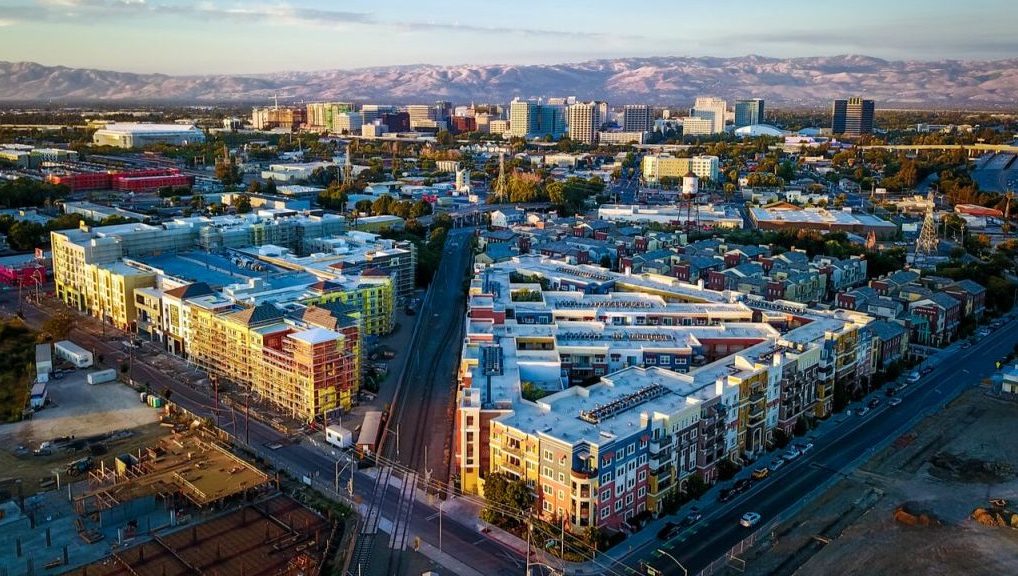 Two of the three Bay Area apartment markets returned to the nation's top 15 markets for rent growth in November as the region continues to regain some of the momentum lost in 2016.
Apartment rents in San Jose rose 4.6%, the seventh largest increase among large markets in the year-ending November. San Francisco's 4.3% increase ranked #12 nationally and was the market's largest rent hike since March 2016.
Oakland has also picked up momentum, though not to the same degree. Rent growth there landed at 3.0% in November, below the national average of 3.3%.
Driving the recent momentum has been combination of an improved jobs picture and a temporary slowdown in new supply. These trends have been most pronounced in San Jose, where rent performance has been stronger in recent months. San Jose rent growth has remained above 4% since May 2018, while San Francisco's hit that mark just last month.
Each market is logging some of its best rent performances since 2016, when operators slammed the breaks on rents after job growth slowed and the pace of apartment deliveries quickened. In late 2016 and early 2017, both San Francisco and San Jose saw negative rent change, while Oakland barely managed to stay out of the red.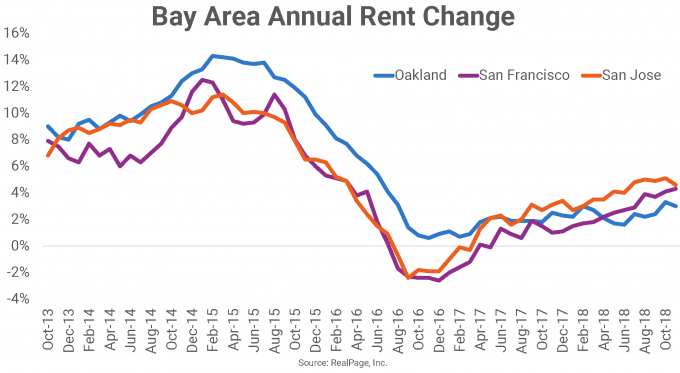 Job growth has since recovered in San Jose and flattened out in San Francisco and Oakland. The San Jose employment base grew 3.2% with the addition of 35,000 jobs in year-ending October 2018, according to the most recent data available from the Bureau of Labor Statistics. By comparison, annual job gains dipped as low as 20,500 in April 2017. The stronger growth lately was driven by increased hiring in the Professional and Business Services, Education and Health Services and Manufacturing sectors.
San Francisco and Oakland recorded employment growth of 1.7% in the year-ending October 2018. San Francisco gained 19,200 jobs, and Oakland gained 20,100 during that time.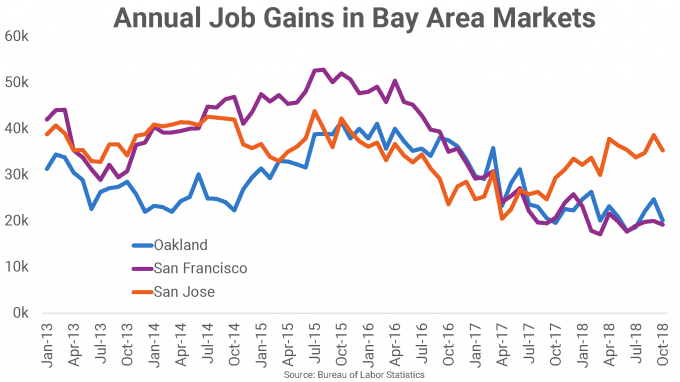 Even with slower job growth in two of the three markets, the Bay Area's economy is still quite strong. It just lacks, in many instances, talent to fill open positions. Unemployment has been extremely low in all three markets. San Francisco's October 2018 unemployment rate is 2.2%, Oakland's is 2.9% and San Jose's is 2.5%.
As job growth in San Jose has increased housing demand, new supply has tapered off in the past year. In the year-ending November 2018, San Jose received 2,500 units – quite a bit lower than cycle highs of 4,600 units annually.
Likewise, San Francisco has seen annual apartment completions fall to 2,550 units in November, down from roughly 4,800 units in 2017. Oakland, meanwhile, hasn't seen a lot of supply this cycle. New completions landed around 1,000 units in the year-ending November, down from the cycle high of roughly 2,800 units a year earlier.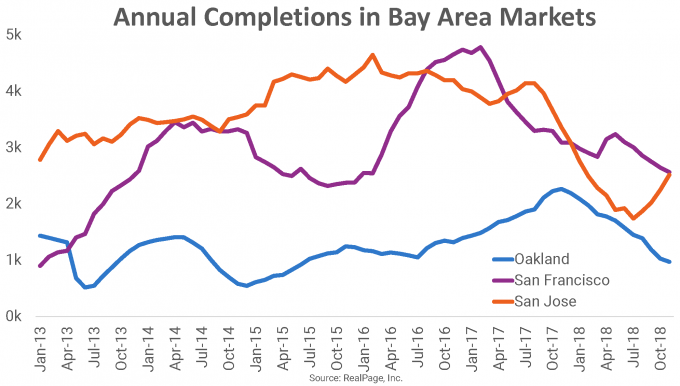 However, the supply situation in Oakland is changing rapidly. Oakland is forecasted to see 6,600 new units over the next year, which would make up by far the largest annual completion volume in the market in more than two decades.
San Francisco is forecasted to see 3,700 new units, and San Jose is set to receive another 6,200 units, the highest volume of the cycle.
With increased supply on the horizon, performance in all three markets is expected to slow over next year.