San Antonio Remains a Middle-Ground Performer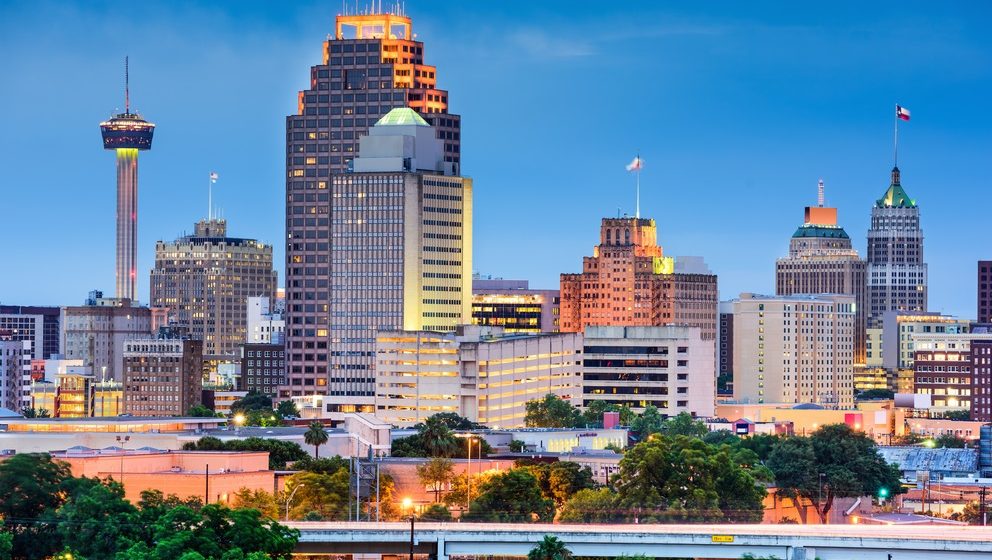 The typically stable San Antonio apartment market has been a middle-of-the-road economic performer since COVID-19.
According to the Bureau of Labor Statistics, San Antonio lost a little more than 48,000 jobs in the year-ending June, resulting in a downturn of 4.5%. While steep, this was roughly half of the U.S. decline of 8.4%.
Across the other big Texas markets, San Antonio was a middle-ground performer. Houston and Austin saw their job bases contract worse – by 5% or more – in the past year. Meanwhile, Dallas and Fort Worth saw more modest annual declines around the 4% mark in June.
Looking back, San Antonio generally records a more stable performance than the rest of Texas. From 2011 through 2019, San Antonio added an average of about 25,000 jobs per year. Peak growth occurred in 2014 and 2015, when expansion topped 30,000 jobs annually.
San Antonio got off to a good start in 2020, with annual additions near 30,000 jobs in January and February. However, following the pattern seen across the rest of the country, San Antonio's job base began to falter in March. By April, the market was in the hole by 97,000 jobs. In May, San Antonio started to crawl out of the deficit, but, as of June, San Antonio still had 48,000 fewer jobs than in June 2019.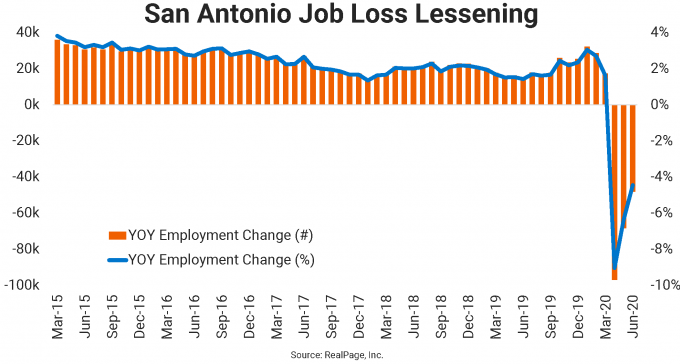 Hurting San Antonio's economic performance, the struggling Leisure and Hospitality sector comprises a big share of the market's total job base. April's job cuts eliminated about 40% of local hospitality jobs. While quite a few of those positions have come back, the Leisure and Hospitality employment count is still off by 9% year-over-year.
Thanks to the previous ten years of job growth in this sector, however, San Antonio still employs about 32,500 more Leisure and Hospitality workers than were here at the end of 2009. Again, San Antonio is a middle-ground performer in Texas for this metric. The Leisure and Hospitality employment base in Houston and Dallas are up by 40,000 to 50,000 jobs since late 2009, while Austin and Fort Worth numbers are up by a more moderate 17,000 to 18,000 jobs.
For more information on the San Antonio apartment market, watch the RealPage webcast, Up Close and Local: San Antonio.