San Antonio is a National Leader for Inventory Growth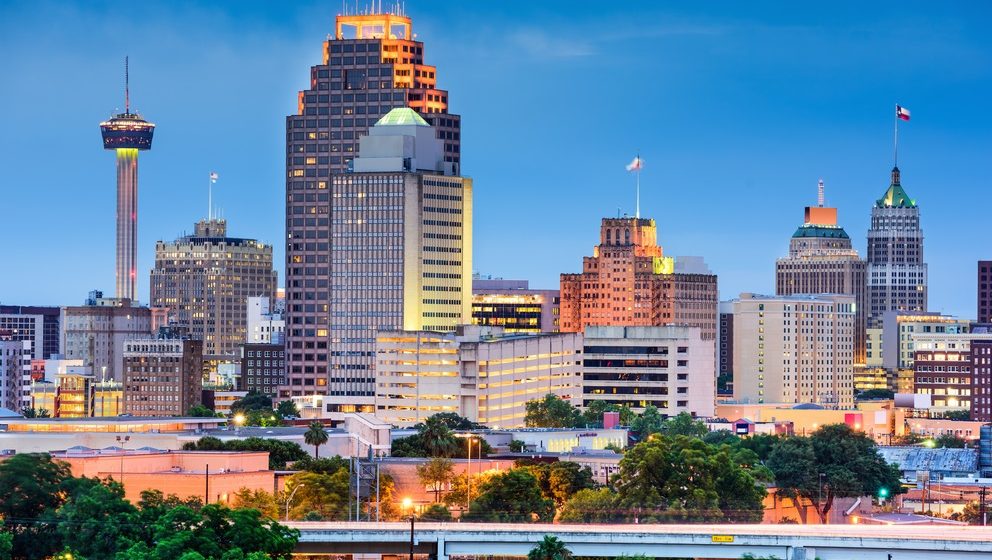 San Antonio's apartment market tends to fly under the radar, registering occupancy and rent growth a shade or two behind the bigger, flashier Texas markets. But this is a relatively stable market, one that has enjoyed sizable population and employment growth in recent years, and those factors have attracted significant apartment development in the current economic cycle.
New apartment deliveries have grown the existing base in San Antonio by 27.5% in the current cycle, which started in 2010. Among the nation's 50 largest apartment markets, this increase landed San Antonio in the #5 spot for inventory growth, behind only Charlotte, Austin, Nashville and Raleigh/Durham.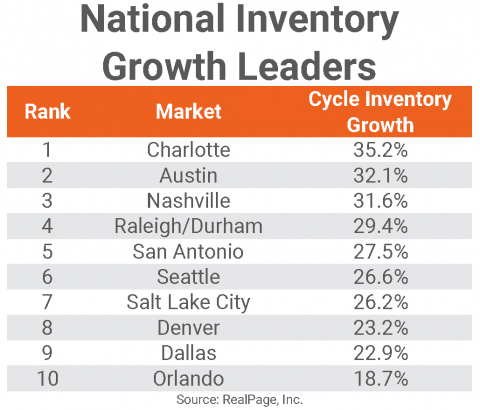 While it would be easy to dismiss San Antonio's recent growth pace as a byproduct of a modest inventory base, this market isn't as small as you might think. The existing base here totals a little over 204,000 units, which is about the same size as Portland, Oakland and Fort Worth. But San Antonio received nearly 45,700 of those units just in the current cycle, a much bigger volume than what was delivered in those similar-sized markets. In fact, cycle completions in San Antonio rivals the volumes in much bigger areas like Boston, Newark and Phoenix.
Roughly one-fourth of the apartment completions in San Antonio during the current cycle were delivered in Far Northwest San Antonio, a pricey suburban submarket attractive for its Hill Country landscape and highly rated public schools. Interstate 10 links this area to big employers, passing through the neighboring Medical Center – where the USAA headquarters is located – before connecting to downtown. New apartments during the current cycle totaled 10,070 units in Far Northwest San Antonio. In fact, this has been one of the nation's busiest submarkets in recent years.
In contrast, downtown apartment construction activity in this cycle has been light compared to the levels seen in other markets across the country. Central San Antonio saw less than 5,000 units come online since 2010, roughly half the completions in Far Northwest San Antonio.
Such heavy completion volumes could have weighed down occupancy in San Antonio, but the market's performance has remained relatively stable. Occupancy has rarely wavered far from 93% to 94% since the second year of the cycle in 2011. Central San Antonio is the market's best occupancy performer, with a rate of 94.2% in 1st quarter 2019. Far Northwest San Antonio is running a bit lower, but still in line with the market average at 93%.
Rent growth has also been consistently moderate in San Antonio. Prices here have climbed at an average pace of 2.5% annually during the current cycle, well below the U.S. norm of 3.4%. It's rare for rent change in San Antonio to stray much from the long-term average. In the year-ending 1st quarter, price growth reached a bit higher to 3.2%, essentially matching the national average of 3.3%.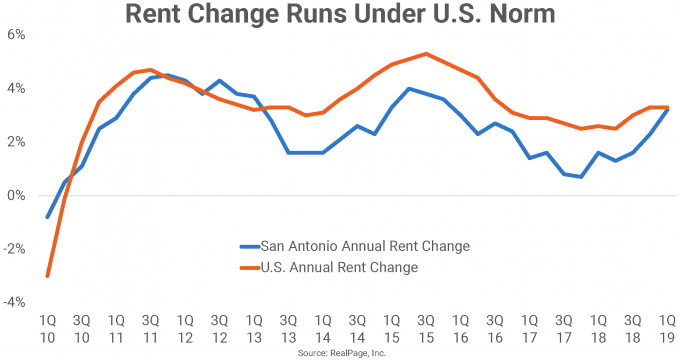 Looking ahead, deliveries are expected to taper off in the near term, giving San Antonio some time to absorb the new product still working through lease-up. Interestingly, the direction of those under construction units has shifted, as a good portion of what's under way now is aimed for the urban core. Roughly 1,500 units are scheduled to deliver in Central San Antonio in the coming year, while just 500 units are aimed at Far Northwest San Antonio.
For more information on the San Antonio apartment market, watch the latest RealPage Asset Optimization webcast.