Salt Lake City Ranks in Top Five Major Metros for Rent Growth in Mid-2017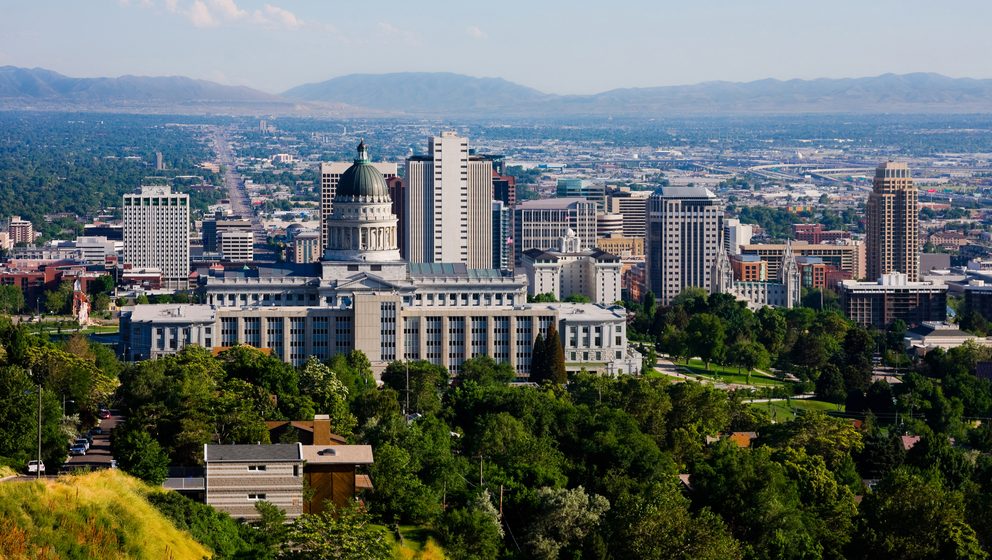 Posted September 15, 2017
The pace of rent growth has accelerated in the Salt Lake City apartment market, with the metro ranking near the top of the leaderboard as of mid-2017.
Salt Lake City's 6.3% rent hike in the year-ending 2nd quarter 2017 was the fourth-biggest jump among major markets in the West region and the fifth-biggest increase among the top 50 markets nationally. Salt Lake City's recent rent hike continues a stretch of strong performances – which is somewhat surprising, given development trends in the metro. Salt Lake City has seen a steady stream of supply over the past 10 years, making it one of the few markets nationally where supply levels never dropped off much during the recession. However, the market has followed the national trend of increasing construction activity in recent years.
While occupancy in Salt Lake City has been in line with or above the U.S. average over the past 10 years, annual rent growth lagged the national norm over much of that time as operators priced units conservatively to compete with oncoming product. During that 10-year period, occupancy averaged 95.6%, while annual rent growth averaged 2.7%.
The metro's recent rent growth was in contrast to the 1.0% to 2.5% annual increases throughout 2013 and 2014. During the past nine quarters, rents climbed 4.1% to 6.5% annually. And in each of the past six quarters, annual rent change levels surpassed the national norm.
Salt Lake City's rent growth acceleration was most pronounced in Class A product, with those units recording annual rent hikes of roughly 5% to 9% in each of the past nine quarters. Most recently, Class A rents climbed 9.1% in the year-ending 2nd quarter 2017. By submarket, rent growth has generally remained solid-to-strong across the board over the past two years. But in 2nd quarter 2017, three submarkets – Ogden/Weber County, West Valley City/Airport Area and South Salt Lake/Murray/Park City – stood out, with each posting annual rent growth between 7.0% and 7.5%.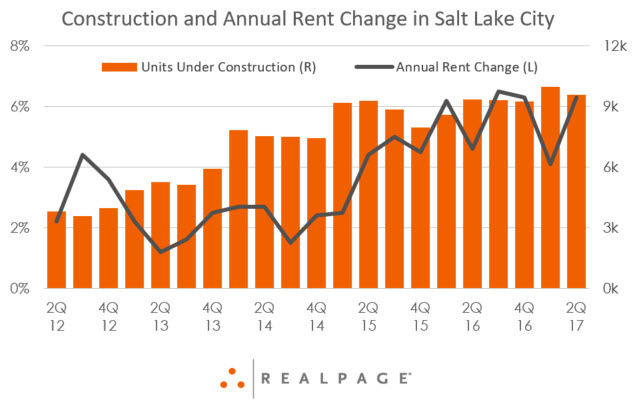 The strong rent growth in the Salt Lake City metro comes even as the market is witnessing elevated supply volumes. Over the past three years, inventory expanded an average of nearly 4% annually, ranking the metro in the top 10 nationally for completions during that period.
Salt Lake City's heated rent growth of late is likely to cool over the short term due to elevated new supply levels weighing on top-tier product. Completions in the coming year are set to reach the highest level in at least two decades, topping out at nearly 6,800 units. Therefore, look for the metro's rent growth levels to begin registering closer to the metro's long-run average.