Resilient Salt Lake City Avoids Rent Cuts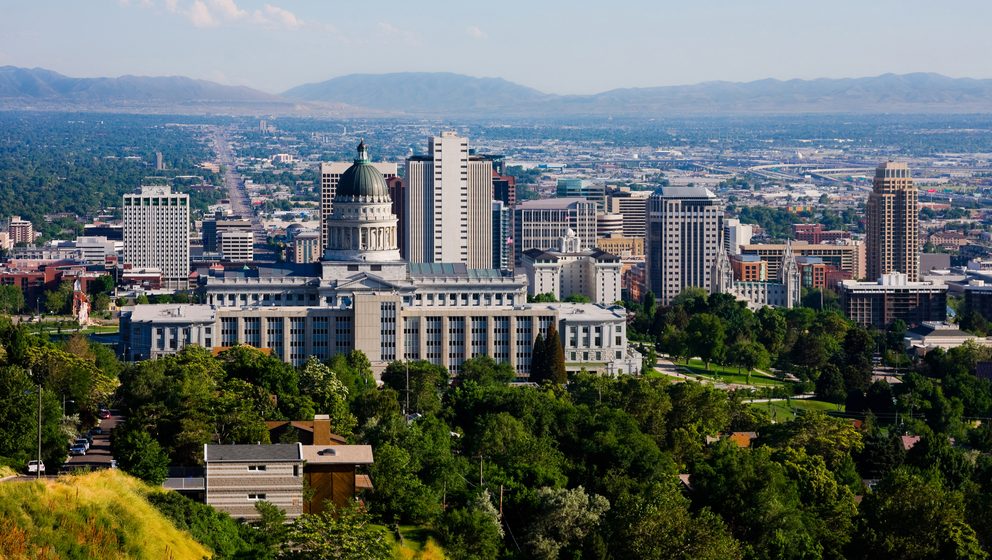 Utah's largest apartment market typically flies under the radar, but Salt Lake City's steady pace of late is attracting more attention.
Salt Lake City is among one of the few major markets that has avoided rent cuts during the unprecedented COVID-19 pandemic. Only about a third of the nation's 50 largest markets have avoided rent cuts since March 2020.
As of December, rents in Salt Lake City were up 2.4% year-over-year. While below the market's five-year average, growth here is notable in light of the nation's average rent cuts of 1%. Salt Lake City has also been on the upswing for several months, growing rent change consistently after bottoming out at 0.1% annual growth in June. Across the nation in June, many markets were still cutting rents, and few had put their worst performance months behind them. In February, before the pandemic took its toll on the apartment market, effective asking rents in Salt Lake City were growing by 3.2% annually.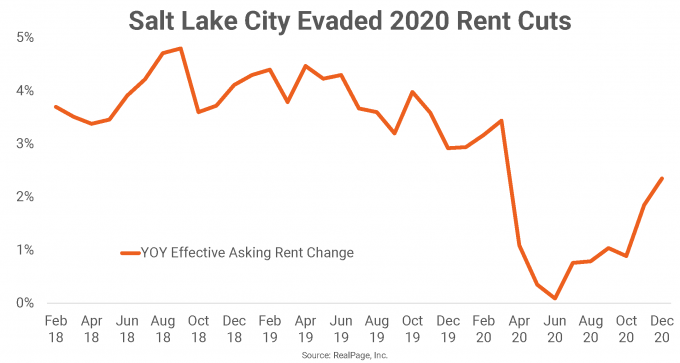 Helping operators avoid rent cuts, occupancy in Salt Lake City has also retained relative strength during the pandemic. After bottoming out at a moderately healthy 95.1% in May, occupancy has made small gains most months since. In December, occupancy in Salt Lake City stood at 95.4%, down 20 basis points (bps) from the year-ago rate. Nationwide, occupancy registers at a similar 95.5 percent.
Two important factors have helped Salt Lake City maintain resiliency. First, the market is primarily made up of Class B, garden-style properties. Low-rise units have claimed star status recently thanks to their predictable demand and comparative affordability. Both hard-hit Class A units and high-rise properties make up a comparatively small portion of Salt Lake City's total inventory base. Class A units make up about one-fifth of the market's existing units, and high-rise units make up a negligible 3% of the market's inventory.
Second, Salt Lake City is the only market among the nation's 50 largest where total employment has rebounded back to its pre-pandemic level. As of November (the latest available data), Salt Lake City's total employment base was about 1,000 jobs over February levels. The #2 market – Indianapolis – still needs about 6,000 more jobs to fully recover, and markets such as Austin, Virginia Beach, Memphis and Kansas City still need to recover more than 10,000 jobs each to rebound to February levels.
Despite its recent resilience, Salt Lake City will face one considerable headwind over the coming year or two. Nearly 8,500 units were under construction here as of 4th quarter 2020. Over 5,800 of those units are scheduled to complete in the next 12 months, marking the highest net inventory ratio on record for the Utah market. Annual completions in Salt Lake City have never exceeded about 4,000 units, a record hit as recently as 2017.
All seven Salt Lake City submarkets will see at least 200 units of new supply in the next year, though three submarkets will claim the lion's share of new supply. Downtown Salt Lake City/University is scheduled to see nearly 1,800 units deliver in 2021. South Salt Lake/Murray is scheduled to see about 1,200 units complete and Southwest Salt Lake City should get about 1,100 units.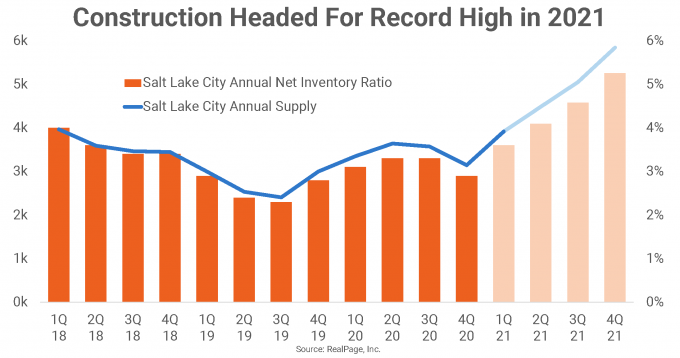 Salt Lake City reported strong demand in 2020, but at levels that still fell short of new supply. About 2,700 units were absorbed in 2020, compared to 3,150 units completed. Meeting the demand for 2021's even higher supply volume will be a challenge for the market. Occupancy should remain stable, though some softening is expected as the market works to absorb massive rates of new supply in the next several quarters. Despite the challenges ahead, Salt Lake City is expected to maintain moderate rent growth through 2021.