Residential Permitting Picks Up as Starts Slow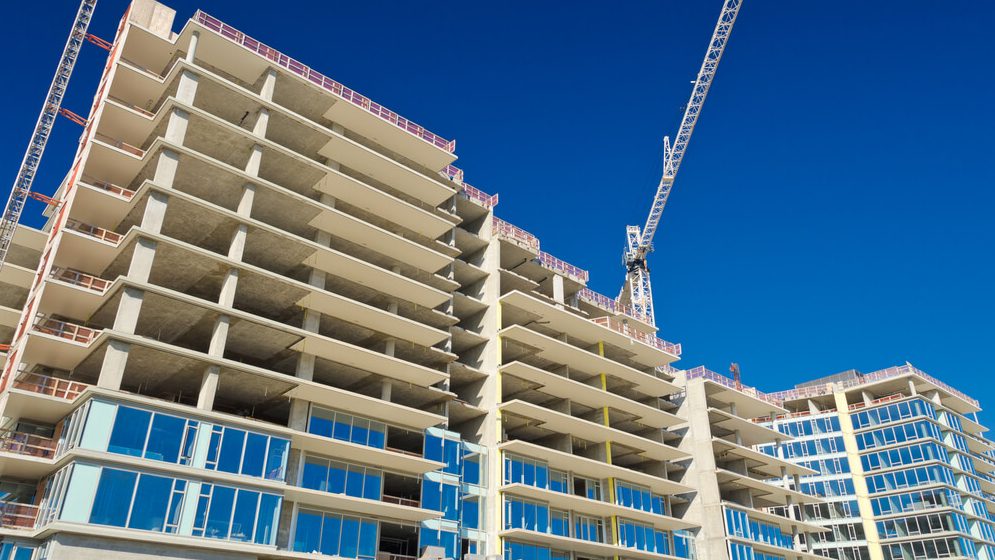 As we predicted last month, the decrease in annual building permit levels in June foretold a decrease in annual starts in July. U.S. housing starts decreased by 7% to 1.534 million units in July after a 5.3% decrease in building permits the month before according to the U.S. Census Bureau. The seasonally adjusted annual rate for total residential building permits in July was at 1.635 million units, up moderately (+2.6%) compared to June, so look for starts to tick back up next month.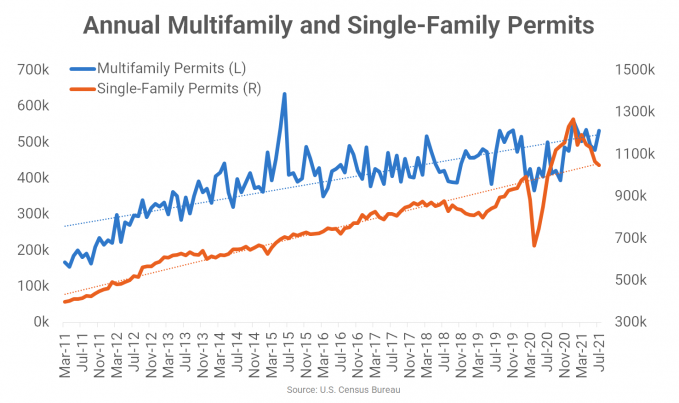 Multifamily permits are up 11.1% from June's annual rate and are 6.4% higher than one year ago. However, they appear to be right about on the trend line for multifamily permits post-Great Recession. Multifamily starts are down 13.6% from June and are down 16.3% from July 2020. This data series is much more volatile than building permits as they rely on survey data rather than the figures for permits which come from permit-issuing places (local governments).
With 532,000 multifamily units permitted through July, this is the fifth month in the past seven to exceed half a million units. Meanwhile, the decrease in multifamily starts to 412,000 units as of July still marks fifth consecutive month to exceed 400,000 units and the sixth of the past seven months.
Single-family permits slipped 1.7% from last month to 1.048 million units but are up 5.5% from last year and, like multifamily permits, are right on the trend line the market has seen since 2011. The deep valley during the pandemic shutdowns and bounce-back rebound in the past year appears to have settled back to the long-term trend (at least this month). Single-family starts fell 4.5% from June but are up 11.7% from last July at 1.111 million units. They also are off their post-pandemic peak of more than 1.3 million units and are nearing their long-term trend line.
Multifamily completions rose 9.5% from June's annual rate to 426,000 units and are up by more than 12% for the year. Single-family completions increased 3.6% from last month and are about even for the year at 954,000 units as affordability and availability continue to hinder robust home development.

Regional annual multifamily permits were up in two regions compared to July 2020 with the West region jumping by 28.5% (to 178,000 units) and the South climbing 13.2% (to 219,000 units). Meanwhile the Midwest was down about 16,000 units to 74,000 units permitted, a 17.3% decline. The Northeast region permitted 18,000 fewer units in the year-ending July to total 60,000 units, down 22.5%. Compared to June's rate, only the South region experienced a mild decline (-2.4%), with the other three regions up from 2.6% to 35.3%.
At the metro level, all the top 10 permitting markets in July returned to the list from June, with several changing places. New York continues to lead the nation in multifamily permitting with about 33,450 units, even as the pace continues to slow. Austin and Houston ranked #2 and #3 again but continued to move in opposite directions with Austin increasing annual permitting by 5,497 units or 31% from last year to 23,280 units, while Houston slowed by about 5,591 units or 27% to an annual rate of 15,452 units.
Dallas is once again in the top four with 14,322 units permitted, however, that is still more than 2,000 units fewer than the year before. Seattle followed Dallas on the top 10 list to land at #5 in July with 13,446 units permitted, up just 403 units from July 2020. Los Angeles and Phoenix returned to the #6 and #7 spots with 13,354 and 13,288 units permitted for the year, down 573 and 174 units, respectively.
Washington, DC slipped to the #8 spot in July, permitting 13,220 units for the year, while Nashville tumbled from #4 in June to #9 in July with 13,151 units permitted. However, both markets increased their annual permitting by more than 2,500 units from the year before. Philadelphia returned at the #10 spot with 13,132 units permitted, almost double the previous year's pace.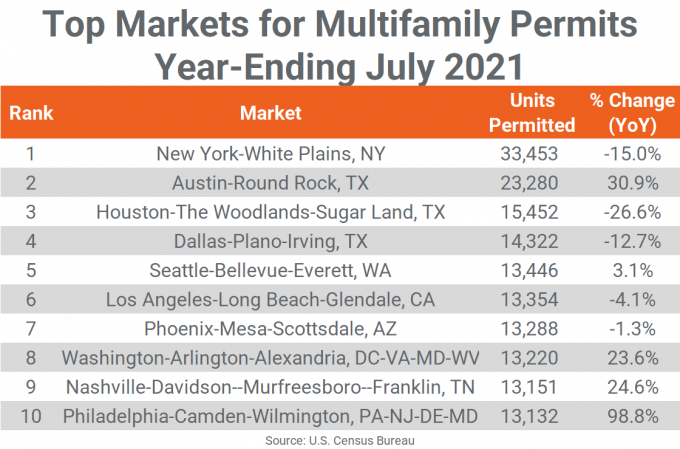 Half of the top 10 multifamily permitting markets had increases from the year before but those increases ranged from a low of 403 units in Seattle to more than 6,500 additional units in Philadelphia. Austin's increase of almost 5,500 units was nearly twice the increase in the number of units for Washington, DC and Nashville.
Other markets outside of the top 10 that saw significant year-over-year increases in annual multifamily permitting in the year-ending July were Denver (+5,490 units), Raleigh/Durham (+2,764 units), Jacksonville, FL (+2,262 units), and Charlotte (+2,049 units).
The declining half of the top 10 saw decreases ranging from 174 units in Phoenix to more than 5,500 units in both Houston and New York. Significant slowing in annual multifamily permitting also occurred in the non-top 10 markets of Cape Coral-Fort Meyers, FL (-2,958 units), Portland, OR (-2,697 units), San Jose (-1,909 units), and Kansas City (-1,601 units).
Six of the top 10 markets had more annual multifamily permits than the previous month, with Dallas experiencing a 14.4% increase from June's annual rate, and Philadelphia jumping 6.7%, while the others increased by less than 6%. Decreasing top 10 markets averaged declines of about 2.5% from last month's annual pace but the numerical decrease ranged from 112 units to 811 units.
The annual total of multifamily permits issued in the top 10 metros – 166,098 – was about 2% more than the 162,870 issued in the previous 12 months. The total number of permits issued in the top 10 metros was almost equal to the number of permits issued for the #11 through #37 ranked metros.
All of last month's top 10 permit-issuing places returned to this month's list with the first seven remaining in the same order. The list of top individual permitting places (cities, towns, boroughs, and unincorporated counties) generally includes the principal city of some of the most active metro areas.
The city of Austin was once again the #1 permit-issuing place with 11,852 units, decreasing by about 975 units from last month. The city-county of Nashville-Davidson and the city of Los Angeles returned in order, permitting 11,773 units and 10,243 units, respectively.
The city of Houston came in at #4 on the list with about 8,300 units permitted, an increase of 1,448 units from last month, while the cities of Denver and Seattle topped 7,200 units for the year. The borough of Brooklyn permitted just under 7,000 units for the year-ending July, ranking at #7.
The Bronx borough and the city of Phoenix switched spots again on the top permitting places list with 6,212 units and 5,611 units permitted, and Mecklenburg County (Charlotte) rounded out the top 10 with 5,607 units permitted, 548 units more than last year.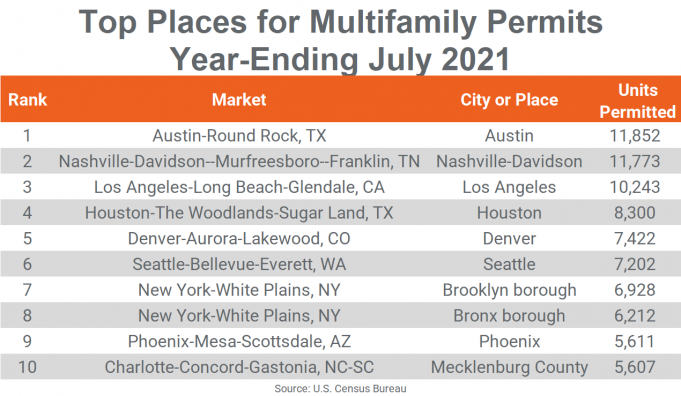 The cities of Dallas and Fort Worth rejoined the top 20 permitting places list this month, joining San Antonio and the unincorporated sections of Harris (Houston) and Travis (Austin) counties as Texas continues to lead the nation in multifamily permitting.  For the year-ending July 2021, Texas permitted 1.97 million units, compared to 1.723 million for California and 1.522 million for Florida.