Residential Construction Still Facing Cost and Pricing Issues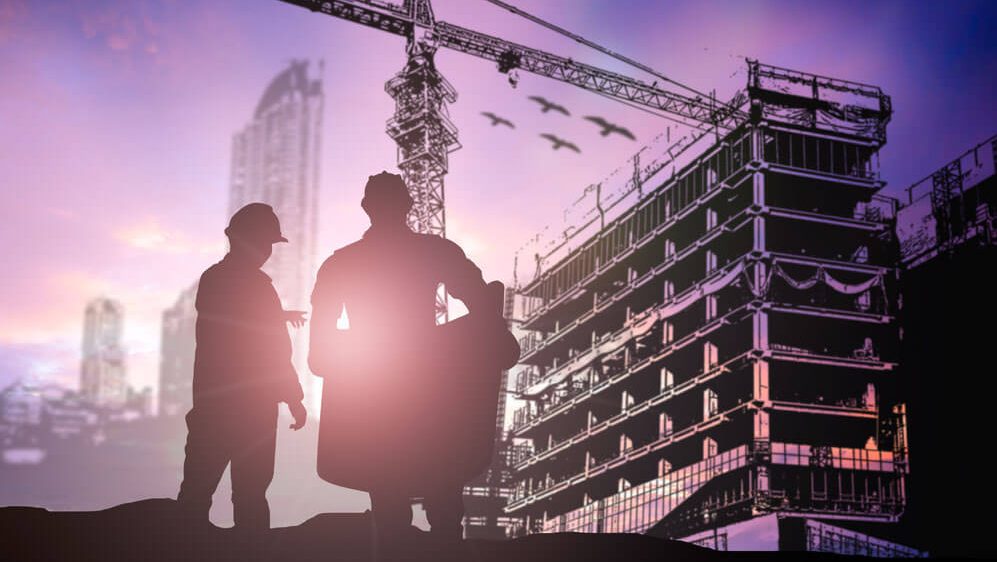 U.S. residential construction rebounded in May but remained below expectations.
Total residential permits slipped 3% from April to 1.681 million units, according to the U.S. Census Bureau. This is the lowest annual rate in the past seven months but is still about 35% higher than the permit levels from one year ago. Rising material and labor costs, along with high demand, are pushing new home prices up and weakening the confidence of home builders, according to the National Association of Home Builders.
Total residential starts were up just 3.6% in May to 1.572 million units on a seasonally adjusted annual rate. Most of this month's increase was due to a downward revision of April's annual figure from 1.569 million to 1.517 million units.
The multifamily component of annual starts increased 4% month-over-month and are up 52.5% from last May to 465,000 units. Meanwhile, the pace of multifamily permitting slowed by 7.7% from last month, but the 494,000 units permitted were 10% greater than last year's annual rate. Multifamily completions fell 7.6% from April's annual rate to 387,000 units although completions are up 18% for the year.

Single-family homebuilders saw annualized starts increase 4.2% from last month to 1.098 million homes, up 49.8% from May 2020's level. Building permits for single-family homes dipped 1.6% from April numbers, but were 50% greater than the May 2020 showing, with 1.130 million homes permitted. The annual rate for single-family building permits has exceeded 1 million units for 10 straight months. Single-family completions fell 2.6% from last month with 978,000 units finished, about 17% more than last May.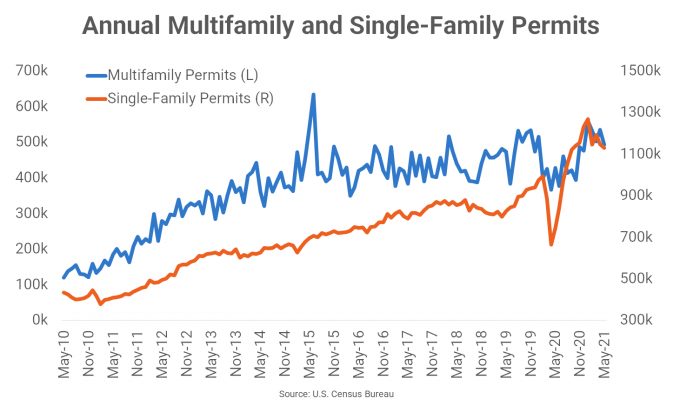 The annual rate for multifamily permitting was up in three regions, with a jump of 35.3% in the West region (to 145,000 units), 32.9% in the Northeast region (to 72,000 units), and 23.3% in the Midwest region (to 73,000 units). South region permitting decreased 10.6% from last year's pace to 205,000 units. Compared to the previous month, the Midwest had a solid increase in annual permitting (28.8%), while the West was almost unchanged (1.6%). Multifamily permitting slipped 9.7% from last month's annual rate in the Northeast region and was down 20.2% in the South.
Regional annual multifamily starts were also up in three of the four regions compared to May 2020 with the South region more than doubling last year's pandemic-induced low with 221,000 units started. The Northeast and Midwest region's multifamily starts were both more than 50% greater than last year at 53,000 units and 68,000 units, respectively. As with building permits, the pace of starts in the West region was virtually unchanged from last year with annual starts of 124,000 units.
At the metro level, all of the top 10 permitting markets in May returned to the list from April but several changed places. New York continues to lead the nation in multifamily permitting with about 35,000 units permitted in the year-ending May. That total has slowed, however, by 2,300 units from one year ago. Austin and Houston ranked #2 and #3 again but while Austin increased annual permitting to 21,843 units (up 4,990 units or 30% from last year), Houston is going in the opposite direction with permitting slowing by 30.2% (down about 6,600 units) to an annual rate of 15,256 units.
Washington, DC remained in the #4 spot with 13,728 multifamily units permitted, increasing the market's annual pace by 2,134 units from last May, while Phoenix moved up one spot to #5 with 13,475 units permitted, an increase of 1,208 units from last year. Los Angeles leapt from #10 in April to #6 in May despite a decline in annual permitting of 864 units, pulling the total down to 13,253.
Nashville inched up one spot to #7 with 13,226 multifamily units permitted through May and had the second-largest annual increase behind Austin of 4,584 units. Seattle fell from #5 last month to #8 with a decline in annual permitting of 791 units to 12,763 for the year. Dallas also slipped down the top 10 to #9 as the annual total of 12,519 units permitted was 3,789 units fewer than the year before. Like Dallas, Minneapolis-St. Paul slid one spot, landing at #10 in May. However, the 12,348 units permitted was an increase of 1,119 units from May 2020's level.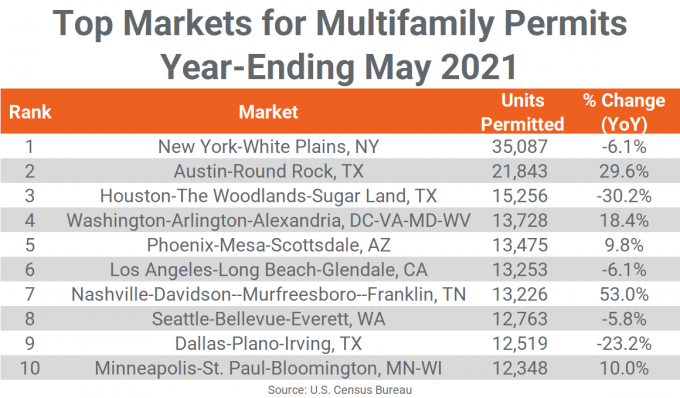 Half of the top 10 multifamily permitting markets had increases from the year before and all of them were at least 1,000 units greater, with Austin and Nashville exceeding 4,500 additional units permitted.
Other markets that saw significant year-over-year increases in annual multifamily permitting in the year-ending May were Philadelphia (+4,898 units), Denver (+3,902 units), Raleigh/Durham (+2,749 units), and Boston (+2,259 units).
The declining half of the top 10 saw decreases ranging from around 800 units (Los Angeles and Seattle) to more than 2,000 units (New York, Dallas and Houston). In fact, the Texas markets of Houston, Dallas, and Fort Worth saw the steepest declines in the nation, with a combined decrease of about 14,000 units under last year's pace.
Significant slowing in annual multifamily permitting also occurred in Chicago (-3,359 units), Portland, OR (-3,224 units), and Orlando (-3,043 units).
Five of the top 10 had more annual multifamily permits than the previous month, with Los Angeles experiencing a 6.3% increase from April's annual rate, while markets increasing by about 2% to 5% included Nashville, Phoenix, Austin and New York. Minneapolis-St. Paul saw little change in their annual multifamily permit total from April to May, and the remainder of the top 10 declined by 2% to 6% from last month.
The annual total of multifamily permits issued in the top 10 metros – 163,498 – was almost the same as the 163,805 issued in the previous 12 months. The total number of permits issued in the top 10 metros was almost equal to the number of permits issued for the #11 through #40 ranked metros.
All of last month's top 10 permit-issuing places returned to this month's list with the first four remaining in the same order. The list of top individual permitting places (cities, towns, boroughs, and unincorporated counties) generally include the principal city of some of the most active metro areas.
The city of Austin retained the #1 spot for permitting places, followed by the city-county of Nashville-Davidson and the city of Los Angeles. Each permitted from 10,100 to 12,800 units.
The city of Houston came in at #4 on the list with about 6,900 units permitted, while the city of Denver moved up to #5 with 6,815 units. The city of Seattle slipped one spot to #6, permitting about 6,500 units, while the Brooklyn borough permitted close to 6,400 units for the year-ending May, ranking at #7.
The city of Phoenix remained ranked at #8, with about 6,100 multifamily units permitted, and the Bronx borough and Mecklenburg County (Charlotte) rounded out the top 10 with around 5,000 to 6,000 units permitted.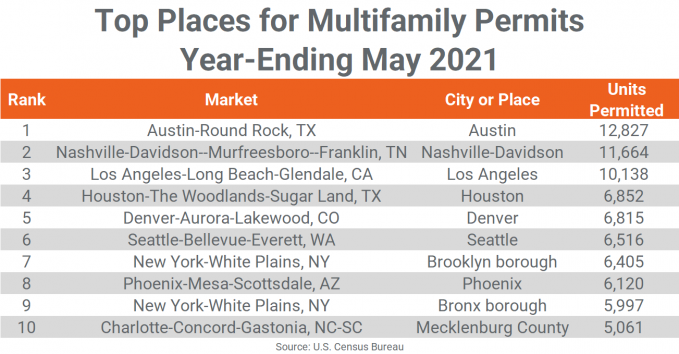 The city of Houston had a decline of more than 1,000 units from April's annual total and three other top 10 permitting places had slight declines from last month. The city of Denver had the largest one-month jump in annual multifamily permits with an increase of about 760 units, while Nashville-Davidson and the city of Los Angeles permitted at least 500 more multifamily units for the year than in April.