Renter Loss Continues to Plague Pittsburgh Apartments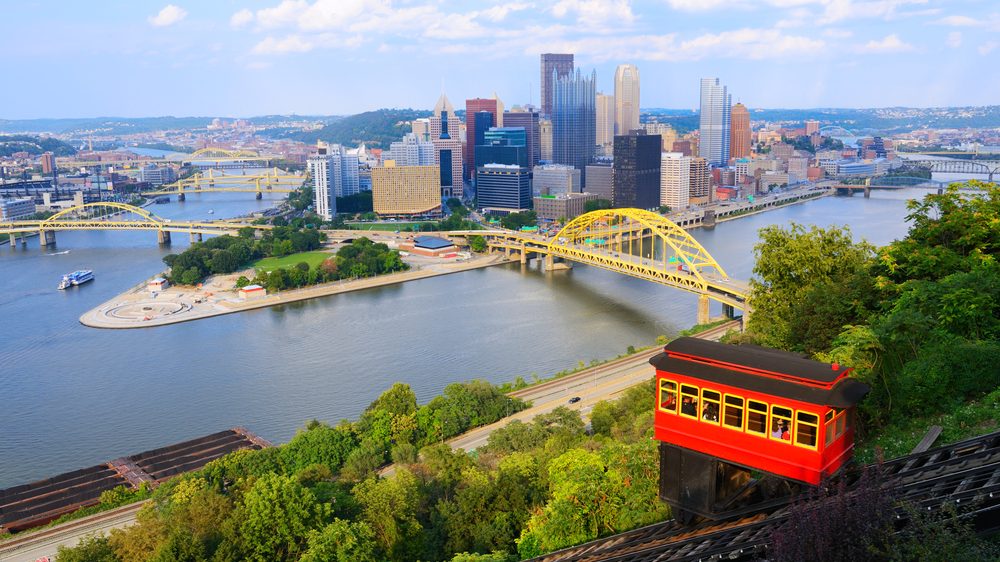 The apartment market in Pittsburgh is struggling for any kind of traction, as lingering weakness among the market's demand drivers continues to stymie leasing activity.
Pittsburgh has recorded annual net move-outs in the last three quarters, and results have gotten progressively worse. In the year-ending 1st quarter 2021, Pittsburgh logged a net loss of 1,870 units. Nationwide, the performance was worse in only two other markets: the COVID-19 hot spots of San Francisco and New York.
Meanwhile, about 800 units of new supply were delivered in Pittsburgh in the year-ending 1st quarter 2021. This was well below the five-year average of about 1,700 units of annual deliveries. While Pittsburgh was easily absorbing the moderate completion volumes throughout much of 2018 and 2019, the market has been struggling since the coronavirus-induced recession began last year.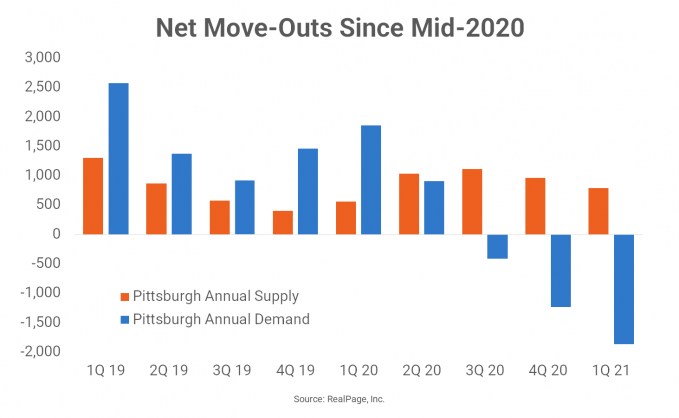 Net move-outs pulled occupancy down by 50 basis points (bps) in the past year, landing at 95.5% in May. While that is a few ticks ahead of Pittsburgh's five-year norm, the current showing is quite a bit lower than the national average of 96.1%. Since 2018, Pittsburgh occupancy has typically run in line or slightly above the national average. In 2021, on the other hand, occupancy in Pittsburgh has run behind the U.S. norm by an average of 70 bps.
Slow leasing activity and falling occupancy continues to diminish apartment operators' pricing power. Rents were down 1.2% in the year-ending 1st quarter 2021, making Pittsburgh one only of 10 major U.S. markets outside of a gateway city to see rents decline in that timeframe.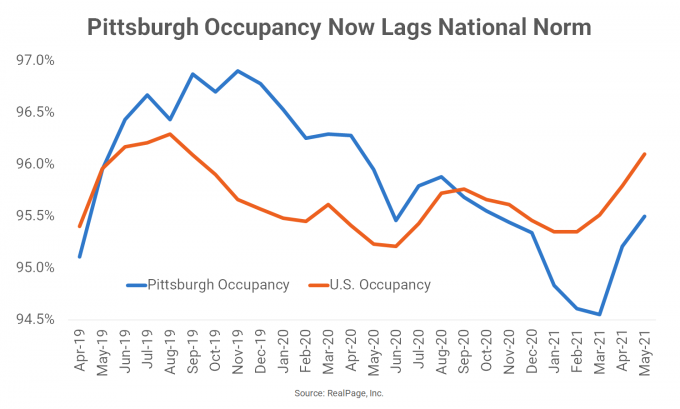 Meanwhile, the homeownership rate in Pittsburgh has also softened. Contrary to common belief, apartment occupancy and single-family housing demand often grow – or decline – in tandem. Homeownership in Pittsburgh fell 3.7% year-over-year in 1st quarter 2021, according to the U.S. Census Bureau. That was the steepest decline among the nation's 50 largest apartment markets. The homeownership rate in Pittsburgh now stands at 68.2%, still a bit higher than the national average of 65.6%.
Weakness in the housing markets comes as Pittsburgh continues to struggle to recoup jobs lost during the pandemic lockdowns last year. The metro's employment base stood 5.6%, or 6,570 jobs, below the February 2020 level as of April.
Also working against Pittsburgh's performance, the state of Pennsylvania has seen a low rate of population growth in the past 10 years, so much so that this will be one of seven states to lose a seat in Congress in 2022. Pennsylvania's population is now at 13 million residents, growing by only 2.4% from 2010 to 2020, according to the U.S. Census Bureau's population growth estimates. Overall, the U.S. population grew by 7.4% from 2010 to 2020. Meanwhile, a handful of states – Utah, Texas, Colorado and Arizona – logged double digit population growth.
In the near-term, Pittsburgh is expected to see an occupancy bump in early 2022, at the same time that new supply is scheduled to peak. As the market inches toward recovery, occupancy isn't forecasted to return to its pre-pandemic level for several quarters.