Rent Growth Jumps in Several Apartment Markets in 2018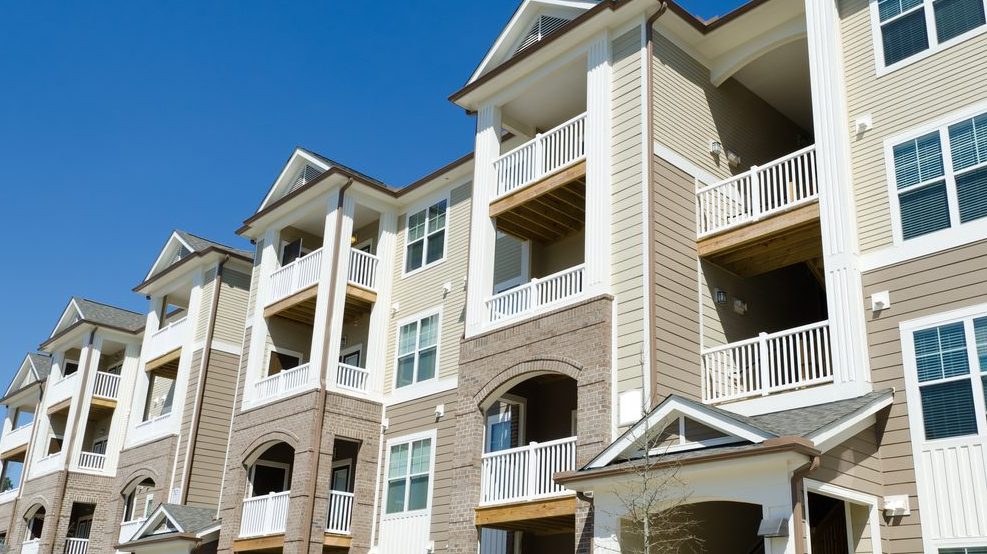 For the first time since 2015, U.S. apartment rent growth accelerated in 2018. The 3.3% increase for the year landed above the 2017 increase of 2.5%. Driving the national momentum was significant improvement in several individual markets, thanks in large part to middle-market performance.
The biggest turnaround was seen in Austin. Rents in the Texas capital rose 4.2% in 2018, a dramatic shift from the 0.7% rent cut in 2017. Renewed momentum occurred across nearly market segment, but a handful of submarkets stand out. Neighborhoods with very little top-end product – primarily clustered in the market's northwest side – saw rent growth swing 750 basis points to 900 basis points (bps) year-over-year.
Similarly to Austin, the blue-collar suburbs of Pittsburgh helped drive apartment rents in that market up 4.2% last year, a 390 bps improvement over 2017. That year-over-year shift ranked #2 nationally, and performances improved in most of Pittsburgh's market segments in 2018. However, the largest increases in rent growth occurred in North Pittsburgh and South Pittsburgh, where more than 40% of the market's Class B apartments are located. Each of those areas saw rent growth jump 510 bps year-over-year.

Phoenix recorded the nation's third largest improvement over the last year, a 350 bps shift that brought annual rent growth in the market to 7.4%. That annual increase tied Las Vegas' as the largest among major U.S. markets in 2018. Unlike some other markets, the rent acceleration in Phoenix was uneven across market segments. The strongest momentum occurred in the downtown area and in a pocket of northern suburbs. Rent growth jumped 540 bps to 690 bps in each of those areas, where the composition of product is mixed. At the market level, Class A units saw the greatest improvement of 390 bps, followed by Class B units (330 bps) and Class C product (230 bps).
West Palm Beach and neighboring Fort Lauderdale also landed in the top five for rent momentum in 2018, with annual rent increases growing 330 bps and 280 bps, respectively. However, different market segments drove the acceleration in each. In Fort Lauderdale, rent momentum was concentrated in the middle and lower market segments, especially in Coral Springs. In West Palm Beach, on the other hand, the top-end Boca Raton area saw a 550 bps increase in rent growth in 2018.
Also noteworthy is the appearance of two Tennessee markets in the top 10 for rent momentum:  Memphis and Nashville, which landed at #7 and #8, respectively. In Memphis, rent acceleration was highly concentrated in the downtown area and in Germantown/Collierville – both upper-end submarkets. In Nashville, the Class B heavy areas of Hermitage/Mount Juliet/Lebanon, East Nashville and South Nashville led, as intense development activity continues to weigh on top-end product and submarket performances.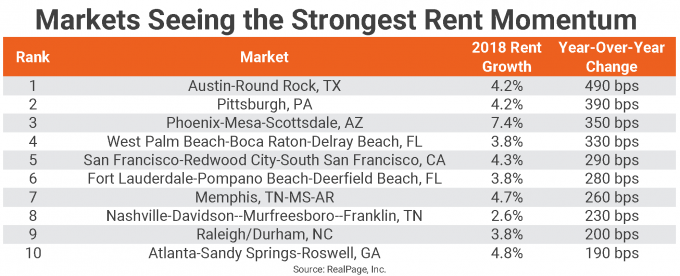 Other high-development markets seeing stronger momentum in 2018 are Raleigh/Durham and Atlanta, where rent growth in 2018 landed a respective 200 bps and 190 bps above the 2017 levels.
San Francisco also landed in the top 10, with a 290 bps increase. The acceleration was led by the Class B heavy Central San Mateo County and in the market's development leader, SoMa, as a brief slowdown in SoMa completions allowed for much stronger rent growth there.
Among the nation's top 50 markets, only 11 posted smaller rent increases in 2018 than in 2017. The most significant deceleration was seen in Houston, where rent growth decreased 330 bps from 2017. Although current rent growth still remained positive at 0.3%, this drop in performance came as the boost from Hurricane Harvey dried up. Immediately following the storm in late 2017, rents shot up as vacancies dropped due to residents displayed by the flooding sought apartments for alternative housing. Many of them have since moved back into single-family homes, causing apartment performance in Houston to cool.