Rent Control Becomes a Concern in Minneapolis/St. Paul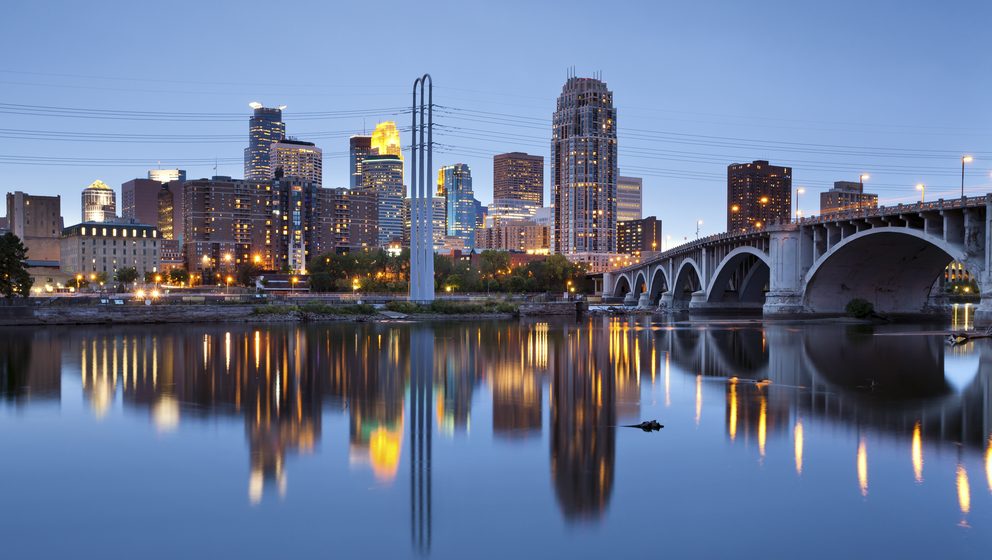 Posted September 21, 2021
This fall, residents of St. Paul, MN will vote on whether to cap annual apartment rent growth at 3%, and those living in Minneapolis will vote on whether to give the city council power to enact rent control measures.
Economists almost universally agree that rent control is bad public policy that helps only a handful of already-in-place households while reducing product availability and affordability for anybody who ever seeks out accommodations in the future.
It's perhaps especially disappointing to see a push toward rent control in a place where most renters – definitely not all, but clearly most – face fewer affordability challenges than in much of the rest of the country.
Viewed over the long term, annual growth in effective asking rents in metro Minneapolis/St. Paul generally has run between 3% and 4%, according to RealPage stats. The only time prices were pushed up notably more than that during the last decade or so was in 2011, and that move followed a period of price cuts in the earlier recession.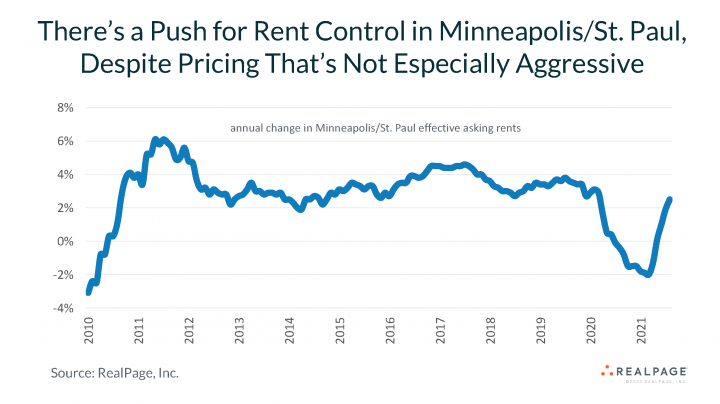 Right now, the metro's annual increase in effective asking rents comes in at 2.5%, way below the national level of 10.3%. In fact, among the nation's 50 largest metros, Minneapolis/St. Paul has the second lowest annual price bump.
Comparatively moderate rent growth in Minneapolis/St. Paul occurs despite the fact that the metro normally challenges New York and Newark/Jersey City for the country's tightest apartment occupancy rate.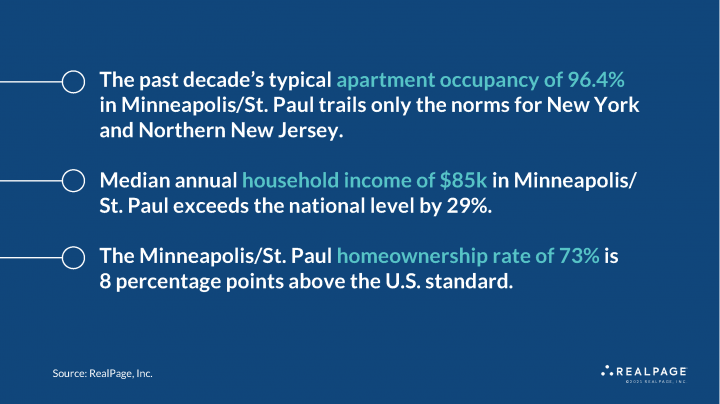 Rents in Minneapolis/St. Paul aren't cheap. They average right at $1,400 per month. But that's not out of reach when median household reaches $85,000, 29% above the U.S. standard, according to Census Bureau information.
RealPage analysis of individual lease transactions show that Minneapolis/St. Paul households signing new leases for apartments so far this year have typical annual incomes of roughly $74,000.
In a further indication that housing isn't out of reach for most Minneapolis/St. Paul residents, the Census Bureau says that the local homeownership rate is 73%, 8 percentage points above the U.S. figure.