U.S. Rent Concessions Near 20-Year Lows, But Still Extensive in Some Markets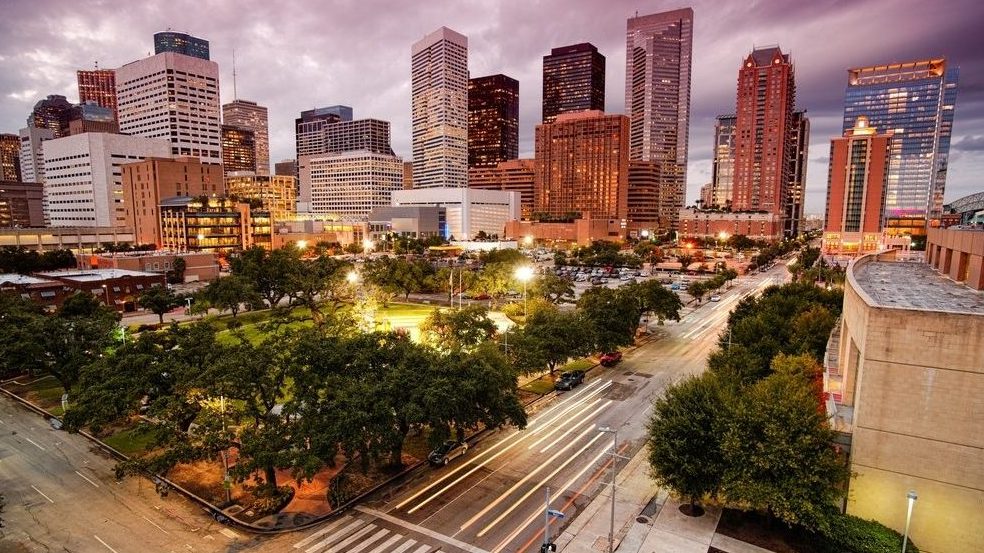 Nationwide, the percentage of units offering rental concessions is at some of its lowest levels in nearly two decades. Still, some markets – mostly the country's big construction centers – are offering concessions at notably higher rates.
After peaking at 65.8% in 4th quarter 2009, the percentage of stabilized apartments in the U.S. offering concessions has been on a steady downward trajectory. As of 2nd quarter 2019, concessions were available in only 14.1% of apartments, one of the lowest rates the market has seen since mid-2002. Concession rates fell below the 20% mark in 2nd quarter 2017 and have remained beneath that threshold since.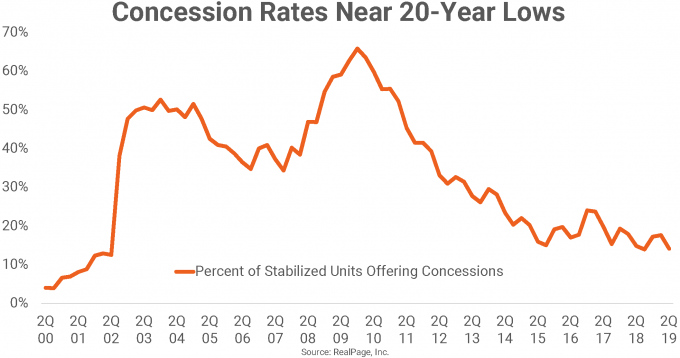 Some markets, however, are still commonly awarding concessions in a sizable portion of stock. These big concession markets have been some of the nation's most prolific supply centers during the current economic cycle. Also, while it's relatively rare for concessions to be offered in Class B or C units, the markets with the most discounts overall logged inflated concession rates in these lower-tier product lines.
Among the markets bucking the nationwide trend, three were in Texas. Houston and San Antonio are two markets that typically offer sizable concessions, and in 2nd quarter, these were the only two markets among the nation's largest 50 where discounts were offered for about one-third of all stabilized product. These were also the two worst occupancy performers among the nation's major markets.
As of 2nd quarter, Houston operators were offering concessions on 35.3% of stabilized product. This was the biggest volume of discounts among the nation's 50 largest markets. While hefty nationwide, the concession rate in Houston is well below the decade average for the market. In fact, the ratio of units with discounts got as high as 80% in in 2010 before coming down in the past few years. The lowest amount of concessions offered here in the past 10 years was at just over 20% in 2015.
Houston's large sample of Class B and C units logged sizable concession rates in 2nd quarter. In Houston's large Class B stock, discounts were offered on 33.8% of units. Meanwhile, Class C stock recorded concessions in a whopping 41.1% of product.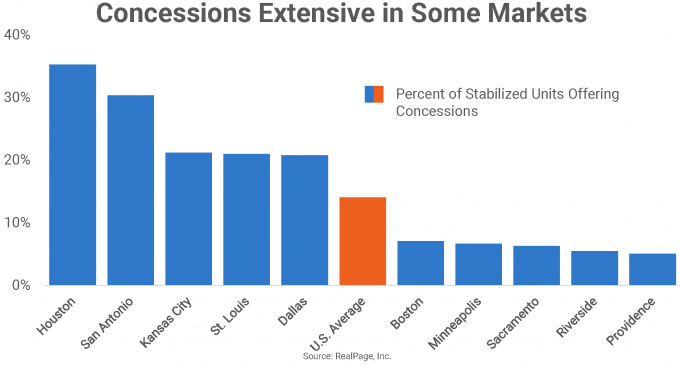 Among the nation's largest 50 apartment markets, Houston recorded the worst occupancy showing in 2nd quarter at 93.6%, and the worst rent growth pace, with prices remaining essentially flat year-over-year. Still, occupancy remains well ahead of Houston's decade average, and the market has seen demand bounce back recently, making up for the ground lost when temporary occupants displaced by Hurricane Harvey returned to more permanent housing.
Also impacting performance, Houston has seen no shortage of new supply recently. During the current economic cycle, a little over 109,000 units were delivered, increasing the sizable existing base by 18.1%, well ahead of the national average. In fact, only Dallas delivered more total product in the past nine years. Additionally, apartment construction volumes are set to keep rising in Houston, providing even more competition in the near term. About 31% of Class A units offered concessions in mid-2019.
In San Antonio, concessions were offered at 30.4% of the stabilized product. While steep nationwide, this was the softest ratio the market has seen since 2002. Like Houston, San Antonio logged discounts in 33.7% of the sizable Class B stock. However, relatively fewer Class C units (25.4%) offered concessions than Class A units (28%).
While occupancy in San Antonio was one of the weakest rates in the nation at 94%, this was slightly ahead of the decade average for the market. Where San Antonio varies from the Houston performance, however, was in rent growth. Prices in Alamo City were up 3.5% year-over-year, a few ticks ahead of the national average. However, when looking at the cycle overall, both Houston and San Antonio saw rents climb by nearly 27% since the beginning of 2010.
Among the top 50 markets, San Antonio's apartment inventory base has climbed at one of the fastest rates during the cycle. The market recorded delivery for a little over 46,000 units since 2010, increasing the existing base by a sizable 27.8%. As of 2nd quarter, only five other markets recorded more aggressive cycle inventory increases: Charlotte, Austin, Nashville, Raleigh/Durham and Salt Lake City.
At the next tier of concession rates, discounts were reported for around 20% of apartments in Kansas City, St. Louis and Dallas. Among these, St. Louis was the only market that didn't see its apartment base expand ahead of the national average in the current economic cycle. Dallas has been the nation's busiest market during the cycle, seeing nearly 125,000 units deliver, increasing the large existing base by 24.6%. Kansas City's stock swelled by 15.1%.
St. Louis, however, gained fewer than 12,000 units in the past nine years – one of the smallest total volumes nationwide. These units increased the relatively modest inventory base by just 7.4%. Performance struggles in St. Louis are tied more to the local economy than to competition from supply.
On the other hand, some big markets are offering barely any concessions. Some of the smallest rates nationwide were recorded in Providence, Riverside/San Bernardino, Sacramento, Minneapolis/St. Paul and Boston, with discounts on only about 5% to 7% of apartments. For the most part, these have been slow-growth markets during the current cycle, adding new supply at a rate that increased the existing stock by roughly 4% to 6%.
Minneapolis/St. Paul logged a slightly stronger growth pace of 11% in the past nine years, while Boston's inventory increase was a bit ahead of the national average at 13.6%. In Boston, the Class A stock recorded the market's biggest concession rates in 2nd quarter, with 11.9% of stabilized units offering discounts.