Renewal-Lease Rent Growth Holds Steady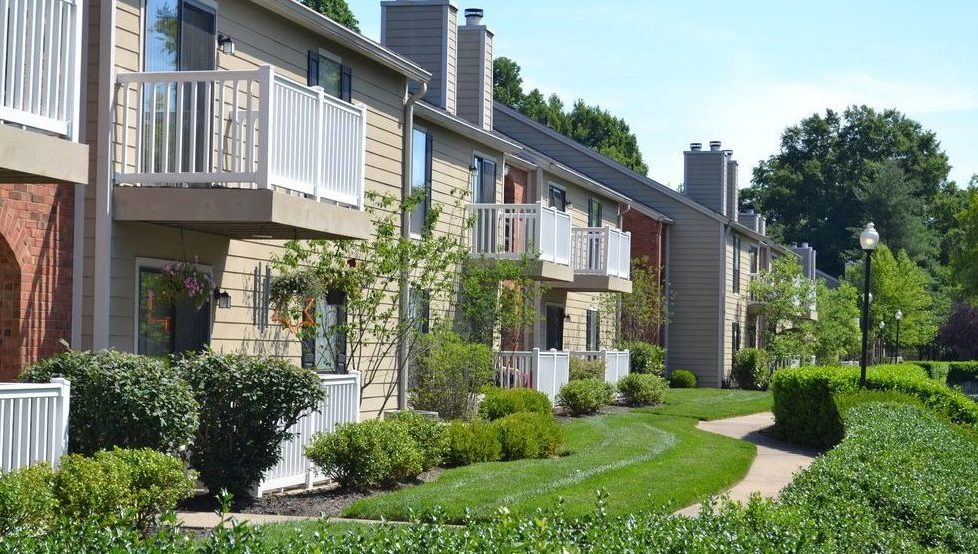 Apartment rents climbed 4.5% during the past year for households who stayed in place at initial lease expiration. Renewal-lease rent growth now has stayed a little under the 5% mark for three consecutive years, after price inflation came in at higher levels during 2014 and 2015.
Rents are continuing to climb faster for renewal leases than for leases where a new resident is renting at a property for the first time. That new-resident annual rent growth has been running around the 3% mark since late 2016, specifically registering at 2.8% as of the end of 2019.
It's not unusual for renewal-lease rent growth to climb a little faster than the price bumps that come as new residents move in. Many renters prefer to stay in place to preserve stability and avoid the cost and inconvenience of moving. Also, with apartment occupancy near record highs, it can be difficult to find available units in the Class B (mid-priced) and Class C (lowest-priced) product categories.
When leases came up for renewal in 2019, roughly 53% of apartment renters opted to stay in place, while about 47% moved. That resident retention share at initial lease expiration is an all-time high.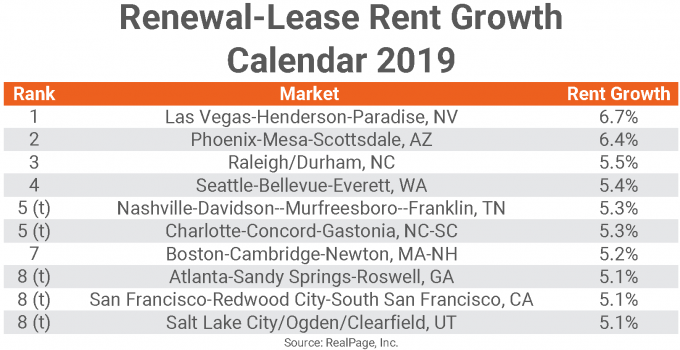 Renters paying the biggest renewal-lease increases live in Las Vegas and Phoenix. Rents for renewal leases jumped more than 6% in each market. Renewal-lease rent growth averaged 5.1% to 5.5% in another eight markets: Raleigh/Durham, Seattle, Nashville, Charlotte, Boston, Atlanta, San Francisco and Salt Lake City.
Among those top 10 markets for renewal-lease rent growth, six of them also are leaders for new-resident price increases. They are Las Vegas, Phoenix, Raleigh/Durham, Nashville, Charlotte and Atlanta.
Interestingly, however, Salt Lake City and Boston rank a little higher for renewal-lease rent growth than for new-resident pricing upturns. Going a step further, Seattle and San Francisco are much stronger performers for renewal-lease rent growth than for price hikes in the new-resident lease category.
Influencing those results, all four markets are spots where unit availability is limited among apartment projects in the Class B and C product sectors.
Looking to the other end of the performance spectrum, renewal-lease rent growth in 2019 proved comparatively weak at 3.4% to 3.6% in Virginia Beach, Cleveland, Indianapolis and Fort Lauderdale.