Raleigh-Durham Apartment Market Poised for Rent Growth Rebound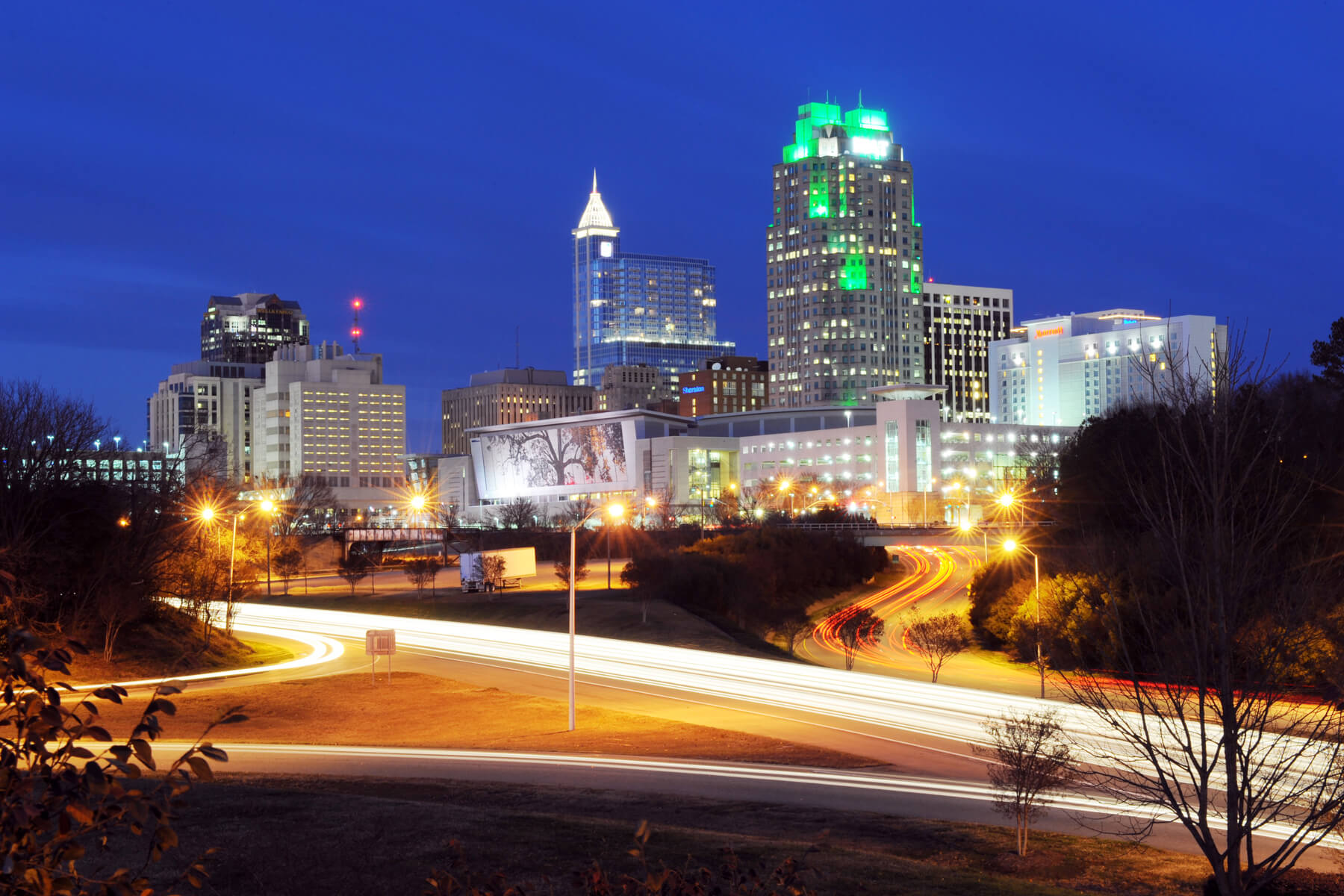 The Raleigh-Durham area is known as a hotbed of tech industries and college basketball. And just as Duke, North Carolina and North Carolina State basketball season is about to heat up, the Raleigh-Durham apartment market looks as if it is prepared for a rebound after a three-month period of sharp decline.
The market had reached up to 5.8% annual effective rent growth for new leases in the spring of 2015, according to Axiometrics, a RealPage company. It stayed within the 4% to 5% range through February 2017 as new jobs, especially in the tech industry were abundant. The Financial Activities and Professional and Business Services sectors also performed very strongly.
But a funny thing happened in late 2016 and 2017 – the Information sector, which included all the tech industries – has actually lost jobs in Raleigh-Durham. Though other industries more than made up for the loss, these losses helped drop the Research Triangle's new-lease effective rent growth as low as 1.7% in September 2017.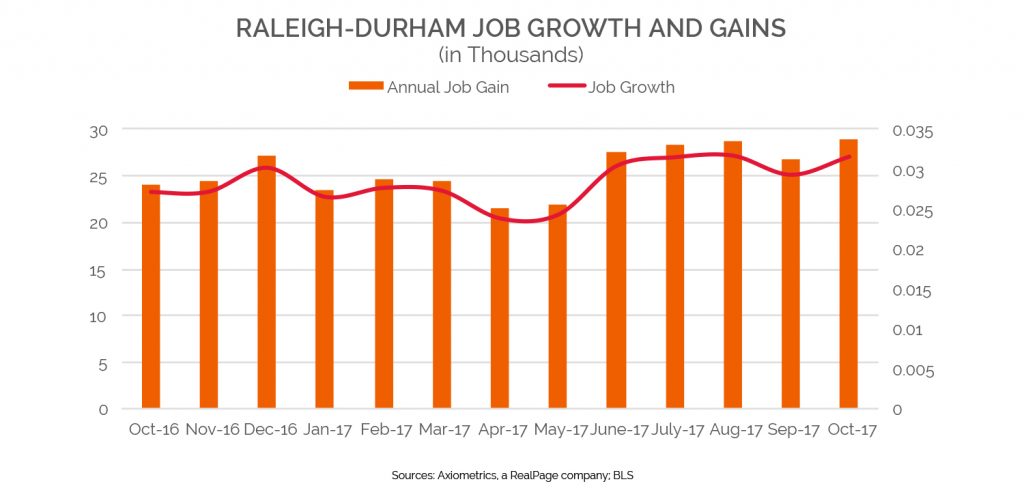 Research Triangle job growth rebounded in October, thanks to sharp increases in Financial Activities and Manufacturing. In fact, job growth was higher in October 2017 than it was in October 2016, counter to the national trend. That helped send rent growth back up to 2.0% in October, which bucked the seasonal trend of the previous two years, when the rent-growth rate dropped from September to October.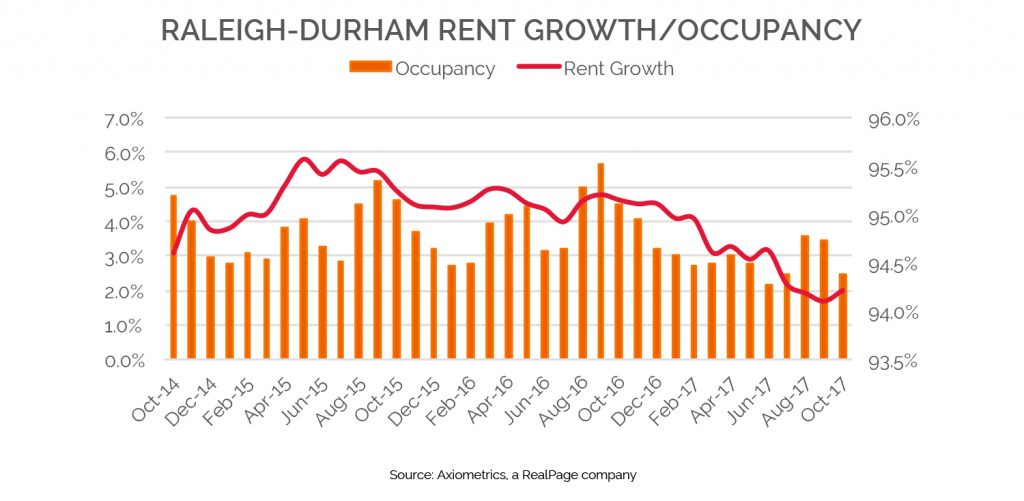 Another indicator comes from RealPage's Lease Transaction data, which shows that renewal rent growth was 4.9% in the third quarter of 2017.
Supply was a factor in the new-lease rent-growth decline, as the third and fourth quarters of 2017 represented the cyclical peak for deliveries of new units. Completions will also be abundant in the first quarter of next year, but are expected to decline in the second and third quarters – especially in the Raleigh area. Raleigh has only about 380 more units identified for 2018 delivery than Durham, in a market in which Raleigh has two-thirds of the existing properties.

Another reason to look for a stronger Raleigh-Durham apartment market: the surge of rent growth among Class A properties – and Class B units, to a lesser extent. Rents for Raleigh luxury-class apartments recorded a year-over-year increase of 3.1% in October, the highest rate since June 2016 and a 160-basis-point (bps) increase from September's 1.5%. Class A rent growth in Raleigh had been as low as 0.4% in July.
Since Class A strengthening often foreshadows marketwide improvement, a continuation of the current trend could mean overall strengthening in the Raleigh area and, therefore, the entire Research Triangle.
Raleigh Class B rent growth climbed 109 bps in October, to 2.3%, but that was more a return to the norm after a one-month dip below 2%. Class C rent growth has been in free fall, dropping from 6.1% in July to 1.9% in October, but Class C accounts for only 16% of Raleigh's supply.
Rent growth declined in all Durham asset classes, with Classes C and B holding strong advantages over Class A. The top class has experienced a lot of volatility this year, as rent growth has been as high as 4.3% (in March) and as low as -0.1% (in August), bouncing up and down. The figure was 0.6% in October.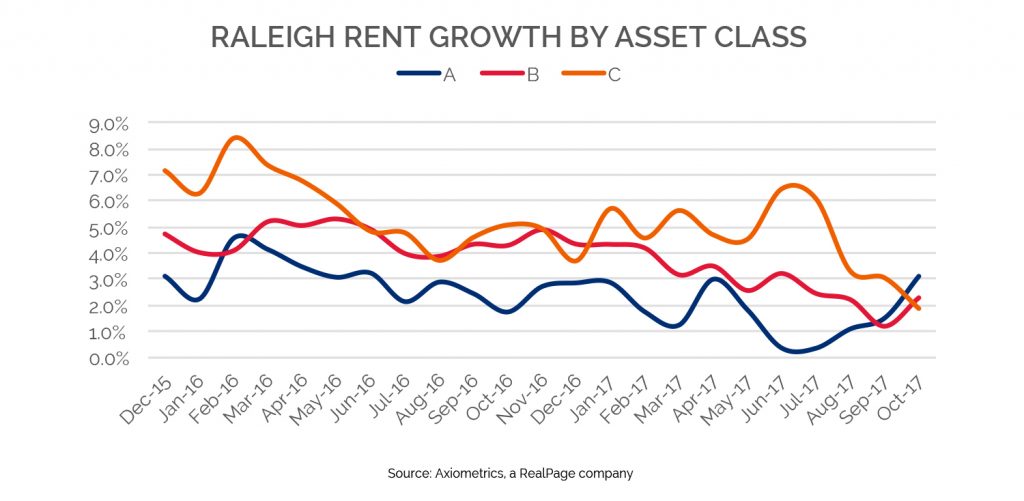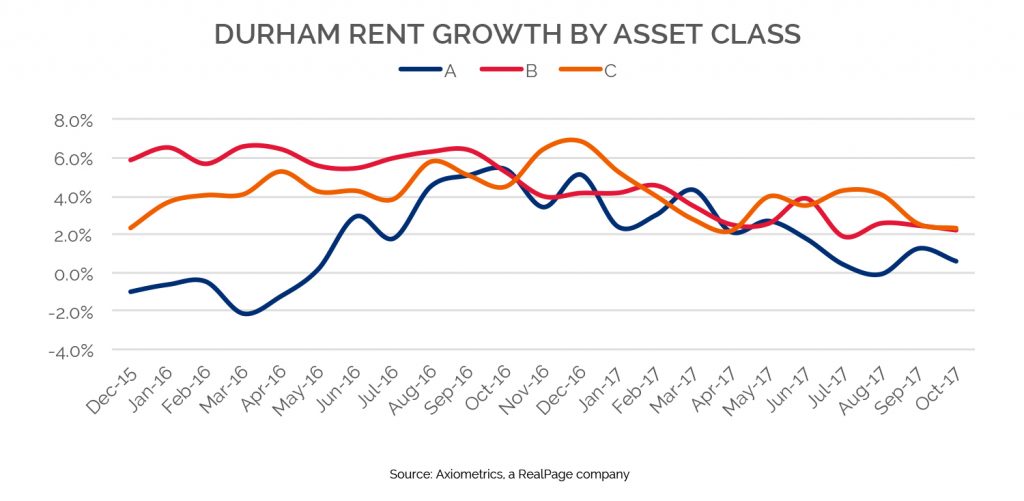 All the indicators are there for strengthening performance in the Raleigh-Durham apartment market: increasing Research Triangle job growth, declining supply (next year), improving Class A rent growth (in Raleigh) and a young-adult-fueled atmosphere with all those colleges around.