Phoenix's Apartment Market is Cooling Off Fast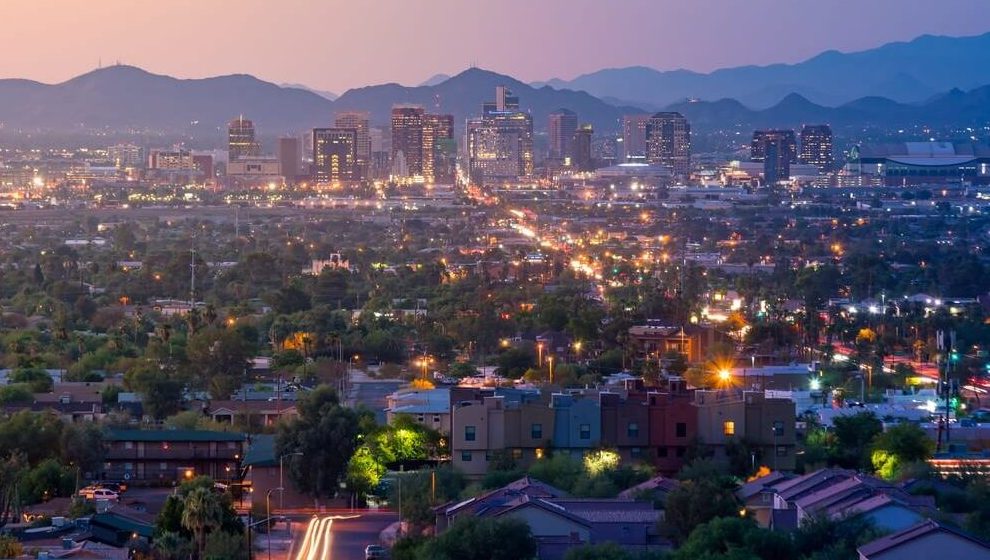 What's going on in Phoenix? No other apartment market is decelerating right now at the pace we're seeing in Phoenix – which not long ago consistently ranked among the national leaders in rent growth. But a lot has changed so far in 2022.
Here are four jarring statistics from Phoenix:
One: Apartment occupancy in Phoenix has fallen in each of the past five months and is now at the lowest levels since 2017 at 94.4%, according to data from RealPage Market Analytics. Occupancy dropped at least 220 basis points since February 2022 in all 23 Phoenix submarkets and in all asset classes. Phoenix occupancy now ranks below the U.S. average by 166 basis points, the largest gap since 2014.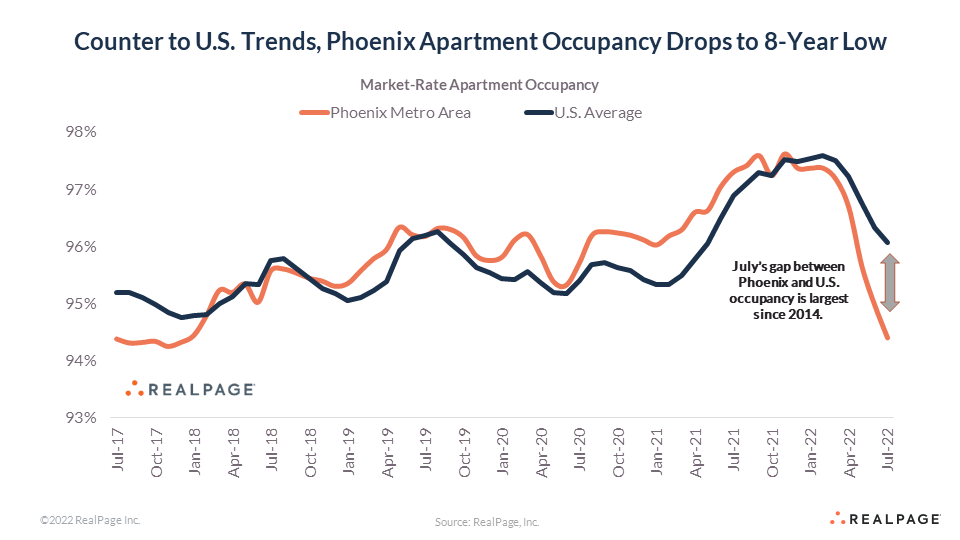 Two: In July 2021, 56% of Phoenix apartment renters with an expiring lease chose to renew. In July 2022, that number plunged to 47.2%. Both the year-over-year decline and the resulting rate ranked as the lowest in the nation.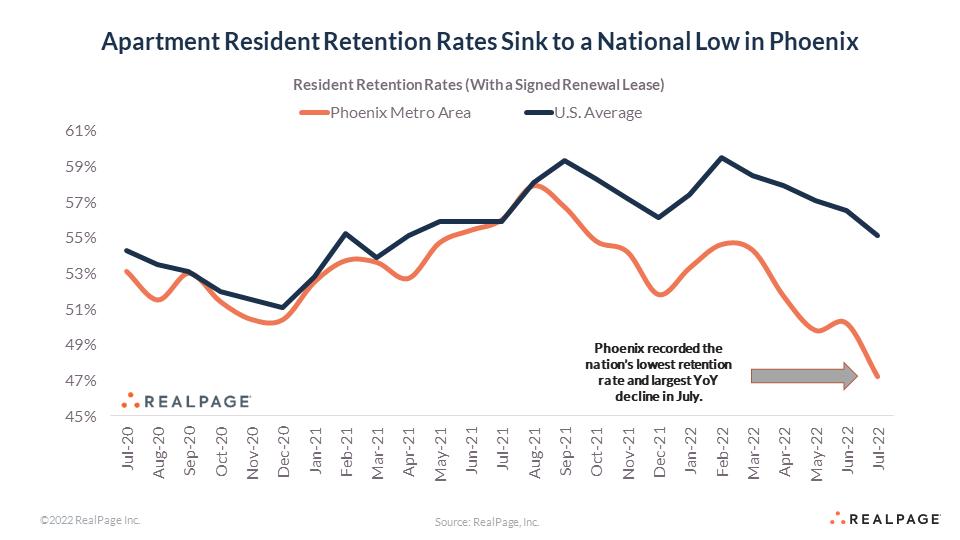 Three: In July 2022, Phoenix underperformed the U.S. average for year-over-year effective asking rent growth for the first time since 2013. Of course, rents are still growing very briskly (11.99%) in Phoenix, but that's a big drop from rent growth nearing 27% earlier in 2022. And based on occupancy trends, we'll likely see continued deceleration going forward.
Four: Renter incomes for new lease signers have stagnated in Phoenix (holding around $70k/annually) since winter – even as renter incomes nationally continue to shoot upward.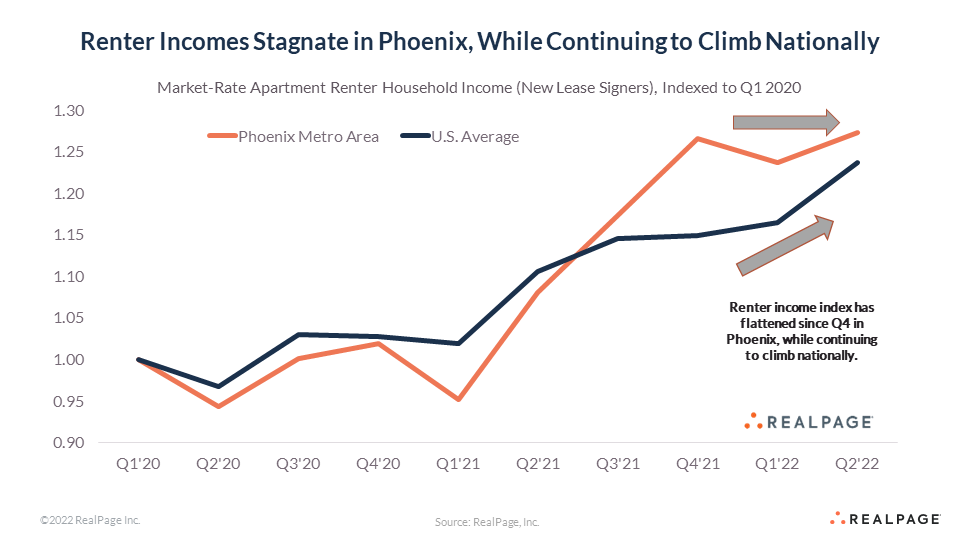 Some moderation in apartment performance was expected across the country in 2022. And on average, that's exactly what is happening. The national apartment market is performing pretty much in line with our expectations going into the year. But while "cooling off" is too strong a word to describe national performance, it appears to be an accurate description of Phoenix.
It's Not Simply a Supply Issue
What's going on in Phoenix? There doesn't appear to be one single factor to blame. In listening to local players in the Phoenix market, some are blaming supply. But that doesn't really add up. Supply is a factor in a lot of places across the country that aren't seeing the same deceleration we're seeing in Phoenix.
Among top 50 sized metros, Phoenix ranks eighth with a 3.2% inventory expansion rate in the last 12 months. And based on projects under construction, Phoenix ranks sixth with a 10.5% future expansion rate.
In other words: Yes, there's a lot of supply. But there are markets facing even more new supply that are performing much better than Phoenix is right now. Additionally, the slowdown appears most significant in Phoenix's Class C apartments, which compete at a far lower price point than a typical new development.
That means it's not a supply issue. It's a demand issue. But why?
Weak Demand Could Trace to Softening Job Market
There aren't obvious answers, but there are some major clues from the housing demand and employment numbers of late.
Some multifamily operators report that in-migration has dramatically slowed in 2022, while at the same time, some who relocated to Phoenix in 2020-2021 have since left. There isn't any hard data to support those theories directly, but recent housing demand trends (both for-sale and for-rent) suggest incoming demand and household formation has significantly cooled. According to Redfin, the number of homes sold in June 2022 within the city of Phoenix dropped 29% year-over-year, while median days on market jumped by 5 days. And in the metro Phoenix apartment market, net absorption in the first half of 2022 measured -48 units.
Slowing demand for housing traces to stalled momentum in the Phoenix job market. Unemployment in Phoenix remains very low at 3.4% as of June 2022, but it's trended upward every month since bottoming at 2.4% in March.
Total employment in Phoenix contracted modestly month-over-month in March, May and June 2022 – even as the national economy added jobs in each of those months. Of course, there could be some seasonality in those numbers in a metro where hot summers make Phoenix less appealing; but at the same time, Phoenix did add jobs over the same periods in 2021.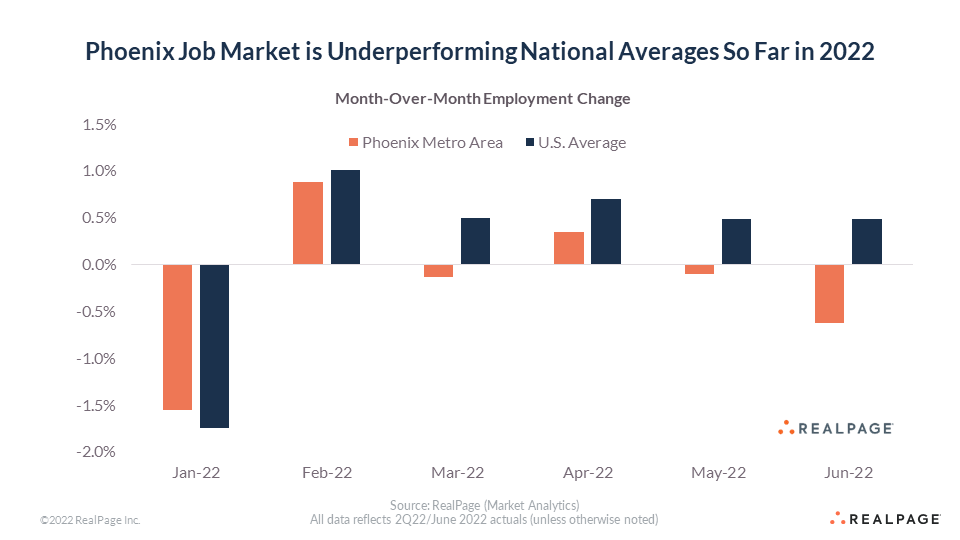 Going further back to the start of the pandemic, Phoenix has expanded but at a notably slower pace than its Sun Belt peers across Texas and the Southeast – perhaps a sign that Phoenix's blistering growth pace in home prices and apartment rents was less sustainable.