Phoenix Lands at #6 on Rent Growth Leaderboard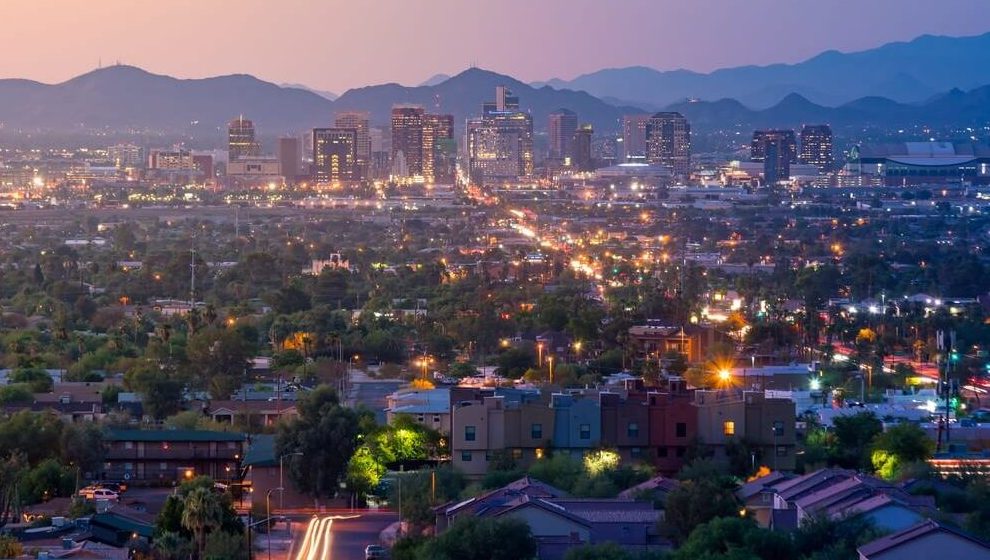 Phoenix's apartment market continues to put up strong performances, with the Arizona metro landing among the national leaders for rent growth in 2017.
The 4.4% rent hike in Phoenix was the sixth largest among the major U.S. markets in 2017. It continued a nearly four-year run of annual rent increases above 4.0% in the metro.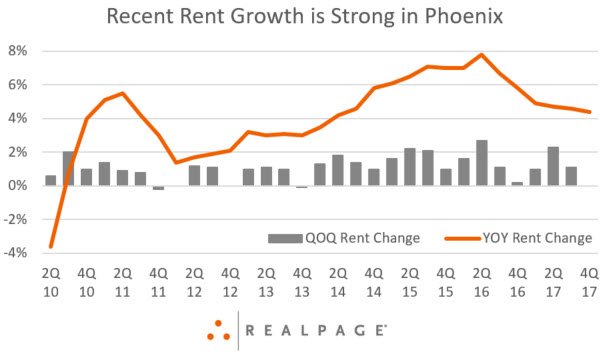 Particularly impressive about the recent streak, performances are solid across nearly every market segment – even those typically perceived as vulnerable to competition from new supply. Phoenix has been one of the nation's most active construction markets during the current cycle, and the supply wave is showing no signs of slowing.
Indeed, top-end apartments have maintained annual rent growth around 4% to 7% throughout the high-development cycle. Submarkets on the metro's east side, upscale areas where building activity is concentrated, are showing similar momentum.
Throughout this high-development cycle, a strengthening economy and population growth helped Phoenix produce enough apartment demand to keep pace with supply volumes, a trend that moved occupancy in a gentle upward trajectory. Phoenix is historically a higher-vacancy market, but occupancy has been hovering just under the essentially full mark of 95.0% for the past six quarters.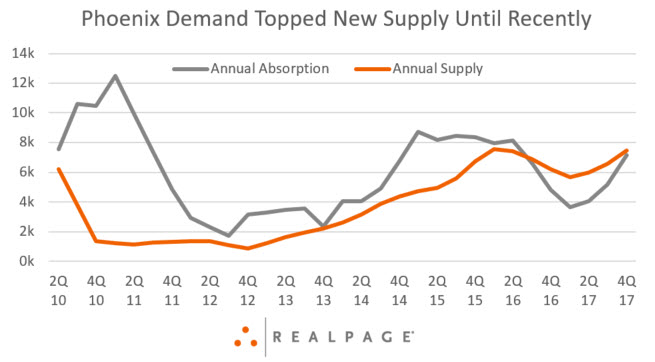 At 94.4%, Phoenix's 4th quarter 2017 occupancy showing slides in just below the 95.0% national average, but occupancy remains above the metro's long-term norm and right in line with two other heavily active construction metros – Dallas and Denver.
New supply is scheduled to remain elevated in 2018. Meanwhile, the Phoenix economy is still growing, but not as strongly as it once was. Slower job growth coming as completions are expected to remain elevated does create some vulnerability going forward. One advantage, however, is that the bulk of new supply is headed to the right spots – namely, east-side neighborhoods where jobs are most common and demographics are the most favorable.